5 Ways to Download Deezer Music to MP3 (Latest Guide 2023)
As you may know, Deezer Premium offers a convenient feature that allows users to download songs for offline listening. However, the downloaded files are restricted to the Deezer app and cannot be saved directly to the music library of your devices. While this limitation might be frustrating for some users, there are alternative methods available to overcome this obstacle and enjoy your downloaded Deezer music on other devices and platforms.
No 1. Download Deezer to MP3 with a free online downloader
Soundloaders Deezer Downloader is a free online tool to convert not only Deezer music but also music from several other platforms such as Spotify, Apple Music, YouTube, etc. It doesn't require any personal information or account creation to use the service and can convert the song you want into an MP3 file.
The downloader is compatible with both desktop and mobile browsers (Safari only on iOS). When downloading, metadata like artists, cover images, and release dates will be kept if found.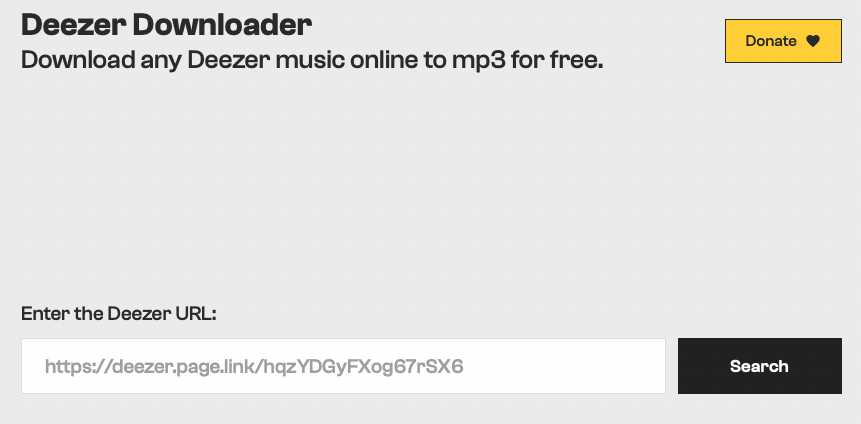 Open the Deezer website/desktop app/mobile app and go to a playlist or album page
Click on the three dots>Share/Share button
Click on "Copy" /"Copy to clipboard"
Paste the URL in the text input above
Click on "Search" to check the track information
Click on "Download Music" and it will start automatically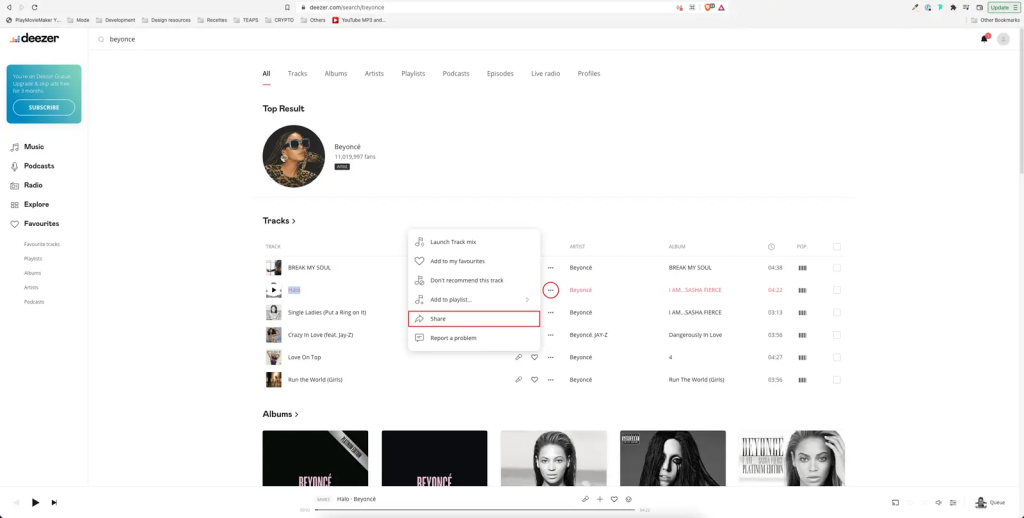 However, Soundloaders Deezer Downloader doesn't support downloading Deezer playlists or albums. Sometimes, the download is unable to retrieve the desired song, for which there is no solution currently.
No 2. Use Telegram Bot to download Deezer to MP3
If you are a Telegram user, you may be familiar with Telegram bots. These bots can be very useful to perform various tasks. DeezLoad is one of them with the specialty of searching and downloading Deezer songs and even full albums for users.
Find @Deezload2bot by searching.
Type "/start".
Then you can search for songs or albums to download. You can also paste a Deezer URL for downloading.
Downloaded Deezer tracks are saved as 320kbps MP3 files. Input "/settings" for higher song quality in FLAC.

You can also use Deezload2bot to download Spotify music by sending Spotify links. But as all the operations are carried out in a conversation mode, sometimes it is a little complicated to position the information you want, and you may need to scroll up and down frequently or repetitively input commands to search and download.
No 3. Use a free Deezer Music downloader
Freezer is a free Deezer downloader supporting Windows, Mac, and Linux. It is an alternative to the discontinued Deezloader. With Freezer, you can stream Deezer music as well as download it in MP3 or FLAC.
Install and open Freezer.
Log in with the browser or paste your Deezer ARL/Token.
Search for a song or find a playlist.
Click the three dots > Download.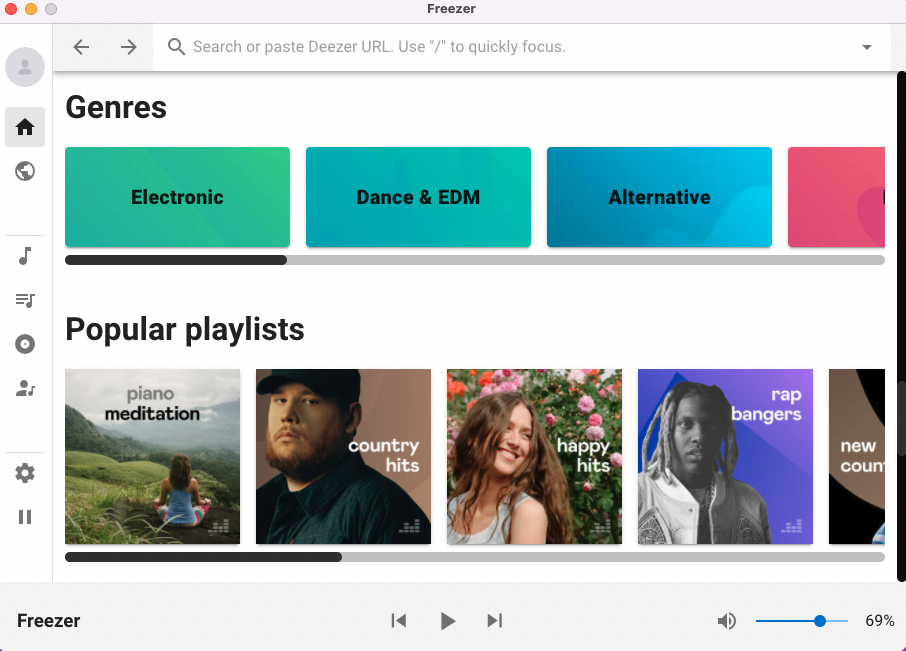 The freezer app is easy to install. However, sometimes it runs unstably and needs to be force quitted. In addition, you may need to log in to Deezer repeatedly since the access token expires every 24 hours.
No 4. Convert Deezer Music with an audio recorder
In addition to the online converter or software, the audio recorder is also a good choice to convert Deezer music. Audacity is a free, open-source, and cross-platform audio editor and recorder for Windows, macOS, GNU/Linux, and other operating systems.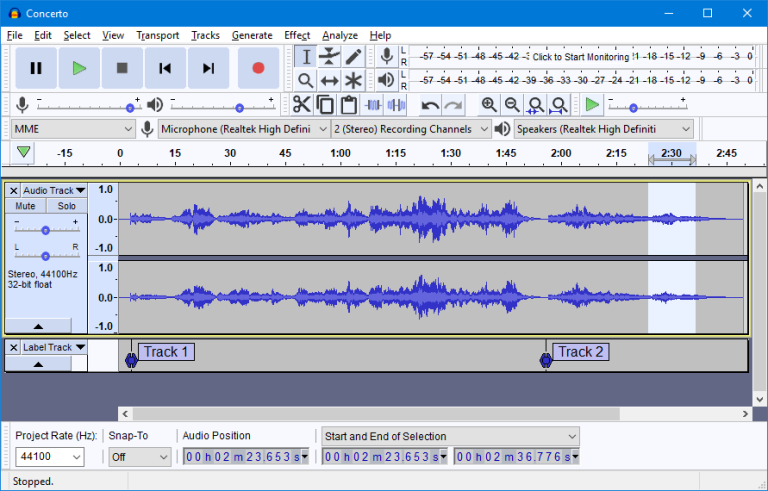 It can record streaming Deezer Music but it can also record the other sound from a microphone. Therefore, please make sure there isn't any noise from your microphone when recording Deezer Music on Audacity.
Download and install Audacity on your device. Then open it.
Play the Deezer track you want to convert to MP3.
Return to Audacity and press the red round Record Button to start recording. You can press the square Stop Button once finished.
To save the file you recorded, go to File > Export > Export as MP3. During the process of saving the recorded Deezer music MP3, you may edit the file name and the metadata tags as well.

Recording Deezer with Audacity is simple and easy. But please note that quality loss may happen when you use Audacity to convert songs.
No 5. Use a professional Deezer Music Converter (100% Working)
To unlock the full potential of Deezer music and download Deezer songs as local files to your computer, you will need Pazu Deezer Music Converter. This remarkable software tool offers reliability, efficiency, safety, and user-friendliness all in one package.
Pazu Deezer Music Converter empowers you to effortlessly download and convert Deezer music into various audio formats like MP3, FLAC, WAV, and other popular audio formats. With its assistance, you can conveniently transfer your favorite Deezer tracks to any desired device, whether it's your computer, phone, or MP3 player, for offline playback.
The main features of the Pazu Deezer Music Converter include:
High-quality audio conversion: Pazu Deezer Music Converter uses advanced technology to preserve the original quality of your Deezer music during the conversion process.
Fast and efficient: Pazu Deezer Music Converter is designed to download and convert Deezer music at high speed, allowing you to save time and get your music collection ready for offline listening.
Batch conversion: Pazu Deezer Music Converter allows you to convert multiple songs or playlists at once, making it easy to transfer your entire music library to a new device.
User-friendly interface: Pazu Deezer Music Converter features a simple and intuitive interface that makes it easy for anyone to use, regardless of their technical expertise.
Built-in Deezer web player: Pazu Deezer Music Converter provides full Deezer web player integration and lets you select the songs, albums, artists, and playlists to download directly.
ID3 tag editing: Pazu Deezer Music Converter also allows you to edit the ID3 tags of your music files, including artist name, album title, and track number, for easy organization and playback.
1. Launch Deezer Music Converter
Download, install, and run Pazu Deezer Music Converter. Click the Sign in button and log in to your Deezer account.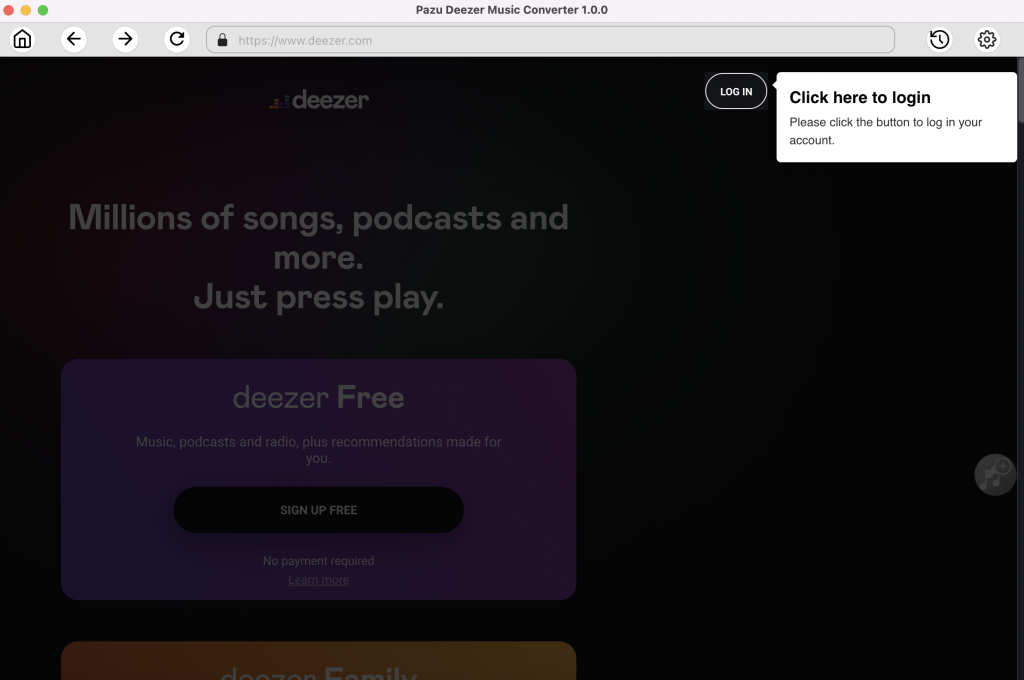 2. Change output format(optional)
The default output format is lossless M4A. Pazu Deezer Music Converter also supports converting Amazon Music to MP3, AAC, FLAC, WAV, and AIFF.
Output File Name: Name the songs with any combination of Title, Artist, Album, Playlist Index, and Track Number. For example, if you choose Title and Artist, Tylor Swift's song Lover will be named Lover Tylor Swift.mp3.
Output Organized: Organize downloaded songs by Artist, Album, Artist/Album or Album/Artist.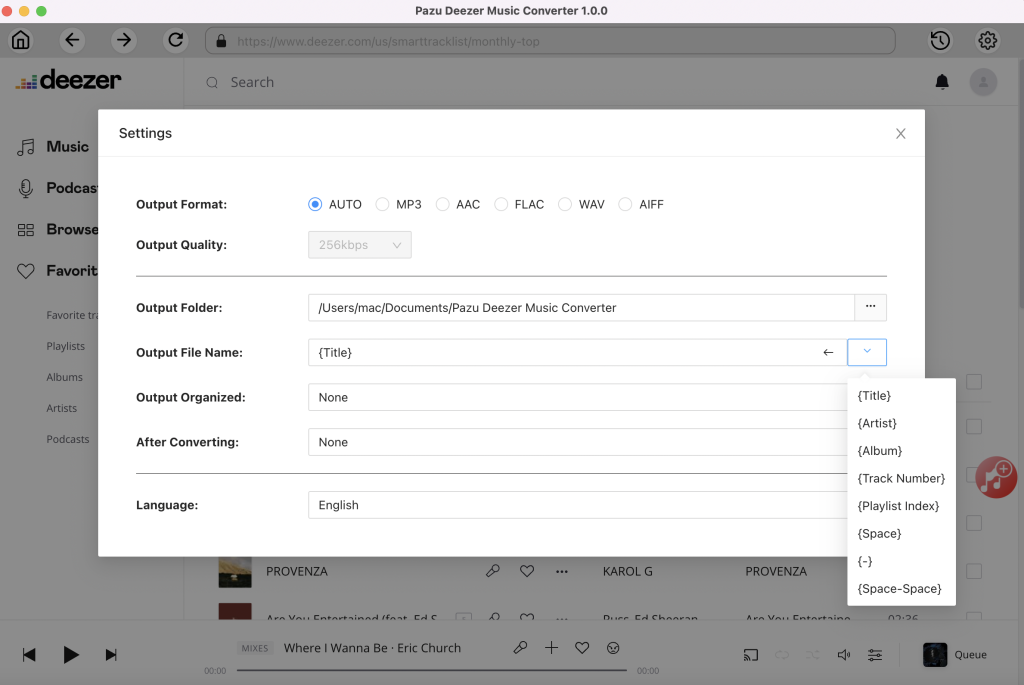 3. Select the music you want to download
Follow the on-screen instructions to choose the playlist or album you want to convert. Click Add Songs.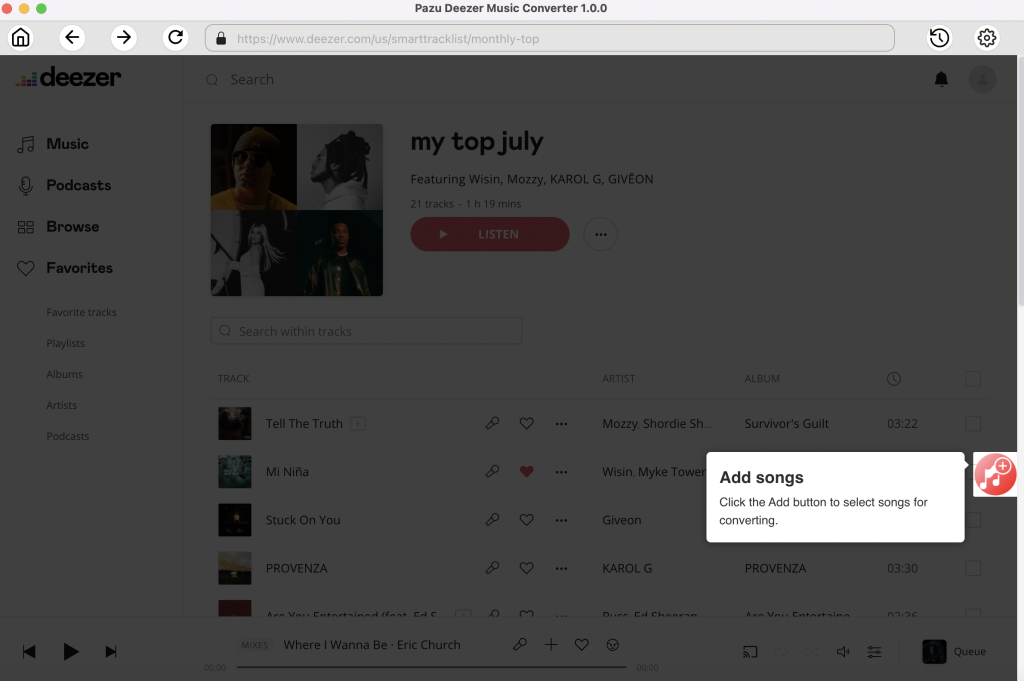 4. Start Conversion
By default, all songs in the playlist/album will be checked. If there are songs you don't want to convert, please uncheck the box. Then click the Convert button to start downloading songs to the format you choose.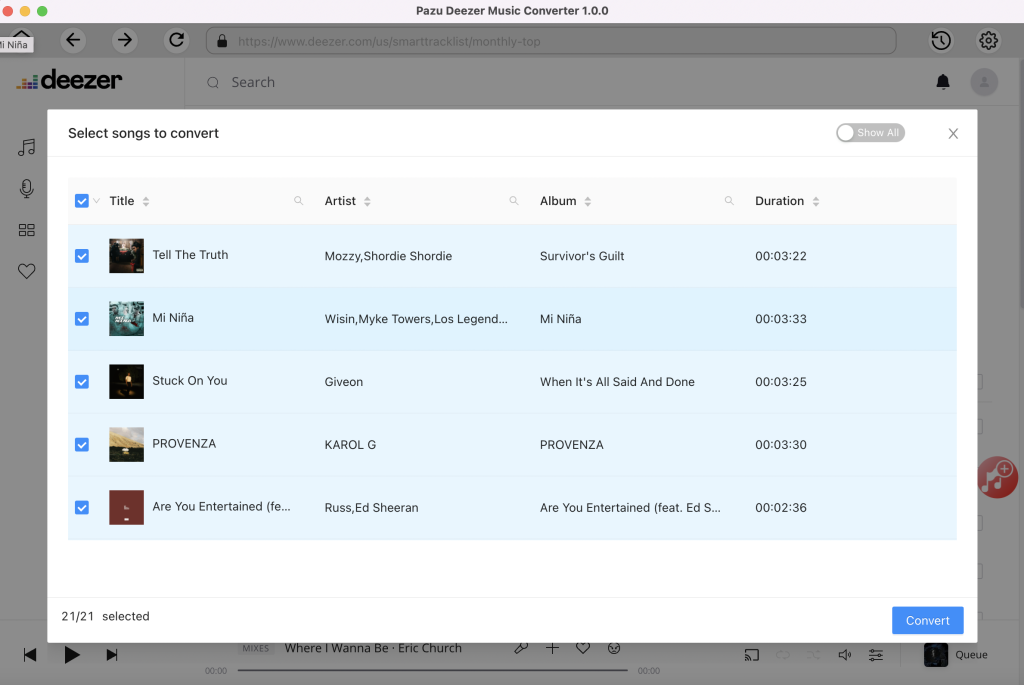 After conversion, click the Folder icon to quickly locate the downloaded songs. Now add them to Sonos with the above steps.