Free Download Gym Motivation Songs to MP3
Similar to other music streaming platforms like Spotify and Apple Music, YouTube Music also offers a diverse selection of songs and playlists catering to various moods and genres. Among these options, you can effortlessly discover the Workout category, featuring energizing songs to keep you motivated during your gym sessions.
In this guide, we'll demonstrate how to locate workout playlists on YouTube Music, present the top 10 gym motivation songs, and explain how to download them in MP3 format, even if you have a free YouTube Music account.
Find workout playlists on YouTube Music
To kickstart your gym session with YouTube Music, the simplest approach is to discover a curated workout playlist directly from YouTube. Here's how to do it:
From the lefthand sidebar menu of YouTube Music, click on Explore.
Scroll down and select Workout under the Moods & Genres section.
You'll now have access to an array of playlists within the Workout category, such as "In the Gym," "Running Hits," "Outdoor," and more. Click on the More button to explore playlists within each sub-category.
Choose one of the workout playlists that suits your preference, and you're ready to break a sweat at the gym.

Top 10 gym motivation songs on YouTube Music
Using the curated workout playlists from YouTube is certainly convenient, but you also have the option to create your own playlist featuring your favorite gym motivation songs. Here, we've selected 10 of the best workout tracks available on YouTube Music, promising not only to help you reduce stress but also to provide you with an enjoyable mental boost.

"Unstoppable" is the fifth track from Sia's 2016 album, "This Is Acting." It's often described as an empowering anthem, with lyrics like, "I'm unstoppable, I'm a Porsche with no brakes / I'm invincible, I win every single game / I'm so powerful I don't need batteries to play / I'm so confident, yeah, I'm unstoppable today." This song exudes a sense of confidence and empowerment in its energetic lyrics and music.
Eminem's "Till I Collapse" is not just a big hit; it also serves as a motivational pep talk. He encourages listeners with the words, "When you feel weak, you feel like you want to just give up, but you gotta search within you, you gotta find that inner strength." In moments of difficulty, Eminem's words can guide you through, whether it's during your workout or any other challenge you face. This track is widely recognized as one of the most popular workout-related tunes.


"One More Time" is a monumental hit from the French electronic music duo Daft Punk, often regarded as one of the greatest dance records of all time. When fused with the groovy, instrumental track "Aerodynamic," it effortlessly transforms into a vibrant and energizing remix. With the pulsating bass resonating through your headphones, you'll find it easier to power through another set or push through that final rep during your workout.


"Radioactive" is a track by the American pop-rock band Imagine Dragons. It blends elements of electronic rock, alternative rock, and dubstep. Much like the rest of the songs on the album, "Radioactive" effectively crafts a sound that consistently ignites energy and enthusiasm, making it a crowd-pleaser that never fails to elevate the mood and enthusiasm of the audience.
Heavy drumbeats and an energizing, anthemic chorus infuse this song with immediate pump-up energy. Its inspiring lyrics serve as a driving force to help you overcome physical challenges. This exceptional workout track is from the rock band Imagine Dragons, led by Dan Reynolds. Reynolds has described the song as an exploration of finding a perspective where you can appreciate the pain in life and transform it into your greatest strength.
Lucha & Godmode's track "I'm A Monster" serves as an anthem for self-belief and dedication. The lyrics radiate positivity and motivation, encouraging individuals to persevere and have confidence in themselves in the face of external skepticism. The song conveys a powerful message that nothing can hold you back if you have self-belief and dedication to work towards your goals.
"Moves like Jagger" is an electropop song with modern disco-style elements, featuring energetic synths, electronic drums, and a catchy whistle melody. The funky, whistle-driven melody is loose, light, and irresistibly funky. It's perfect for a workout playlist to keep you pumped up.
"I Like It" exudes a festive and carefree vibe, largely due to its instantly catchy boogaloo beat and the collaborative efforts of fellow Latin stars J Balvin, Bad Bunny, and Cardi B. When Cardi B delivers the line, "I run this sh-t like cardio," you know it's time to kick into exercise mode and get moving.
"Work B-tch" serves as a clear reminder that if you desire a fit and attractive body, there's only one path to achieve it: through hard work. This hit song by Britney Spears can motivate you to not only complete your workout but also strive for continuous improvement.
Taylor Swift's hit "Shake It Off" not only displayed her resilience but also symbolized her transition from a country sweetheart to a pop sensation. It's a great song to inspire your own journey to a stronger and healthier self. When it plays, let it energize you and keep you motivated for the next three minutes.
Free download gym motivation songs and playlists to MP3
If you are a YouTube Premium or YouTube Music Premium member, you can download the workout gym songs and playlists with the YouTube Music app to your Android or iPhone/ iPad. However, these downloaded songs can only be played within the YouTube Music app and cannot be transferred to other devices or used with other programs.
For those seeking to download YouTube Music workout songs with a free account or wishing to listen to them on devices other than their phone or tablet, there's a reliable software tool called Pazu YouTube Music Converter. This tool allows you to download YouTube Music songs, albums, and playlists, regardless of whether you have a free or premium YouTube Music account. Plus, you don't need to manually copy and paste YouTube/YouTube Music links, as Pazu YouTube Music Converter features a built-in YouTube Music web player. With Pazu, you can search for your favorite songs within the YouTube Music catalog and download them in lossless quality with full ID3 tags.
Once you have converted songs from YouTube into standard formats, you can transfer and play them on any compatible device. Let's take a look at the detailed steps.
1. Run Pazu YouTube Music Converter
To get started, download, install and run Pazu YouTube Music Converter on your Mac or Windows, which features a built-in YouTube Music web player.
After the installation is complete, launch the YouTube Music to MP3 Converter on your computer. If you have already purchased a license, click the key icon to register the converter. If not, continue using the trial version.
You can sign in to your YouTube Music account to access your playlists.
2. Customize the Output Settings
Click on the "Setting" icon in the upper right corner to open the Setting window in which you can customize the output format, output quality, output folder, file name format, how output songs are organized, interface language, etc.
3. Add songs
Browse or search to find the songs, albums, or playlists you want to download. Click the album or playlist you want to download. Then click the red icon to load songs.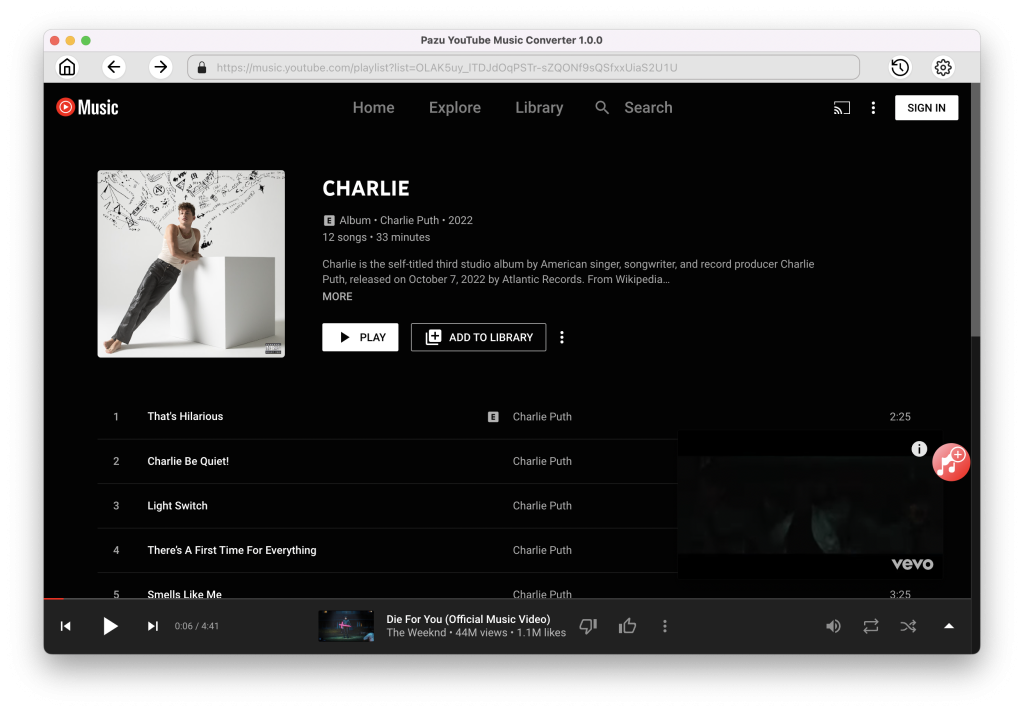 All songs in the playlist/album will be selected by default. You can uncheck the songs you don't want to get.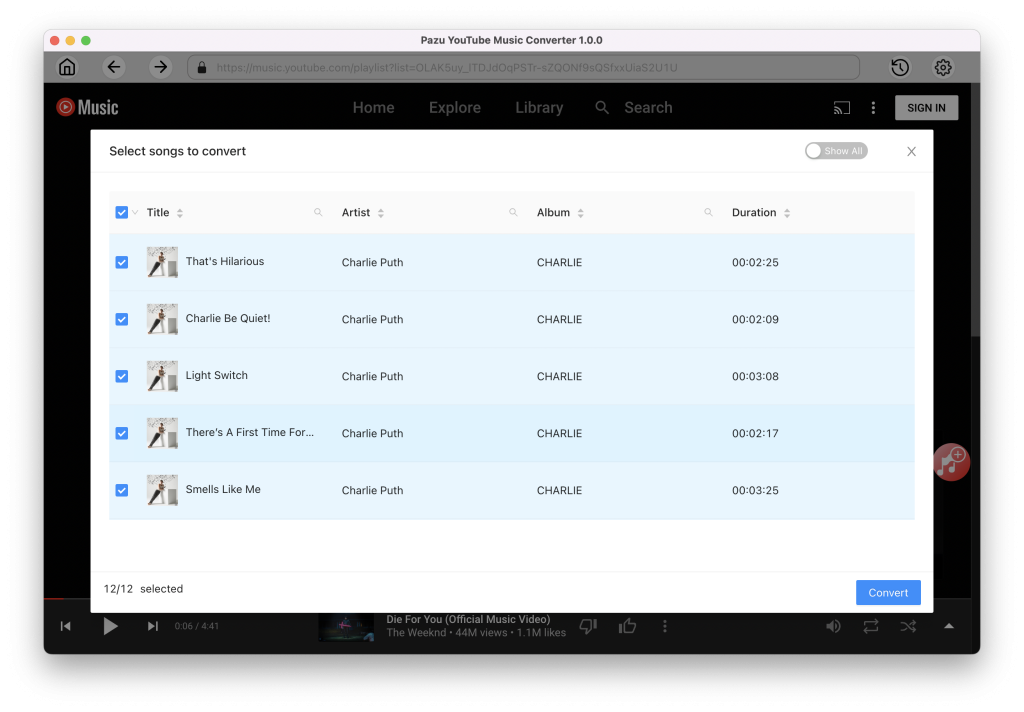 4. Download Music from YouTube Music
Click on the "Convert" icon and the program starts to convert YouTube Music songs.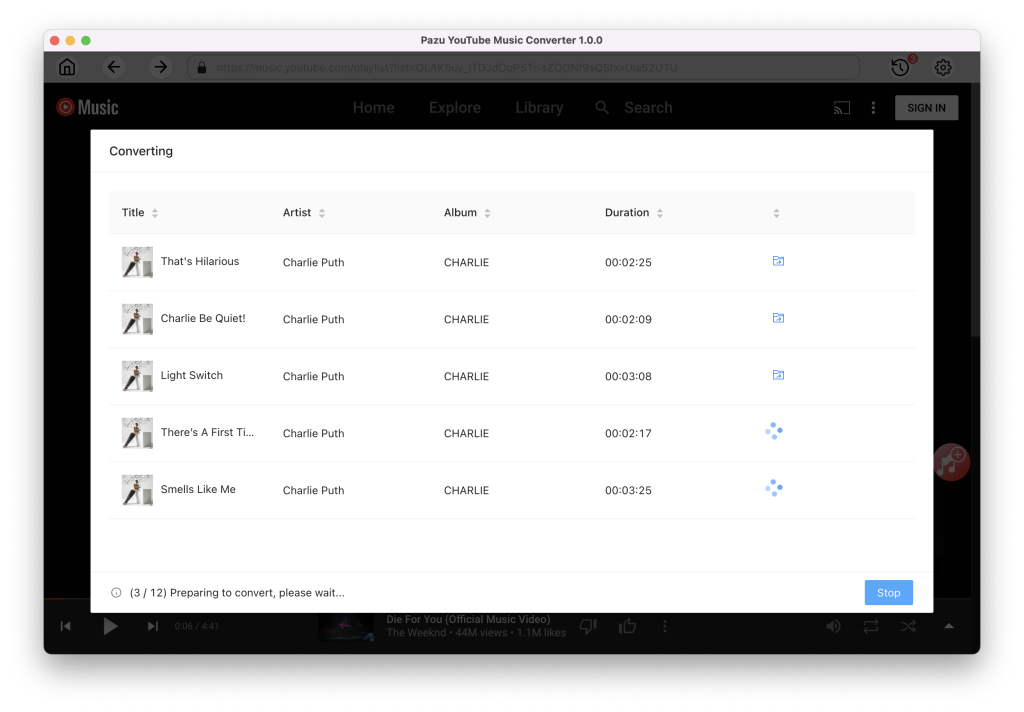 After the converting is complete, click on the "clock" icon in the upper right corner to find the converted YouTube Music songs from the local directory.