15 Best Sites for Free Music Downloads
Although music streaming services make music listening convenient and comfortable – access a virtually limitless amount of music without taking up any physical space, many song lovers still like mp3 songs stored on their phone and computer.
Downloading free MP3 songs from legal sources brings several benefits. Firstly, it allows access to a wide variety of music without any cost. By exploring different platforms, you can discover new artists, genres, and songs that you might not have come across otherwise. This opens up opportunities to broaden your musical taste and find hidden gems. Additionally, downloading free MP3 songs enables offline listening, providing convenience when you're on the go or in areas with limited internet connectivity. It saves you from relying on streaming services or using mobile data, allowing you to enjoy your favorite tracks anytime and anywhere.
Here in this article we will introduce you to the best music download websites for free mp3 downloading.
MP3juices is a great option for those who wish to download music online quickly and free. You can easily download music and videos through this platform in just a few mouse clicks. Here are the steps to get music and videos from MP3Juice. Same as other mp3 download sites, mp3juices.la searches the songs you want to download from YouTube and download them to MP3 in 64kbps, 128kbps, 192kbps, 256kbps, 320kbps.
Pros:
Free
Download music and videos.
Cons:
Metadata is not saved.
Album is downloaded to a single file.
2. https://myfreemp3.to
https://myfreemp3.to search engine shows you a huge offer of songs and video that are available on the web. Fill out the searching field below and select your song. Press the "Play" button to check, if it is the right choice and with using the "Download" button the file is yours.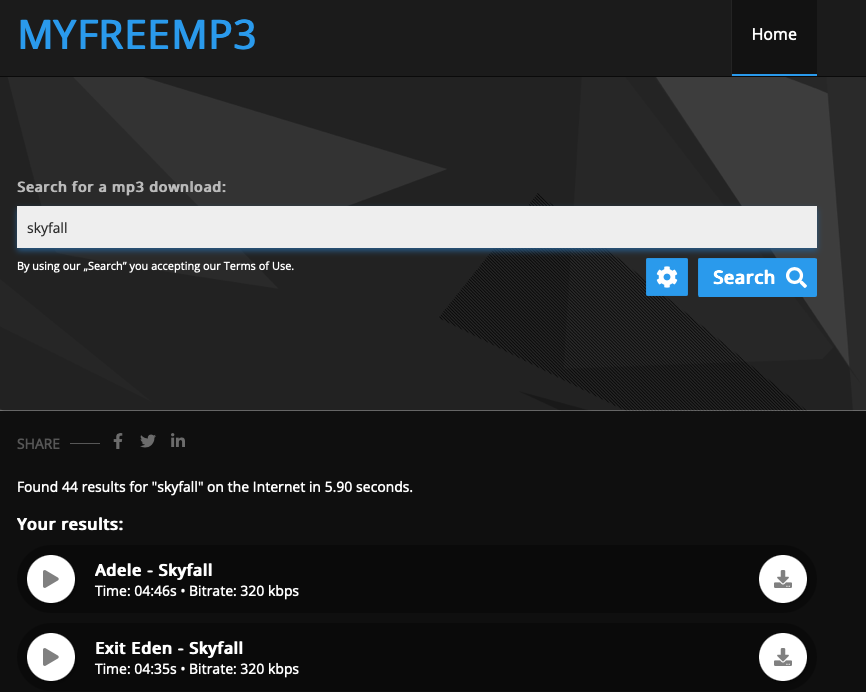 Pros: Free
Cons:
Album artwork is not saved.
Can't recognized album.
The Free Music Archive (FMA) was a website that offered a vast collection of music that was available for free and legal download. It served as a platform for independent artists, labels, and musicians to share their music with the public. Instant access to independent artists and original music. Free to play, download and share.
How to download free music from Free Music Archive?
Go to https://freemusicarchive.org in your browser and click Enjoy FMA.
Type the song title in the search field and click Search.
Hover on the song you want and click the Download icon.
Click I understand and agree. The downloaded song is only for personal use.
Cons: You need to create an account.
4. SoundCloud
If you're new to SoundCloud and don't want to commit to a paid subscription plan, there's no need to worry. You can still enjoy the vast music library on the site with a free basic account. Additionally, many artists on SoundCloud generously provide their tracks for download, allowing you to effortlessly acquire your favorite tunes in different formats. So, whether you're exploring new music or searching for familiar tracks, SoundCloud's free access and downloadable offerings have got you covered.
On Web, you can download tracks once you have signed in to your SoundCloud account by clicking on the download file button beneath the waveform. Not all tracks are downloadable. If you don't see a download file button, it means the user who uploaded it did not intend for it to be downloadable. Additionally, only individual tracks can be downloaded and playlists as a whole are not available.
It is not possible to download a track from a mobile device. However, users with a SoundCloud Go or Go+ subscription can save content for offline listening on a mobile device.
Cons: You need to create an account.
It's not easy to find downloadable songs.
5. JAMENDO MUSIC
JAMENDO MUSIC is a platform for free music downloads and streaming. Discover and explore 600000+ free songs from 40000+ independent artists from all around the world. Free download MP3 songs for personal use.
Cons: You need to create an account.
Not all songs are downloadable.
Songs are downloaded in 192kbps.
6. YouTube Audio Library
In the Audio Library in YouTube Studio, you can find royalty-free production music and sound effects to use in your videos. You can access the Audio Library directly at youtube.com/audiolibrary.
To sample a track, click the Play icon. If you like what you hear, hover over the date and click DOWNLOAD to get an MP3 file.
7. Internet Archive
Internet Archive is a non-profit digital library offering free universal access to books, movies & music, as well as 624 billion archived web pages. To download MP3 songs from Internet Archive, go to https://archive.org in your browser and click AUDIO on the top. Select All Audio or other types. Easily filter the results by Media Type, Year, Topics&Subjects, Collection, Language, and more.
When you find the music you want to download, click it and scroll down to DOWNLOAD OPTIONS. There are plenty of file formats to choose from, including MP3 and OGG. Choose the format, right click the song you want to download and select Download Linked File.
Pros: You need to create an account.
Songs are downloaded in 192kbps.
8. Soundclick
Soundclick is an online independent music community. SoundClick allows unlimited upload of songs in MP3 file format. The songs can be offered as streams only, as free downloads, or they can be sold through the SoundClick music store. Songs can be licensed to others either under a free Creative Commons license or under a paid license.
The songs with a download icon can be downloaded to MP3 in 320kbps or 160kbps.
9. Last.fm
Last.fm is the world's largest online music service. Listen online, find out more about your favourite artists, and get music recommendations, only at Last.fm. It also has a Download Free Music page that allows you to download MP3 songs for free even without an account. Songs are downloaded to MP3 in 128 kbps with artist, album info. However, album artwork is not saved.
10. BeatStars
BeatStars serves as a digital production marketplace where music producers can engage in licensing, selling, and even distributing free beats. Although primarily a commercial platform, it also presents a diverse range of free music downloads accessible through the Tracks – Free Beats category. Or go to https://www.beatstars.com/free-beats directly.
Within this category, users have the convenience of sorting songs based on genre and tags, encompassing genres such as hip-hop, trap, rock, and many others. Once you discover a piece of music that resonates with you, simply tap the "Download for free" icon, enabling you to acquire the MP3 file at a high-quality bitrate of 320kbps directly onto your device.
Pros: ID3 tags are not saved.
11. Musopen
Musopen is a non-profit providing free music recordings, sheet music, apps, and educational materials. All the music is royalty and copyright free.
Musopen allows you to browse royalty free music by composer, performer, instrument, tag, form, or time period. You can download free background music for projects including YouTube videos, independent films, video games, and much more.
Free users can download 5 songs per day, while paid members get unlimited downloads, lossless audio and other benefits.
12. MP3jam
MP3Jam is a Windows app. Music tracks are all legal and available for free download. MP3jam does not use torrents, p2p algorithms or pirate sites and only searches for music in public access. This free music software delivers best MP3s hosted by YouTube.
Pros: Free
Cons:
Very slow download speed.
Can't recognized album.
13. YouTube to MP3 Converter
Many people gets mp3 songs by converting and downloading YouTube videos to mp3 format. Y2Mate is the easiest and most free Youtube MP3 converter to convert and download youtube videos to mp3 format in the best available quality. By using the our online yt mp3 converter, you can quickly convert and download your favorite videos to audio file without the need of installing any application. It works for all browsers like Firefox, Chrome, Safari, Opera, etc.
14. Pazu Spotify Converter
Pazu Spotify Converter is a user-friendly application available for both Mac and Windows. It allows you to download songs from Spotify, even if you have a free account. The best part is that the downloaded songs are in high-quality MP3 format with a bitrate of 320kbps.
With Pazu Spotify Converter, you can explore a wide range of music on Spotify and save your favorite tracks for offline listening, regardless of your subscription status. The app seamlessly integrates with Spotify we b player, making it easy to convert songs to MP3 format without Spotify app while maintaining the excellent audio quality that Spotify offers.
With this convenient tool, you have the freedom to build your own music library and enjoy your favorite songs anytime, anywhere. Pazu Spotify Converter enhances your Spotify experience by giving you the ability to download and enjoy your music without limitations.
How to download MP3 songs from Spotify?
15. Pazu YouTube Music Converter
Actually you can download any YouTube Music songs, albums and playlists with Pazu YouTube Music Converter. You don't even need to copy&paste YouTube/YouTube Music link, as Pazu YouTube Music Converter features a built-in YouTube Music web player. Browse or search for any songs you want, choose output format and start downloading.
With Pazu YouTube Music Converter, you can download unlimited mp3 songs from YouTube Music without Premium or an account.
1. Run Pazu YouTube Music Converter
To get started, download, install and run Pazu YouTube Music Converter on your Windows PC, which features a built-in YouTube Music web player.
After the installation is complete, launch the YouTube Music to MP3 Converter on your computer. If you have already purchased a license, click the key icon to register the converter. If not, continue using the trial version.
You don't need to sign in to your YouTube Music account.
2. Customize the Output Settings
Click on the "Setting" icon in the upper right corner to open the Setting window in which you can customize the output format, output quality, output folder, file name format, how output songs organized, interface language, etc.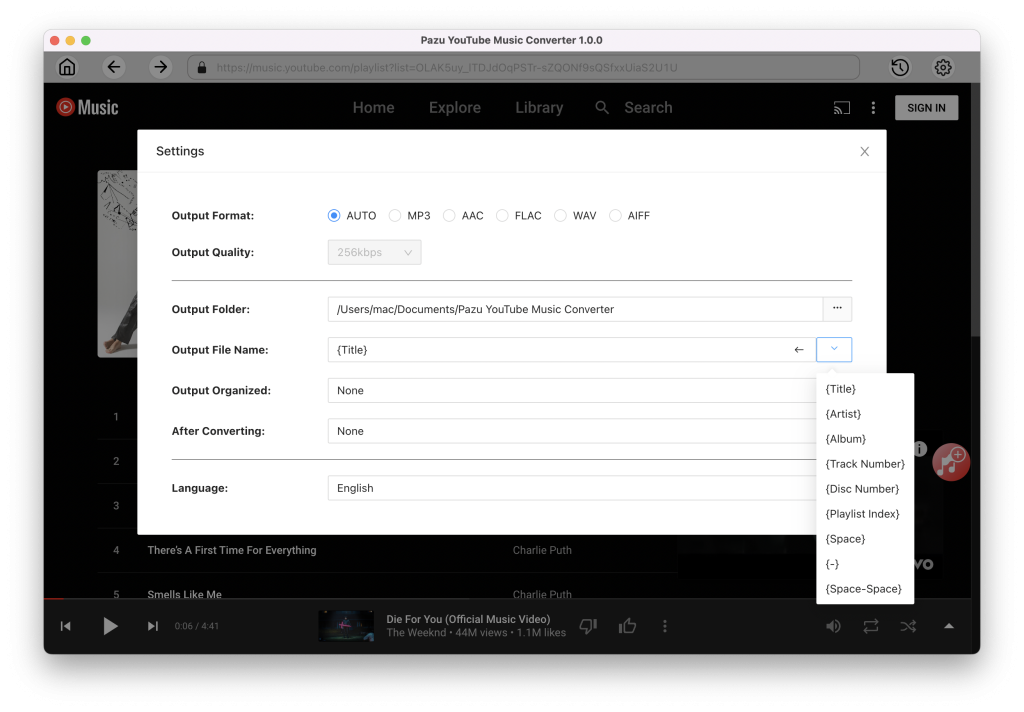 3. Add songs
Click the search icon and enter Royalty Free Music. Open the playlist and view all songs. Press the red "Add to list" icon.
All songs in the playlist/album will be selected by default. You can uncheck the songs you don't want to download.
4. Start Converting
Click on the "Convert" icon and the program starts to convert YouTube Music songs.
After the converting is complete, click on "clock" icon in the upper right corner to find the converted YouTube Music songs from the local directory.