3 Ways to play YouTube Music on Tesla
While there is a YouTube video application in the theater section of the Tesla infotainment system (while parked), YouTube Music, YouTube's music streaming service, is not currently supported. Currently, Tesla offers a direct stream from Slacker, Spotify, TIDAL, and TuneIn. This is in addition to FM radio and SiriusXM for the Model S and Model X.
Youtube Music, Pandora, Apple Music, Amazon Music, etc. remains absent from Tesla's streaming lineup. In this article, we'll show you 3 ways to play YouTube Music in Tesla.
Option 1 Play YouTube Music on Tesla via Bluetooth
The easiest way to play YouTube Music on Tesla is to stream audio via Bluetooth from your cellphone.
Once a phone is paired, Tesla can connect to it whenever the phone is within range.
To pair a phone, follow these steps. Here we use Tesla Model 3 as example. Check this video tutorial.
Ensure both the touchscreen and the phone are powered on.
Enable Bluetooth on your phone.
Tap the Bluetooth icon located at the top right corner of the Controls screen.
On the touchscreen, touch Add New Device > Start Search. A list of all available Bluetooth devices within operating distance displays on the Bluetooth settings screen.
Choose the phone with which you want to pair. Within a few seconds, the Bluetooth settings screen displays a randomly generated number. Your phone also display a number.
Check that the number displayed on your phone matches the number on the Bluetooths settings screen. Then, on your phone, confirm that you want to pair.
If prompted on your phone, specify whether you want to allow Model 3 to access your personal information, such as calendar, contacts and media files.
Paired and connected your phone to Tesla, play YouTube Music songs on your phone and the sounds will come from Tesla's Media Player. When YouTube Music songs begins to play, you can then use Media Player's next and previous icons (or use the left scroll button on the steering wheel) to play other tracks.
Option 2 Mirror YouTube Music app to Tesla touchscreen with TslaMirror app
TeslaMirror(for Android)/TslaMirror(for iOS) is an App that will help mirror your iPhone apps to Tesla vehicle! Also, it can support App screencast to a Chrome browser.
Option 3 Play YouTube Music on Tesla from USB device
Tesla allows owners to insert a USB drive to play MP3s directly from your device. Your USB drive will need to be formatted using exFAT to work. Once the drive is inserted, you will be able to access your music through a new USB icon in the launcher. Tesla will let you view your music by artist, album, song title, and even search for your favorite songs.
Tesla Model S, 3, X, Y all have two USB ports located in the front compartment of the center console. These ports can be used to:
Connect and charge USB devices.
Play audio files stored on a phone or USB device (see Playing Media from Devices).
For saving Sentry Mode and Dashcam video footage, use the USB port located in the glove box. Doing so increases security and minimizes power consumption.
You can play audio files from a Bluetooth-connected device (like a phone) or a USB-connected flash drive. When you connect a USB device, Media Player includes the device as a media source. Insert a flash drive into a front USB port (see USB Ports). Touch Media Player > USB, and then touch the name of the folder that contains the song you want to play. After you display the contents of a folder on the USB connected flash drive, you can touch any song in the list to play it. Or use the previous and next arrows in Media Player to scroll through your songs. You can also scroll to next/previous songs using the left scroll button on the steering wheel.
Note: Media Player supports USB flash drives with exFAT formatting (NTFS is not currently supported).
You can also store download Apple Music songs on iPhone and iPod and then connect them to Tesla with Bluetooth. To play media from a USB connection, Tesla recognizes flash drives only. To play media from other types of devices (such as an iPod), you must connect the device using Bluetooth.
So if you can download YouTube Music songs to MP3, you can then play them on Tesla from USB device.
The best way to convert YouTube Music songs, albums and playlists to MP3 is to use a professional YouTube Music Downloader. Pazu YouTube Music Converter is such a professional YouTube Music Downloader with YouTube Music web player built-in. You can easily browse or search the songs, album and playlist you want to download and then download them to MP3, M4A, AAC, FLAC, WAV and AIFF within one click.
If you want to download YouTube Music songs, albums and playlists without subscribing to YouTube Music Premium, then all you need is Pazu YouTube Music Converter.
1. Run Pazu YouTube Music Converter
To get started, download, install and run Pazu YouTube Music Converter on your Windows PC, which features a built-in YouTube Music web player.
After the installation is complete, launch the YouTube Music to MP3 Converter on your computer. If you have already purchased a license, click the key icon to register the converter. If not, continue using the trial version.
You don't need to sign in to your YouTube Music account.
2. Customize the Output Settings
Click on the "Setting" icon in the upper right corner to open the Setting window in which you can customize the output format, output quality, output folder, file name format, how output songs organized, interface language, etc.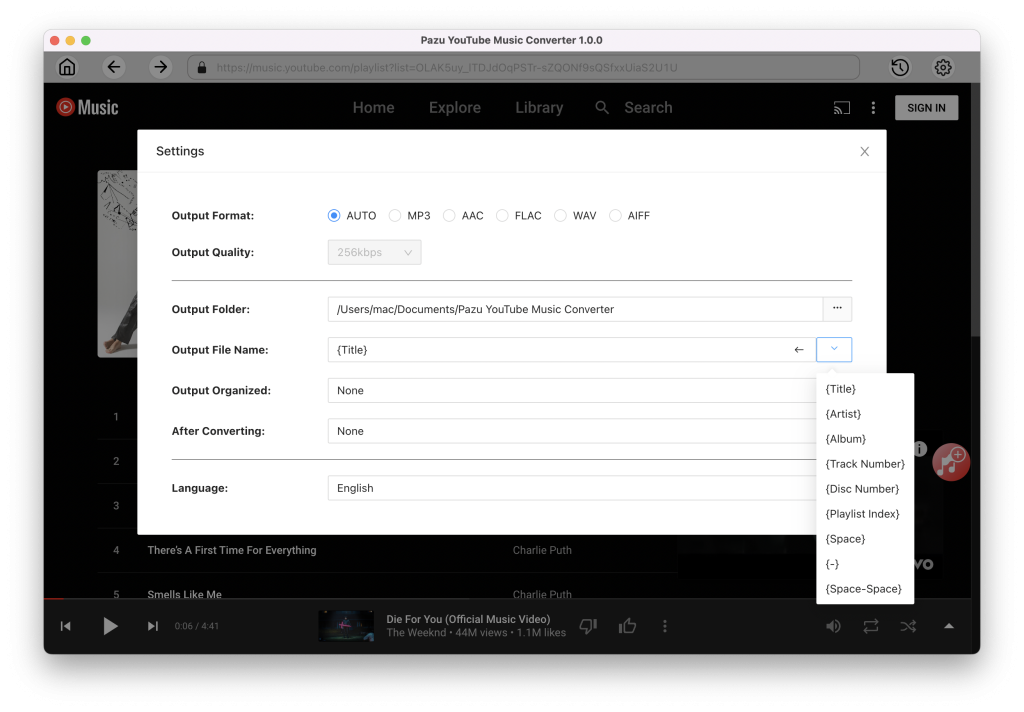 3. Add songs
Browse on the Home, Explore, or Library page or search for the songs, albums and playlists you want to convert to MP3, then press the red "Add to list" icon.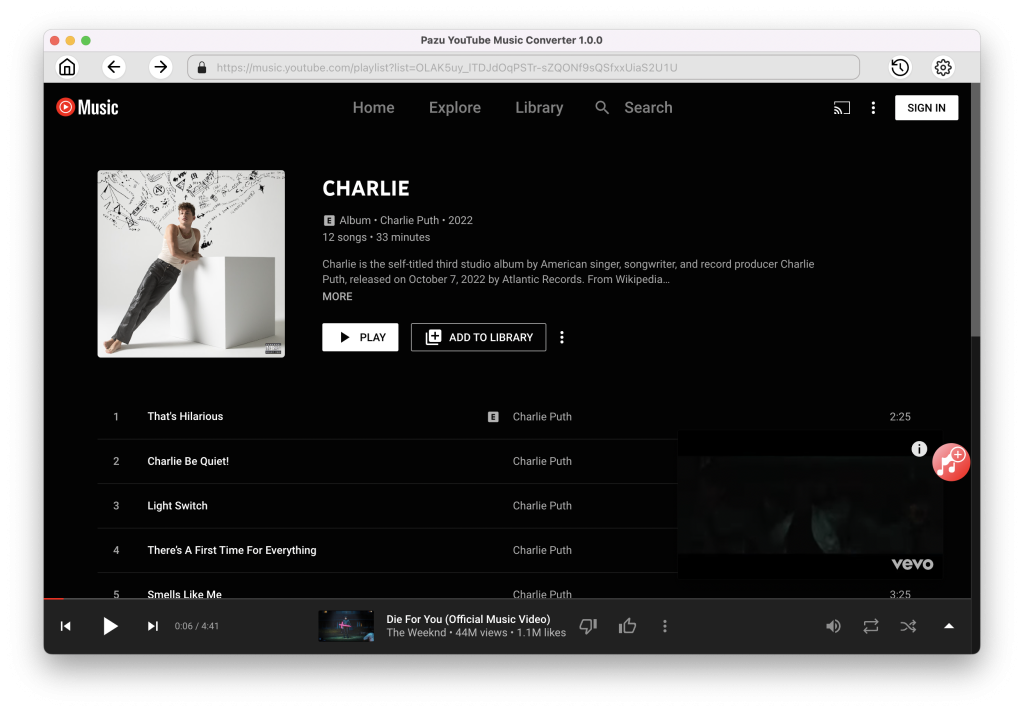 All songs in the playlist/album will be selected by default. You can uncheck the songs you don't want to get.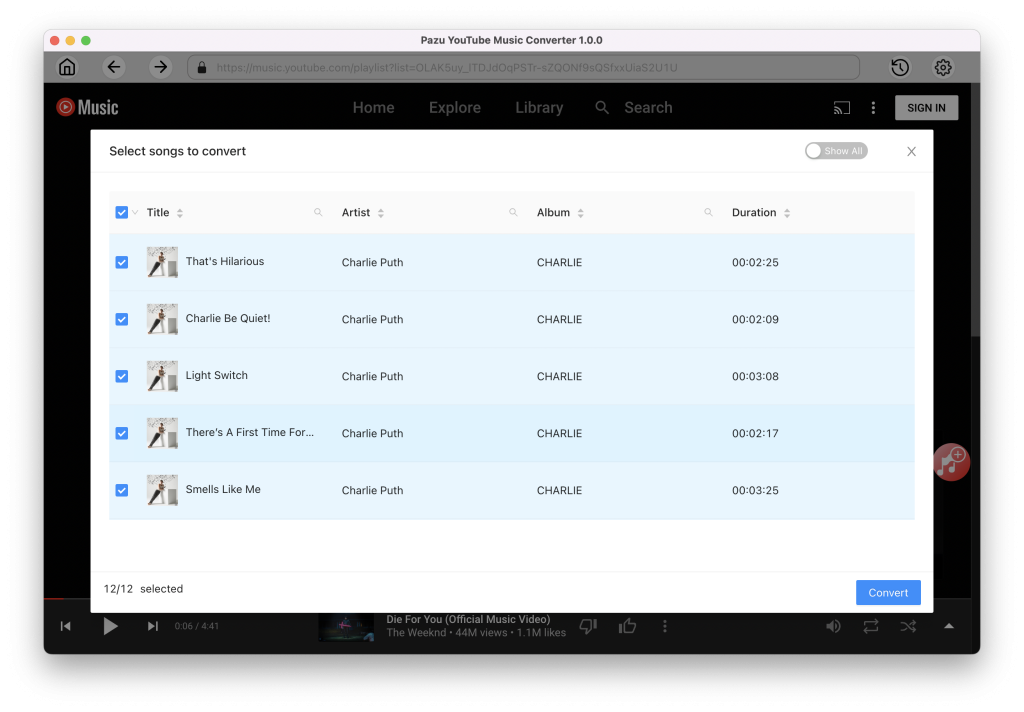 4. Start Converting
Click on the "Convert" icon and the program starts to convert YouTube Music songs.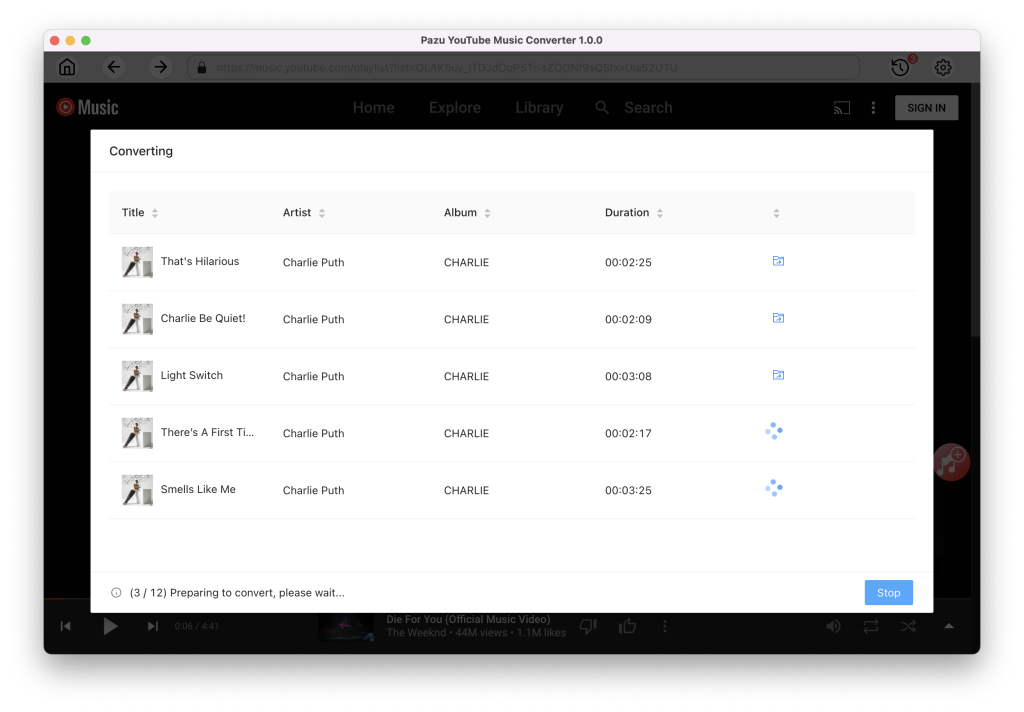 After the converting is complete, click on "clock" icon in the upper right corner to find the converted YouTube Music songs from the local directory.