2 Ways to play Deezer music on Roku
Deezer is a music streaming service that allows users to listen to their favorite songs and discover new music. Roku, on the other hand, is a digital media player that allows users to stream content from various sources, including music, movies, TV shows, and more.
If you want to listen to Deezer on Roku like other music streaming apps such as Spotify, Apple Music, etc. then you may feel disappointed. Since late 2021, Deezer is unavailable on the Roku Channel Store. So, you can't install the app directly on Roku. However, you can still listen to Deezer on Roku, via screen mirroring or Roku Media Player.
Option 1 Screen Mirror Deezer to Roku
You may use screen mirroring when you want to display the content of your phone or tablet on a nearby TV. This feature allows you to replicate (or "mirror") the screen of a compatible Android, Windows or iOS device to your TV screen. With screen mirroring, you can send web pages, videos, photos, music, and more to your compatible Roku® streaming media player or Roku TV™. In other words, anything you see and do on your mobile device will appear on your TV.
On Android Devices
1. Connect your Android device and Roku to the same wifi network.
2. Swipe down on your Android device to access Notification Panel and tap on the Cast icon(or equivalent term used by your Android device, for example: Smart View, Quick Connect).
3. Choose your Roku device from available devices.
4. Select the Allow button on the screen of Roku, and your Android device's screen will be mirrored to your TV.
5. Run Deezer app and start playing your favorite music to Roku.
On iOS Devices
1. Connect your iOS device and Roku to the same wifi network.
2. Open Control Center and tap on the Screen Mirroring icon.
3. Choose your Roku device from the list of available devices.
4. Enter the AirPlay Passcode displayed on your TV's screen in your iPhone and tap on the OK button.
5. Now, you can see your iOS device's screen on your Roku TV.
6. Launch the Deezer app and play the songs you want.
7. Enjoy listening to it from your Roku.
On PC
1. Connect your PC and Roku to the same wifi network.
2. Open a web browser on your PC and visit the official website of Deezer.
3. Log in and play some music.
4. From the taskbar on your Windows device, open the Action center. Select the Connect button.
5. Choose your Roku device from the Connect window.
6. Now the Deezer songs will play on Roku.
Option 2 Play Deezer on Roku with Roku Media Player
Roku Media Player is a built-in app on Roku devices that allows users to play their own music, videos, and photos stored on a USB drive, microSD card, or a media server on their home network. To use Roku Media Player, you need to follow these steps:
Connect a USB drive or microSD card containing your media files to your Roku device, or set up a media server on your home network.
Go to the Roku home screen and select the Roku Media Player app.
Select the type of media you want to play, such as music, videos, or photos.
Select the location of your media files, such as the USB drive, microSD card, or media server.
Browse and select the media file you want to play.
Roku Media Player supports a wide range of media file formats, including MP3, AAC, M4A, FLAC, MKV, MP4, among others. It also allows you to create playlists, shuffle and repeat songs, and customize the playback settings, such as the audio track and subtitle options for videos.
Overall, Roku Media Player is a convenient and easy-to-use app that allows you to access and play your own media files on your Roku device, without the need for a separate media player or streaming service.
If you want to listen to Deezer songs on Roku with Roku Media Player, you can download Deezer songs to MP3 with Pazu Deezer Music Converter.
1. Launch Deezer Music Converter
Download, install and run Pazu Deezer Music Converter on your Mac. Click the Sign in button and log in your Deezer account.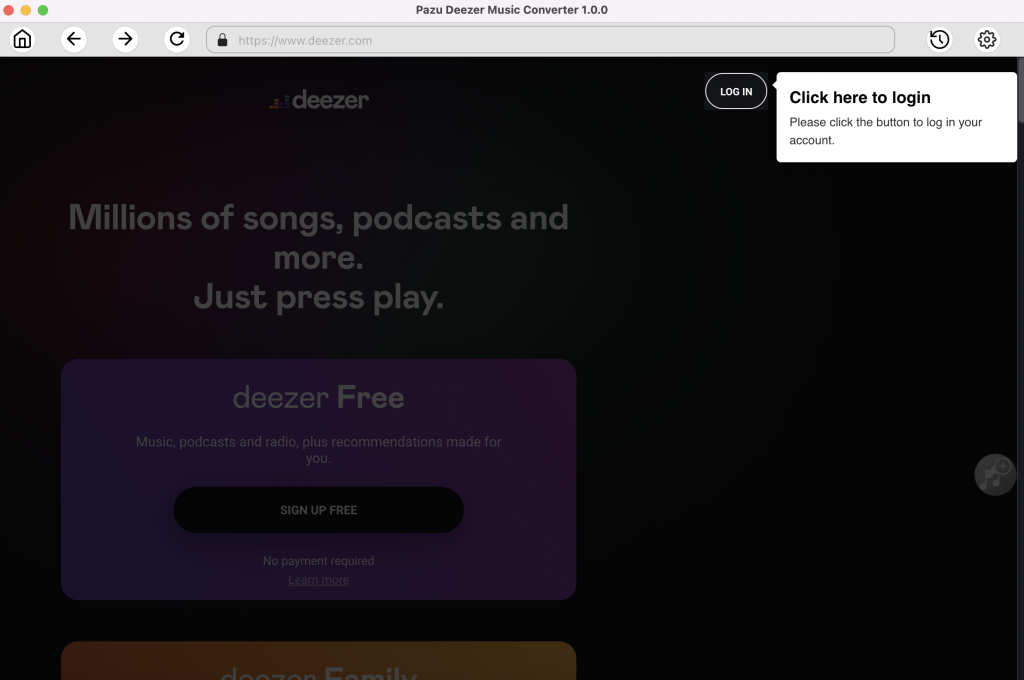 2. Change output format(optional)
The default output format is lossless M4A. Pazu Deezer Music Converter also supports converting Amazon Music to MP3, AAC, FLAC, WAV and AIFF.
Output File Name: name the songs with any combination of Title, Artist, Album, Playlist Index, Track Number. For example, if you choose Title and Artist, Tylor Swift's song Lover will be named as Lover Tylor Swift.mp3.
Output Organized: organize downloaded songs by Artist, Album, Artist/Album or Album/Artist.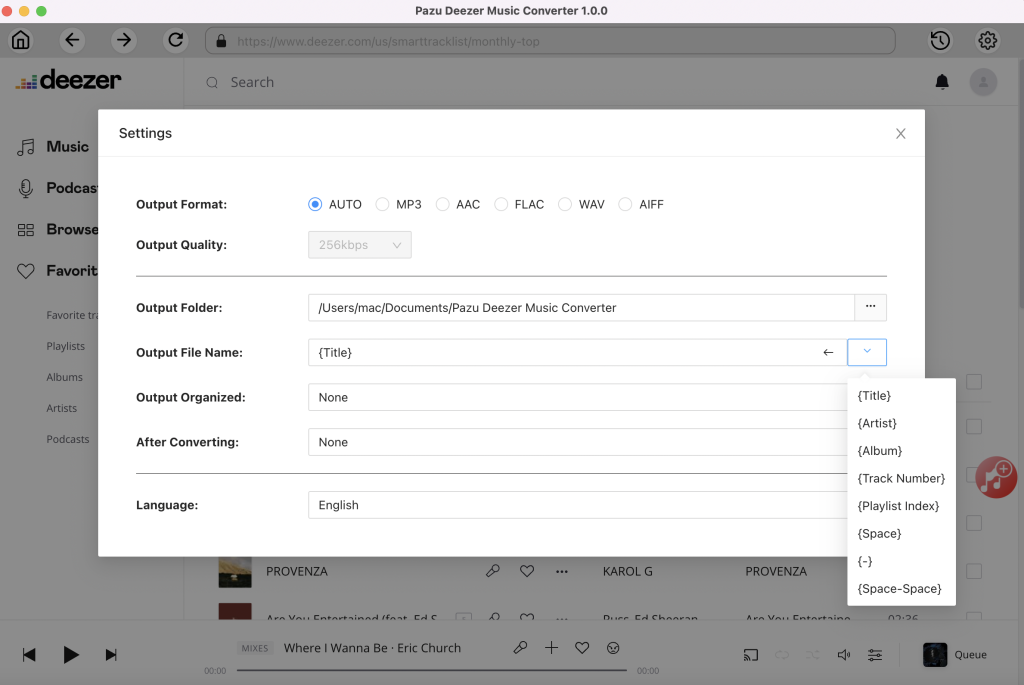 3. Select music you want to download
Follow the on-screen instructions to choose the playlist or album you want to convert. Click Add songs.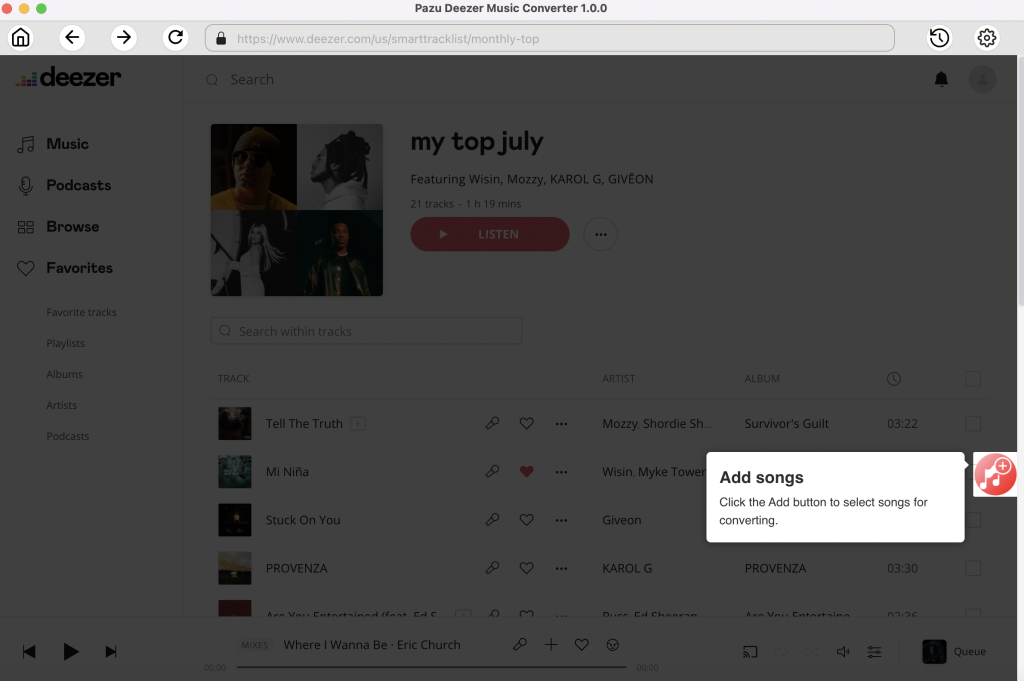 4. Start Conversion
By default, all songs in the playlist/album will be checked. If there are songs you don't want to convert, please uncheck the box. Then click Convert button to start downloading songs to the format you choose.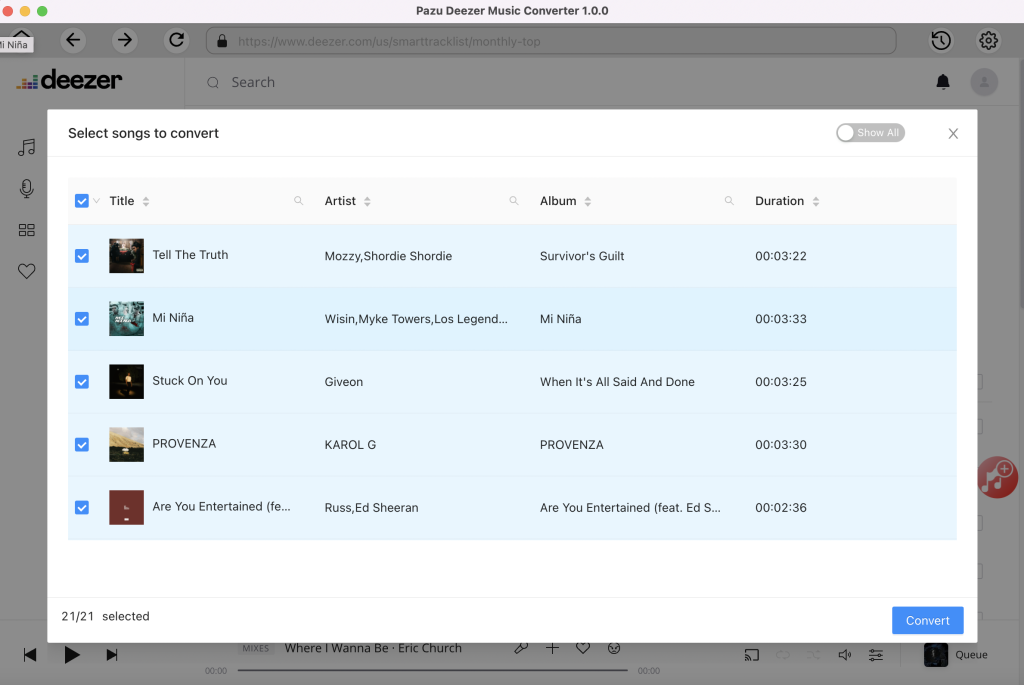 After conversion, click below folder icon to quickly locate the downloaded songs. Now transfer the Deezer songs to USB drive and play them on Roku with Roku Media Player.