2 Ways to play Deezer on Amazon Fire TV and Fire TV Stick
"I tried installing the deezer app on my Firestick 4 and it finds the app in the store but then I click on it, I get the error message App not found", did you encounter the same issue? Well, the truth is that Deezer stopped supporting Fire TV and Fire TV Stick many months ago. So you can't install Deezer app on Fire TV or Fire TV Stick. Luckily there are still 2 alternatives to listen to Deezer music on Fire TV and Fire TV Stick.
Option 1 Play Deezer on Fire TV and Fire TV Stick with Alexa?
To enjoy Deezer on Amazon Alexa, simply say, "Alexa, play music on Deezer." This grants you access to a vast collection of over 90 million tracks, all at your command. For a personalized experience, try saying, "Alexa, play my Flow." Flow creates a unique and continuous stream of songs tailored to your preferences, blending current hits, new releases, and your all-time favorites. To get started, make sure to enable the Deezer skill and link your Deezer account in the Alexa app.
How to link Deezer on the Alexa App?
Within the Amazon Alexa app, select More
Select Skills & Games
Select the Search icon, and enter Deezer
Select Deezer
Select ENABLE TO USE
Log in to your Deezer account
How to make Deezer your default music service?
Within the Amazon Alexa app, select More
Select Settings
Within Alexa Preferences, select Music & Podcasts
Within Settings, select Default Services
Select Change next to the relevant category and then select Deezer
You can also link Alexa to your Deezer Free account! Note: this service is still in development and some features may not yet be available. Deezer Free users are able to play their Flow, shuffle Public Playlists and Albums, as well as enjoy Artist and Genre mixes. Free tier users will receive ads and are limited to 6 skips per hour. To request specific tracks and enjoy the full features of Deezer on Alexa you will need a Deezer Premium account.
Option 2 Play Deezer on Fire TV and Fire TV Stick with VLC or Plex
What is Plex?
Plex is a client-server media tool that lets you access all your centrally stored media through various external devices. With Plex, you can set up a media server on your computer. This server allows you to access all your media files, such as videos, music, and pictures, stored on your computer's hard drive. To access this media, you can use client apps on external devices like FireStick, mobiles, tablets, TV boxes, and computers. For FireStick, you can find the Plex app on the Amazon Store. The beauty of Plex is that your computer (the server) and your devices (the clients) don't have to be connected to the same wireless network. You can leave your computer at home and still enjoy the music stored on its hard drive by playing it on your mobile device, even when you're at your friend's house.
How to play Deezer music with Plex?
Plex has allowed you to create a music library to allow access to all your music content for years. If you can download Deezer music as local songs, then you can organize and play them with Plex. First you need to download Deezer music to MP3.
VLC for Fire
The VLC player is definitely a great app to use on Fire TV Stick because it supports many types of audio and video files. But most importantly, it is free of cost. It is easy to install VLC for FireStick since it is available on the Amazon app store. You just have to search for it and start downloading. You can use VLC to play audio files from a microSD or USB drive connected directly to your Fire TV or Fire TV Stick.
How to Install VLC Media Player App on Amazon Fire TV Stick?
How to play Deezer music with VLC?
Download Deezer music to MP3 and transfer the songs to USB drive. Connect the USB drive directly to your Fire TV or Fire TV Stick. VLC is a free app in the Amazon Appstore for the Fire TV. It is the simplest option to play audio and video files from external drives. When you launch the app, it should automatically find and list the video files stored on your external drive. If it doesn't find the files, scroll down to VLC's "Browsing" section, and select the directory associated with your device and drive.
After VLC loading all media, go to Audio and play the songs you want.
How to download Deezer music to MP3?
Pazu Deezer Music Converter is a software tool that allows you to download and convert Deezer music to MP3, FLAC, WAV, or other popular audio formats. With Pazu Deezer Music Converter, you can easily transfer your Deezer music to any device, including your computer, phone, or MP3 player, for offline playback.
The main features of Pazu Deezer Music Converter include:
High-quality audio conversion: Pazu Deezer Music Converter uses advanced technology to preserve the original quality of your Deezer music during the conversion process.
Fast and efficient: Pazu Deezer Music Converter is designed to download and convert Deezer music at high speed, allowing you to save time and get your music collection ready for offline listening.
Batch conversion: Pazu Deezer Music Converter allows you to convert multiple songs or playlists at once, making it easy to transfer your entire music library to a new device.
User-friendly interface: Pazu Deezer Music Converter features a simple and intuitive interface that makes it easy for anyone to use, regardless of their technical expertise.
ID3 tag editing: Pazu Deezer Music Converter also allows you to edit the ID3 tags of your music files, including artist name, album title, and track number, for easy organization and playback.
1. Launch Deezer Music Converter
Download, install and run Pazu Deezer Music Converter on your Mac. Click the Sign in button and log in your Deezer account.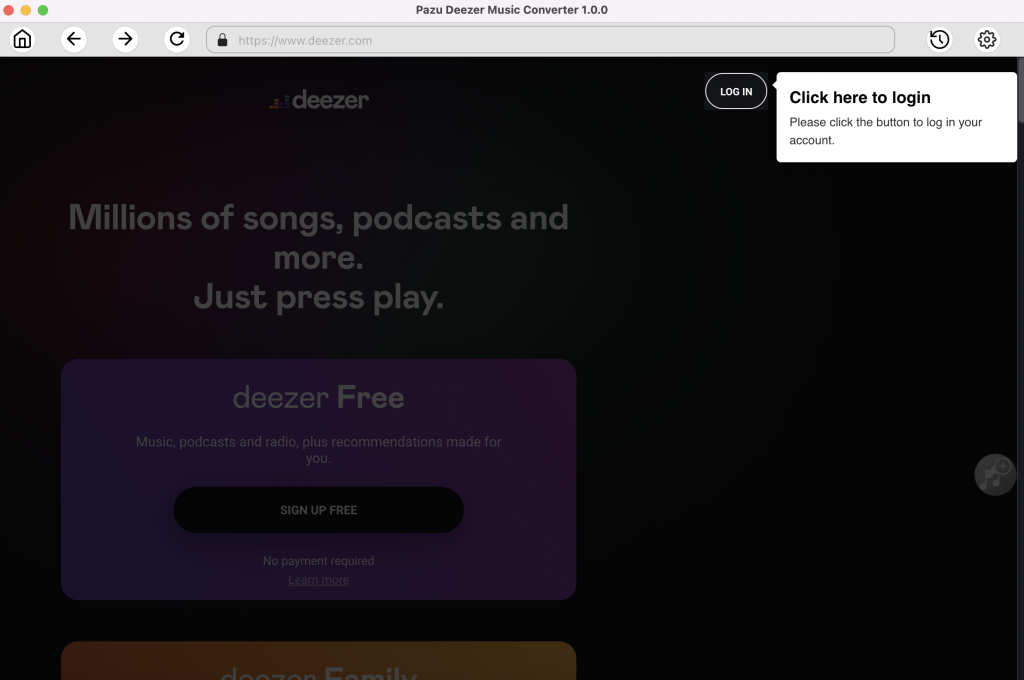 2. Change output format(optional)
The default output format is lossless M4A. Pazu Deezer Music Converter also supports converting Amazon Music to MP3, AAC, FLAC, WAV and AIFF.
Output File Name: name the songs with any combination of Title, Artist, Album, Playlist Index, Track Number. For example, if you choose Title and Artist, Tylor Swift's song Lover will be named as Lover Tylor Swift.mp3.
Output Organized: organize downloaded songs by Artist, Album, Artist/Album or Album/Artist.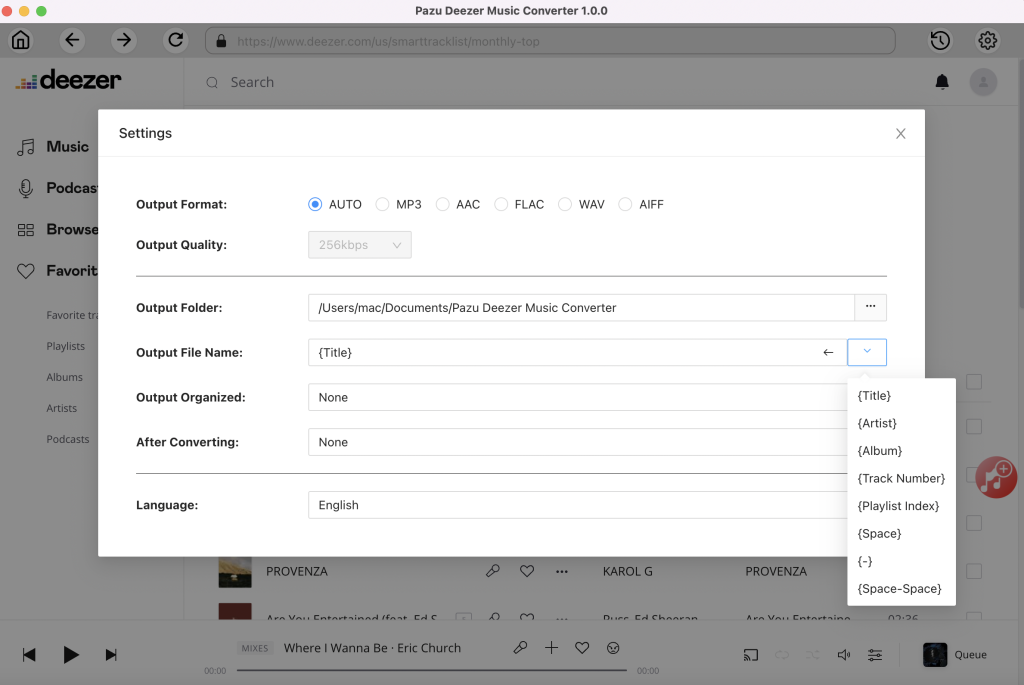 3. Select music you want to download
Follow the on-screen instructions to choose the playlist or album you want to convert. Click Add songs.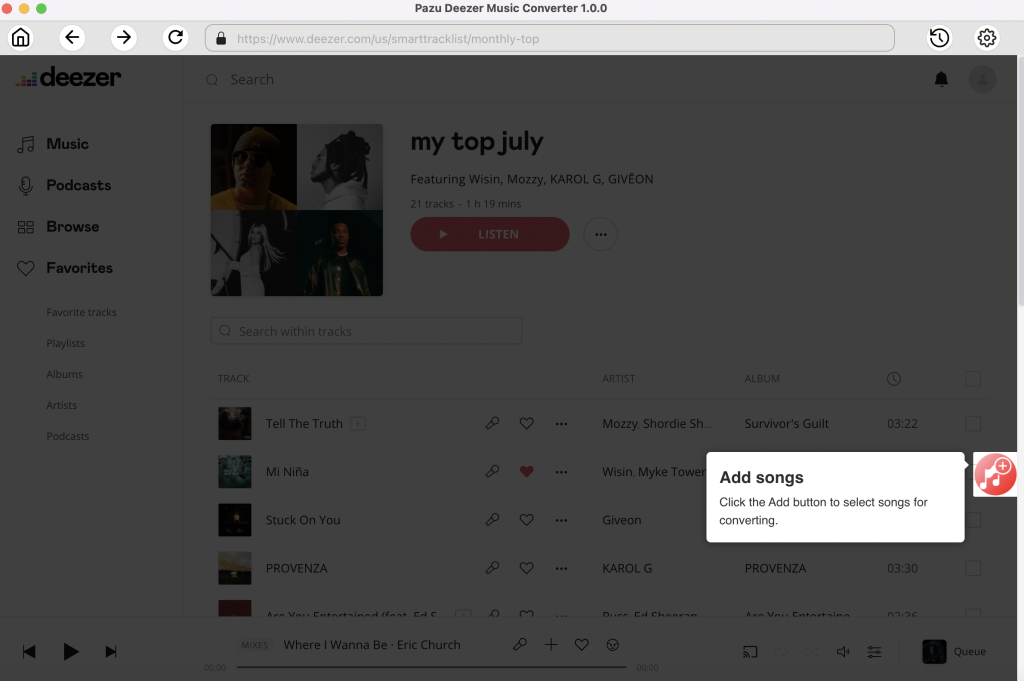 4. Start Conversion
By default, all songs in the playlist/album will be checked. If there are songs you don't want to convert, please uncheck the box. Then click Convert button to start downloading songs to the format you choose.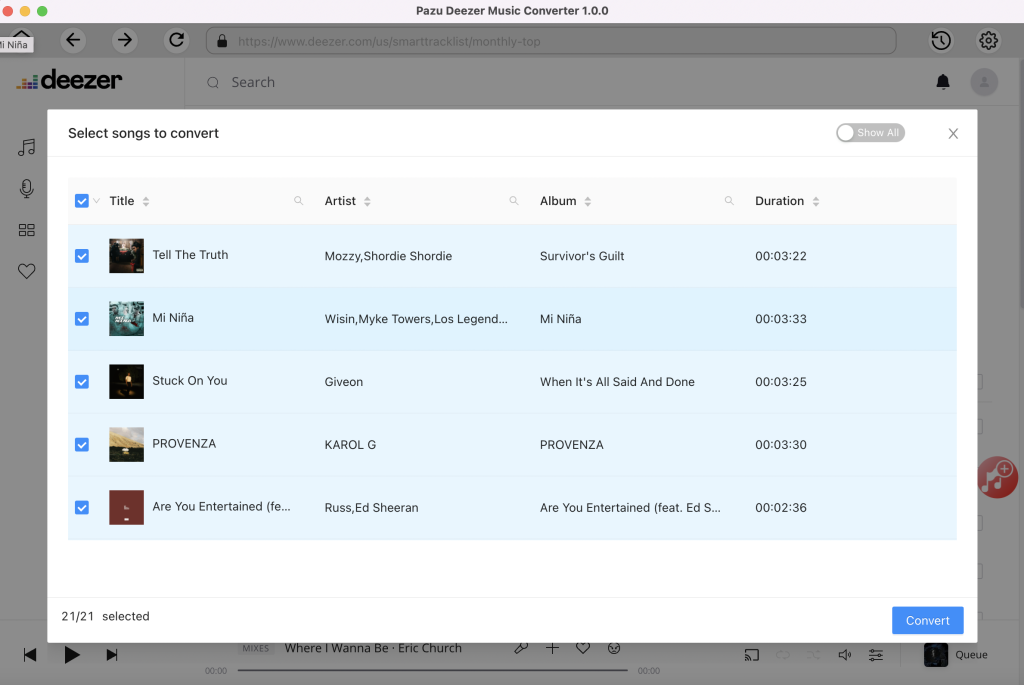 After conversion, click below folder icon to quickly locate the downloaded songs. Now add them to Sonos with above steps.
How to upload Deezer music to Plex?
How to install Plex on Fire TV or Fire TV Stick?
1. You will find the FireStick Search option on the home screen in the middle (after selecting Find).
2. Type in Plex and click it in the search results. You may also hold down the Alexa button on your remote for the voice command.
3. When you see the Plex app icon , Select it.
4. Go ahead and click Get (or if you have downloaded it before, click Download instead).
5. Wait for the Plex app to download and install on Fire Stick.
6. Click Open to run Plex once it is installed.
7. Browse to find the Deezer music and play.