Apple Music VS. Deezer: Which is better
Both Apple Music and Deezer offers high quality music. Apple Music full catalog is available in lossless audio and select songs in Spatial Audio with Dolby Atmos. In Apple Music, "Lossless" refers to lossless audio up to 48kHz, and "Hi-Res Lossless" refers to lossless audio from 48kHz to 192kHz.
Deezer Premium($10.99/month), Student and Family users can now enjoy FLAC music in High Fidelity sound(16-bit, 1,411 Kbps). Previously this High Fidelity sound is only available in Deezer HiFi plan($14.99/month). Deezer HiFi plan used to offer an ever-growing catalogue of 360 Reality Audio tracks.
Currently you won't find Deezer HiFi plan on Deezer Plans page. If you still subscribe to Deezer HiFi plan($14.99/month), remember to switch to Deezer Premium or Family.
Want to know more about Apple Music and Deezer? Read below.
Plans
Apple Music Plans:
Voice: $4.99/month.
Student: $5.99/month.
Individual: $10.99/month.
Family: $16.99/month.
Deezer Plans:
Deezer Family: $17.99/month. Get 6 individual accounts, all with Deezer Premium benefits.
Deezer Premium: $10.99/month.
Deezer Student: $5.99/month.
Deezer Free: ad-supported, shuffle play, 30 second preview on desktop app and web player.
Currently Deezer Premium, Deezer Student and Deezer Family plans have HiFi built in, so you can experience exceptional Free Lossless Audio Codec (FLAC) sound for all your songs at no extra cost.
Deezer Family costs $1 more than Apple Music Family. Besides, Apple Music has a cheap voice plan.
Free Trial
Both Apple Music and Deezer offers one month free trial. You can also get 6 months of Apple Music free with eligible audio devices.
Deezer offer one month free trial for Deezer Premium, Deezer Family, Deezer Student and Deezer HiFi. It also offers discount for Deezer Free users.
Catalog
Deezer now has over 90 million tracks available for streaming. Enjoy access to a catalogue of more than 90 million songs, playlists, podcasts and radio channels. Discover new music releases and trending albums, and create your own library.
Apple Music also offers over 100 million songs and 30,000 playlists. Besides the Apple Music catalog, you can also access and sync your music library on all of your devices. You can have up to 100,000 songs in your music library. Songs you buy from the iTunes Store don't count towards this limit.
Deezer also allows you to add your own MP3s to Deezer to complete your ultimate music collection, but you need to upload them manually. There is a limit of 2,000 MP3 tracks that can be uploaded to your Deezer account.
Quality
Apple Music Audio Quality
Apple has developed its own lossless audio compression technology called Apple Lossless Audio Codec (ALAC). In addition to AAC, the entire Apple Music catalog is now also encoded using ALAC in resolutions ranging from 16-bit/44.1 kHz (CD Quality) up to 24-bit/192 kHz.
Lossless audio is not available with Apple Music Voice Plan.
How to change Apple Music audio quality?
On mobile and tablet
Go to Settings > Music.
Tap Audio Quality.
Tap Lossless Audio to turn it on or off. From here, you can choose the audio quality for streaming and downloading audio.
Lossless audio uses more data, so you may not want to turn it on for Mobile Data Streaming. If you don't have plenty of storage, you might also want to avoid turning it on for Downloads.
On Mac
Open the Apple Music app.
In the menu bar, choose Music > Preferences.
Click the Playback tab.
Under Audio Quality, select or unselect "Lossless audio" to turn it on or off. From here, you can also change the settings for streaming and downloading lossless.
Note: Apple Music lossless audio quality is not available on Windows, which is still called iTunes.
Deezer Audio Quality
Deezer Free: Basic, Standard
Deezer Premium: Basic, Standard, High Quality
Deezer Student: Basic, Standard, High Quality
Deezer Family: Basic, Standard, High Quality
Deezer HiFi: Basic, Standard, High Quality, High Fidelity
Deezer HiFi and Deezer Family HiFi subscribers also get access to FLAC audio for high fidelity sound, upping the audio quality to lossless 16-bit, 44.1 kHz, 1,411 Kbps. That's the full catalog, available in CD-quality, plus access to the 360 by Deezer app, which is full of spatial music via Sony's 360 Reality Audio.
How to change Deezer audio quality?
On mobile and tablet
Tap the Settings icon.
Touch Audio in the menu.
Setup your settings for Streaming quality and Downloads.
On web or desktop app
Click on the Audio icon.
Select whichever of the quality options you prefer.
Deezer web player supports up to Better(320kbps) audio quality.
Desktop app
Apple Music
OS X 10.13 or above
Windows 7 or above
Supported web browsers: Chrome, Firefox, Edge, Opera, Safari.
Deezer
OS X 10.10 or later on Mac
Windows 7, 8, 8.1 and 10 on Windows machines
Web Player supported browsers are: Google Chrome, Internet Explorer, Firefox, Microsoft Edge, and Safari.
If you use Deezer Free, the desktop app and web player may seems useless, because you will only be allowed to play a 30 second preview for individual songs.
Compatibility
Deezer is also compatible with Apple devices such as HomePod and Apple Watch. To enjoy Deezer on Apple HomePod and HomePod Mini, you'll need to be a Deezer Premium, Deezer Family, Deezer HiFi, or Deezer Student user on iOS 14.5 or later. HomePod supports HiFi quality.
Deezer's Apple Watch app now allows you to download tracks straight to the device for greater freedom.
How to transfer Deezer music to Apple Music?
If you want to switch to Apple Music but don't want to lose access to some favorite Deezer playlists, you can download Deezer music to MP3 with Pazu Deezer Music Converter and then sync the songs to Apple Music library.
1. Launch Deezer Music Converter
Download, install and run Pazu Deezer Music Converter on your Mac. Click the Sign in button and log in your Deezer account.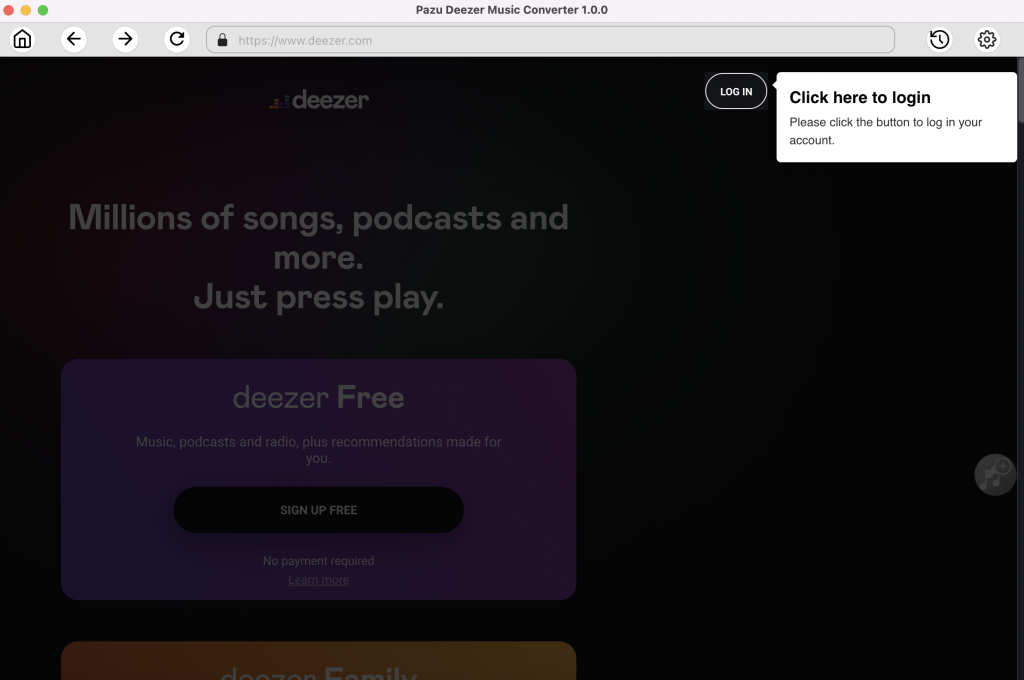 2. Change output format(optional)
The default output format is lossless M4A. Pazu Deezer Music Converter also supports converting Amazon Music to MP3, AAC, FLAC, WAV and AIFF.
Output File Name: name the songs with any combination of Title, Artist, Album, Playlist Index, Track Number. For example, if you choose Title and Artist, Tylor Swift's song Lover will be named as Lover Tylor Swift.mp3.
Output Organized: organize downloaded songs by Artist, Album, Artist/Album or Album/Artist.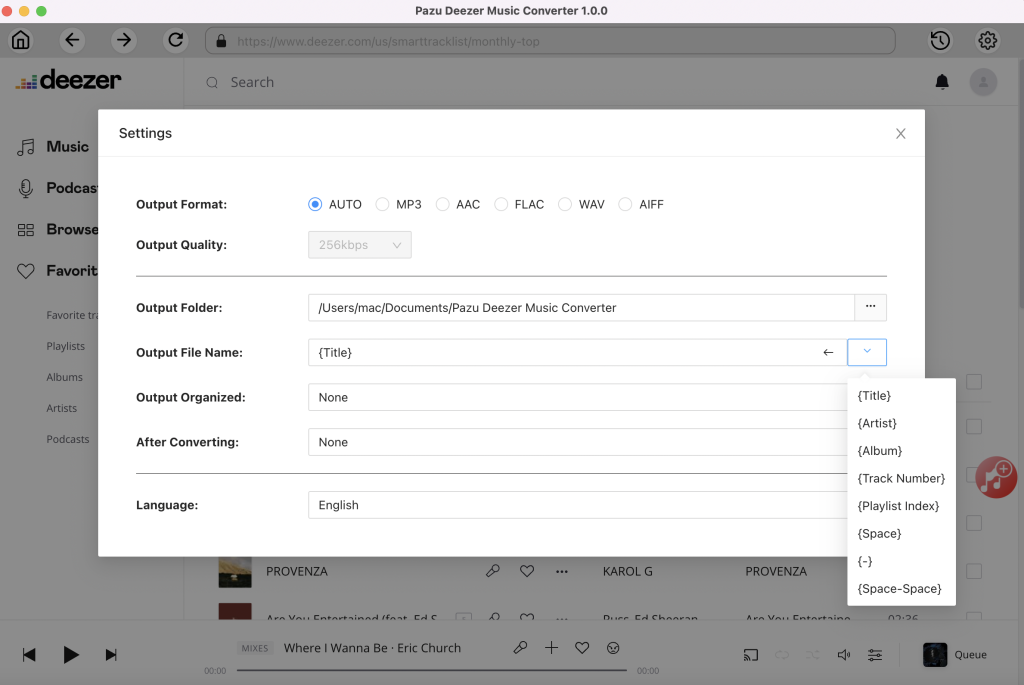 3. Select music you want to download
Follow the on-screen instructions to choose the playlist or album you want to convert. Click Add songs.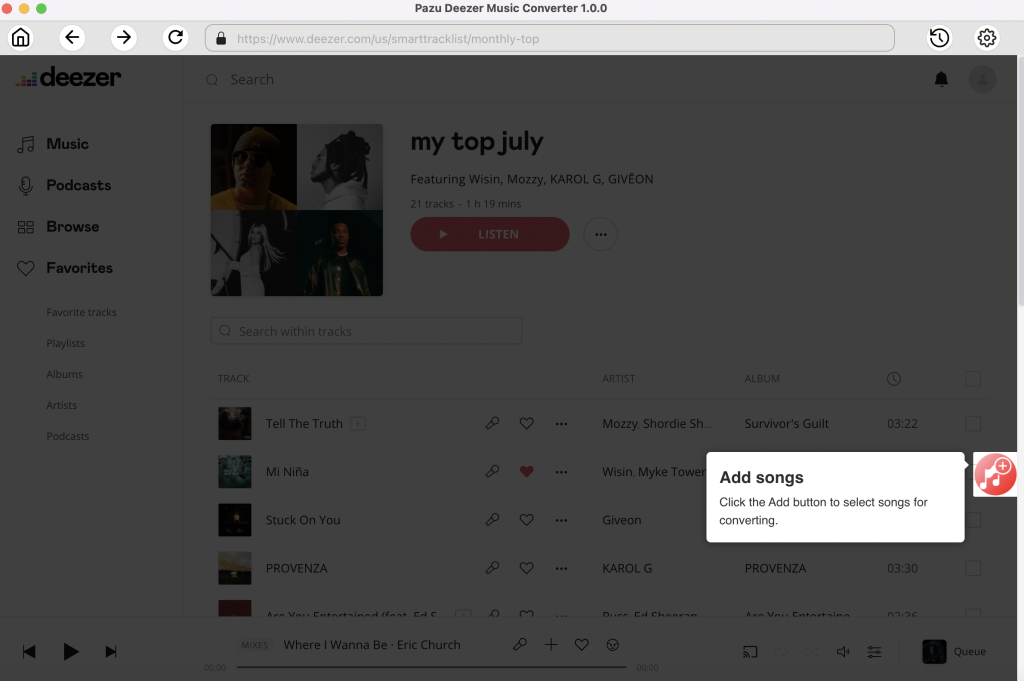 4. Start Conversion
By default, all songs in the playlist/album will be checked. If there are songs you don't want to convert, please uncheck the box. Then click Convert button to start downloading songs to the format you choose.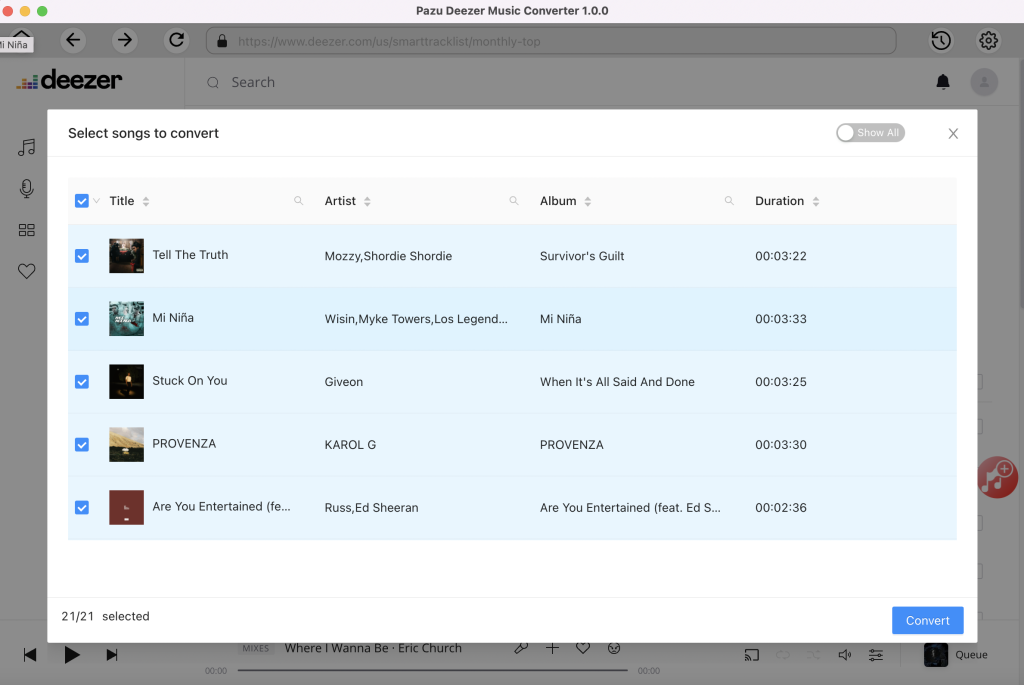 After conversion, click below folder icon to quickly locate the downloaded songs.