How to get Audible family plans?
As an Audible member, you have a choice of two main types of membership: Audible Plus and Audible Premium Plus. Audible Plus is a monthly membership which includes access to unlimited streaming and listening from the Audible Plus Catalog. Look for the "included" tag and hit "play now" to instantly stream from the app. You can also save these titles to your Library or download them to listen offline. Listen to all you want to thousands of included titles in the Plus Catalog for $7.95 a month.
Audible Premium Plus – 1 Credit includes everything in Audible Plus, with the added bonus of 1 credit per month to be used to redeem any title from our Premium selections. These titles are yours to keep forever! Premium Plus also unlocks a 30% discount for any additional content you purchase from the Premium catalog. Get the Plus Catalog + 1 credit per month for any premium selection title for $14.95 a month. Audible Premium Plus – 2 Credits Subscribe for $22.95 a month to unlock the Plus Catalog + 2 credits per month for any premium selection titles.
If you want more listening options, you can consider an annual Premium Plus subscription:
Audible Premium Plus Annual – 12 Credits Subscribe for $149.50 a year to unlock the Plus Catalog + immediate access to 12 credits for any premium selection titles.
Audible Premium Plus Annual – 24 Credits Subscribe for $229.50 a year to unlock the Plus Catalog + immediate access to 24 credits for any premium selection titles.
Audible Plus and Audible Premium Plus also offer a 30-day free trial, available to most new members. When your trial is over, you'll be automatically charged a monthly subscription fee.
Are there Audible family plans?
There are no Family plans with Audible, but you can share Audible books with members of your Amazon Household (up to two adults and four children at the same address) through Amazon Household Library. Each user will have separate bookmarks under their login information. As the primary account holder, you decide the level of access you would like each of your Amazon Household members to have – Listen only, Use credits (listen and use the credits if any are on the account), or the ability to Buy & use credits. All audiobooks that you and/or your family members purchase will be available to every Amazon Household member on your account, they will all appear in your library. Anyone who is living in the same household as you is eligible to join your Amazon Household.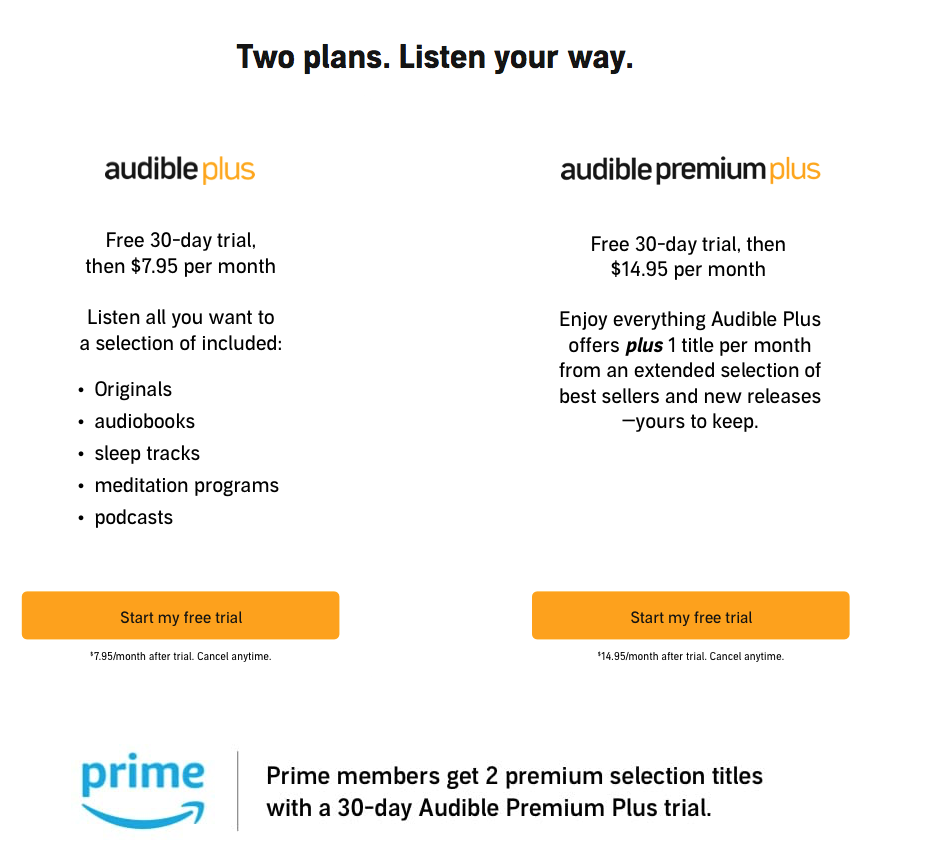 1. How to create Amazon Household Library?
1. Go to amazon.com in your browser and log in, click your name on the top right corner. Scroll down and choose Manage content and devices.
2. Click Preferences.
3. Click on Households and Family Library to open the hidden message, then click Learn more about Households.
4. On the new page, select Add Adult to add a new profile.
5. If the other adult is not present, enter the name and email address of the adult you'd like to invite and click Continue. If the other adult is present, click the Sign up together on this device link located at the bottom of the screen. (Note: If you are sending an email invitation, the other adult will have 14 days to accept the invite. You can manage your invitation from Manage Your Household.)
6. Have the second account owner (the one you are going to share your content with) enter their email address and password, then click Verify Account.
7. Select, We agree to share credit and debit cards associated with our Amazon accounts in order to share select Prime benefits as well as games, apps, eBooks and Audiobooks; followed by Create Household.
8. Select the types of content that you'd like to share. When complete, click Continue.
9. Send your invite.
10. The person you invite will receive an email from Amazon with the invite link. Click Continue.
2. How to share audiobooks in Amazon household?
1. Go to amazon.com in your browser and log in, click your name on the top right corner. Scroll down and choose Manage content and devices.
2. Select Audiobooks.
3. Select the audiobooks you want to share and click Add to library.
4. Confirm the Family Library and click "Make Changes".
5. Now your family members can listen to the audiobook in their account.
3. How to see all the shared content on your devices?
Head to www.amazon.com, if your device is not showing up, try signing into the Audible app on that device and then refreshing the Your Devices tab on the Amazon page. Follow these steps:
Go to Your Content and Devices page on Amazon.
Click the Devices tab.
Click the three dots Action button next to the device you would like to have content shared to.
Click the check box Show [Name]'s Content, under Family Library. Now you can listen to shared audiobooks on your device!
How to share Audible audiobooks in Plus Catalog with family?
Amazon Household Library is an exciting new member feature that allows you to share your audiobooks with people in your household. By adding different family members to your account you allow them to save their own bookmarks and notes without interfering with your account. But titles included in the Plus Catalog cannot be shared using Library Sharing. Is there any way to share Plus Catalog content with your family?
Almost all audiobooks downloaded from Audible.com is locked by Audible DRM and limited to Audible proprietary format–AAX. You can not share DRM content with others without limitations. So, if you want to share Audible audios without limits, you'd better remove DRM and convert Audible audiobooks to MP3 or other common formats. The best method to convert Audible audiobooks to common formats is to rely on a professional audiobook converter. Pazu Audible Converter is a professional and powerful Audible converter to convert audio at a super faster speed.
With the help of Pazu Audible Converter, you can easily remove Audible DRM and convert DRM-protected AA/AAX books to MP3/M4B which are supported by most popular media players. It enables you to split big Audible audiobooks into small segments by time or chapters. By applying a unique technique, Pazu Audible Converter can work at 60X faster speed in converting a DRM audiobook to unprotected formats.
Follow the below steps. Learn how to convert Audible AA/AAX audiobooks and share them with your family.
All you need is Pazu Audible Converter. Pazu Audible Converter for Windows/Mac allows you to convert Audible AA/AAX to MP3, M4A, M4B, AC3, AAC, FLAC, OGG, AIFF or WAV files that you can save to your computer, allowing you to add the audiobooks to any MP3 player. Split any Audible audiobook file to small segments by time frame or by chapters.
Step1: Install Pazu Audible Converter
Download Pazu Audible Converter. Follow instructions to install it on your Mac or Windows.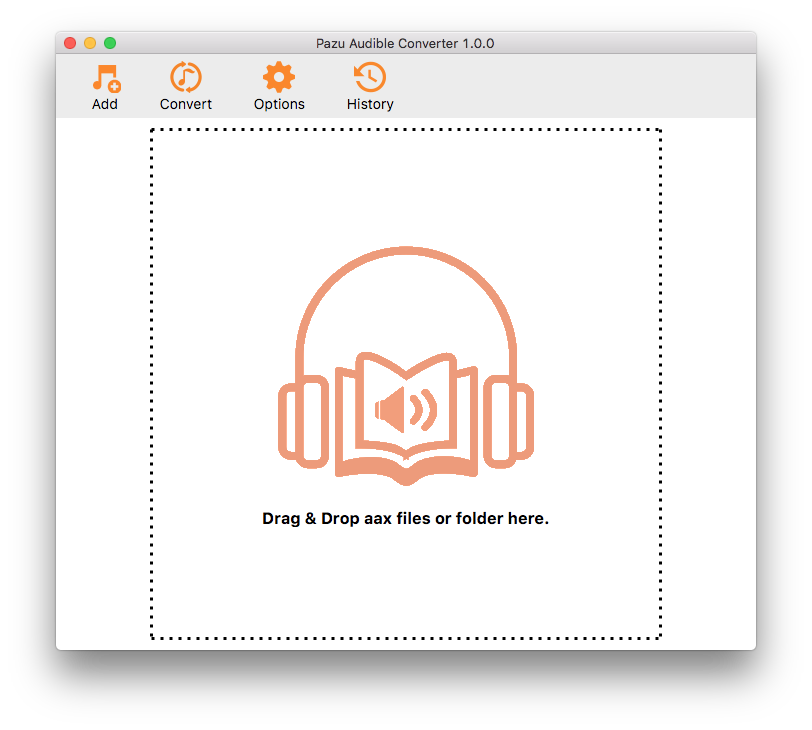 Step2: Add Audiobooks
Click the Add button to add audiobooks to Pazu Audible Converter. Or you can drag and drop the files into the converter directly.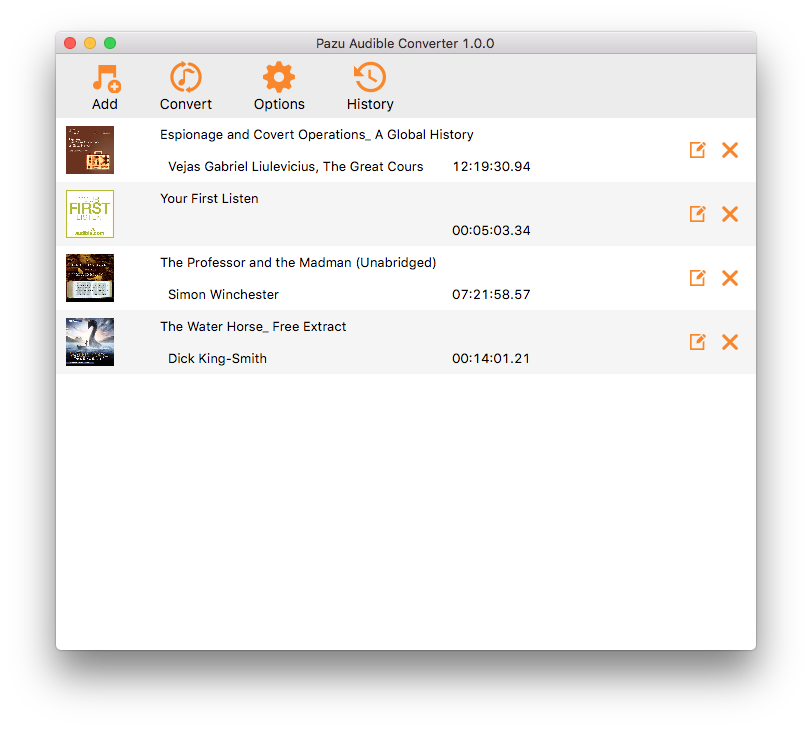 Step3: Customize the settings
Click the Options button, here you can change the output path and choose to split the audio file into segments as needed. Click the Advanced button, you can customize the output settings: Output Format, SimpleRate, and Bitrate. If you choose Lossless as the output format, Pazu Audible Converter will download audiobooks in plain M4A format. Bookmarks work with M4A format. If you choose other format, such as MP3, bookmarks are not available.
Step4: Start to convert
Click on the Convert button at the top of the main interface to start converting the selected audiobooks to the output format you chose.
Step5: Find output files
When the converting process is completed, click the History button and find the well-converted files from the local drive.