Deezer HiFi vs Premium, is there any difference?
Since 2021, Deezer Premium goes lossless with its Deezer Premium plan now streaming CD Quality Lossless FLAC but comes with a price increase of $2 to $11.99/month. Deezer's HiFi subscription plan has been withdrawn as all of its features are now contained in its Premium plan. Deezer have not made any formal announcements over this restructuring of its plans.
Deezer now has two tiers Deezer Free and Deezer Premium which is also available as a Family package for up to 6 individual accounts. Students can get Deezer Premium for a 50% discount and there is a 25% discount for Premium subscribers prepared to pay for an annual subscription rather than be billed monthly.
Deezer HiFi was available before 2021. During that period, Deezer Premium uses 320kbps MP3, whereas Deezer Hi-Fi uses 1411 kbps FLAC. If it were 320kbps AAC or Ogg Vorbis versus FLAC, you could not tell the difference in a blind A/B test. However, MP3 is a different story. MP3 retains some artifacts even at high bit rates. So, it's true that you might be able to hear a difference between 320kbps MP3 and 1411 kbps FLAC using really good equipment. With High Fidelity sound, you get lossless, CD quality music streaming.
Premium(High Quality) VS. HiFi(High Fidelity)
Deezer HiFi is the company's top-tier paid service, offering lossless CD-quality sound. It also includes all of the features included in Deezer Premium.
Deezer HiFi: Listen to FLAC music in High Fidelity sound as if you were right in the recording studio. Audio is encoded with 16-Bit/44.1 kHz FLAC to deliver the very best listening experience. Audio is encoded with 16-Bit/44.1 kHz FLAC to deliver the very best listening experience. HiFi users also get additional access to '360 by Deezer' app, which lets you play music in Sony's '360 reality audio' format.
Deezer Premium: Enjoy music with high quality audio for a better listening experience.
The main difference is music quality: Deezer HiFi offers a higher-fidelity experience with music streamed in FLAC ("Free Lossless Audio Codec") quality. This means it is compressed without any loss in audio quality. So you can enjoy crystal-clear high-definition sound whether you are listening through wired, wireless, or Bluetooth speakers.
So, which plan is right for You?
That depends on your needs and budget. Deezer HiFi offers the best sound quality, plus all Premium features, while Deezer Premium provides unlimited streaming and offline playback. We recommend that you take advantage of the free trial to determine which Deezer plan is best for you.
Deezer Premium includes HiFi in some countries
However, Deezer HiFi is included in in Deezer Premium in some countries, such as Canada and UK. If you are still on the old HiFi tier, you should be able to get the new Premium including HiFi either by cancelling your old HiFi account, wait for it to run out, and then subscribe from a Free account to the new Premium tier. Or you contact the Deezer support and ask if they could switch you from old HiFi to new Premium instantly.
What happens after cancelling Deezer HiFi/Premium?
After canceling Deezer HiFi, you will automatically revert back to the Deezer Free plan. All of your favorite tracks, playlists and content will still be visible, but some features, like unlimited skips, downloading and offline listening, are only available to paid subscribers.
When you are on Deezer free plan, you can only listen to each song for 30 seconds with desktop app and web player. There will be ads and you can't download songs for offline playback.
If you want to listen to Deezer songs offline without ads after cancelling Deezer HiFi or Deezer Premium, you can download Deezer songs to MP3 with Pazu Deezer Music Converter.
1. Launch Deezer Music Converter
Download, install and run Pazu Deezer Music Converter on your Mac. Click the Sign in button and log in your Deezer account.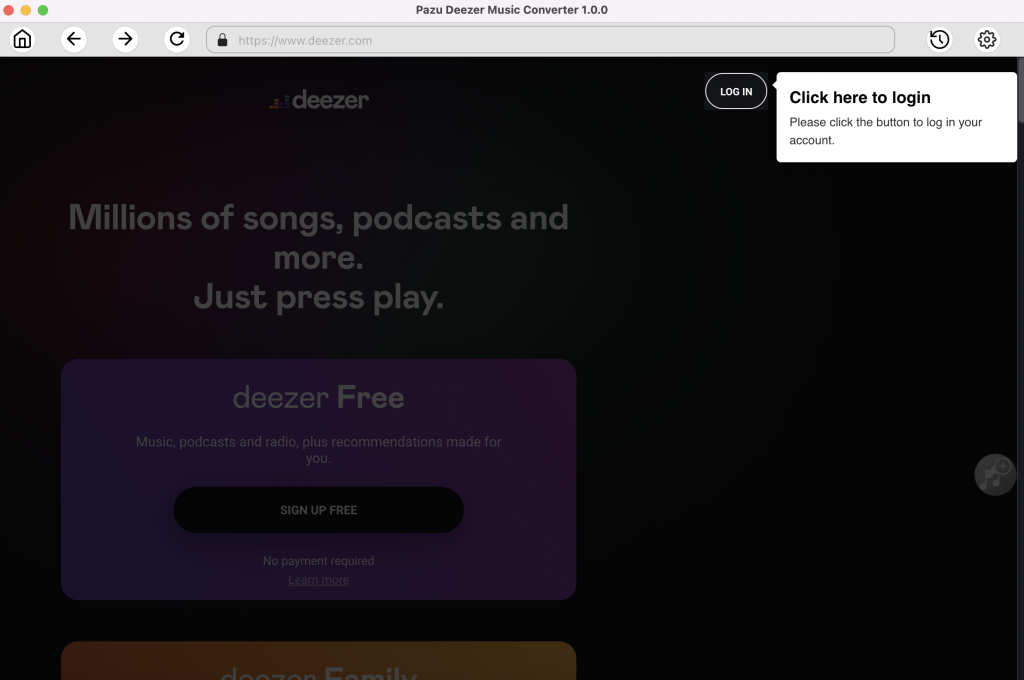 2. Change output format(optional)
The default output format is lossless M4A. Pazu Deezer Music Converter also supports converting Amazon Music to MP3, AAC, FLAC, WAV and AIFF.
Output File Name: name the songs with any combination of Title, Artist, Album, Playlist Index, Track Number. For example, if you choose Title and Artist, Tylor Swift's song Lover will be named as Lover Tylor Swift.mp3.
Output Organized: organize downloaded songs by Artist, Album, Artist/Album or Album/Artist.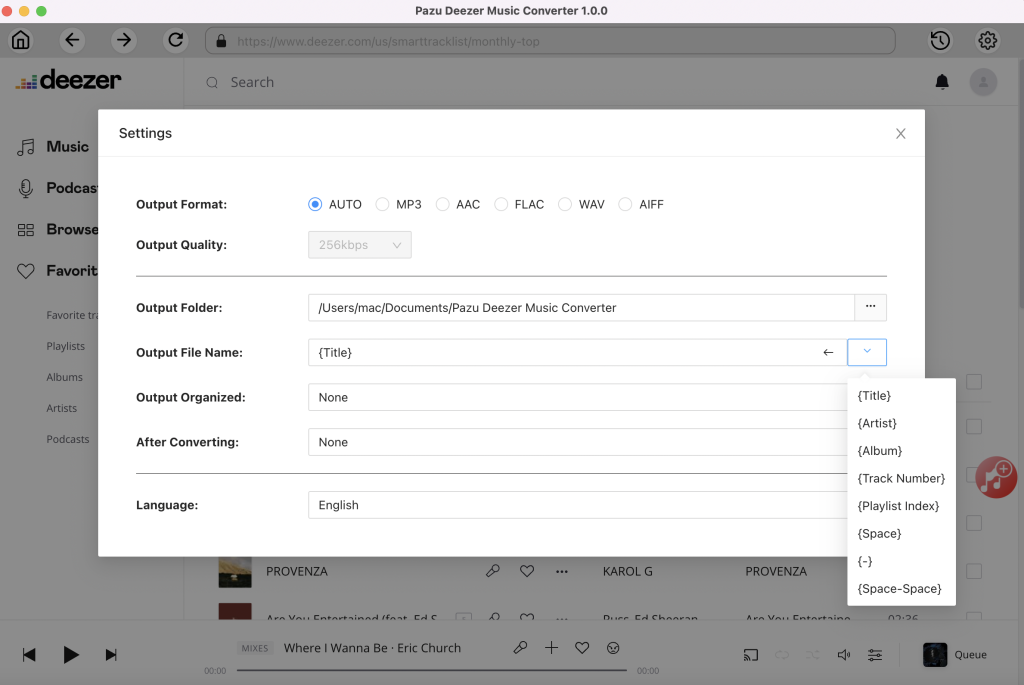 3. Select music you want to download
Follow the on-screen instructions to choose the playlist or album you want to convert. Click Add songs.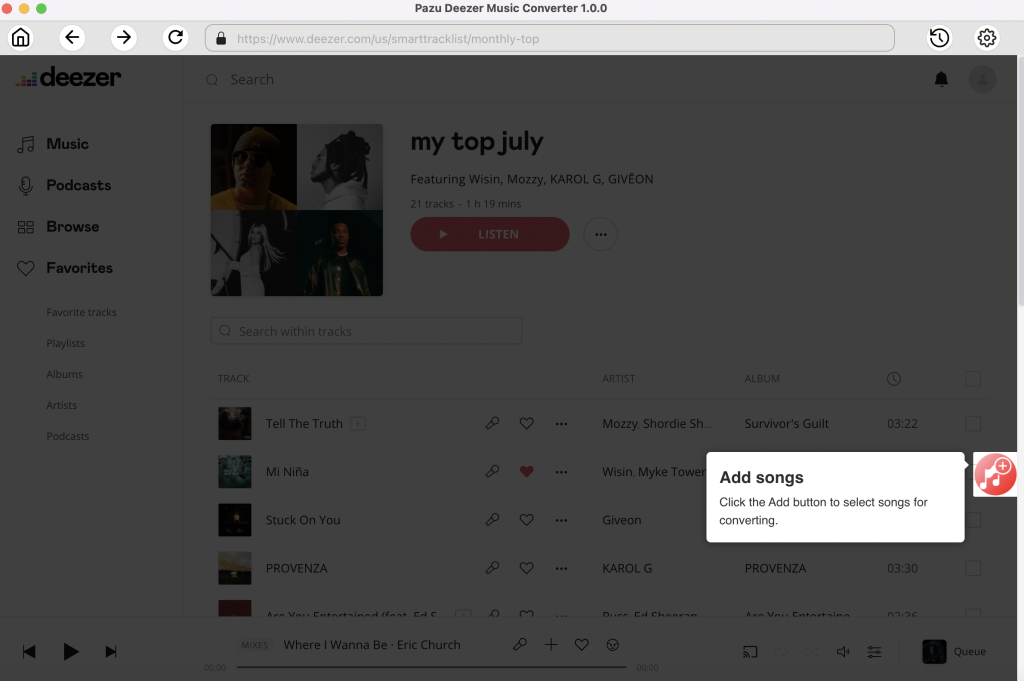 4. Start Conversion
By default, all songs in the playlist/album will be checked. If there are songs you don't want to convert, please uncheck the box. Then click Convert button to start downloading songs to the format you choose.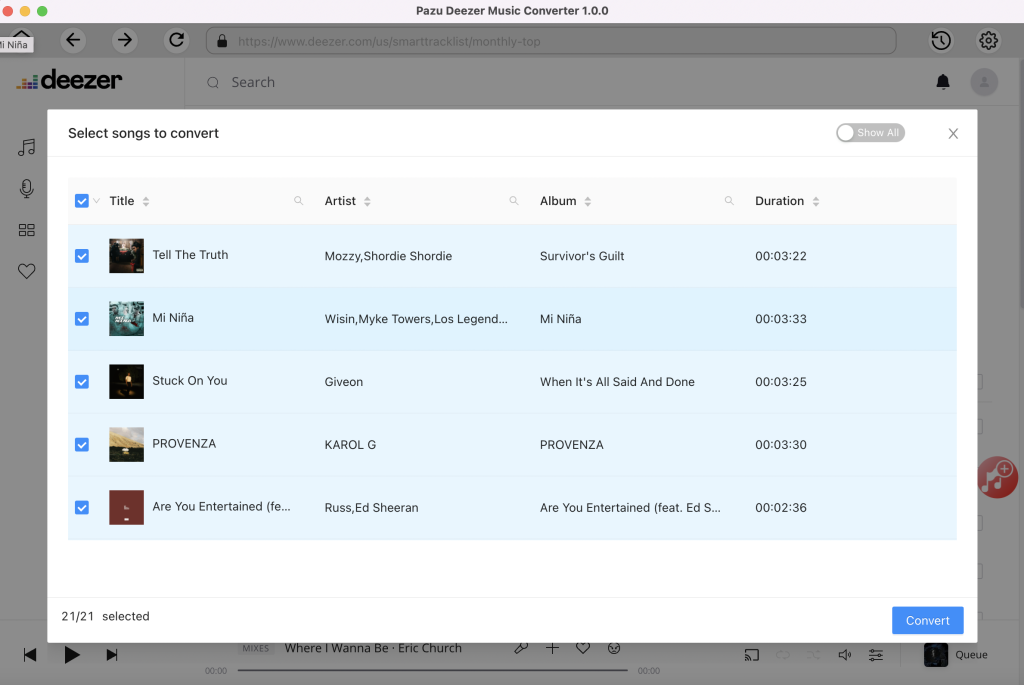 After conversion, click below folder icon to quickly locate the downloaded songs.