FLAC vs. WAV – What's the Difference and where to download?
What is FLAC?
FLAC stands for Free Lossless Audio Codec, an audio format similar to MP3, but lossless, meaning that audio is compressed in FLAC without any loss in quality. It's royalty-free and is considered the preferred format for downloading and storing hi-res albums. The downside is that it's not supported by Apple.
What is WAV?
WAV is an audio file format standard developed by IBM and Microsoft. It is the main format used on Microsoft Windows systems for uncompressed audio.
What's the Difference Between FLAC and WAV digital formats?
Size
The FLAC (Free Lossless Audio Codec) is compressed to nearly half the size of an uncompressed WAV or AIFF of equivalent sample rate, but there should be no "loss" in terms of how it sounds.
Though a WAV file can contain compressed audio, the most common WAV audio format is uncompressed audio in the linear pulse-code modulation (LPCM) format. LPCM is also the standard audio coding format for audio CDs, which store two-channel LPCM audio sampled at 44.1 kHz with 16 bits per sample. Since LPCM is uncompressed and retains all of the samples of an audio track, professional users or audio experts may use the WAV format with LPCM audio for maximum audio quality.[9] WAV files can also be edited and manipulated with relative ease using software.
Metadata
WAV does not contain metadata like album art or artist information. The only way to "attach" metadata to WAV files would be to use ID3 Tags. ID3 Tags are simply containers of metadata that can be "attached" to audio files. However, this isn't the same process as embedding metadata INSIDE an audio file. FLAC supports hi-res sample rates, takes up about half the space of WAV, and stores metadata.
Compatible players
Note that iTunes/Music app can't play FLAC songs. If you prefer FLAC songs, you can use VLC Media Player, QuickTime Player, Winamp, Media Monkey, Songbird or VOX for Mac, iPhone, and iPod.
WAV can be played with Windows Media Player, Winamp, iTunes/Apple Music, VLC Media Player, QuickTime Player or VOX.
Where to buy FLAC or WAV music?
There are several online platforms where you can purchase FLAC or WAV music. Here are some popular options:
Bandcamp: Bandcamp is a platform that allows artists to sell their music directly to fans. Many artists on Bandcamp offer their music in WAV format, along with other formats like FLAC and MP3. It's a great platform to discover independent artists and support them by purchasing their music in WAV.
HDtracks: HDtracks, as mentioned earlier, is an online store specializing in high-resolution audio downloads. They offer a wide range of music in different formats, including WAV. HDtracks focuses on delivering high-quality audio files, making it a suitable option if you prefer WAV.
Qobuz: Qobuz is a music streaming and download service that provides a comprehensive library of high-quality music, including WAV files. They offer a range of genres and have a strong emphasis on high-resolution audio. Qobuz operates in several countries and provides a subscription-based service.
7digital: 7digital, similar to what was mentioned before, is an online music platform that offers a diverse catalog of music. They provide WAV downloads from various artists and labels. 7digital covers different genres and can be a source to find WAV music.
Bleep: Bleep, also mentioned earlier, is an online music store specializing in electronic and independent music. They offer a selection of WAV downloads from a variety of artists and labels. Bleep is known for its curated content and often features exclusive releases.
It's important to note that WAV files tend to be larger in size compared to other audio formats like FLAC or MP3. Ensure that you have sufficient storage space and compatible devices to handle WAV files if you choose to purchase them.
Additionally, some mainstream online music stores like iTunes Store and Amazon Music also offer WAV files for certain albums or tracks. Keep an eye out for specific format availability when browsing these platforms.
Tidal and FLAC
Tidal uses FLAC to stream CD-quality lossless files in its standard 'HiFi' tier but Tidal HiFi Plus supports Tidal Masters through MQA technology. In a recent AMA (ask me anything) session over on Reddit with Tidal's CEO, Jesse Dorogusker a number of questions were asked relating to MQA and hi-res audio. In response he said, "we will be introducing hi-res FLAC for our HiFi Plus subscribers soon. It's lossless and an open standard. It's a big file, but we'll give you controls to dial this up and down based on what's going on."
Good Sound Quality (160 Kbps)
Standard quality keeps data use to a minimum while offering good sound fidelity. Great for on-the-go listening, or for devices with less memory or available storage.
HiFi Sound Quality (1411 Kbps)
Allows you to stream audio using the lossless format FLAC, creating a crisp and robust music streaming experience.
Master Sound Quality (2304-9216 Kbps)
Master quality is a flawless experience that gives you the highest sound resolution available. Guaranteed and verified as the artist's original master recording.
Related:
How to download FLAC or WAV songs from Tidal?
Although Tidal music streams in FLAC format, you can't download the songs in FLAC format as local songs. Song downloaded can only be played within Tidal app.
To download FLAC songs from Tidal, you can use Pazu Tidal Converter, which is designed to download any Tidal songs, albums and playlists to M4A/MP3/AAC/FLAC/WAV/AIFF on your Mac and Windows and save to your library.
Download Tidal music to M4A/MP3/AAC/FLAC/WAV/AIFF.
Download Tidal music on Mac/Windows.
Keep Hi-Fi Audio Quality and ID3 tags.
Fast conversion speed.
1. Run Pazu Tidal Converter
Download, install and run Pazu Tidal Converter on your Windows, which features a built-in Tidal web player.
If you have purchased a license, click the key icon to register the converter. If not, continue using the trial version.
2. Log in your Tidal account
Follow the onscreen instructions to log in yout Tidal account.
3. Choose output format
Auto: M4A 256kbps
MP3: Up to 320kbps
AAC: Up to 640kbps
FLAC: lossless and compressed
WAV: lossless and uncompressed
AIFF: lossless and uncompressed – Apple's alternative to WAV, with better metadata support.
You can also customize output song name with any combination of Title, Artist, Album, Track Number, Playlist Index.
4. Add TIDAL songs
Click any playlist you want to download.
Then click the red icon to load songs. All songs in the playlist will be added by default. You can uncheck the songs you don't want to get.
5. Start to download TIDAL to FLAC
Click Convert button to start downloading Tidal music to the format you choose and add them to your Apple Music library.
After conversion, click the folder icon to quickly locate the downloaded Tidal songs in the format you choose. You can then transfer and play it anywhere.
How to download FLAC or WAV songs from Apple Music?
Pazu Apple Music Converter lets you convert Apple Music songs, albums and playlists to FLAC without any loss in quality. One of the distinguishing features of Pazu Apple Music Converter is that it can download and convert Apple Music at a really fast speed — almost 10 times faster than any other similar software. It is integrated with the Apple Music web player, so you can batch convert any Apple Music playlist or album to the format you choose without iTunes app. The following tutorial will show you how to download Apple Music to MP3 and get Apple Music for free.
In addition, Pazu Apple Music Converter can recognize and identify tracks as it downloads, and automatically tag the files with the relevant artist name, track title, album tags as it goes. The downloaded songs are fully searchable by artist, title or album, creating your entire music library simply and quickly.
Step 1 Launch Pazu Apple Music Converter
Download, install and run Pazu Apple Music Converter on your Mac or Windows.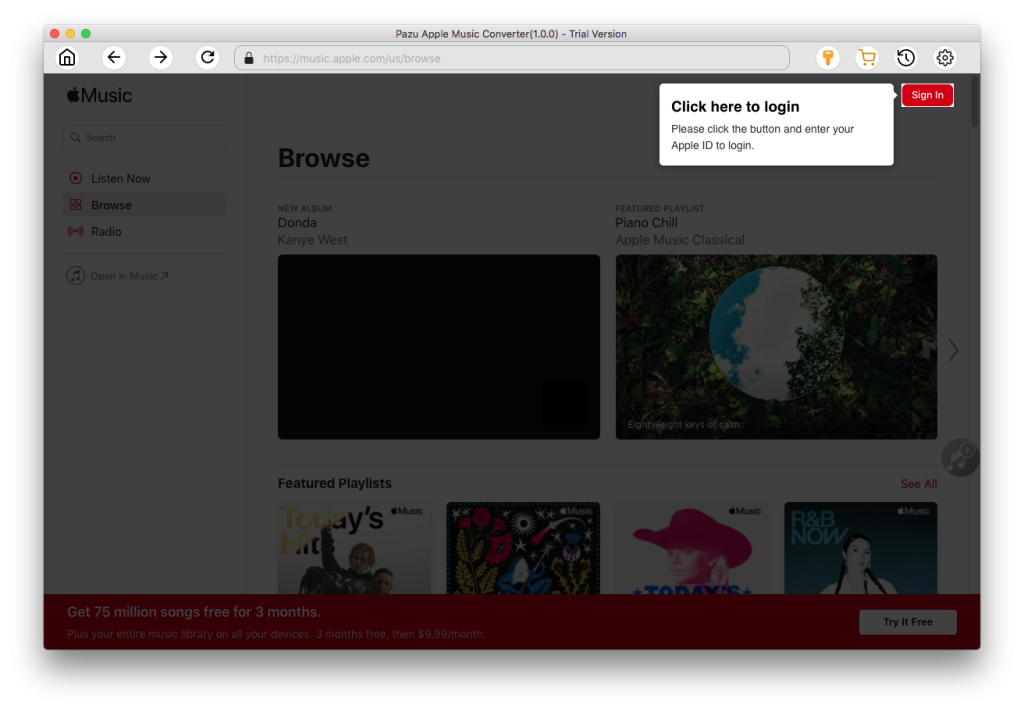 Step 2 Choose output format
Click the gear icon on the top right corner and choose FLAC as output format.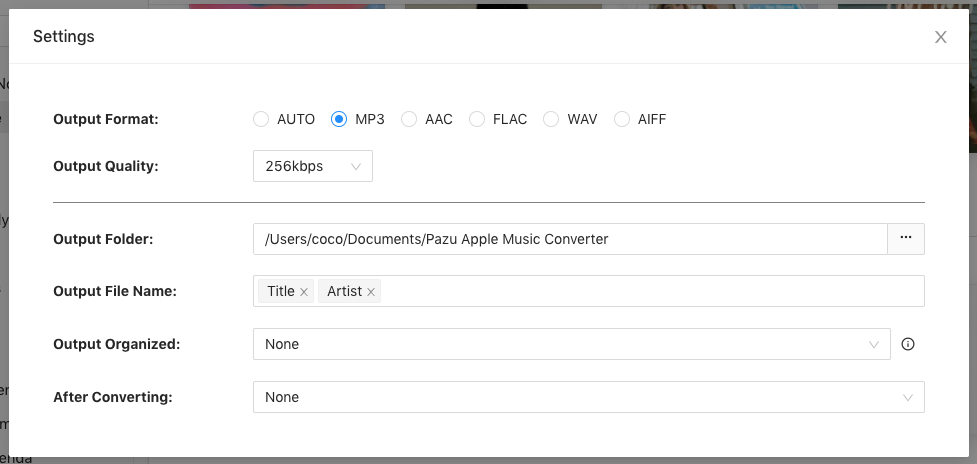 Step 3 Choose a playlist, artist or album you want to download
Follow the on-screen instructions to choose a playlist, artist, or album that you want to download.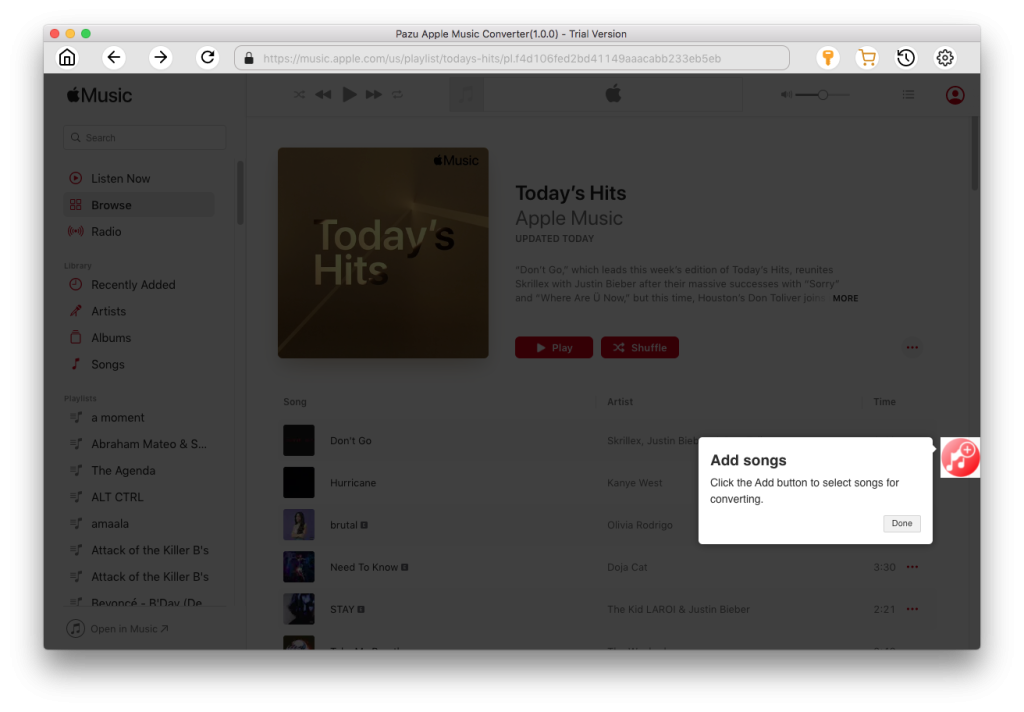 Step 4 Start to download Apple Music songs
Click "Convert" button to start downloading Apple Music songs, albums and playlists to FLAC, so you can play them anywhere you want, even after cancelling Apple Music subscription.