How to download Audible audiobooks on a Mac?
Audible is a popular platform for purchasing, downloading, and listening to audiobooks. It offers a vast collection of audiobooks spanning various genres, including fiction, non-fiction, self-help, and more. With Audible, you can access and enjoy audiobooks on your preferred devices, including smartphones, tablets, computers, Sonos, Apple Watch, and MP3 player, etc.
Unfortunately, an official Audible app for Mac is not available at the moment. Instead, to download Audible audiobooks on a Mac, you can utilize a web browser. However, it's important to note that not all audiobooks are downloadable through the browser. Nevertheless, there is an alternative solution to download all your Audible audiobooks on a Mac.
To download Audible audiobooks on a Mac, you can follow these steps:
Visit the Audible website: Open a web browser on your Mac and go to the Audible website at www.audible.com.
Sign in to your Audible account: Enter your Audible username and password to sign in. If you don't have an account, you can create one for free.
Click Library and find the audiobooks you want to download.
Click the Download button.
However, you may find that some audiobooks have Download option while others don't. This is because only purchased audiobooks can be downloaded on Mac via browser. Audiobooks from Plus Catalog and free audiobooks can't be downloaded.
Alternative: Download Audible audiobooks on Windows and transfer to Mac
If you have a Windows 11, you can download audiobooks from the Plus Catalog and free audiobooks using the Audible app. Once downloaded, you can transfer the audiobooks to your Mac for offline playback. This allows you to enjoy your audiobooks on your Mac even when you're not connected to the internet. The drawback is that installing Audible app on Windows 11 is a little complex, you need to install Amazon Appstore first, then install Audible app from Amazon Appstore.(As of July 31, 2022, the Audible app for Windows 10 has been deprecated and can no longer be used to access Audible or listen to titles in your Library.)
Downloading the Amazon Appstore
To download the Amazon Appstore, follow these steps:
Open the Microsoft Store.
Search for Amazon and click on the Amazon Appstore.
Click Install. Note: To install the Amazon Appstore, your computer must meet the basic requirements. You can check them here.
Enable virtualization in your device to run the Windows Subsystem for Android.
Click Set up.
Click Restart to restart your computer.
After restarting your computer, open the Amazon Appstore.
Login using your existing Amazon credentials or create an Amazon account.
Downloading the Audible Android app for Windows 11
Open the Amazon Appstore.
Search for Audible.
Click Get next to the Audible app.
After the app is downloaded, open the Audible app and sign in using your credentials.
Go to library, download the audiobooks you want to listen offline.
Locate the downloaded aax audiobooks and transfer them to your Mac.
How to play downloaded Audible audiobooks on Mac?
When you download Audible audiobooks, they are typically in the AAX format, which is the proprietary format used by Audible. To play AAX files on your Mac, you can use Books(MacOS 10.15 Catalina and later) or iTunes app.
If this is your first time downloading an audiobook to your Mac you'll be prompted to authorize your account when you play the audiobook.
1. Right click the downloaded audiobook and choose Books. Click Yes.
2. Click Activate Now.
3. Your audiobook will be played in Books app now. Don't worry if you get below error. Just play the audiobook a few minutes later.
Extra Tip: How to Get free Audible audiobooks?
Audible is not free, but it offers a wide selection of totally free audiobooks and podcast series. Even you don't subscribe to Audible Plus or Audible Premium Plus, you can also stream or download these free titles. All you need is an Audible account.
Purchase the audiobooks you like for $0.00 and they will be added to your library. You can then listen them on the webpage, phone, tablet, Amazon device, Mac and PC.
How to download audiobooks from Plus Catalog on iOS?
You can download audiobooks from Plus Catalog on iOS, Android, Kindle & Fire with the Audible app. Here we will take iPhone as example. To download audiobooks from Audible Plus Catalog on iPhone, follow below steps:
1. Open Audible app, tap Discover and Find the audiobook you want to download. Tap Add to Library.
2. Find the audiobook in Library and tap it to download.
3. The downloaded audiobook can only be played within Audible app. You can't transfer the downloaded audiobooks from your mobile device to your Mac.
How to convert AAX to MP3?
If you prefer to have your audiobooks in a more widely supported format like MP3, you can use a third-party conversion tool to convert the downloaded AAX files to MP3 format. For AAX to MP3 conversion, all you need is Pazu Audible Converter. Pazu Audible Converter for Windows/Mac allows you to convert Audible AA/AAX to MP3, M4A, M4B, AC3, AAC, FLAC, OGG, AIFF or WAV files that you can save to your computer, allowing you to add the audiobooks to any MP3 player. Split any Audible audiobook file to small segments by time frame or by chapters.
Step1: Install Pazu Audible Converter
Download Pazu Audible Converter. Follow instructions to install it on your Mac or Windows.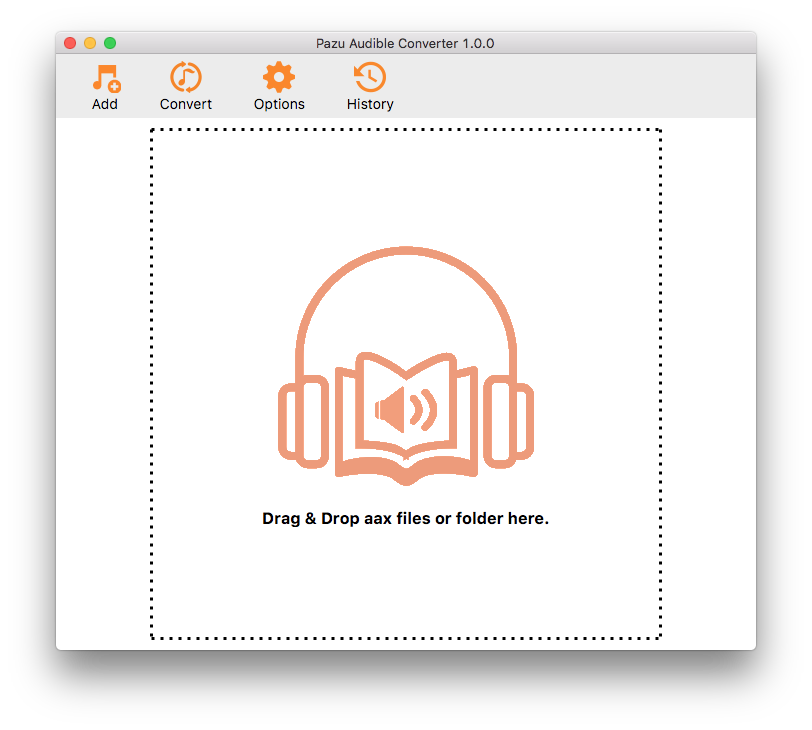 Step2: Add Audiobooks
Click the Add button to add audiobooks to Pazu Audible Converter. Or you can drag and drop the files into the converter directly.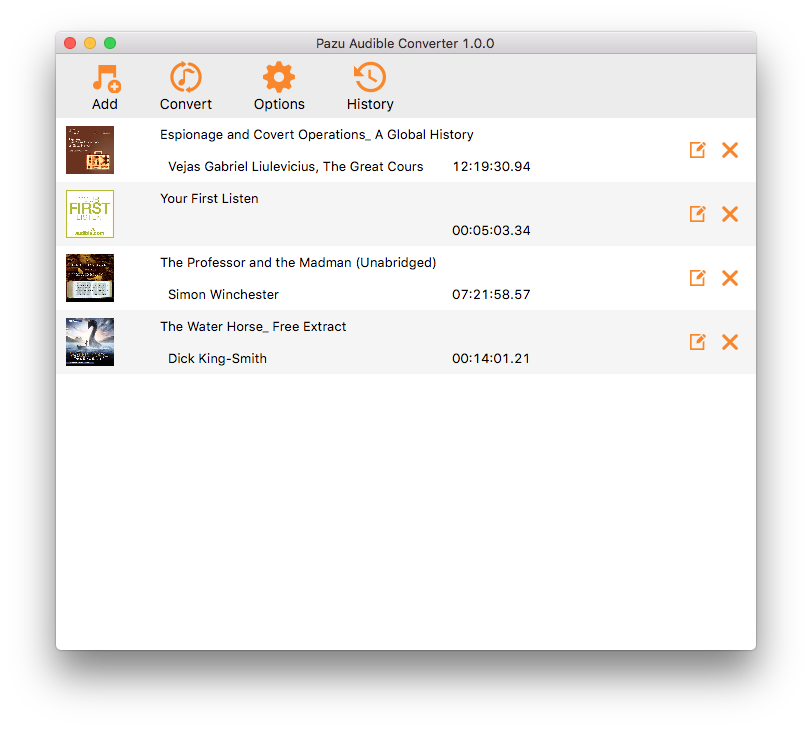 Step3: Customize the settings
Click the Options button, here you can change the output path and choose to split the audio file into segments as needed. Click the Advanced button, you can customize the output settings: Output Format, SimpleRate, and Bitrate. If you choose Lossless as the output format, Pazu Audible Converter will download audiobooks in plain AA/AAX format.
Step4: Start to convert
Click on the Convert button at the top of the main interface to start converting the selected audiobooks to the output format you chose.
Step5: Find output files
When the converting process is completed, click the History button and find the well-converted files from the local drive.