How to download Deezer to MP3?
Discover, manage and share over 90 million tracks worldwide and thousands of podcasts, for free, or upgrade to Deezer Premium to access exclusive features including improved sound quality and an on-demand, offline, and ad-free music listening experience. Launched on August 22, 2007, Deezer is currently available in 185+ countries, and more are being added over time.
If you're a Deezer Student, Deezer Premium, Deezer Family user, you can download your favorite content to listen to offline, including:
Albums
Audiobooks (select countries)
Favorite tracks
Playlists
Podcast episodes
Part 1 How to download Deezer songs, albums and playlists on desktop and mobile?
On desktop
Click to open the playlist, album or podcast you want to download and then click the Download icon. All songs in the playlist or album and all episodes in the podcast will be downloaded.
If you only want to download some individual songs, tap the heart icon next to the songs and the songs will be added to Favorite tracks, where you can download the songs. Or add the songs to a playlist and then download the playlist.
Downloaded albums or playlists will be marked by a green dot and will be added to Favorites.
On mobile
1. Open Deezer app and log in.
2. Tap the album or playlist you want to download. Then turn on the DOWNLOAD toggle.
3. Tap Favorites – Downloaded music to find all downloaded playlists and albums.
How to turn on Offline Mode on your mobile?
After downloading songs, albums, podcasts and playlists to your mobile device, you can turn on offline mode to listen to your downloaded content on your mobile without an internet connection. Perfect for travel or commuting, you can listen to all your favorite content offline and save data.
Go to Settings.
Under PREFERENCES, select Offline mode.
Part 2 How to download Deezer podcasts on desktop and mobile?
On desktop
1. Open Deezer app and click the podcast you want to download
2. Click the download icon.
On mobile
1. Open Deezer app and tap the podcast you want to download.
2. Tap the download icon.
You have to be on a Deezer Premium, student or family subscription to download music. If your subscription has expired or downgraded to the Deezer Free, your downloaded tracks will be not playable. The downloaded songs can only be played within Deezer app, you can't transfer them anywhere.
How to play downloaded Deezer songs after cancelling Deezer subscription or downgraded to the Deezer Free?
Part 3 How to download Deezer to MP3?
Deezer Premium offers users the ability to download songs directly to their device for offline listening. However, it's important to note that these downloaded songs can only be played within the Deezer app with an active Deezer subscription. It is not possible to transfer the downloaded songs to another device or play them with a different music player.
Moreover, it is important to note that once a Deezer Premium subscription is canceled, the downloaded songs will also disappear. This means that if you cancel your subscription, you will lose access to the songs that you have downloaded.
Given these restrictions, many people wonder if it's possible to download Deezer songs to MP3 and play them with an MP3 player or save them to a USB drive or external hard drive. Well, this is easy with below Deezer downloader.
Free online Deezer to MP3 Downloader
https://www.soundloaders.com/deezer-downloader/ is a free online Deezer to MP3 converter that allows users to download every Deezer songs to MP3 files. It's compatible with desktop and mobile browsers. All the metadata like artists, cover image and release date are added in the downloaded songs if they have been found. Just copy and paste the Deezer song url, click search and then download the songs. However, it can't detect album or playlist url, you can only download songs one by one.
Pros: Free, available on desktop and mobile devices.
Cons: Only download songs.
Pazu Deezer to MP3 Converter
To access Deezer downloads after canceling Deezer subscription, you'd better download Deezer to MP3 and then play the songs with any music player on any devices. All you need is Pazu Deezer Music Converter.
Pazu Deezer Music Converter lets you quickly and simply convert any Deezer songs, albums and playlists to all popular formats, such as MP3, M4A, AAC, FLAC, WAV and AIFF.
1. Launch Deezer Music Converter
Download, install and run Pazu Deezer Music Converter on your Mac. The app provides full Deezer web player integration and lets you select the songs, albums, artists and playlists to download directly. Click the Sign in button and log in your Deezer account.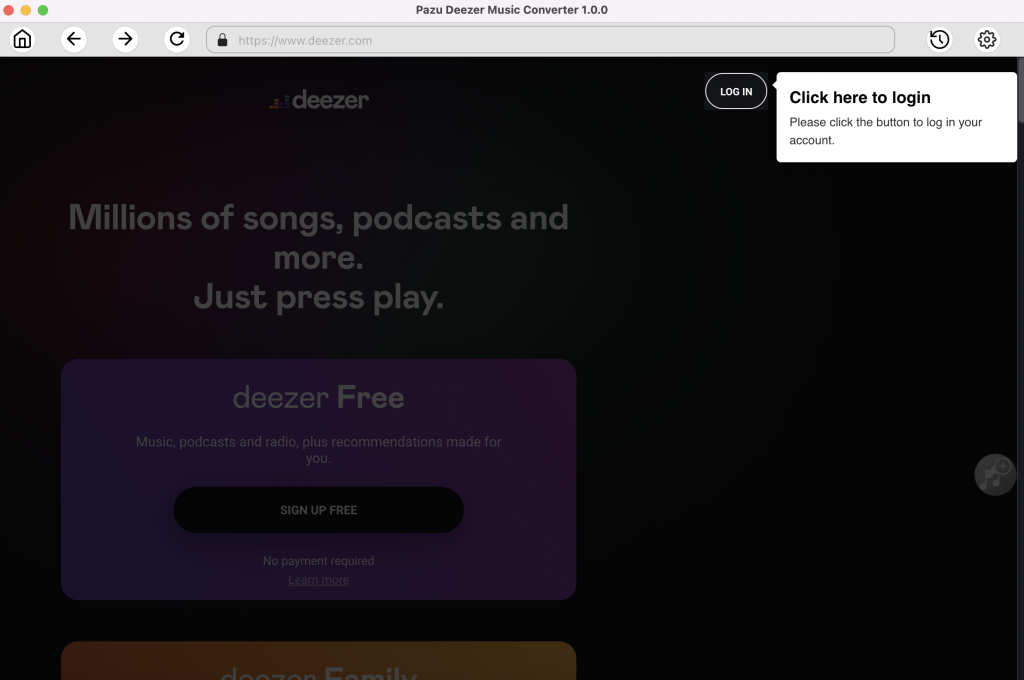 2. Change output format(optional)
The default output format is lossless M4A. Pazu Deezer Music Converter also supports converting Amazon Music to MP3, AAC, FLAC, WAV and AIFF.
Output File Name: name the songs with any combination of Title, Artist, Album, Playlist Index, Track Number. For example, if you choose Title and Artist, Tylor Swift's song Lover will be named as Lover Tylor Swift.mp3.
Output Organized: organize downloaded songs by Artist, Album, Artist/Album or Album/Artist.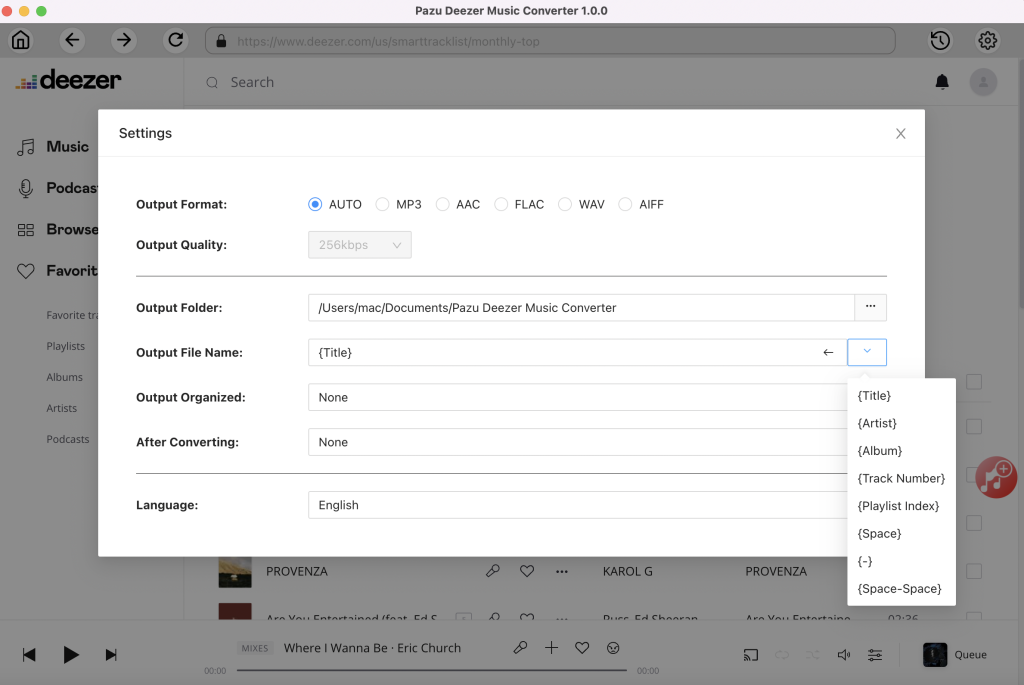 3. Select music you want to download
Follow the on-screen instructions to choose the playlist or album you want to convert. Click Add songs.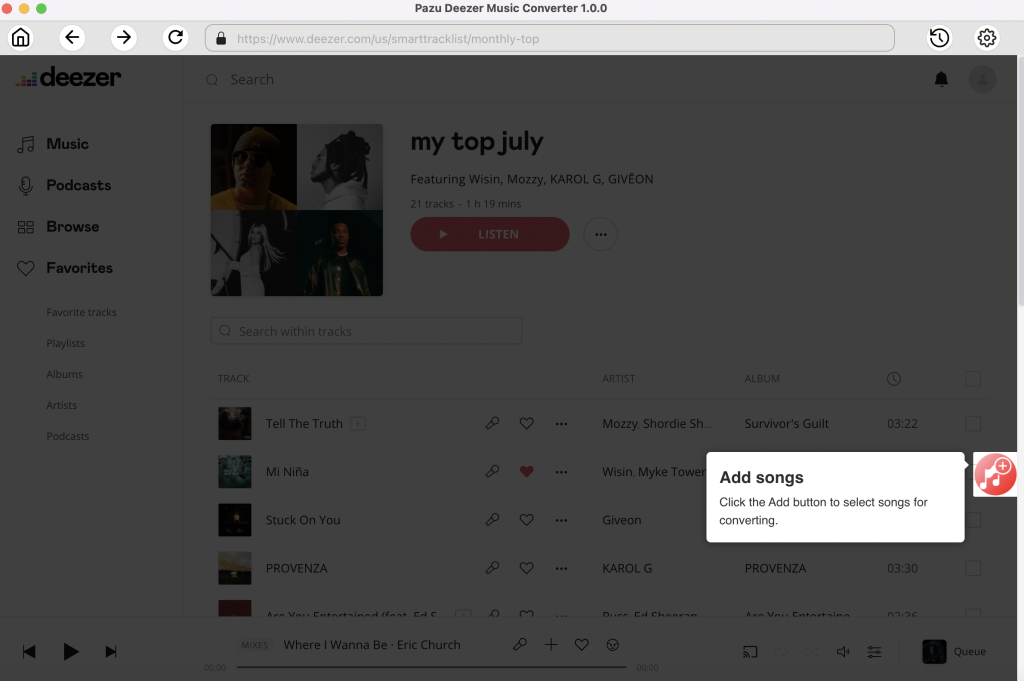 4. Start Conversion
By default, all songs in the playlist/album will be checked. If there are songs you don't want to convert, please uncheck the box. Then click Convert button to start downloading songs to the format you choose. Songs are downloaded with artwork, artist and album information.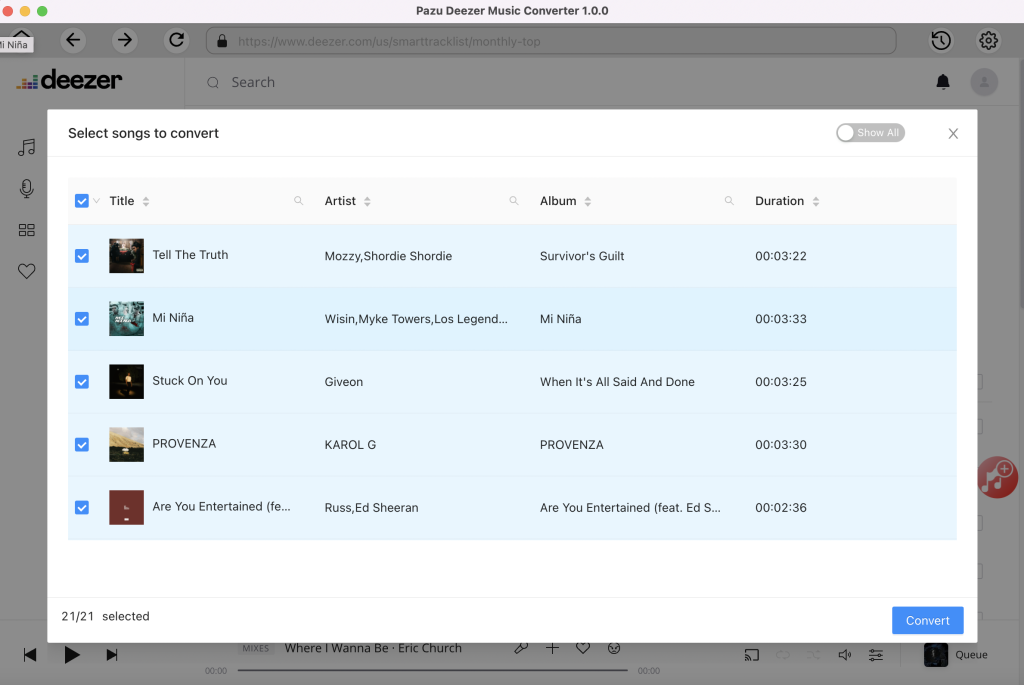 After conversion, click below folder icon to quickly locate the downloaded songs.