How to Easily Convert DRM-Protected M4P Files to MP3
M4P files are a specific audio file format primarily employed by Apple, commonly encountered after downloading music from Apple Music. However, playing these DRM-protected files on non-Apple devices can be a challenge. To overcome this limitation, you'll need to convert M4P files to a more universally supported format. This article will assess several methods and introduce the simplest way to convert DRM-protected M4P files to MP3. Once converted, you can freely enjoy your favorite music on a wider range of devices.
Key Sections
What is M4P?
M4P, standing for "MPEG-4 Protected", is a file extension used for a specific type of audio file format. These files use the Advanced Audio Coding (AAC) codec and are protected by Apple's FairPlay digital rights management (DRM) technology. The DRM protection restricts the usage of these music files to authorized devices and accounts. In other words, M4P files are designed to prevent unauthorized copying or sharing of purchased music.
Due to the DRM protection, M4P files are primarily compatible with Apple devices or iTunes software authorized with the same Apple ID used for the purchase. If you want to use M4P music on non-Apple devices or software, you would need to remove the DRM protection or convert the M4P files to a different, non-DRM audio format like MP3.
M4P files are commonly associated with music downloads from Apple Music. Additionally, older tracks purchased from the iTunes Store before 2009 may still be in the M4P format with DRM protection. Apple has phased out the use of DRM on music sold through the iTunes Store since 2009, and most music tracks available on the platform are now offered in a DRM-free format, usually with the M4A file extension.
Can I use an online converter to transfer M4P to Mp3?
You can use online converters to convert non-protected music files if the file is on your computer. However, when attempting to convert DRM-protected M4P files with free online converters like FileZigZag and Online-converter, you will encounter an error message such as "Your file is DRM-protected and cannot be converted." Therefore, online converters may not be used to transfer DRM-protected M4P files to MP3 due to the DRM protection.
Can I use iTunes to convert protected M4P files to MP3?
Unfortunately, you cannot convert music that is DRM-protected with iTunes. This means that songs obtained from the Apple Music service cannot be converted, nor can old purchases from the iTunes Store if they are DRM-protected. The iTunes Store no longer sells DRM-protected songs, which is a positive development for users who want more flexibility with their music files. While there was a time when you could exchange DRM-protected songs for non-protected versions, this option is no longer available.
Alternatively, you may be able to remove DRM protection from your purchased songs by burning them to a CD and then ripping them back as MP3 into your iTunes library. This process should eliminate the DRM protection, but it may result in a minor loss of audio quality that is often imperceptible to the listener.
Burning to CD and ripping back to MP3 with iTunes
If you want to convert DRM-protected M4P songs purchased on the iTunes Store to MP3, one method is to burn the M4P songs to a CD and then rip them back into your iTunes library as MP3. However, before attempting this method, please consider the following:
Time-Consuming Process: Converting songs with this method can be time-consuming, as it involves burning each song to a CD and then ripping it back.
Limited Burns: You can only burn a playlist with protected M4P tracks to a CD up to 7 times. After that, you won't be able to burn the same songs to CDs anymore.
Potential Quality Loss: There might be a minor loss in audio quality when using this method, although usually it may not be noticeable.
Storage Space: Due to the limited storage capacity of a standard CD-R (about 700MB), you may only be able to fit approximately 17 songs per CD-R. If you have a significant number of M4P files to convert to MP3, you will need many blank CD-Rs.
Special Notice: Burning to a DVD-R as a data CD may result in the files being re-imported as M4Ps, not MP3s. Therefore, make sure to use CD-R discs instead of DVD-R.
Steps of burning and ripping a CD to MP3 using iTunes
Step 1. Create a playlist of the M4P songs
Launch Windows iTunes, click on File > New > Playlist. Give your playlist a name.
Select up to 80 minutes of M4P music and add to the playlist.
Step 2. Burn the playlist to the CD-R
Insert a CD-R into your computer's DVD drive.
Locate your playlist, click the three dots, and select Burn Playlist to Disc.
Select the MP3 CD and click on the Burn button to create an MP3 disc.
It may take some time for each song to be burned to the CD.
Step 3. Set the Import Using to MP3 Encoder
On your Windows iTunes interface, go to Edit > Preferences.
In the pop-up window, navigate to the General tab and click on the Import Settings.
From the Import Using drop-down menu, select MP3 Encoder, and click OK.
Step 4. Move the CD's MP3 file to your computer
Open the CD within iTunes and select the contents of the CD.
Click on File > Convert > Create MP3 Version and import the MP3 files to iTunes.
Please note that this process creates a new MP3 version, so the original M4P files will still be available in your library.
How to easily convert Apple Music M4P files to MP3?
If you wish to convert Apple Music M4P files to MP3 with easy steps and keep them permanently on your computer, you can use Pazu Apple Music Converter, a smart tool designed for this purpose. This software allows you to download Apple Music playlists, albums, and songs in popular formats like MP3, AAC, and FLAC while maintaining the original audio quality, ID3 tags, and metadata. It offers exceptional download and conversion speed, approximately 10 times faster than similar software.
Pazu Apple Music Converter integrates with the Apple Music web player, allowing you to batch convert Apple Music playlists or albums to your preferred format without the need for iTunes or the Apple Music app. After conversion, the DRM protection is removed, and you can transfer the MP3 files to any compatible device or software for playback.
Key Features of Pazu Apple Music Converter:
User-friendly interface
10x Fast Music download speed
Advanced DRM removal
Lossless audio quality
Keep original ID3 tags & metadata
Download Apple Music songs, albums, and playlists
Unlimited downloads
Adjustable output options
The following tutorial will show you how to download Apple Music to MP3 and get Apple Music for free.
Step 1 Launch Pazu Apple Music Converter
Download, install and run Pazu Apple Music Converter on your Mac or Windows.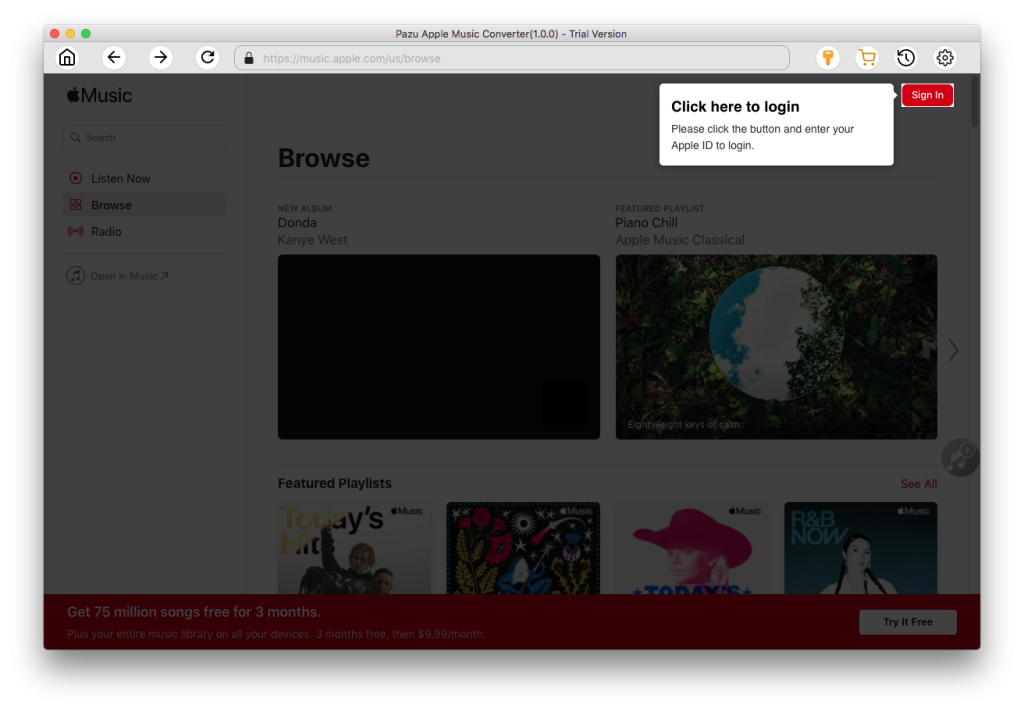 Step 2 Choose the output format
The default format is M4A in 256kbps. Apple Music Converter also supports MP3, AAC, FLAC, WAV, and AIFF. Click the gear icon if you want to change the output format or output folder.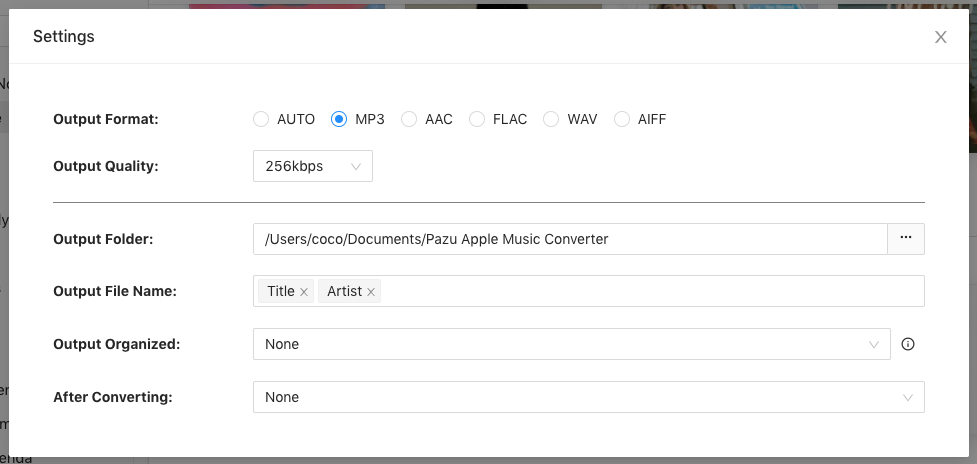 Step 3 Choose a playlist, artist, or album you want to download
Follow the on-screen instructions to choose a playlist, artist, or album that you want to download.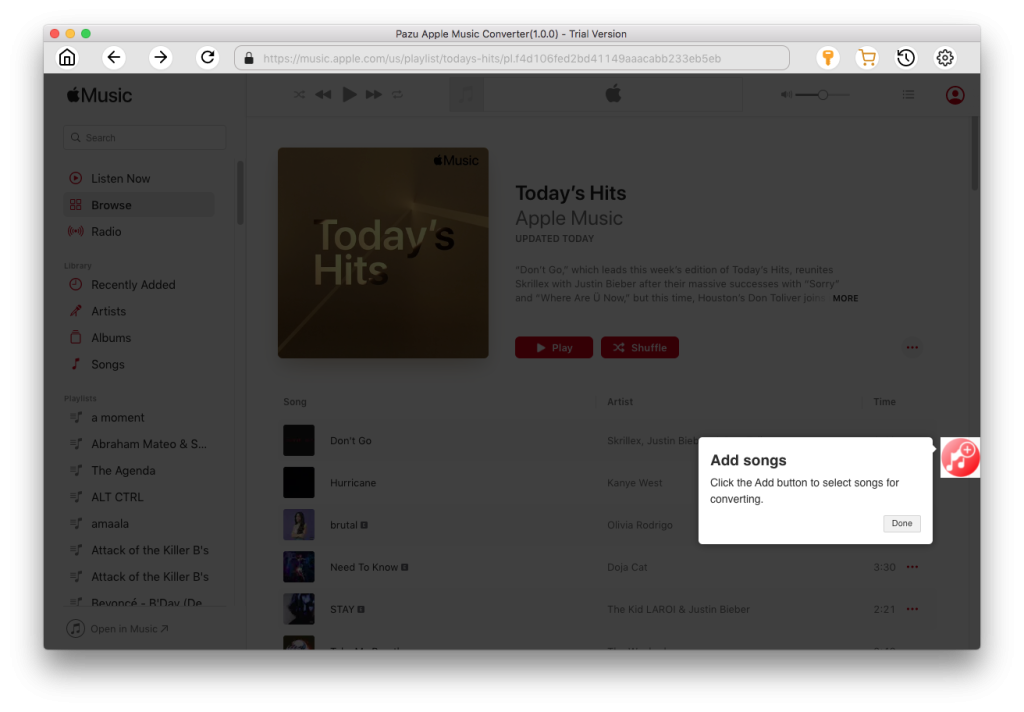 Step 4 Start to download Apple Music songs
Click the "Convert" button to start downloading Apple Music songs, albums, and playlists to mp3, so you can play them anywhere you want, even after canceling your Apple Music subscription.