How to get free Deezer Premium Apk?
Deezer has over 90 million tracks, the music library consists of a mixture of curated and personalized playlists. Deezer is available to use via a desktop app, mobile app, and a flash-based web player. Deezer feels super-easy to navigate, with a clear layout that makes discovering music very simple.
The audio quality on offer depends on the subscription tier you sign up to: Deezer's Free subscription plan offers MP3 files at 128kbps, while its Premium tier tops out at 320kbps. The Deezer HiFi tier allows you to stream songs in CD quality, with 16-bit / 44.1kHz FLAC files at 1,411kbps, which is the same as Tidal's more expensive HiFi tier.
The cheapest paid-for plan is Deezer Premium, which costs $9.99 per month. Here, you can listen ad-free, plus it allows unlimited skips, and provides access to Offline mode. A Deezer Family subscription costs $14.99 per month. It allows for up to six individual accounts across up to 13 devices, offering optional kids' profiles that let you keep an eye on what your children are listening to. Deezer HiFi (also known as Deezer Premium+ in some regions) costs $14.99 per month, and provides access to CD-quality music in the 16-bit/44.1kHz FLAC codec, as well as tracks in Sony's 360 Reality Audio format.
If you want to experience 360 Reality Audio and hear your favorite songs in a new way, it's worth forking out for a Deezer HiFi subscription. You do not need to subscribe to Deezer HiFi, if you are not an audiophile and you are not going to opt for Deezer's HiFi tier. But if you want Deezer to download music for offline listening, you need to upgrade to a Premium account with a $9.99 monthly fee.
How to get free Deezer Premium Apk?
Deezer Premium Apk is an android app that is a practical application for playing music online, published by Deezer Mobile. You can search for your favorite song based on artist or song name. You can also read the lyrics of the music. If you want to have a better listening experience, you need to upgrade to Premium account. With a Deezer Premium subscription, you can enjoy a greater range of features, such as ad-free experience, unlimited playback, offline listening, and more. There are plenty of recent Deezer Premium Apk versions, but sometimes they're not working fully. So, is it possible to get Deezer Premium Apk for free?
If your goal is to have the opportunity to use Deezer Premium for free on your Android device, you will need to sign up for Deezer service first, then you can take advantage of the 30-day free trial. At the end of the trial period, the subscription will be billed automatically, but it is possible to cancel it before the trial expires. Otherwise, the cost of the subscription is $ 9.99 per month.
To activate the free trial version of Deezer Premium you can follow the steps below.
Download, install and run the Deezer application on your Android device.
Login with your Deezer account.
Go to Settings on Deezer application. Select Account management.
Click on Manage Subscription.
Enter the data related to the billing method you want to use: to take advantage of the free trial, you have the possibility to register your account data PayPal or a credit card.
After completing all the required data, press the item My free trial begins: a message on the screen will confirm the execution of the operation.
You will not incur any charges until the end of the 30-day trial period. The subscription has no contractual obligations and can be interrupted at any time. To cancel your subscription:
Go to Settings on Deezer application.
Select Account management.
Select Manage my subscription.
Select Cancel my subscription.
Select the reason for canceling and then select Confirm.
How to get free Deezer Premium Apk after the 30-day trial period?
During the 30-day trial period, you love to listen to music on Deezer Premium Apk and you think it is the platform that best suits your needs. You tried the Deezer Premium Apk for a few days and you are absolutely satisfied with its features. Could you hear the Deezer songs all free and enjoy all premium features after the 30-day trial period? Enjoying all Deezer Premium features for free forever does sound nebulous and hard to achieve, but you can make it a reality with the aid of Pazu Deezer Music Converter.
Pazu Deezer Music Converter is a piece of safe, clean, and reliable software that serves massive music lovers. You can download songs and podcasts from Deezer web player with HiFi quality, which is very safe and without any security risks. It can help you download music from Deezer and convert Deezer music to several popular audio formats like MP3, M4A, FLAC… With Pazu Deezer Music Converter, you can easily remove DRM from Deezer and then play Deezer songs on any device through any media player you like. What's more, you can listen to ad-free Deezer music offline without any limitations. Now, you can refer to the following tutorial to download and convert music from Deezer via Pazu Deezer Music Converter.
1. Launch Deezer Music Converter
Download, install and run Pazu Deezer Music Converter on your Mac. Click the Sign in button and log in your Deezer account.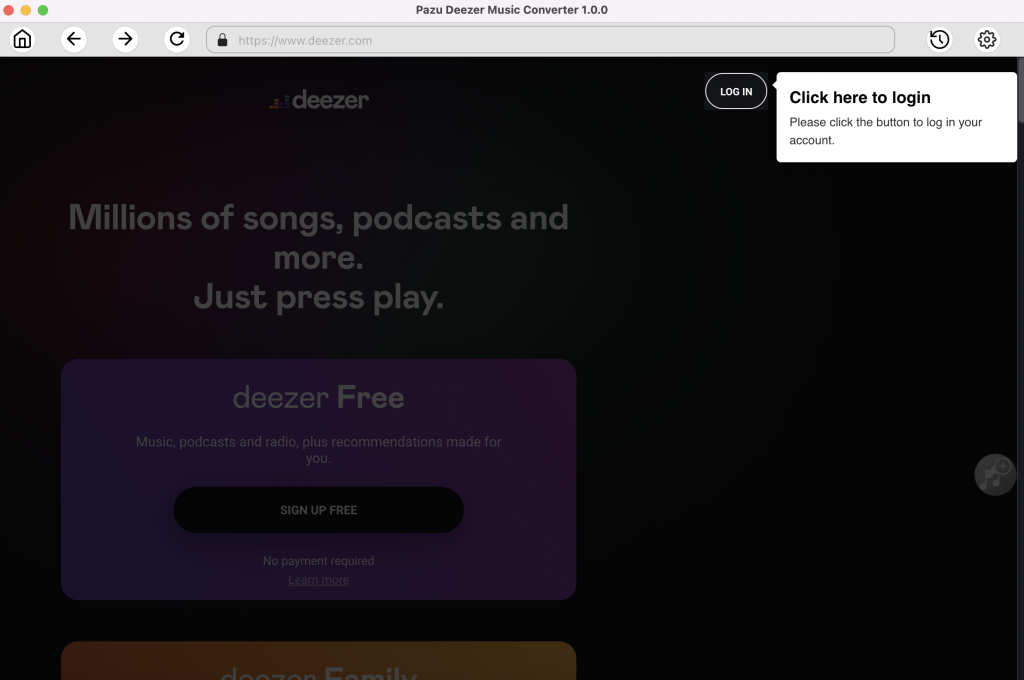 2. Change output format(optional)
The default output format is lossless M4A. Pazu Deezer Music Converter also supports converting Amazon Music to MP3, AAC, FLAC, WAV and AIFF.
Output File Name: name the songs with any combination of Title, Artist, Album, Playlist Index, Track Number. For example, if you choose Title and Artist, Tylor Swift's song Lover will be named as Lover Tylor Swift.mp3.
Output Organized: organize downloaded songs by Artist, Album, Artist/Album or Album/Artist.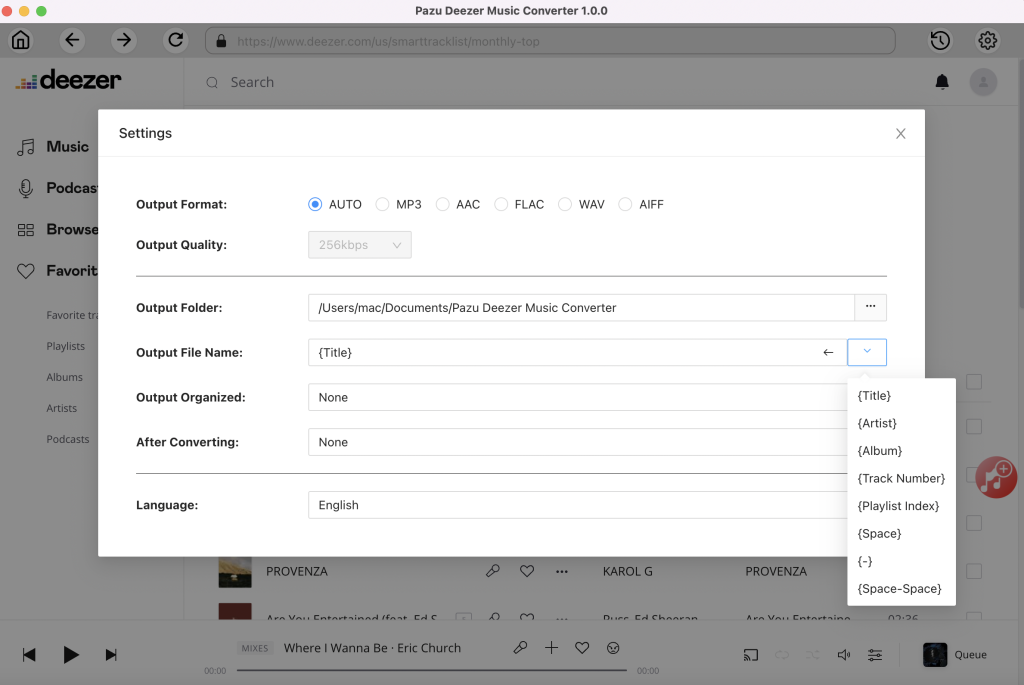 3. Select music you want to download
Follow the on-screen instructions to choose the playlist or album you want to convert. Click Add songs.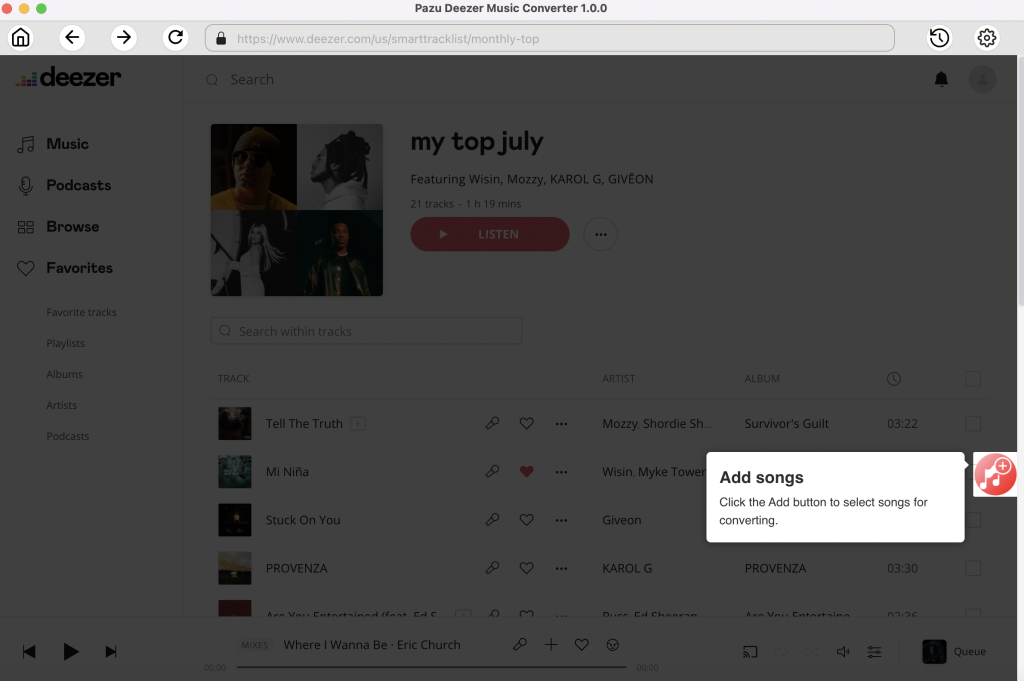 4. Start Conversion
By default, all songs in the playlist/album will be checked. If there are songs you don't want to convert, please uncheck the box. Then click Convert button to start downloading songs to the format you choose.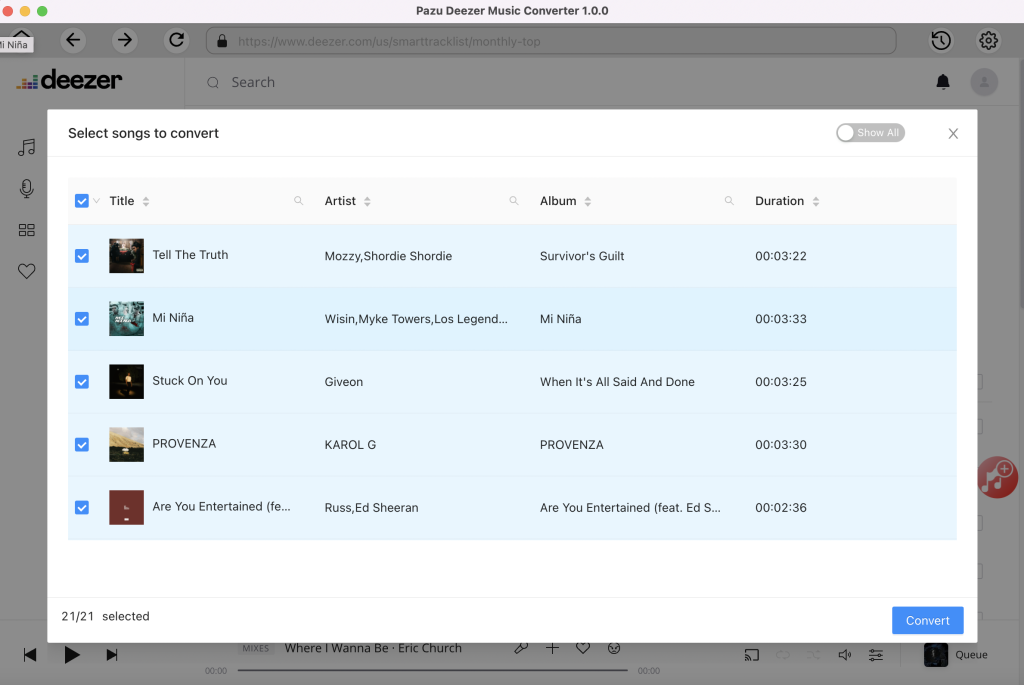 After conversion, click below folder icon to quickly locate the downloaded songs.