How to listen to Audible on Tesla?
Tesla put audio quality as one of its very top priorities from day 1, building an excellent in-house audio system and including it as the standard option in every S3XY. Tesla supported media apps include: Radio, Streaming, Spotify, TuneIn and Tidal. Unfortanately, Audible is not supported. There is no native audiobook player. However, there are still 2 ways to listen to Audible on Tesla.
Play Audible on Tesla via Bluetooth
Bluetooth allows you to make and receive phone calls, access your contact list, recent calls, play media files from your phone with the Tesla's touchscreen.
Here we take Tesla Model S as axample.
To pair a phone, follow these steps:
Ensure both the touchscreen and the phone are powered on.
On your phone, enable Bluetooth and ensure it is discoverable.
Touch the Bluetooth icon located at the top of the Controls screen.
On the touchscreen, touch Add New Device > Start Search. A list of all available Bluetooth devices within operating distance displays on the Bluetooth settings screen.
Choose the phone with which you want to pair. Within a few seconds, the Bluetooth settings screen displays a randomly generated number. Your phone also display a number.
Check that the number displayed on your phone matches the number on the Bluetooths settings screen. Then, on your phone, confirm that you want to pair.
If prompted on your phone, specify whether you want to allow Model S to access your personal information, such as calendar, contacts and media files.
Once a phone is paired, Model S can connect to it whenever the phone is within range. Now play Audible audiobooks on your phone and it will be played in your car's audio system.
Play Audible on Tesla via USB
How to play songs and audiobooks on Tesla from USB drive?
Insert a flash drive into a USB port.
Touch Media Player > USB, and then touch the name of the folder that contains the audiobook you want to play.
Touch any audiobook in the list to play it.
Use the previous and next arrows in Media Player to scroll through your songs. You can also scroll to next/previous audiobooks using the left scroll button on the steering yoke.
The proprietary AAX format is not usable in the Tesla. Audible's proprietary AAX will not work in any player other than Audible and Apple's Books/iTunes app. Although Audible audiobooks can be played with a bluetooth connection to your phone, if you copy the downloaded audiobooks to a USB flash drive, they cannot be play in the Tesla Model 3, Model S, Model X and Model Y. You may get "Loading Error". This occurs when you use a non-supported format, such as Apple's proprietary M4A. You will need to convert these files to an open standard such as MP3 or FLAC.
Pazu Audible Converter is the best choice for you to convert AAX audiobooks for Tesla. With it, you can fast crack DRM protection from Audible and convert AAX audiobooks to Tesla Model 3, S, X, Y supported formats, such as MP3, FLAC. Just simple clicks, you'll get Tesla supported audiobooks.
Audible audiobooks you downloaded from the web player are in DRM protected AAX format and can't be played by Tesla. To play them from USB, you need to convert aax audiobooks to MP3. That's why you need Pazu Audible converter.
How to convert Audible aax audiobooks to MP3?
Step1: Install Pazu Audible Converter
Download Pazu Audible Converter. Follow instructions to install it on your Mac or Windows.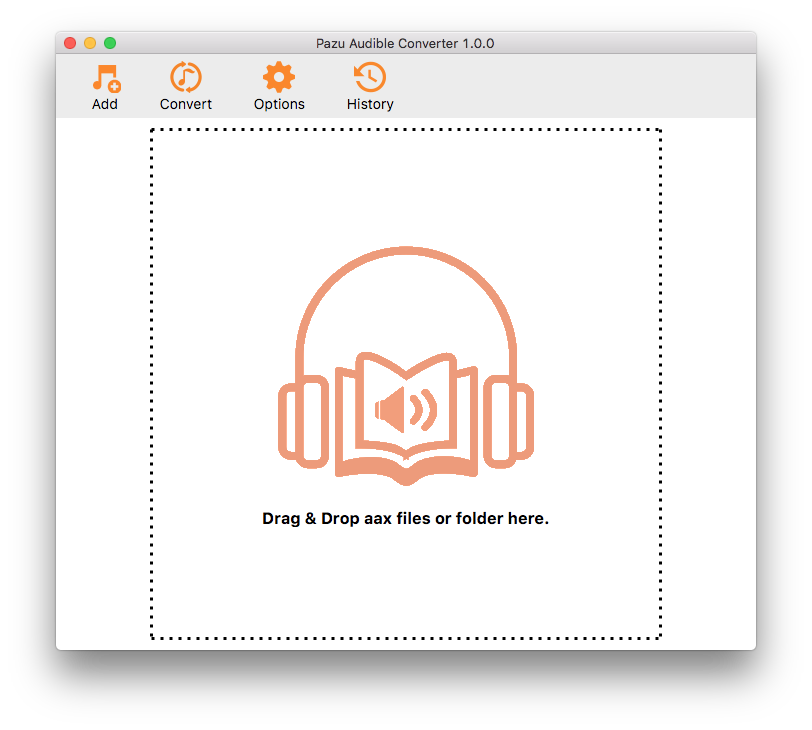 Step2: Add Audiobooks
Click the Add button to add audiobooks to Pazu Audible Converter. Or you can drag and drop the files into the converter directly.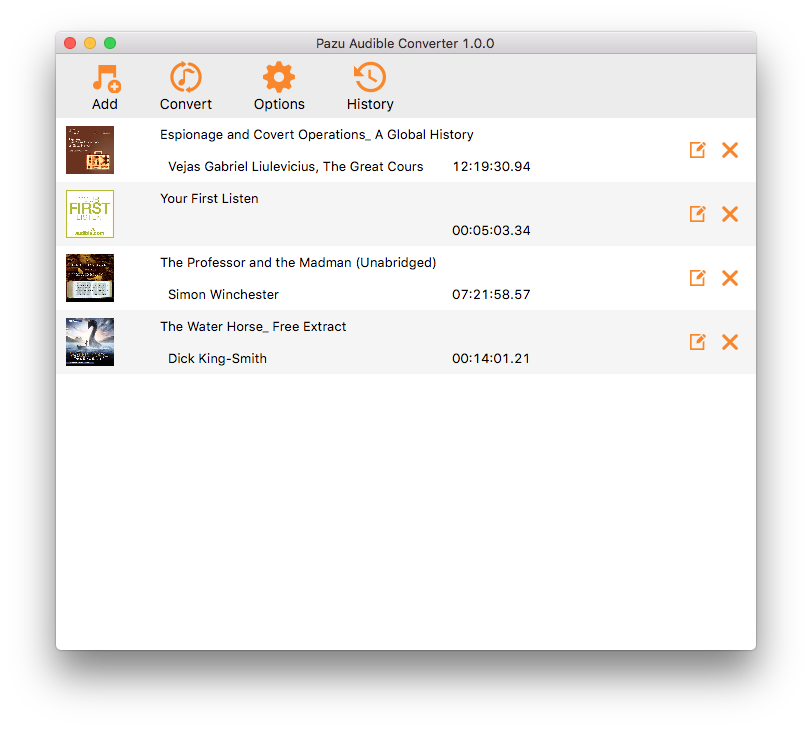 Step3: Customize the settings
Click the Options button, here you can change the output path and choose to split the audio file into segments as needed. Click the Advanced button, you can customize the output settings: Output Format, SimpleRate, and Bitrate. Note: Tesla doesn't support M4A format.
Step4: Start to convert
Click on the Convert button at the top of the main interface to start converting the selected audiobooks to the output format you chose.
Step5: Find output files
When the conversion is done, click "History" button to get the converted audiobooks, then transfer the audiobooks to your USB Flash Drive to play on Tesla or anywhere else.