How to listen to Deezer Music and Podcasts on Fitbit?
Deezer is one of the most popular online music streaming platforms in the world. It is one of the fewest music apps that are available for Fitbit Versa and other Fitbit smartwatches. With Deezer on Fitbit, you can listen to 73 million songs, playlists, and podcasts. The Deezer app is available to Fitbit Versa, Fitbit Versa Special Edition, Fitbit Versa 2, Fitbit Versa 2 Special Edition, Fitbit Versa 3, Fitbit Ionic and Fitbit Sense customers who have a paid subscription to Deezer.
Only paid Deezer accounts can be used on Fitbit. If you subscribe through Fitbit and you'll get 3 months free. At the end of your trial offer, you will be billed the standard price of $9.99 per month. You can cancel your subscription at any time. It is available only for users who have never benefited from any Deezer free trial or promotion and/or who are not or have never been subscribers to a Deezer paying subscription. It is valid from 03/19/2018 to 12/31/2022.
How to set up Deezer on your Fitbit?
Connect your Fitbit to WiFi
Download Deezer from the Fitbit Gallery. Open the Deezer app on your watch to see your activation code.
Using a web browser, open fitbit.com/deezer
Enter the activation code.
Follow the on-screen instructions to log in to your Fitbit account and choose your device (if you don't see these instructions, skip to step 6)
Follow the on-screen instructions to log in to your Deezer account or create a new account
In the Fitbit app, select the Today tab > your profile image > your device image > Media > Deezer.
Add Music to see your Flow, featured playlists, and any personal playlists you've created on Deezer. If you haven't favorited or created any playlists, visit the Deezer mobile app or website to do so.
Tap playlists to queue them for download.
Plug your watch into the charger. Music downloads automatically when the watch is charging and in range of your Wi-Fi network, or tap the three dots menu icon > Force Sync Now in the Deezer section of the Fitbit app to add the playlists to your watch. Depending on the amount of music being downloaded, this process may take several minutes or more. Check the progress of the download on the watch's screen or in the Fitbit app (if your phone is within Bluetooth range). You can listen to and download music from Deezer on your phone or computer while waiting for your download to complete. Wi-Fi won't work on your watch when the battery is 25% or less.
How to listen to Deezer playlists on Fitbit?
Open Deezer
Select the Play button next to the playlist
Select the name of the playlist to see the full list of tracks
You have the option to select Shuffle All or an individual track to play it
Use the arrow icons to skip to the next track or previous track (returning to a previous track isn't possible when listening to Flow).
Press the + and – icons to control the volume
Open the music controls to change tracks or control volume. From any screen, press and hold the back button on your watch and swipe to the Music Controls screen
How to manage the Deezer playlists on Fitbit?
Playlists update automatically and Flow updates daily when the watch is charging and in range of your Wi-Fi network. To adjust which playlists are stored on your watch:
In the Fitbit app, tap the Today tab > your profile picture > your device image > Media > Deezer.
To remove a playlist, swipe it to the left and tap Delete. To add a new playlist, tap Add Music and select the playlists to download. Only the content not already downloaded to your watch is shown.
How to listen to Deezer on Fitbit for free?
Although you can use Deezer on Fitbit directly, there are still a lot of limitations. You need a paid subscription to Deezer and a Wi-Fi connection to download music. When you start the download, you need to plug your Fitbit in the charger. Tracks available to download max 150-200. And it's not possible to listen to live radio or podcasts using Deezer on Fitbit. You might wonder whether there's an effective solution to use Deezer on Fitbit for free and break all above limitations. Luckily, Pazu Deezer Music Converter is designed to download Deezer music/podcasts and convert Deezer audio tracks to MP3, WAV, AAC, FLAC, and other common audio formats.
Pazu Deezer Music Converter is available for both Windows and Mac computer systems. It has the ability to convert Deezer music at a fast conversion speed. You don't need to worry about the ID3 tags of the songs either, since Pazu Deezer Music Converter comes with an intelligent ID3 tag editor which keeps all the metadata info of Deezer streaming songs, such as year, cover, genre, artist, etc. Thanks to this powerful Deezer music converter, you are able to play Deezer music, playlists, albums, and podcasts on all Fitbit devices as you like. Now, let's see how to download and convert music from Deezer with the help of Pazu Deezer Music Converter.
1. Launch Deezer Music Converter
Download, install and run Pazu Deezer Music Converter on your Mac. Click the Sign in button and log in your Deezer account.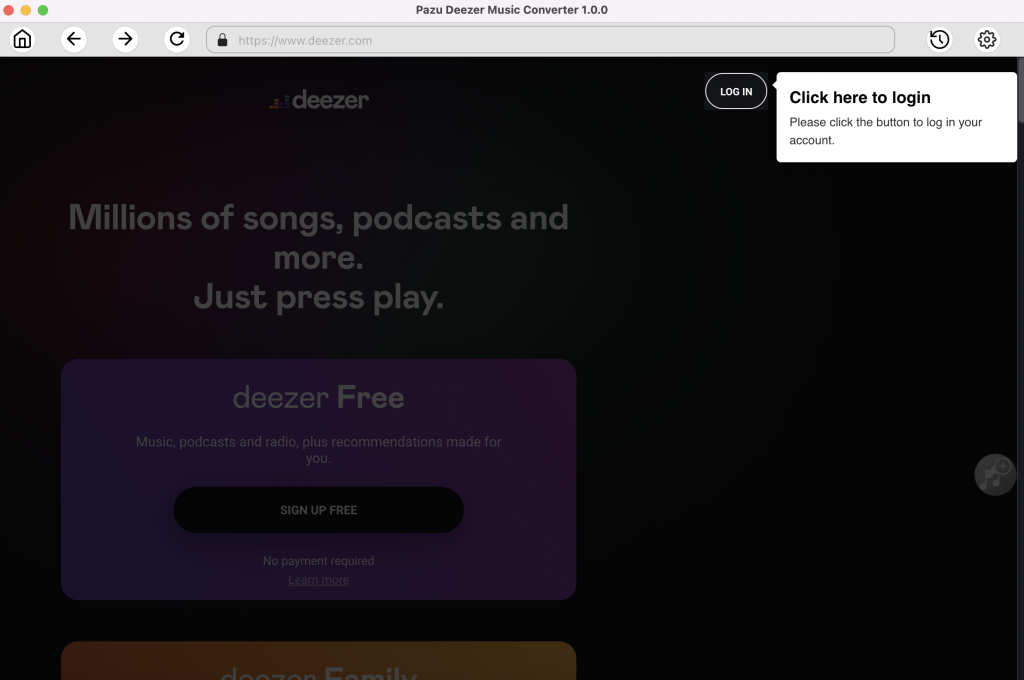 2. Change output format(optional)
The default output format is lossless M4A. Pazu Deezer Music Converter also supports converting Amazon Music to MP3, AAC, FLAC, WAV and AIFF.
Output File Name: name the songs with any combination of Title, Artist, Album, Playlist Index, Track Number. For example, if you choose Title and Artist, Tylor Swift's song Lover will be named as Lover Tylor Swift.mp3.
Output Organized: organize downloaded songs by Artist, Album, Artist/Album or Album/Artist.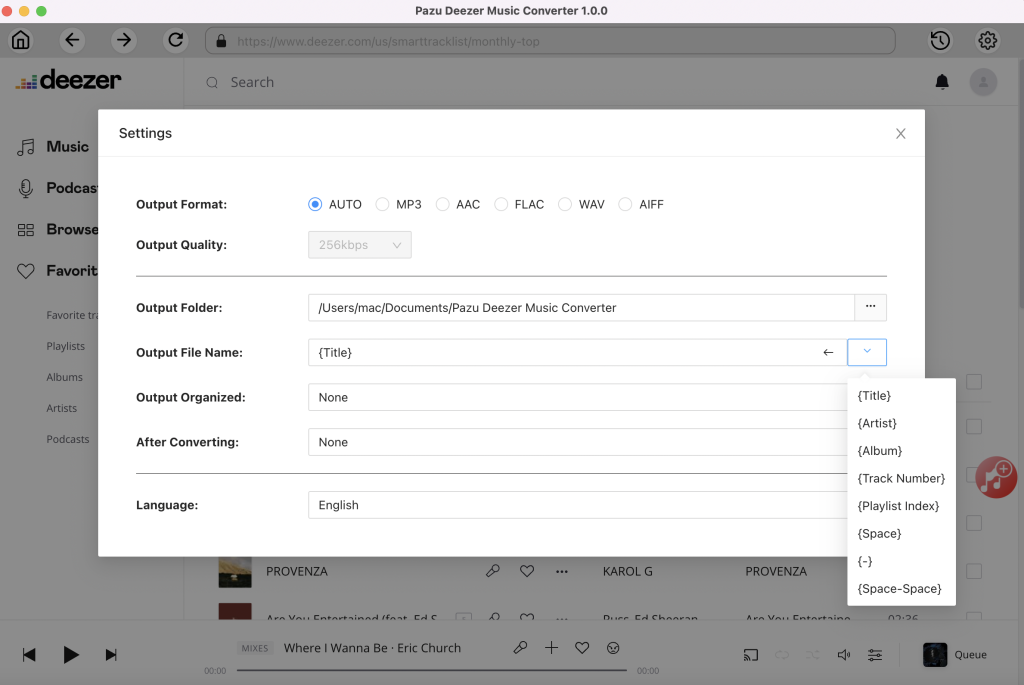 3. Select music you want to download
Follow the on-screen instructions to choose the playlist or album you want to convert. Click Add songs.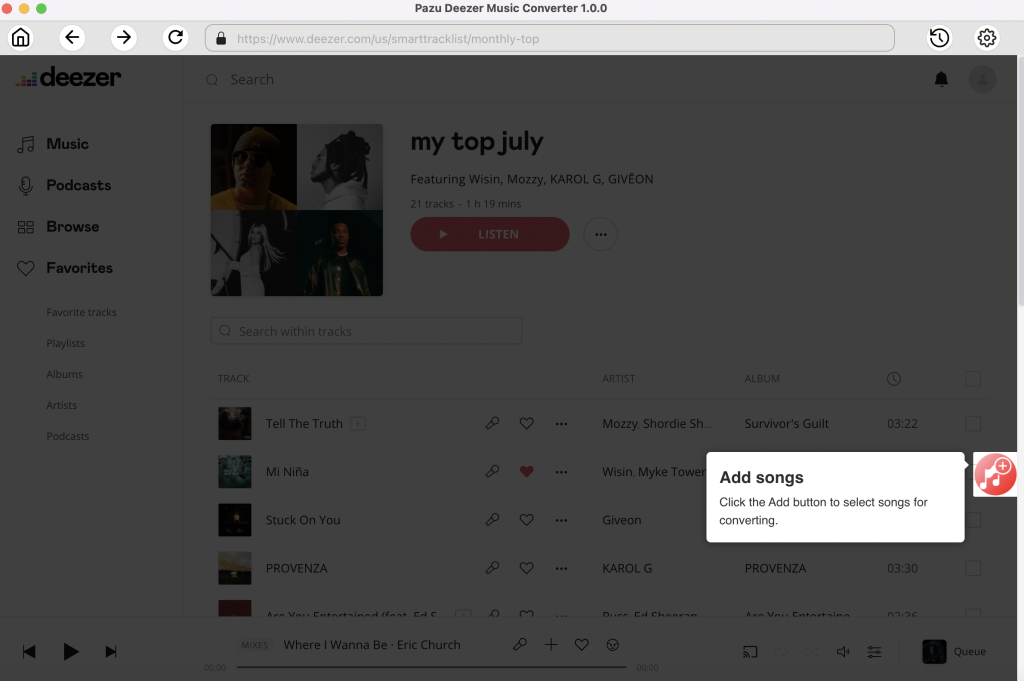 4. Start Conversion
By default, all songs in the playlist/album will be checked. If there are songs you don't want to convert, please uncheck the box. Then click Convert button to start downloading songs to the format you choose.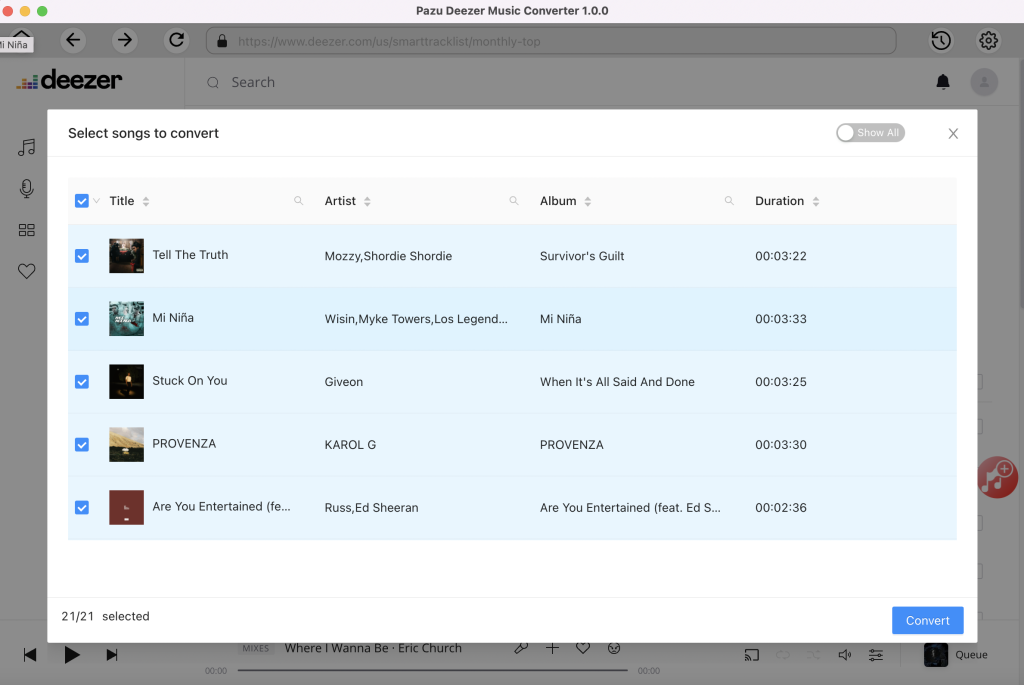 After conversion, click below folder icon to quickly locate the downloaded songs.