How to Play Audible on Sonos
Audible is provided by Amazon, and it has the world's largest library of audiobooks, Audible original productions, and many more. Audible allows you to listen anywhere anytime. It is possible to listen to your audiobooks on the Audible app while you are on the go. It offers the world-renowned performances. You can listen to A-list celebrities narrate their favorite stories, and enjoy full-cast performances.
Sonos speakers are known for high audio quality. They offer an expansive set of features. That includes multi-room playback, indoor-outdoor listening, smart assistance, and an extensive streaming library. Sonos speakers aren't just for music. They can also be used to play and listen to audiobooks through your Audible profile.
Here we will introduce three most popular ways to play Audible on Sonos. Now, check the guide and pick the most suitable way to enjoy Audible in more enjoyable quality!
How to listen to Audible using the Sonos app?
If you want to play Audible on Sonos, you only need to add Audible service to the Sonos app and then ask Alexa to play the audiobooks for you. What's more, new subscribers to Audible can get two free credits plus a complimentary audiobook when signing up for its 30-day trial through the Sonos app, then they can download two free Audible audiobooks.
Before playing Audible on the Sonos speaker, you need to add Audible to your Sonos app, just follow these instructions:
1. Open your Sonos app
2. At the bottom of the main screen, tap More
3. Tap on Add Music Services
4. Find the Audible service and tap it
5. Add to Sonos
6. After adding Audible, you will need to sign in to your Audible account to authorize Audible with the Sonos app. Follow the on-screen instructions to sign in
Once you've authorized your Audible account, you will see a "Success" screen letting you know you've set up your Audible account and are ready to return to your Sonos app to begin listening. Just add a name for your account and your Audible marketplace, and your library will automatically sync to the app.
How to listen to Audible from the Audible app?
This is the easiest way to play Audible audiobooks on Sonos devices. In this way, you can use the Audible app to start the playback of Audible audiobooks on your Sonos speaker. But, certain features like narration speed, sleep timer and bookmarks aren't available when listening on Sonos. If you want to play Audible audiobooks on your Sonos speakers without ever leaving your Audible app, you can follow these instructions:
1. Open the Audible app on your mobile device. Make sure you're connected to the same Wi-Fi as your Sonos speaker.
2. Now, pick the audiobook you want. Then, tap "Connect to Device".
3. From the list of available devices, choose the correct Sonos speaker. Tap on "Continue" to authorize the required permissions.
4. You'll see a short note saying "Some Audible features, like narration speed are unavailable on Sonos". Tap "OK" to complete the setup process and start listening.
How to play Audible on Sonos with Pazu app?
Playing your favorite audiobooks from Audible through Sonos or Audible app is simple. However, you also would encounter a series of problems like unavailable features of using Sonos to play Audible audiobooks, Audible not showing on Sonos or Audible account not available. In this case, you are not able to continue to use the Sonos or Audible app to play Audible on Sonos. If you still would like to listen to Audible on Sonos speakers, what should you do?
If you convert the audiobooks to Sonos compatible formats, like MP3, FLAC, WAV, and more, then you can sync the converted Audible files to Sonos speakers and play them via Alexa. To do that, here we can meet Pazu Audible Converter, which can not only convert Audible audiobooks to several common audio formats for playing without limitations, but also split audiobooks by chapters or other time frames as you like. Besides, it runs at 30X faster speed, and it supports keeping 100% original ID3 tags. After converting, you are able to access Audible audiobooks on your Sonos device directly.
Step1: Install Pazu Audible Converter
Download Pazu Audible Converter. Follow instructions to install it on your Mac or Windows.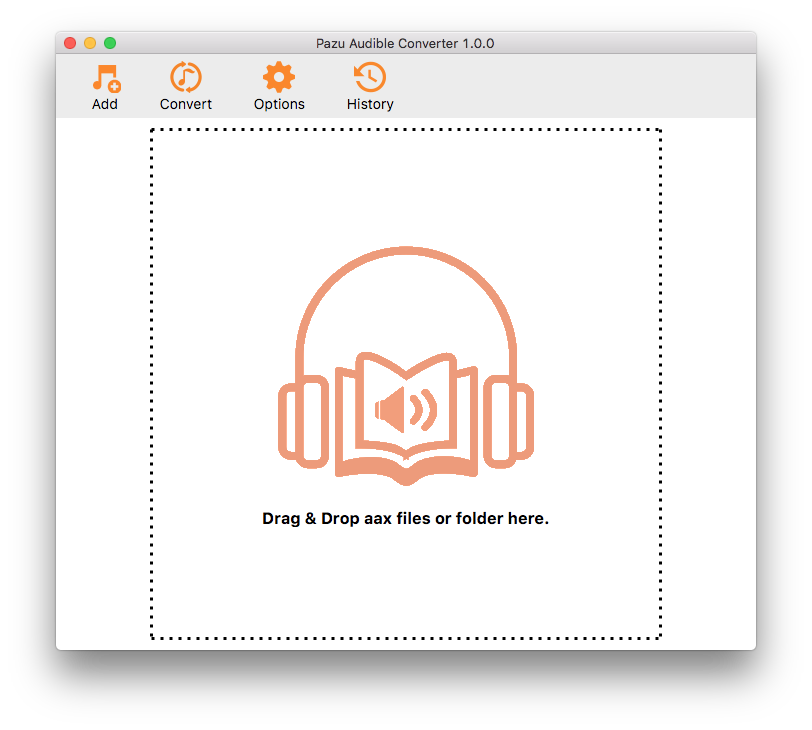 Step2: Add Audiobooks
Click the Add button to add audiobooks to Pazu Audible Converter. Or you can drag and drop the files into the converter directly.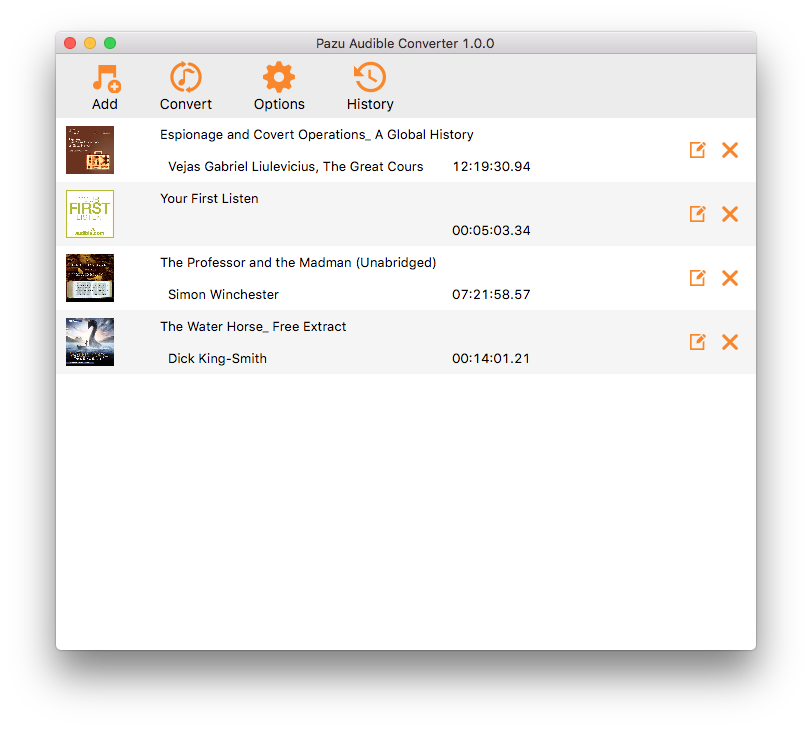 Step3: Customize the settings
Click the Options button, here you can change the output path and choose to split the audio file into segments as needed. Click the Advanced button, you can customize the output settings: Output Format, SimpleRate, and Bitrate. If you choose Lossless as the output format, Pazu Audible Converter will download audiobooks in plain AA/AAX format.
Step4: Start to convert
Click on the Convert button at the top of the main interface to start converting the selected audiobooks to the output format you chose.
Step5: Find output files
When the converting process is completed, click the History button and find the well-converted files from the local drive.