How to transfer Apple Music playlists to Spotify on iPhone?
At times, you may find yourself wanting to switch music providers. If you're considering a switch from Apple Music to Spotify due to desirable features or promotional offers, you might be hesitant to recreate all your carefully curated and saved playlists. However, the good news is that you can bring your playlists along with you by using dedicated apps for transferring.
If you're specifically looking to switch from Apple Music to Spotify, there are free apps available to facilitate the process. Follow the guide below for step-by-step instructions on how to transfer your playlists seamlessly.
1. FreeYourMusic
1. Install and run FreeYourMusic on your iPhone.
2. Select Apple Music as the source music service. Follow the prompts to grant FreeYourMusic access to your Apple Music library.
3. After connecting Apple Music as the source, select Spotify as the destination music service. Sign in to your Spotify account within the app.
4. Once you've set up the source (Apple Music) and destination (Spotify), select the Apple Music playlists you want to transfer to Spotify. Then tap Begin Transfer.
5. Once the transfer is complete, open the Spotify app on your iPhone. Go to your playlists section and check if the Apple Music playlists have been successfully transferred to Spotify.
Note that FreeYourMusic only allows you to transfer 100 songs for free. If you want to transfer more, you need to purchase it.
2. SongShift
SongShift is another reliable playlist transfer app available for iOS devices. It allows you to transfer playlists and songs between Apple Music and Spotify effortlessly. The app provides an intuitive user interface and offers options to customize the transfer process according to your preferences.
1. Run SongShift on your iPhone or iPad. Tap Gear icon on the top left corner – Music Services. Connect your Apple Music and Spotify account.
2. Tap + icon on the top right corner to add a shift.
3. Tap Playlists under Apple Music and select playlists you want to transfer to Spotify.
4. Tap Start Shifts to initiate the transfer process.
5. SongShift will now begin the transfer process. The time it takes will depend on the size of the playlists being transferred. After the shift finishes, go to Spotify app or web player to check the transferred playlist.
While using playlist transfer tools can be convenient for migrating playlists and music libraries between Apple Music and Spotify, it's important to be aware of potential limitations and issues that may arise during the transfer process. One common challenge is the possibility of missing songs due to differences and discrepancies between the two platforms. Certain songs may be available in Apple Music but not in Spotify, or vice versa, which can result in inconsistencies in the transferred playlists.
To overcome these limitations, an alternative solution worth considering is utilizing a tool like Pazu Apple Music Converter. This powerful tool enables you to download Apple Music in various formats such as M4A, MP3, AAC, FLAC, WAV, and AIFF. By converting Apple Music tracks into compatible formats, you can manually add them to Spotify as local files. This approach ensures a more stable and reliable method for enjoying your favorite Apple Music playlist on Spotify.
The biggest advantage of Pazu Apple Music Converter is that it allows you to enjoy Apple Music offline with any player or device that supports the converted file formats. This flexibility gives you the freedom to offline play downloaded Apple Music tracks even without Spotify premium subscription.
By utilizing Pazu Apple Music Converter, you can overcome the potential limitations of playlist transfer tools and create a more stable and comprehensive music library.
How to transfer Apple Music playlist to Spotify with Pazu Apple Music Converter?
Pazu Apple Music Converter offers the capability to convert any Apple Music songs, albums and playlists in Apple Music catalog to high-quality formats such as MP3, AAC, WAV, FLAC, M4A, and AIFF, without compromising the audio fidelity. Notably, this converter stands out with its exceptional speed, performing downloads and conversions nearly ten times faster than comparable software. Furthermore, it is seamlessly integrated with the Apple Music web player, enabling batch conversion of Apple Music playlists or albums to your preferred format, all without the need for the Apple Music app. To learn how to download Apple Music as MP3 and then upload to Spotify as local files, the following tutorial will guide you through the process.
Step 1 Launch Pazu Apple Music Converter
Download, install and run Pazu Apple Music Converter on your Mac or Windows.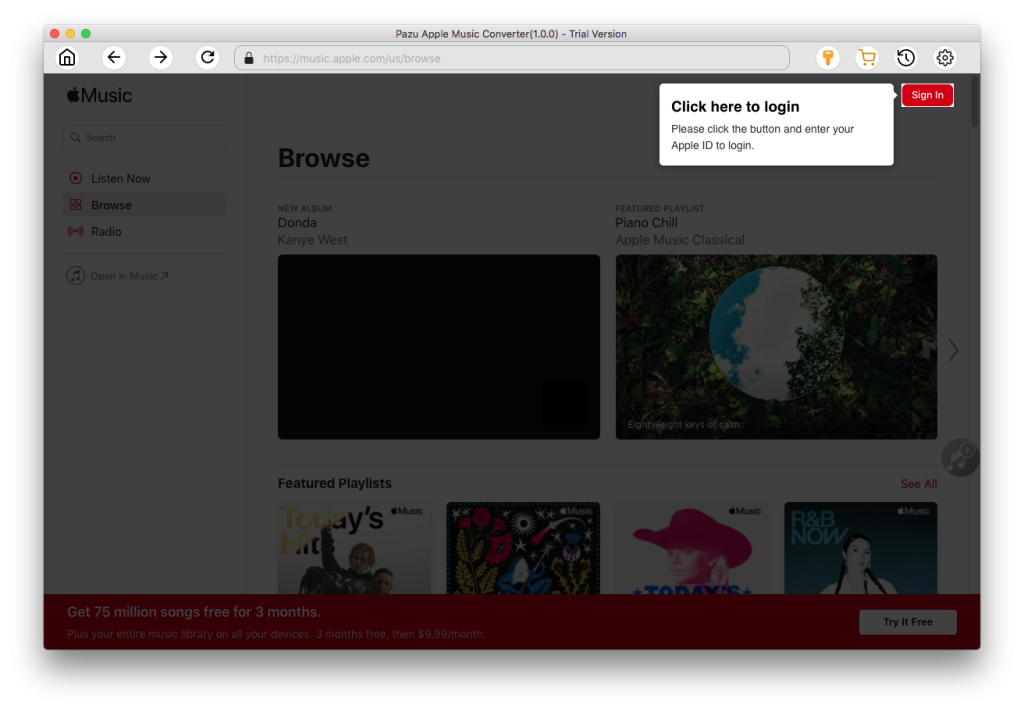 Step 2 Choose output format
The default format is M4A in 256kbps. Apple Music Converter also supports MP3, AAC, FLAC, WAV and AIFF. Click the gear icon if you want to change output format or output folder.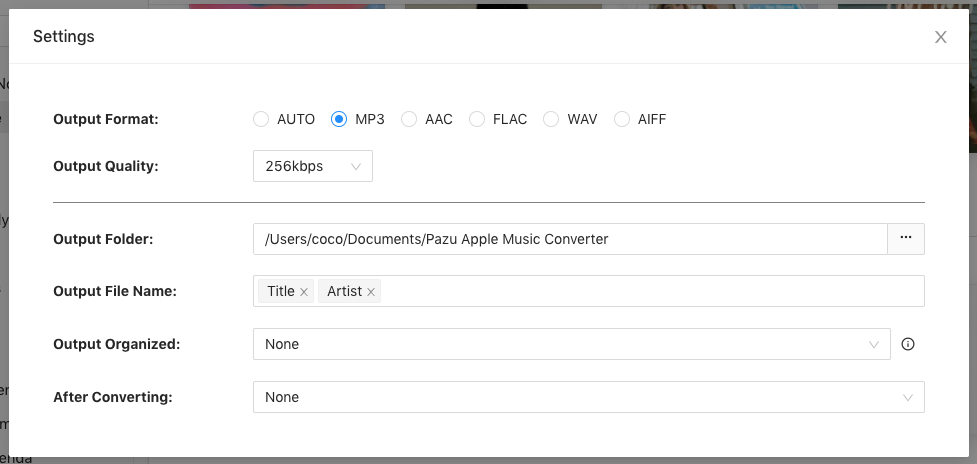 Step 3 Choose a playlist, artist or album you want to download
Follow the on-screen instructions to choose a playlist, artist, or album that you want to download.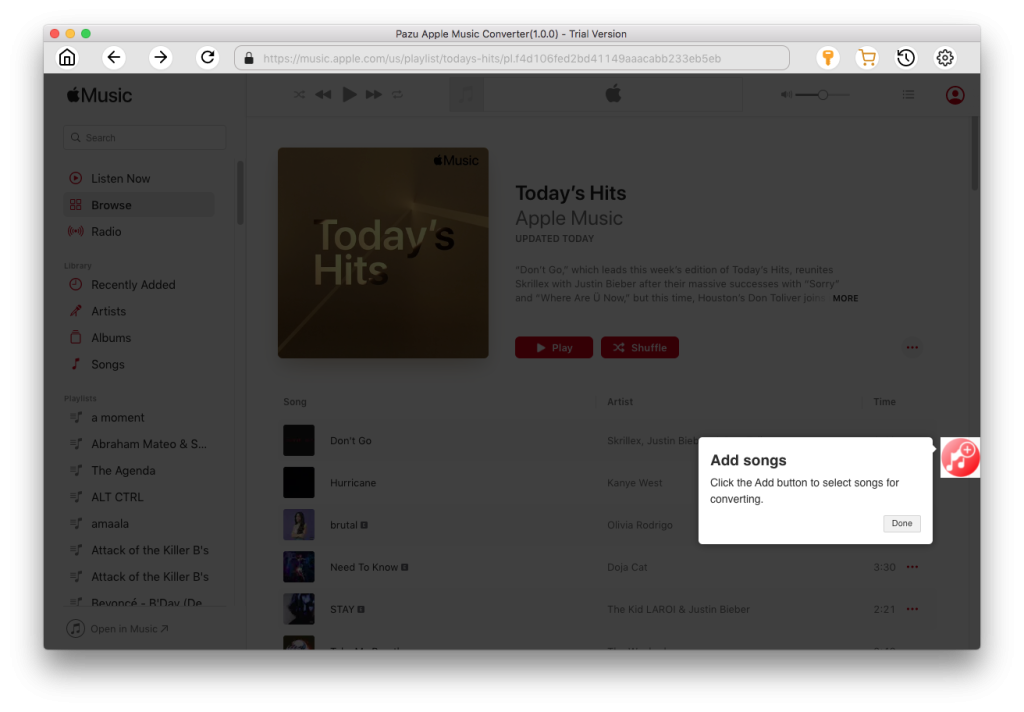 Step 4 Start to download Apple Music songs
Click "Convert" button to start downloading Apple Music songs, albums and playlists to mp3, so you can play them anywhere you want, even after cancelling Apple Music subscription.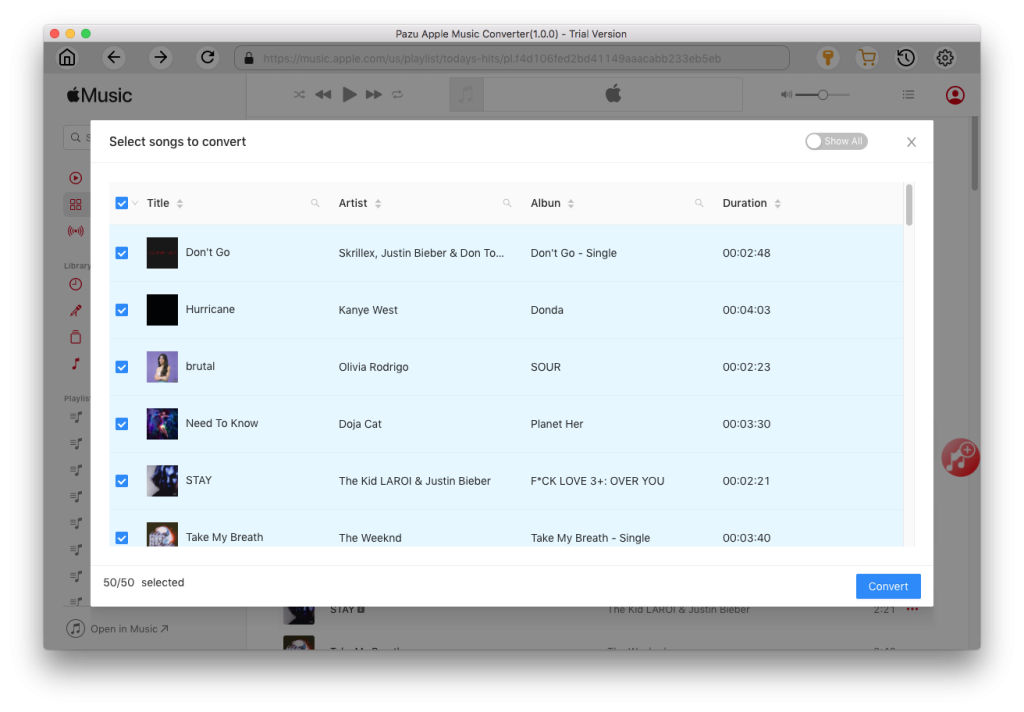 Step 5 Upload download Apple Music songs to Spotify as local files
Open Spotify app on your Mac or Windows, click the profile avatar and choose Settings.
Scroll down to Show songs from.
Click Add a source and select above output folder.