What is YouTube Music and How to Download YouTube Music
When talking about downloading music from YouTube, the first thing to mind usually might be downloading from the YouTube video platform. However, YouTube Music has become a dedicated and more powerful music streaming service than the original YouTube with everything in its content. So why not download your favorite songs, albums, and playlists directly from YouTube Music with better audio quality?
In this article, we will introduce what is YouTube Music, the differences between YouTube and YouTube Music, and several methods to download music from YouTube Music.
CONTENTS
Read Also:
Part 1. What is YouTube Music?
1. Why is there a separate app for music?
YouTube Music is designed specifically for music, aiming to simplify the process of music discovery and enable fans to explore YouTube's extensive music catalog and connect with their favorite artists. Additionally, it also helps artists in reaching audiences and generating revenue from their creative content.
2. How can I listen to YouTube Music? (System requirements of YouTube Music)
YouTube Music is now available in about 100 countries and regions. You can listen to it on the YouTube Music web player, and through the YouTube Music app on your Android and iOS devices.
To use YouTube Music, your devices need to meet the following requirements:
Computers: YouTube Music is currently available on Chrome, Firefox, Safari, and Edge.
Android phones and tablets: version 4.4 or above.
iPhones and iPads: iOS 14 or above.
3. Is YouTube Music Free?
YouTube Music does offer a free individual plan. It is the ads-supported YouTube Music, including access to Background play and downloads for most podcasts.
However, if you want to fulfill the following functions, you need to go for the YouTube Music premium subscription:
Music without ads
Background play
Audio-only mode
Downloads and offline listening
4. What are the YouTube Music Plans and Prices?
YouTube Music Premium Individual plan costs $10.99/month or $109.99/year. There is also a Family plan for $16.99/month and a Student plan for $5.49/month. If you also watch YouTube videos a lot, you can consider subscribing to the YouTube Premium plans: Individual for $13.99/month or $139.99/year, Family for $22.99/month, and Student for $7.99/month.
Please note that YouTube Music Premium is included in YouTube Premium. But if you just pay for YouTube Music, the premium benefits cannot be shared on the YouTube video platform.
Part 2. Differences between YouTube and YouTube Music
As you may wonder, since YouTube already has a music channel, why do I need to go to YouTube Music for song listening? In the following content, we will detailedly illustrate the major differences between YouTube and YouTube Music, to offer a full picture for you to make a choice.
Video vs. Audio Player
YouTube, as well known, is a video streaming platform. Compared with YouTube Music – which can also play video – YouTube has more video play features to offer such as choosing video quality according to internet speed, captions, and playback speed options. While the YouTube Music player focuses more on audio playing functions like shuffle play, showing lyrics, and a more noticeable loop play button.
Playlists
If you create a music playlist on YouTube, you can also find it on YouTube Music. But it is not the other way around. The playlist you created on YT Music will not be found on YouTube.
Premium Membership
As mentioned in the former content, paying for YouTube Premium gives you access to YouTube Music Premium. But a YT Music premium membership doesn't allow you to enjoy the premium benefits of the YouTube video platform.
Downloads and offline listening
For both YouTube and YouTube Music, downloads and offline listening are only available to premium members.
Background Play
Unfortunately, the background play feature is also available to YouTube and YT Music premium members only. With the free accounts, you cannot play music and podcasts while using other apps on either app.
Upload your music
One of the best features of YouTube Music is that you can upload your songs and albums to the app library and use YT Music to play them. You can upload up to 100,000 songs in file formats including FLAC, M4A, MP3, OGG, and WMA.
Music uploads cannot be done in the YouTube Music mobile app. You can visit music.youtube.com to complete the tasks.
Part 3. How to download songs from YouTube Music
1. Use YouTube Premium/YouTube Music Premium
To download YouTube Music, the easiest way is through the YouTube Music app. YouTube allows Premium and Music Premium members to download music to mobile devices. In other words, you can only download songs, playlists, and albums with the YouTube Music app to your Android or iPhone/ iPad after you have paid for the premium subscription.
Nevertheless, songs downloaded from YouTube Music Premium accounts are cache files stored inside its app data folder with encryption protection. That is you can only access and play the downloaded music within YouTube Music only. You cannot transfer the downloaded files to other devices or play them on another program or device.
Open the YouTube Music app on your mobile device and go to a playlist/song page
Click on "Download"/Click on the three dots>Download
2. Download YouTube Music with free online downloaders
Soundloaders
Soundloaders YouTube Music Downloader is a free online tool to convert not only YouTube but also music from several other platforms such as Spotify, Deezer, Apple Music, etc. It doesn't require any personal information or account creation to use the service and can convert the song you want into an MP3 file with the best possible quality.
The downloader is compatible with macOS and Windows and can be used with both the YouTube Music web player and the mobile application for Android and iOS. Meanwhile, Android users can enjoy the smooth operation of the downloader on popular browsers including Chrome, Firefox, and Opera. But iOS users need to use the Safari browser on their mobile devices.
However, this free online downloader can only convert one song at a time. It doesn't support downloading playlists or albums. Besides, sometimes you may need to wait for a while to search and download the song.
Open the YouTube Music website/mobile app and go to a video page
Copy the URL from the page/Click on the three dots>Share>Copy link
Paste the URL in the text input above
Click on "Search" to check the track information
Click on "Download" and it will start automatically
Y2mate
y2mate YouTube Downloader is a free online downloader and converter just for YouTube. It is easy to use and supports downloading in both video and audio files. For video downloading, users can select to convert YouTube Music to MP4 videos in different resolutions and 3gp files as well. When converting to audio files, users can choose up to 320kbps MP3 files.
However, y2mate is an ad-supported website, and users need to go through several commercials to complete downloading one single song.
Open the YouTube Music website/mobile app and go to a video page
Copy the URL from the page/Click on the three dots>Share>Copy link
Enter the URL into the search box.
Choose the MP3 quality you want to convert with.
Click the "Download" button.
3. Best YouTube Music Downloader – Pazu YouTube Music Converter
To download MP3 songs, albums, and playlists from YouTube Music with ease, there is a more powerful tool – Pazu YouTube Music Converter.
Actually, you can download any YouTube Music songs, albums, and playlists with Pazu YouTube Music Converter. You don't even need to copy and paste the YouTube/YouTube Music link, as Pazu YouTube Music Converter features a built-in YouTube Music web player. Pazu allows you to search for your favorite songs from the YouTube Music catalog and then download them at 320kbps.
With Pazu YouTube Music Converter, you can download 70 million MP3 songs from YouTube Music for free without Premium or an account.
If you use other music streaming services, you can also download MP3 songs from that service with relevant Pazu music downloader apps, such as Spotify Converter, Apple Music Converter, Tidal Converter, Deezer Converter, and Amazon Music Converter.
1. Run Pazu YouTube Music Converter
To get started, download, install and run Pazu YouTube Music Converter on your Windows PC, which features a built-in YouTube Music web player.
After the installation is complete, launch the YouTube Music to MP3 Converter on your computer. If you have already purchased a license, click the key icon to register the converter. If not, continue using the trial version.
You don't need to sign in to your YouTube Music account.
2. Customize the Output Settings
Click on the "Setting" icon in the upper right corner to open the Setting window in which you can customize the output format, output quality, output folder, file name format, how output songs are organized, interface language, etc.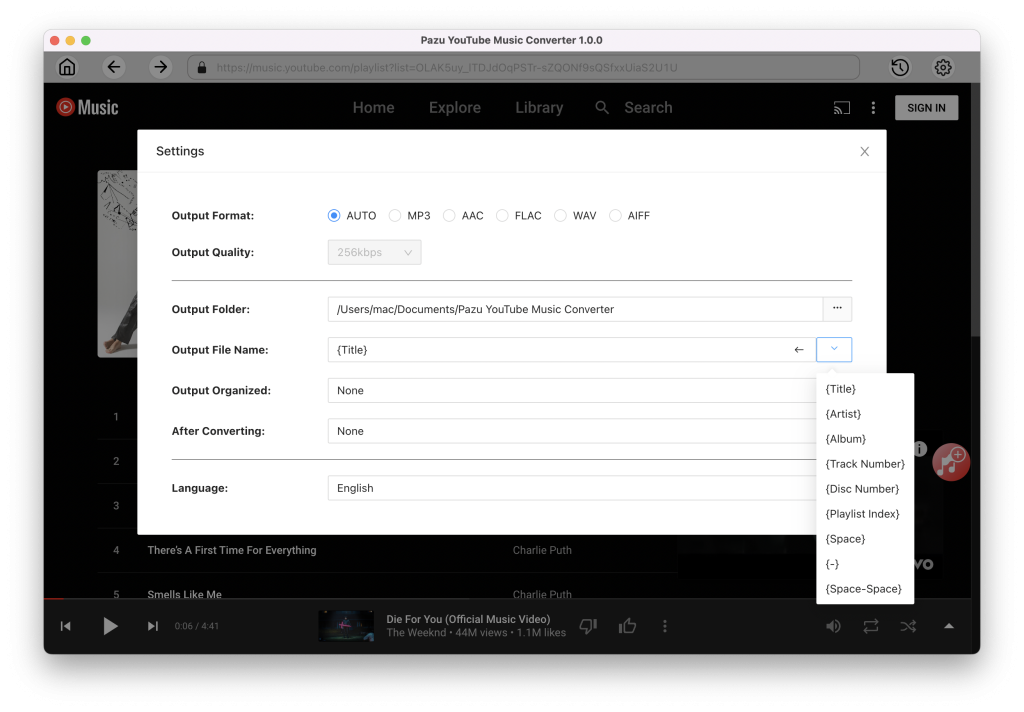 3. Add songs
Browse or search to find the songs, albums, or playlists you want to download. Click the album or playlist you want to download. Then click the red icon to load songs.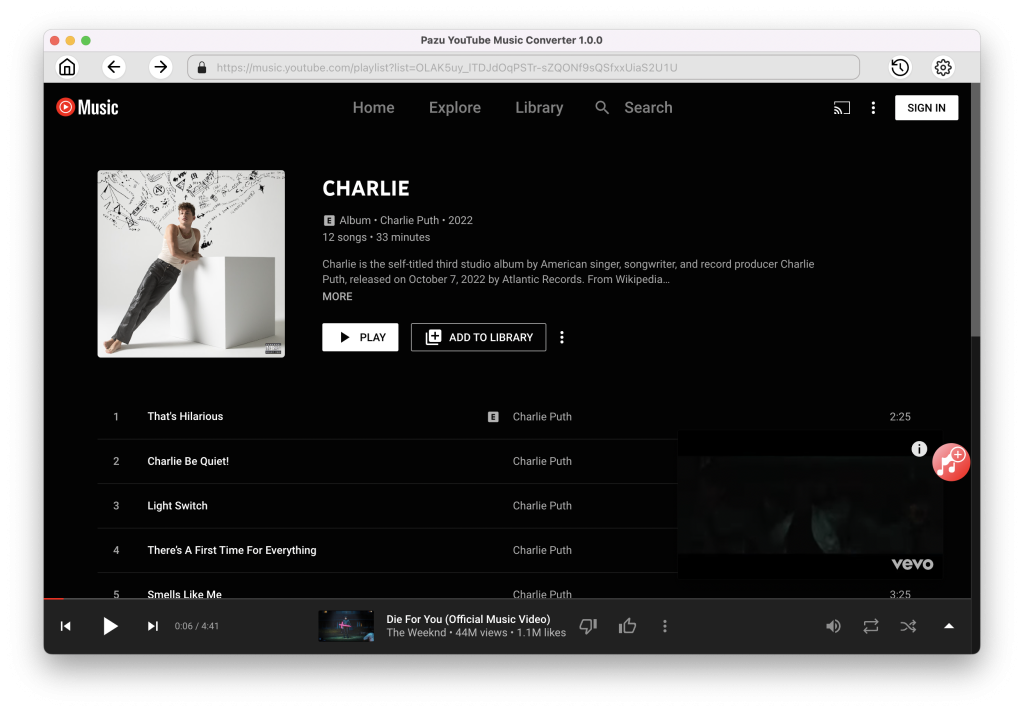 All songs in the playlist/album will be selected by default. You can uncheck the songs you don't want to get.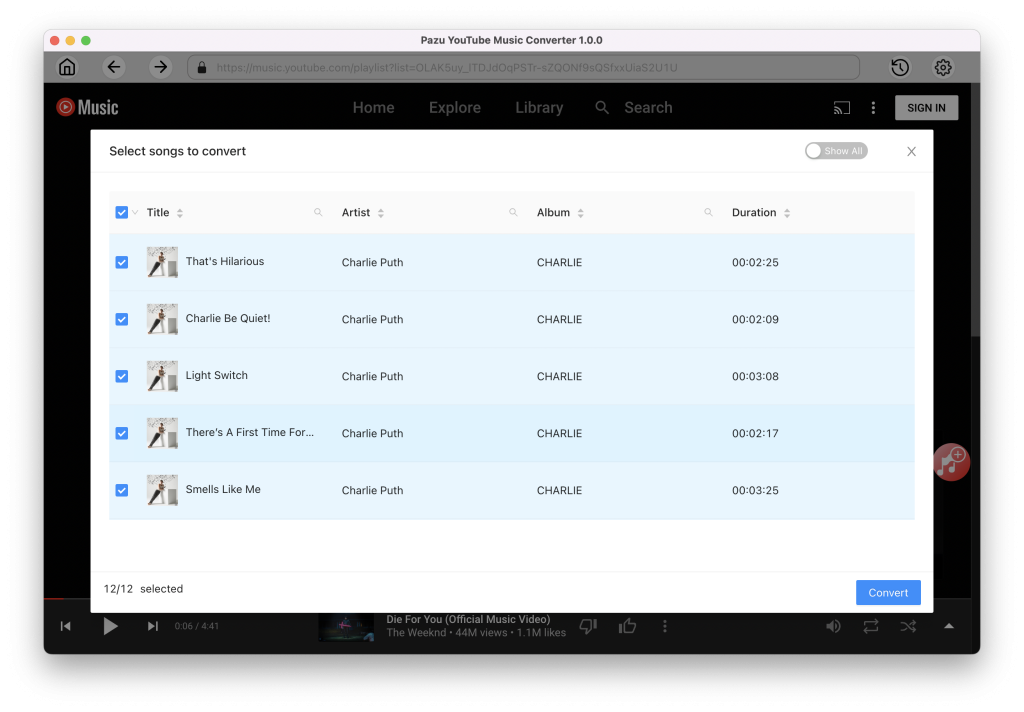 4. Download Music from YouTube Music
Click on the "Convert" icon and the program starts to convert YouTube Music songs.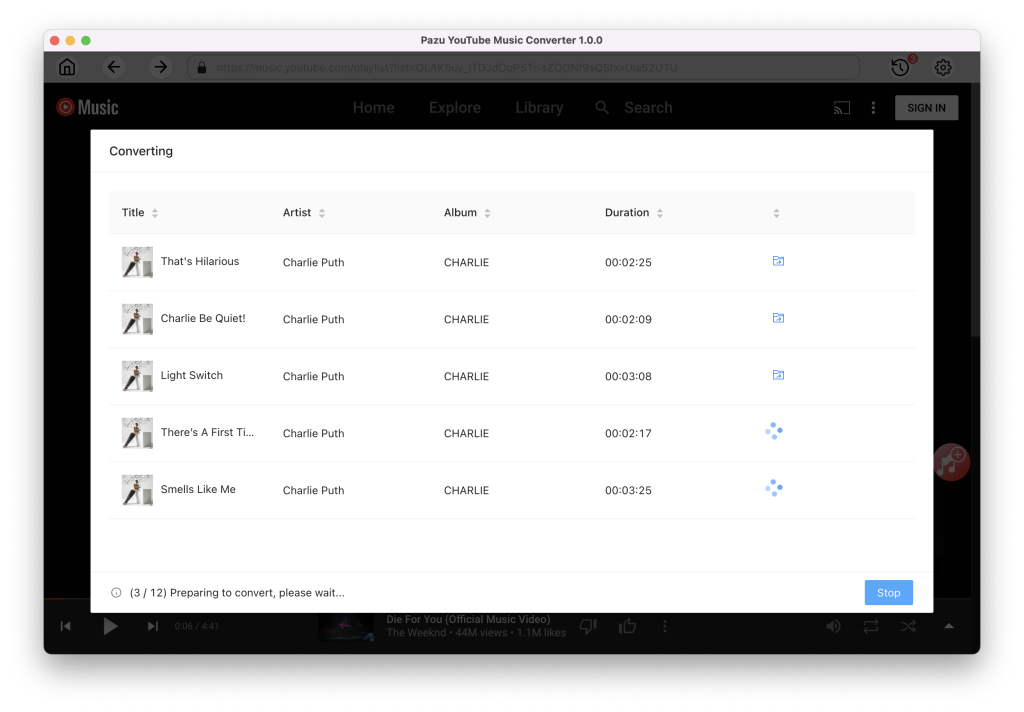 After the converting is complete, click on the "clock" icon in the upper right corner to find the converted YouTube Music songs from the local directory.