What Song Is This? Best 9 Ways to Identify Songs
Whether you're at a bar, cafe, mall, on the street, traveling, or playing sports, discovering a new song that resonates with you can be overwhelming. You're eager to know the name of the song and add it to your music playlist.
In this article, we'll share ten convenient ways to use your phone or watch to identify your favorite music. These methods will help you uncover the name of that captivating song and seamlessly add it to your playlist, ensuring you can enjoy it anytime.
1. Shazam
Shazam is a popular song identification app that allows users to identify songs by simply holding their device up to the audio source. With Shazam, you can quickly discover the title, artist, and other details of a song that is playing around you. The app uses audio fingerprinting technology to match the recorded sample with its extensive database of songs.
Use Shazam to identify what you're hearing on the radio, in a store, or anywhere else you hear a song. Besides iOS and Android app, it is also available on Apple Watch and Android Wear. For computer users you can get the Shazam Google Chrome extension. Additionally, the app provides features like lyrics display, music recommendations, and the ability to save and share identified songs. Whether you're curious about a catchy tune or want to explore new music, Shazam is a handy tool to have on your mobile device.
How to identify songs with Shazam?
Open the Shazam app on your device.
Tap the Shazam button to identify what's playing around you.
After you identify a song, tap the play button next to a Shazam to listen to a preview. To listen to the whole song, connect Shazam to Apple Music, Spotify, Deezer or YouTube Music.
Shazam is built in to Snapchat—you don't need the Shazam app or a Shazam account to use Shazam with Snapchat.
To identify a song with Shazam in Snapchat, open the camera screen, then press and hold on this screen to Shazam a song. You can send your new music discovery as a Snap.
To see your previous Shazams in Snapchat, go to the Snapchat Settings screen, then tap on Shazam under Additional Services.
Shazam also offers up to 3 months free of Apple Music.
2. Google Assistant
Google Assistant is able to identify songs that play around you. You can play the song for Google Assistant to identify or you can hum, whistle, and sing the melody of a song.
On Android
Ask Google Assistant
On your phone, touch and hold the Home button or say "Hey Google."
Ask "What's this song?"
Play a song or hum, whistle, or sing the melody of a song.
Use the Google app
On your Android phone or tablet, open the Google app .
In the search bar, tap the mic Search a song.
Play a song or hum, whistle, or sing the melody of a song.
On iPhone
On your iPhone, open the Google app .
In the search bar, tap the mic .
Ask "What's this song?" or tap Search a song.
Play a song or hum, whistle, or sing the melody of a song.
3. Siri
To identify a song using Siri, follow these steps:
Activate Siri: On an iPhone or iPad, press and hold the home button or the side button (depending on the device model) until Siri appears, or simply say "Hey Siri" if you have enabled that feature.
Ask Siri: Once Siri is activated, say "What song is this?" or "Name that song" to prompt Siri to listen to the song and try to identify it.
Let Siri listen: Hold your device close to the source of the song, such as a speaker or the device playing the music. Siri will listen to a portion of the song and analyze it to provide you with the song's title, artist, and other relevant information.
View the result: Siri will display the identified song on the screen along with additional details like the artist, album, and sometimes even lyrics. You can tap on the result to view more information or perform actions like adding the song to your library or playing it on Apple Music.
You can also identify a song using Siri on HomePod, on Apple Watch, or on Mac.
4. Alexa
One of Alexa's skills is the ability to identify what song is playing. Any time Alexa is playing music, simply say, "Alexa what song is playing?" The assistant will briefly interrupt the song and tell the name and artist of the song.
Song finder brings you the power to search any song just by asking Alexa about the song containing few words present in the song. Your favourite song is just a phrase away! Name any song in seconds with your Alexa! Identify music instantly just by saying few words of the song!
You can say: "Alexa open Song Finder", "Alexa find a song Kiki, do you love me", "Alexa find a song Girls like you".
5. Deezer SongCatcher
To identify a song with Deezer SongCatcher feature, you can follow these steps:
Launch the Deezer app and go to Search.
Tap the blue slogan "What's this song?".
Let Deezer listen to the song: Hold your device close to the source of the song, such as a speaker or the device playing the music. Deezer will listen to a portion of the song and analyze it to identify the track. Or tap SING NOW to hum or sing the song.
View the identified song: Once the recognition process is complete, Deezer will display the identified song on your screen, including the song title, artist, and album artwork. You may have the option to view the full song on Deezer or add it to your library if you have a Deezer subscription.
6. Pixel phone Now Playing feature
On Pixel 2 and later phones, there is a built-in feature called "Now Playing" that allows your phone to automatically identify songs playing in the background. Here's how you can use it:
Open your phone's Settings app.
Tap Sound & vibration Now Playing.
Turn on Identify songs playing nearby.

Make sure that your phone is charged and connected to Wi-Fi.

Wait a few minutes while your phone downloads the song database.
After the download is done, songs playing around you will automatically be identified and shown on your lock screen.
To learn more about a song:

If your phone is locked, tap the song name.
If you're using your phone, expand notifications at the top, then tap the song notification.
7. Music Recognition on iPhone or iPad
Since the release of iOS 14.2 in 2020, the iPhone has included a built-in Music Recognition feature in Control Center powered by Shazam.
Music Recognition feature on iPhone or iPad allows you to identify songs right from Control Center. To add Music Recognition to Control Center, go to Settings > Control Center, then tap the Add button
next to Music Recognition. Requires iOS or iPad OS 14.2 or later.
To identify songs playing around you, open Control Center on iPhone or iPad, then tap the Shazam button
. Shazam can identify songs playing on your device even when you're using headphones.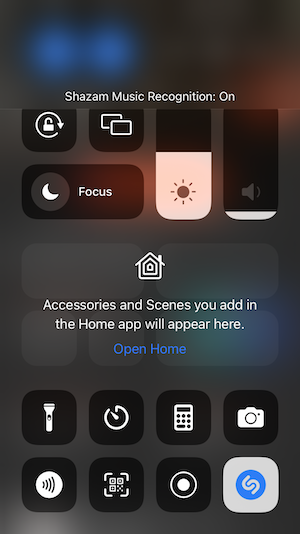 To find songs you've identified, touch and hold the Shazam button in Control Center to open your History View. Tap a song to open it in Shazam.
Unlike Shazam app, when you identify songs with Music Recognition, you can only play the identified songs with Apple Music. So if you are Spotify, Deezer or YouTube Music user, you still need Shazam app.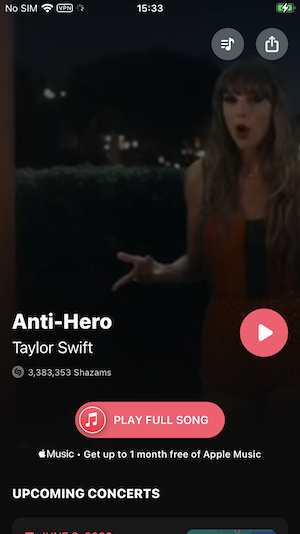 And if you've synced Music Recognition in Control Center with the Shazam app, songs you've identified appear in My Music in the Shazam app and are also backed up to iCloud.
8. SoundHound – Music Discovery
SoundHound makes it simple to discover music playing around you. It doesn't matter if you're at home, outside, in your car, or anywhere else. Just open the app, hit the big orange button, and we'll tell you exactly what song is playing! All the songs and lyrics you discover will be kept in your own personal history, and you'll have a Music Map to look up exactly where you heard that song you loved so much. You can also connect your Spotify account to build playlists, explore music across genres, and find new favorites—all with real-time lyrics.
9. Musixmatch: lyrics finder
Musixmatch is the world's largest collection of song lyrics used by millions of people to get instant time synced lyrics for Youtube, Spotify, Pandora and more. You can also use it to identify and get the lyrics to any song that's playing around you with one tap.
How to transfer Apple Music playlists to Spotify?
Pazu Apple Music Converter lets you convert any copy protected Apple Music and iTunes songs you have in your library to MP3, AAC, WAV, FLAC, M4A, AIFF without any loss in quality. One of the distinguishing features of Pazu Apple Music Converter is that it can download and convert Apple Music at a really fast speed — almost 10 times faster than any other similar software. It is integrated with the Apple Music web player, so you can batch convert any Apple Music playlist or album to the format you choose without iTunes app. The following tutorial will show you how to download Apple Music to MP3 and upload to Spotify as local files.