Why does my Spotify keep pausing? 9 solutions to fix
It is extremely frustrating when you listen to Spotify but it keeps pausing, which happens to many people. But don't worry, here we will show you several solutions to fix Spotify pausing issue and the best alternative to avoid all Spotify issue – play Spotify with other music player.
Related: How to fix Spotify keeps crashing on iPhone?
1. Check your internet connection
Check if your internet is disconnected. Constant buffering usually occurs if your Internet connectionis slow. An unstable internet connection is another typical reason why Spotify stops working while in use. Music streaming apps need a solid internet connection in order to play music without pauses or buffering times. However, if you experience connection problems, Spotify may suddenly stop playing. If this is the case, disconnect from the network on your phone and then rejoin the network.
Besides, if you use VPN to access Spotify, make sure your VPN is connected.
2. Turn Off Data Saver Mode
Spotify Data Saver reduces the app's data usage by showing fewer images and reducing audio quality. Data Saver is only available on Spotify mobile app. This mode has the potential to interfere with playback quality and cause Spotify to pause.
Open Spotify. Tap Home.
Tap the gear icon.
Find Data Saver and switch it off.
3. Allow background activity
If you find the Spotify app on your mobile stops playing when the device screen sleeps or locks, you need to check if Spotify has permission to operate in the background.
On Android
Go to Settings.
Tap Apps.
Scroll down to find Spotify or search for Spotify.
Select Spotify.
Tap Battery.
Make sure that the Allow background activity switch is set to on.
4. Turn Off Low Power Mode
Another reason why your Spotify keep pausing may be Low Power Mode is enabled on your device. Low Power Mode reduces the amount of power that your iPhone or iPad uses when the battery gets low.
To turn Low Power Mode off, go to Settings > Battery – Low Power Mode. You can also turn Low Power Mode off from Control Centre. Go to Settings > Control Centre > Customise Controls, and then select Low Power Mode to add it to Control Centre.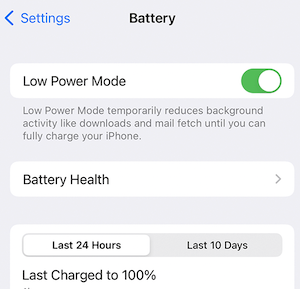 5. Hide Unplayable songs
On Mobile and tablet
Open Spotify. Tap Home.
Tap Settings.
Tap Playback.
Switch Hide Unplayable Songs on.
The option was removed on the new Spotify app for desktop.
6. Check streaming Quality
If your internet connection is not fast enough, change streaming audio quality to Automatic or Low.
On mobile or tablet
Open Spotify. Tap Home.
Tap the gear icon on the top right corner.
Tap Audio Quality.
Choose Automatic or Low.
On desktop
Click your account name in the top right corner.
Click Settings.
Find Audio quality – Streaming quality and choose automatic or low.
7. Log out/log back in
On mobile or tablet
Tap Home.
Tap the gear icon.
Scroll download and tap Log out.
Log in with your account.
On desktop
Click your account name in the top right corner.
Click Log out.
Log in again.
8. Update Spotify
Desktop
When a new update is available for download, you will see a blue dot next to the menu button in the top right section of the app. Click on the notification bell in the top right and click on Update Available. Restart Now. You can also reinstall the app to get the latest version easily.
iPhone/iPad
Launch the App Store and find Spotify's page. Tap on the Update button and get the new feature.
Android
Launch the Google Play Store and search for Spotify. On its store page, tap on the Update button.
9. Check if your account is used on another device
If you have Spotify free, Premium individual plan or student plan, you can only listen to Spotify on one device at a time. Check if somebody is listening to your account on another device. You might have forgotten to log out on a different device and a friend or family member is unknowingly listening using your account. This can also happen when Spotify Duo subscribers listen to Spotify on more than 2 devices or family subscribers listen to Spotify on more than six devices.
10. Clear Spotify cache
On Android
Open Spotify app.
Tap Settings.
Tap Clear cache under Storage.
On iOS
Open Spotify app.
Tap Settings.
Tap Storage – Clear cache.
On Desktop
Open Spotify app.
Click profile icon – Settings.
Clear Clear cache under Storage.
11. Play Spotify music with other music player
To avoid all Spotify app issues, the best way is to play Spotify music with other music player, such as iTunes, VLC, Windows Media Player, etc. All you need to do is download Spotify music to MP3 with Pazu Spotify Converter, which is feasible whether you have Spotify free or premium account.
Pazu Spotify Converter is specially designed for you to download Spotify music to common formats with either a free or premium account on Mac/Windows. Pazu Spotify Music Converter allows you to convert Spotify songs to the most popular audio formats, such as MP3, M4A, WAV, FLAC, AAC, and AIFF. With the adoption of advanced encryption technology, it's able to keep all the converted audio files with 100% lossless audio quality and the original ID3 tags and metadata information. For more details, you can check them below.
Key features of Pazu Spotify Converter:
Download Spotify music without Premium.
Download and convert Spotify to MP3/M4A/AAC/FLAC/WAV/AIFF.
Download Spotify to MP3 in 320kbps.
ID3 tags including title, artist, artwork, etc. preserved.
No need to install Spotify app.
Multilingual interface: English, Deutsch, Español, Français, 日本語, 简体中文.
Organize downloaded songs by album or artist.
1. Run Pazu Spotify Converter
Download, install and run Pazu Spotify Converter on your Mac or Windows. Log in your Spotify account with the built-in web player.
2. Choose output format
Click the gear icon on the top right corner to open Settings window. Here you can choose:
Output Format: M4A, MP3, AAC, FLAC, WAV and AIFF
Output quality: up to 320kbps for MP3
Cover Quality: High(640×640), Middle(300×300) or Low(64×64)
Output Folder;
Output File Name: Any combination of Title, Artist, Album, Track Number, Playlist Index.
Output Organized: Artist, Album. Artist/Album or Album/Artist
After Converting: Open the output folder or Put the computer to sleep
Interface Language: English, Deutsch, Español, Français, 日本語, 简体中文.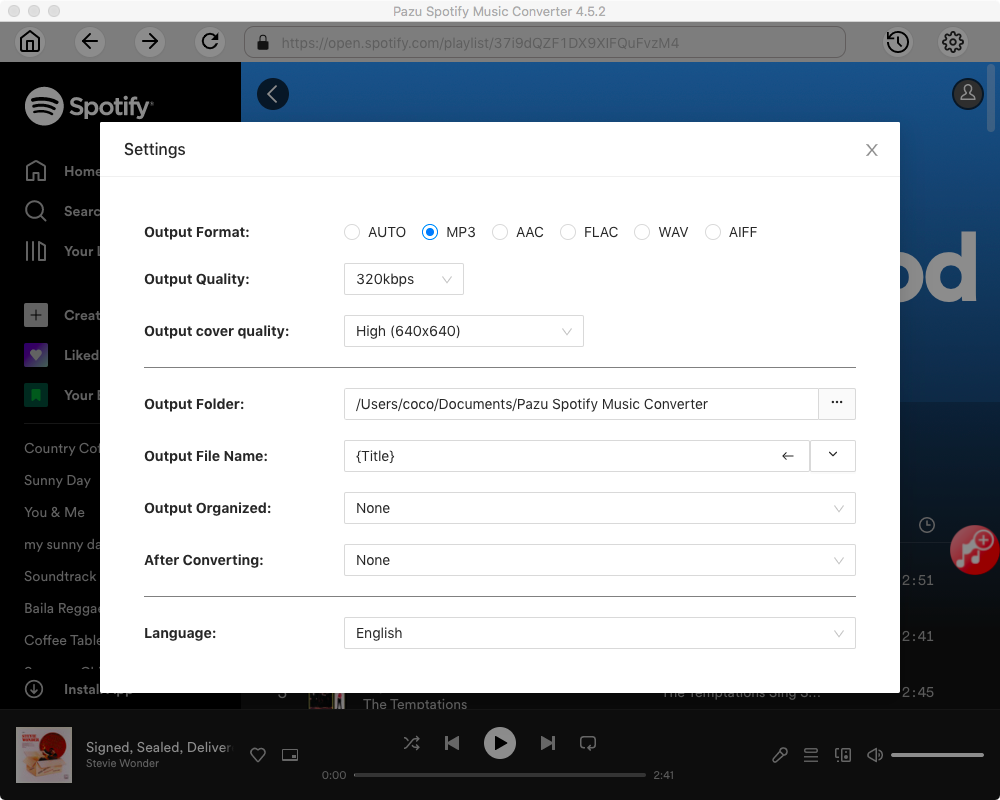 3. Select Spotify songs, albums or playlists
Select the songs, album or playlist you want to convert to MP3. Spotify Converter will detect and select all songs in the playlist or album by default. Uncheck the songs you don't want to download if there are any. Click "Show All" icon to toggle "Hide Converted" on in case some songs have been downloaded before.
4. Convert Spotify Songs
Click the Convert button to download Spotify songs to MP3.
Once the conversion is done, click the folder icon to find the downloaded MP3 songs. Now You can then play the Spotify MP3 songs with your favorite music player or devices.
Note: The free trial version of Pazu Spotify Converter enables you to convert the first three minutes of each song. You can remove the trial limitation by purchasing the full version.