How to easily cancel your Audible subscription
Audible is a subscription-based service that offers access to a vast library of audiobooks, podcasts, and other audio content. With an Audible subscription, you pay a monthly fee to gain access to the Audible library and enjoy various benefits, depending on the specific subscription plan you choose.
Audible offers different subscription plans, such as Audible Plus and Audible Premium Plus, each with its own features and pricing. These plans may include benefits such as unlimited streaming of a selection of audiobooks, credits that can be used to purchase audiobooks from the entire library, discounts on additional audiobook purchases, access to exclusive content, and more.
Audible Plus($7.95/month): Audible Plus is a subscription plan offered by Audible. With Audible Plus, you have unlimited access to a library of thousands of audiobooks, podcasts, and Audible Originals. You can stream and listen to as much content as you want from the included selection, without using credits. However, it's important to note that Audible Plus does not include all audiobooks available on Audible; it offers a curated collection of titles.
Audible Premium Plus($14.95/month or $149.50/year): Audible Premium Plus is a higher-tier subscription plan that provides all the benefits of Audible Plus along with additional perks. With Audible Premium Plus, you receive one credit per month, which you can use to redeem any audiobook from Audible's entire library, regardless of the price. Additionally, you can also access the Audible Plus catalog and stream as much content as you like. This plan is suitable for those who want both the unlimited streaming access and the flexibility to choose audiobooks using credits.
By subscribing to Audible, you can listen to your favorite books and audio content anytime, anywhere, on your preferred device. The subscription model provides a convenient and cost-effective way to explore and enjoy a wide range of audiobooks and audio entertainment.
You can cancel your Audible membership at any time. Audible provides the flexibility for members to manage their subscription and allows for easy cancellation if desired.
How to cancel your Audible subscription from website?
Visit audible.com and sign in with your account.
Hover over your username on the top right corner.
Select Account Details.
Select on Cancel membership link.
You'll be asked to confirm cancellation. Select Continue to cancel.
After you cancel, you'll get an email confirmation. Your membership status on your Account Details page will also reflect this change.
If you have unused credits and wish to retain them when canceling your membership, you have the option to pause your membership. This applies to those who initially subscribed on Audible.com.
How to cancel your Audible subscription on Google Play?
Go to the Google Play Store on your desktop or device.
Select your profile icon.
In your profile menu, select Payments and subscriptions.
Find Audible, then select Manage > Cancel subscription.
---
How to cancel your Audible subscription on Apple App Store?
Open the Apple App Store or go to your iOS device Settings.
Select your name.
Select Subscriptions.
Select Audible.
Select Cancel Subscription.
Whether you cancel Audible Premium Plus or Audible Plus, you will lose access to the Plus Catalog. However, audiobooks you purchased with money or credits are still yours, you can listen to them within Audible app, audible.com or iTunes/Books app for Mac.
How to play audiobooks with MP3 player?
Audible allows you to play audiobooks on a supported MP3 player (SanDisk Clip Sport, SanDisk Clip Sport Go, SanDisk Clip Sport Plus, SanDisk Clip Jam, Bones Milestone 312 or Victor Reader Stream) with the AudibleSync app. However, you first need to activate the device. This can only be done using a Windows 10 computer. So if you don't have above Audible-compatible MP3 player or Windows 10 computer, you will need to convert Audible audiobooks to MP3 first, then you can play Audible audiobook on any MP3 player you want.
All you need is Pazu Audible Converter. Pazu Audible Converter for Windows/Mac allows you to convert Audible AA/AAX to MP3, M4A, M4B, AC3, AAC, FLAC, OGG, AIFF or WAV files that you can save to your computer, allowing you to add the audiobooks to any MP3 player. Split any Audible audiobook file to small segments by time frame or by chapters.
Step1: Install Pazu Audible Converter
Download Pazu Audible Converter. Follow instructions to install it on your Mac or Windows.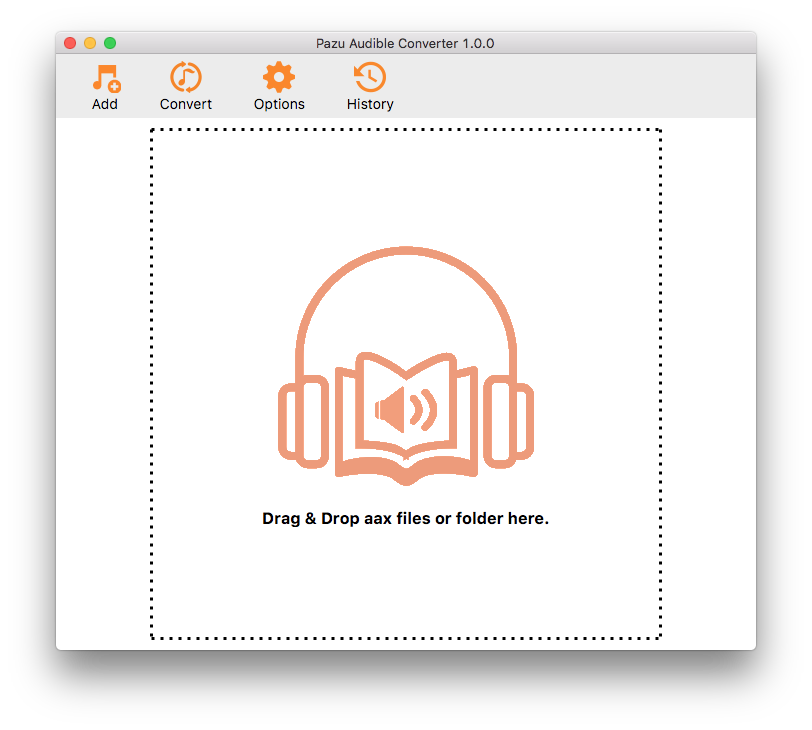 Step2: Add Audiobooks
Click the Add button to add audiobooks to Pazu Audible Converter. Or you can drag and drop the files into the converter directly.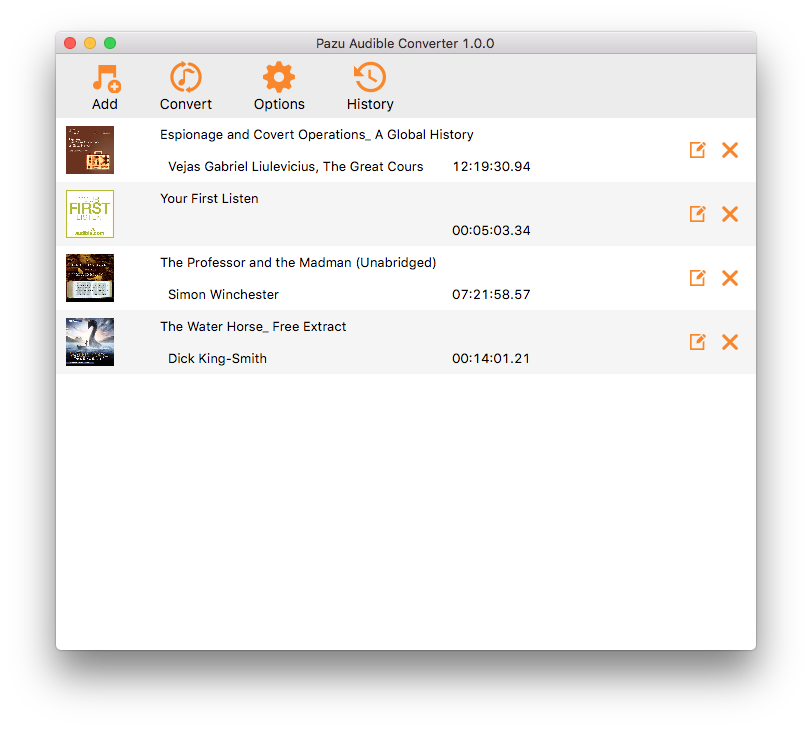 Step3: Customize the settings
Click the Options button, here you can change the output path and choose to split the audio file into segments as needed. Click the Advanced button, you can customize the output settings: Output Format, SimpleRate, and Bitrate. If you choose Lossless as the output format, Pazu Audible Converter will download audiobooks in plain AA/AAX format.
Step4: Start to convert
Click on the Convert button at the top of the main interface to start converting the selected audiobooks to the output format you chose.
Step5: Transfer audiobooks to your MP3 player
When the converting process is completed, click the History button and find the MP3 audiobooks. Transfer them to your MP3 player and enjoy them anytime you want.
Connect your MP3 player to your computer using a USB cable. Ensure that the MP3 player is recognized by your computer.
Open the folder or directory on your computer where your audiobook files are stored. These files are typically in MP3 format or other compatible audio formats.
Select the audiobook files you want to transfer to your MP3 player. You can do this by either dragging and dropping the files directly onto your MP3 player's folder or by copying and pasting the files into the MP3 player's folder.
Wait for the files to finish copying or transferring to your MP3 player. Once the transfer is complete, safely disconnect your MP3 player from your computer.
On your MP3 player, locate the audiobook files by navigating through its menu or using the device's built-in file browser.
Select the audiobook you want to play. Use the controls on your MP3 player, such as play, pause, skip, and volume, to control the playback.