How to Get YouTube Premium For Free?
YouTube is a free online video-sharing platform where users can watch, upload, and share videos. It hosts a vast range of content, including music videos, vlogs, tutorials, documentaries, and more. Users can access YouTube for free and enjoy most of its features, but they will encounter ads during video playback.
YouTube Premium is a paid subscription service that requires a monthly/yearly fee. The pricing and availability of YouTube Premium may vary based on your region. It's important to note that while YouTube Premium provides additional benefits, the free version of YouTube is still accessible to users who do not wish to subscribe to the premium service.
Related: Get YouTube Premium Free Trial 6 months in 2023
YouTube Premium benefits
Ad-free & background play
With YouTube Premium, you can enjoy videos on YouTube without any advertisements interrupting your viewing experience. You can play videos in the background on your mobile device or while using other apps or when the screen is locked, allowing you to listen to music or podcasts while multitasking.
Downloads
Save videos on your mobile devices – like when you're on a plane or commuting. With Smart Downloads, recommended content is automatically added to your library to watch or listen to offline. Enjoy videos on-the-go and discover new content without the hassle of searching.
YouTube Music Premium
If you're a music lover, you'll be happy to know that YouTube Music Premium is included in YouTube Premium. YouTube Music is a popular music streaming service like Spotify, Apple Music, Amazon Music, etc. With YouTube Music Premium, you can listen to millions of songs without any ads. Or download music on mobile devices to listen offline and play in the background.
With YouTube Premium, you can:
Watch millions of videos on YouTube without ads.
Download videos and playlists on your mobile device to watch offline.
Continue playing videos on your mobile device while using other apps or when your screen is off.
Get a subscription to YouTube Music Premium at no monetary cost.
Enjoy your music and podcasts on your Google Home or Chromecast Audio.
With YouTube Music Premium, you can:
Ad-free music: Listen to millions of songs uninterrupted by ads
Download music to listen offline: Save music and playlists in the YouTube Music app and listen offline
Play in the background: Keep music playing when using other apps or when your screen is off

How to get YouTube Premium for free?
While YouTube Premium typically requires a paid subscription, there are a few legitimate methods that may allow you to access it for free, at least for a limited time. Here are a couple of ways to get YouTube Premium for free:
YouTube Premium one month free trial
YouTube offers a one-month Youtube Premium free trial for new users. During the free trial, you can enjoy ad-free content, offline videos, and background play as well as YouTube Music premium for a whole month without paying a dime.
How to get YouTube Premium one month free trial?
Visit youtube.com/premium on your computer or mobile device.
Sign in to the Google account you'd like to start your membership on.
Click Try it free, or choose Family or Students free trial.
Select the payment method you wish to use or add a new payment method.
Click Buy to complete the transaction.
YouTube Premium 3 months for $0.99
YouTube Premium Referral Program allows current YouTube Premium subscriber( Referrer) to invite new users(Friend) to join YouTube Premium. Friend will receive three (3) months of YouTube Premium for a total amount of USD $0.99.
Save money with an annual, family or student plan
To save money on YouTube Premium, you can consider the following subscription plans:
Individual Annual – $119.99: YouTube offers an annual subscription option for YouTube Premium, which typically comes at a discounted rate compared to the monthly plan. By opting for the annual plan, you can save money on the overall cost of your subscription.
Family Monthly – 1-month free trial, then $22.99/month: YouTube Premium also offers a family plan, which allows you to share the benefits of YouTube Premium with up to five other family members who reside in the same household. This can be a cost-effective option if multiple individuals in your family use YouTube and can share the subscription.
Student Monthly – 1-month free trial, then $6.99/month: If you're a student, YouTube offers a discounted plan called YouTube Premium Student. This plan provides all the benefits of YouTube Premium at a reduced price specifically for eligible students. You may need to provide proof of your student status to qualify for this plan.
How to not overpay for YouTube Premium?
Remember not to sign up YouTube Premium through the App Store version of YouTube on iPhones, which will cost you $15.99/month for individual and $29.99/month for YouTube family.
Why the cost difference?
Apple gets a commission fee on every sale processed through the App Store. That commission fee ranges from 15-30% depending on the developer, and it includes service subscriptions that developers choose to offer via an iPhone or iPad app. To avoid this, simply register online using a computer or mobile browser.
Is YouTube Premium worth it?
If you are a music lover and use YouTube often, YouTube Premium is definitely worth it. We all know how ads are annoying on YouTube. Paying $1 or $2 per month more than Apple Music or Spotify, you also get the privilege to watch YouTube videos without ads, in the background and download videos to watch offline.
If you primarily want to access music and don't watch YouTube videos, you may find other dedicated music streaming services more suitable for your needs. While YouTube Premium includes access to YouTube Music Premium, which offers an ad-free music streaming experience, there are other platforms that specialize in music and may provide a more focused and comprehensive music streaming experience. Some popular alternatives to consider include:
Spotify: Spotify is one of the largest and most popular music streaming platforms worldwide. It offers a vast music library, personalized playlists, curated recommendations, and various subscription plans, including a free ad-supported option and a premium ad-free version.
Apple Music: Apple Music is a music streaming service developed by Apple. It provides a vast catalog of music, personalized recommendations, curated playlists, and exclusive content. It is available for both Apple and Android devices and offers individual and family subscription plans.
Amazon Music Unlimited: Amazon Music Unlimited is Amazon's music streaming service, offering access to a wide selection of songs, personalized recommendations, and integration with Amazon Echo devices. It has various subscription options and is available on multiple platforms.
Tidal: Tidal is a music streaming service that focuses on high-quality audio. It offers a large library of songs, exclusive content, and curated playlists. Tidal provides both a standard subscription and a higher-quality "Tidal HiFi" subscription for audiophiles.
These platforms typically offer free trial periods, so you can try them out and see which one best suits your preferences and music streaming needs.
Individual
Annual
Family
Student
YouTube Premium
$11.99/month
$119.99
$22.99/month
$6.99/month
YouTube Music Premium
$9.99/month
$99.99
$14.99/month
$4.99/month
Spotify
$9.99/month
$99
$15.99/month
$4.99/month
Apple Music
$10.99/month
$109
$16.99/month
$5.99/month
Amazon Music Unlimited
$10.99/month
$15.99/month
$5.99/month
Tidal
HiFi: $9.99/month
HiFi Plus: $19.99/month
HiFi: $14.99/month
HiFi Plus: $29.99/month
HiFi: $4.99/month
HiFi Plus: $9.99/month
Is YouTube Music better than Spotify?
For just $11.99/month, YouTube Premium users can get ad-free YouTube and YouTube Music. That's why many people choose YouTube Music. In 2023, both services have large music catalogs with over 100M songs. And both of them offers ad-supported free plans – perfect choice for people who listen to music occasionally and don't want to pay subscription fees for music. Check this article for detailed comparison between YouTube Music and Spotify. It is also easy and convenient to transfer playlists between Spotify and YouTube Music, so don't worry about your music library.
How to download songs from YouTube Music without Premium?
It is to download music to listen offline on mobile devices with YouTube Premium or YouTube Music Premium, even during the free trial. However, once you cancel Premium subscription, you can't download songs and the downloaded songs will also disappear.
Is it possible to download songs or enjoy ad-free listening even with a YouTube Music Free tier? It's a definite "Yes" after following the steps in the next part.
Pazu YouTube Music Converter is designed to download and convert YouTube Music to your desktop for permanent offline playback. With Pazu YouTube Music Converter, you can download ad-free songs with a free or premium YouTube Music account. It converts YouTube Music tracks to a common MP3, AAC, FLAC, M4A, WAV, and AIFF. There is no need to install the YouTube Music app, you can directly download music from the YouTube Music Web Player. It can download lossless songs from YouTube Music with full ID3 tags. Once the songs from YouTube are in plain formats, you can keep them on your devices and play them on any device. Let's take a look at the detailed steps.
1. Run Pazu YouTube Music Converter
To get started, download, install and run Pazu YouTube Music Converter on your Windows PC, which features a built-in YouTube Music web player.
If you have already purchased a license, click the key icon to register the converter. If not, continue using the trial version.
You don't need to sign in to your YouTube Music account.
2. Choose output format
Tap on the Settings gear icon to change the output settings. The default output format is MP3. Pazu YouTube Music Converter also supports M4A, WAV, FLAC, AIFF, AAC. You can also change bitrate, samplerate according to your needs.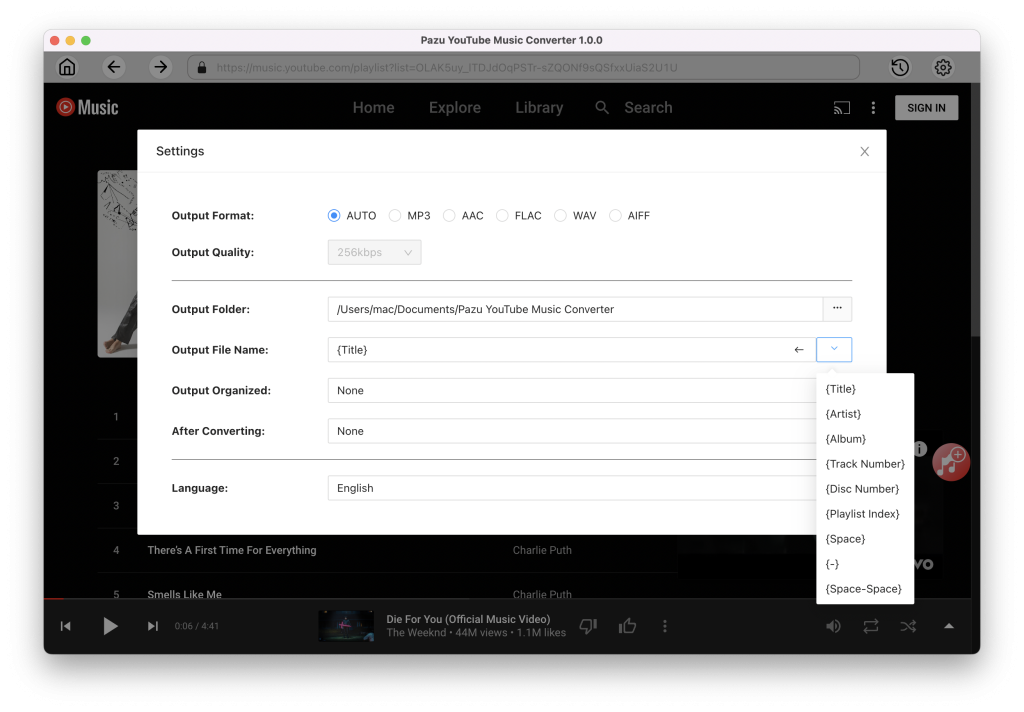 3. Add songs
Click a playlist or album you want to download. Then click the red Add to list button to load songs.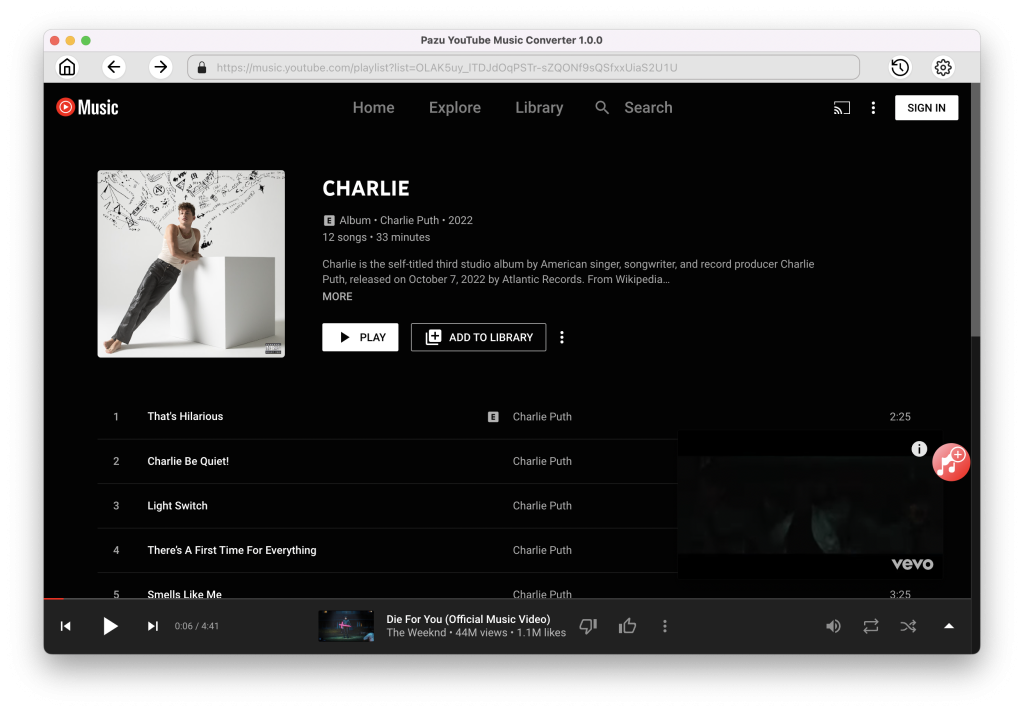 All songs in the playlist will be added by default. You can uncheck the songs you don't want to get.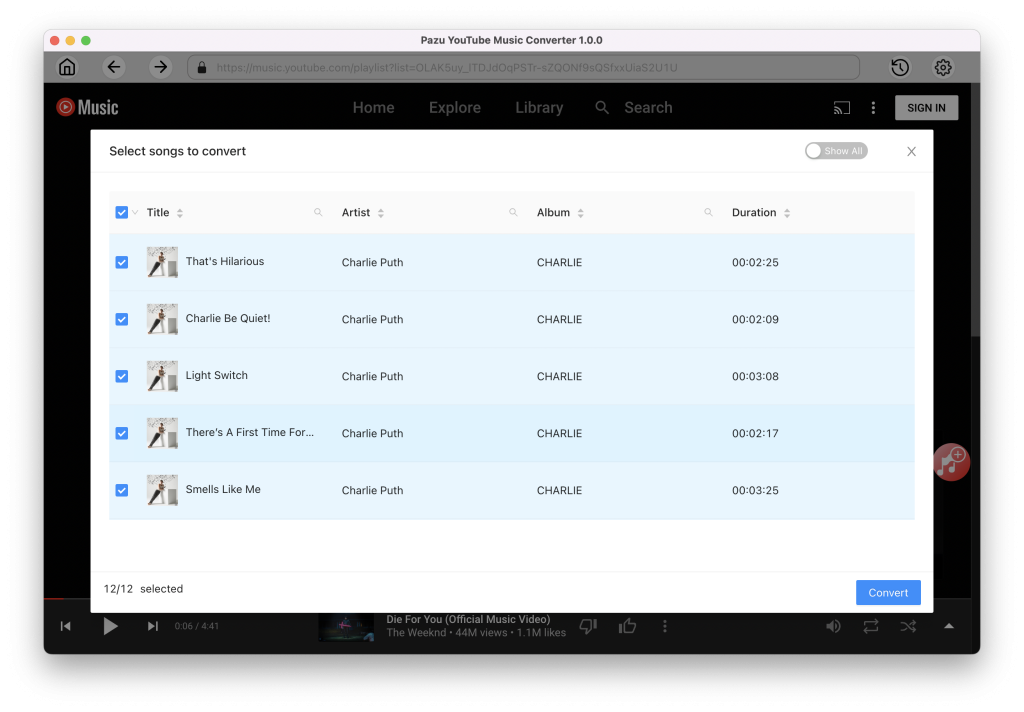 4. Click Convert button
After selecting the songs, click Convert button to start downloading YouTube Music songs to the format you choose. You will see a progress circle indicating your music is downloading.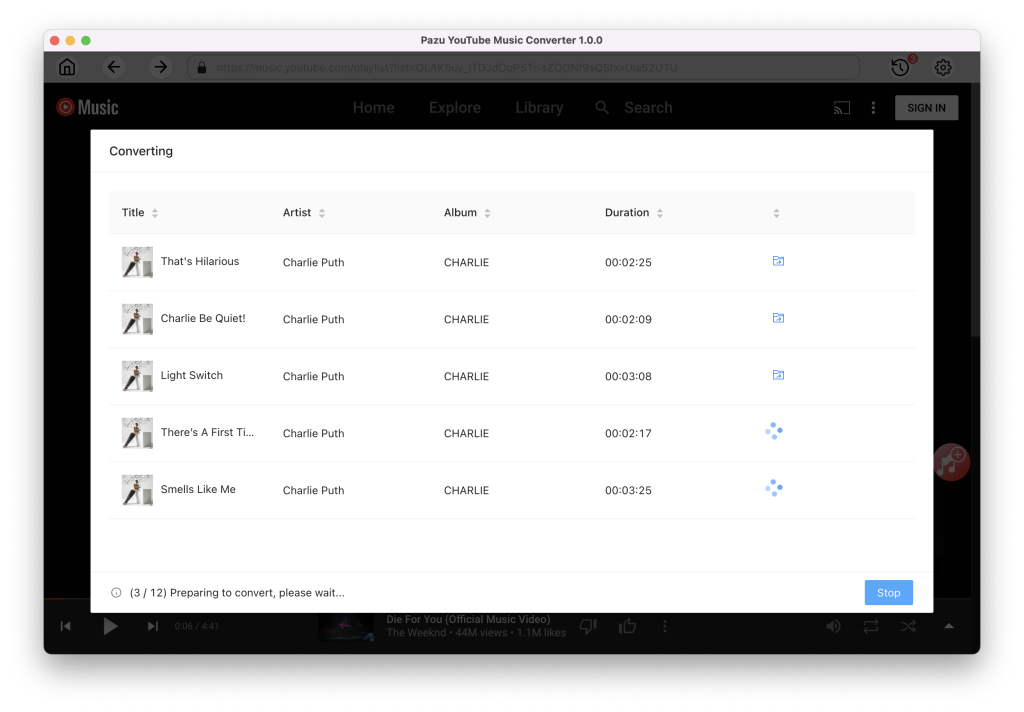 Once the songs have been downloaded, click the folder icon to quickly locate the DRM-free YouTube Music songs in the format you choose. You can then transfer and play it anywhere.
To view or manage all music you've downloaded, click the clock icon on the top right corner of the YouTube Music Converter interface.