How to Find and Listen to Free Audiobooks on Spotify
Spotify, the leading music streaming platform, goes beyond music and podcasts, offering an extensive selection of audiobooks spanning various genres. With a library of over 350,000 audiobooks, Spotify offers a rich selection to explore. These audiobooks are accessible through a one-time purchase and are available to both free and premium users. The best part is that Spotify even provides free audiobooks for users to indulge in. If you're interested, follow our guide on how to access free audiobooks on Spotify and begin your journey with some of the finest selections.
Related: How to buy audiobooks on Spotify 2023
How to get free Audiobooks on Spotify?
Although Spotify's collection of free audiobooks may not be extensive, it does include some high-quality titles, particularly its originals based on classic literature. To discover these free audiobooks on Spotify, follow the steps outlined below.
Tap the Search button in the left side menu on Spotify, then select Audiobooks from the "Browse all" section.
Scroll down to the bottom of the page to find the Free audiobooks and The classics sections. You can tap Show All to view the entire collection.
Note that not all the audiobooks in the classics category are free.
To get a free audiobook, select the audiobook to open its detailed page, and then tap the Get button.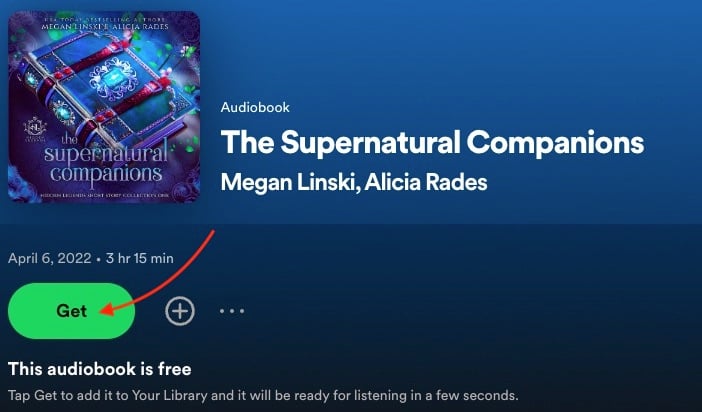 Spotify will process and confirm your order.
Return to Your Library on Spotify to find and access the free audiobook you've acquired.
Now that the free audiobook is in your Spotify library, you're ready to start listening.
Best 10 free audiobooks on Spotify
Spotify provides a selection of free audiobooks that are definitely worth your time, especially the ones based on classic masterpieces and breathtaking modern fantasy works. Don't miss out on these top 10 best free audiobooks on Spotify that are sure to captivate your interest.
By Jane Austen; Narrated by Cynthia Erivo
Narrated by Tony Award-winning actress and musician Cynthia Erivo, Persuasion is one of the most moving love stories Austen ever penned. It's the story of Anne Elliott, Jane Austen's only aging heroine, who has devoted her life to caring for her financially irresponsible family. Just when she is growing content with her uneventful lifestyle, a long-lost love re-enters the picture. Anne is then faced with a choice: will she watch Captain Wentworth settle into life with another woman, or will she strive to win back his love and escape her family?
By Francis Scott Fitzgerald; Narrated by Scott Shepherd
When F. Scott Fitzgerald published The Great Gatsby in 1925, the novel was not an instant hit – but you wouldn't know it now, given its standing in school curricula and pop culture alike. The novel is a classic, following the exploits of its narrator, Nick Carroway, as he enters the glittering world of New York's elite. A world filled with boozy parties, romantic obsessions, and a mysterious millionaire named Jay. Now, the classic novel is an immersive audiobook. Enjoy this production of The Great Gatsby, produced by Scott Sherratt and narrated by Scott Shepherd.
By Mary Shelley; Narrated by David Dobrik
Brought to life by YouTube superstar David Dobrik, Frankenstein is one of the earliest examples of science fiction, introducing the prototypical "mad scientist" who creates a monster that destroys everyone and everything that is dear to him. The scientist is the eponymous character of the novel but the name, Frankenstein, has become popularly attached to the creature itself, who has become one of the best-known monsters in the history of motion pictures and a constant reference point in popular culture. The novel has spoken to technological and cultural anxieties from the Enlightenment to the age of Big Tech as it engages with the ethics of technology and scientific discovery, and the power of knowledge. Perhaps its most lasting legacy, however, is that the monster comes to represent anyone who doesn't fit into societal norms; the creature experiences forms of alienation that are oddly relatable to modern life.
By Charles Dickens; Narrated by James Langton
One of the most revered works in English literature, Great Expectations traces the coming of age of a young orphan, Pip, from a boy of shallow aspirations into a man of maturity. From the chilling opening confrontation with an escaped convict to the grand but eerily disheveled estate of bitter old Miss Havisham, all is not what it seems in Dickens' dark tale of false illusions and thwarted desire. Like much of Dickens' work, the novel depicts an unstable society in which people's life chances can change radically and suddenly, especially when under the influence of more powerful individuals who, for selfish or immoral reasons, have no qualms in altering, and often damaging, the lives of others.
By Charlotte Brontë; Narrated by Sarah Coombs
The novel follows the emotions and experiences of the eponymous Jane Eyre, her growth to adulthood, and her love for Mr. Rochester, the Byronic master of Thornfield Hall. The novel contains elements of social criticism, with a strong sense of morality at its core, but is nonetheless a novel many consider ahead of its time given the individualistic character of Jane and the novel's exploration of sexuality, religion, and proto-feminism. Revolutionary in its form, the novel was the first to simulate the intimacy of first-person narration to represent an individual's quest for agency, and meaning.
By Megan Linski, Alicia Rades; Narrated by Jennifer Jill Araya, Graham Halstead
Fire and Water don't mix.
I'm Sophia Henley, your typical college freshman. I never expected a lion to be stalking me, nor for fire to come shooting out of my hands to protect my sister. Next thing I know, a drop-dead gorgeous guy shows up on my doorstep to sweep me away to a magical school, where I'll learn to control my element and bond with a powerful creature called a Familiar.
I'm Liam. The night I met Sophia, I didn't think we'd form an undeniable connection. But I'm from the Water tribe, and she's fire. I'm forced to push her away even as I'm falling for her.
Now a complete audiobook series! Experience forbidden love in this new adult college fantasy with found families and a supernatural academy full of dragons, unicorns, and other magical creatures.
By Brenda K. Davies; Narrated By Sonja Field
Thirteen years have passed since the war started, bombs fell, and the central states became a thing of the past. When the war ended, the government erected a wall to divide the surviving states from the destroyed ones. I never expected to leave my town, but unlike those who volunteered to go, I wasn't given a choice.
With a dim knowledge of my strange abilities, the soldiers came for me. They took me beyond the wall, where I learned the truth is far more terrifying than I imagined. Alone, with humans and demons eager to see what I can do, I find myself irresistibly drawn to the one man I should avoid most—a man who isn't even really a man.
By Morgan Rice; Narrated By Wayne Farrell
From #1 Bestselling author Morgan Rice comes the debut of a breathtaking fantasy series. A Quest of Heroes (Book #1 in the Sorcerer's Ring) revolves around the epic coming-of-age story of one special boy, a 14-year-old from a small village on the outskirts of the Kingdom of the Ring. With its sophisticated world-building and characterization, A Quest of Heroes is an epic tale of friends and lovers, rivals and suitors, knights and dragons, intrigues and political machinations, coming of age, broken hearts, deception, a sorcerer, ambition, and betrayal. It is a tale of honor and courage, of fate and destiny, and of sorcery. It is a fantasy that brings us into a world we will never forget, and which will appeal to all ages and genders.
By Gwen Rivers, Narrated by Jacqueline Rendell
New York is under attack from sinister forces. To save the city, she must give her life…Can the two heroes pull off a miracle and twist a terrible destiny?
Savior's Spell is the enthralling first novel in the Spellcaster Urban Fantasy series. If you like strong-minded heroines, sexy alphas, and dark humor, then you'll love Gwen Rivers' gripping tale.
The Lost Heir (The Gryphon Chronicles, Book 1)
By E.G. Foley; Narrated By Jamie du Pont MacKenzie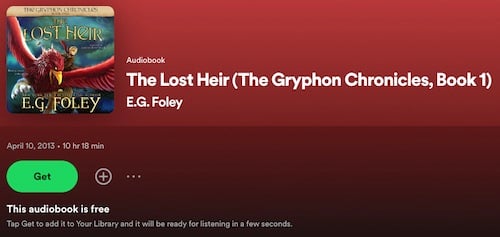 NY Times Bestselling Author E.G. Foley brews up a magical potion for fantasy readers of all ages!
Take a dash of Harry Potter and a splash of Oliver Twist, add a pinch of steampunk and a sprinkle of Victorian fairy lore, and what do you get? The Gryphon Chronicles! A rollicking fantasy adventure series that's as much fun for grownups as it is for kids.
How to download music on Spotify with Free/Premium plans?
Spotify does offer a download feature, but it's exclusively available to Spotify Premium subscribers for albums and playlists. Free Spotify users can only download podcasts.
To download your Spotify playlists without Premium, you can try a smart Spotify music downloader — Pazu Spotify Converter. It is specially designed for both Spotify Free and Premium users to download all Spotify songs/playlists/albums for offline listening. It can extract Spotify music and convert it to MP3, M4A, AIFF, WAV, FLAC, and AAC. With Pazu Spotify Music Converter, you can easily enjoy any Spotify Premium feature within a free account forever.
Key features of Pazu Spotify Converter:
Download Spotify music with either Spotify's free or premium account.
Multiple output formats: MP3, M4A, AAC, FLAC, WAV, and AIFF.
Download Spotify to MP3 in 320kbps.
Keep all ID3 tags.
Built-in Spotify web player, no Spotify app needed.
Rename Spotify songs with titles, albums, artists, etc.
Multilingual interface.
Now, let's learn how to use Pazu Spotify Music Converter to download and convert Spotify songs with a free subscription from the following tutorial.
1. Run Pazu Spotify Converter
Download, install, and run Pazu Spotify Converter on your Mac or Windows. Log in to your Spotify account with the built-in web player.
2. Choose the output format
Click the gear icon on the top right corner. Here you can select the output format (AUTO(M4A)/MP3/AAC/FLAC/WAV/AIFF), choose output audio quality, customize the output path, organize the output files in various ways, rename output files, and more.
3. Select Spotify music
Use the integrated Spotify web player to search the songs, albums, playlists,s or podcasts you want to download. Click the Add to List button to load all songs in the album or playlist, and uncheck the songs you don't want to download if there are any.
4. Download and Convert Spotify Songs to Local
Click the Convert button to start downloading the Spotify songs to your local computer.
Once the conversion is done, you can find your Spotify songs downloaded as local files by clicking the below folder button or directly going to the output folder you customized in the previous step.
Note: The free trial version of Pazu Spotify Converter enables you to convert the first three minutes of each song. You can remove the trial limitation by purchasing the full version.