How to Make a Collaborative Playlist on Apple Music?
Is it possible to create a collaborative playlist. So me and my friends can add to one playlist. Or is that not possible with Apple Music?
Unlike Spotify, currently collaborative playlist is not supported on Apple Music. However, Apple has announced that iOS 17 will include a new Collaborative Playlists feature in Apple Music, allowing subscribers to collaborate on playlists with family and friends to make a shared playlist which all participants will be able to add new songs to, and more during 2023 WWDC keynote. In a screenshot, we can see four friends working on a "Game Night" playlist, which shows a song and a profile picture of the person who added it.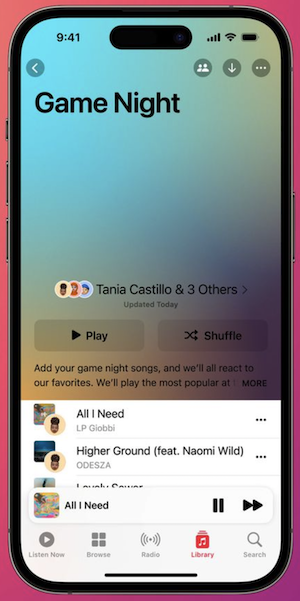 While currently it isn't quite possible to truly collaborate on an Apple Music playlist where you can both add songs, you can create playlists to share with your friends. When you add a playlist that a friend has shared to your Apple Music, any time they make a change it will automatically update on your end, too.
Related: How to make a collaborative playlist on Spotify?
How to share an Apple Music playlist?
You can share playlists on Apple Music with anyone, though they may need an account. Apple Music gives options to share playlists through AirDrop, social media, Messages, and copying a link.
Open the Apple Music app.
Open a playlist.
Tap the three-dots icon on the top right corner.
Tap Share Playlist.
In the share sheet, choose AirDrop, Messages, Mail, third-party messaging app, or social media app.
How to share a playlist on your Apple Music profile?
By utilizing your Apple Music profile, you have the ability to make a playlist public, allowing it to be discoverable by anyone who searches for it within Apple Music. This enables a wider audience to find and enjoy your curated playlist.
To make a playlist public on Apple Music, follow these steps:
Open the Apple Music app.
At the top of the Apple Music app, tap the photo icon or your photo.
If you have a profile, tap View Profile. If you don't, tap Create a Profile.
Tap EDIT.
Select the playlists that you want to share on your profile and in Apple Music search results. And deselect the playlists that you want to hide.
Tap Done.
Once you have made the playlist public, it will be searchable by its title, and users can find it when they search for related terms or browse public playlists. They can then listen to your playlist and even follow it to receive updates whenever you make changes or additions to the playlist.
How to Make a Collaborative Playlist with Caset – Playlist Collaboration?
As currently Collaborative Playlist is not available on Apple Music, there are third-party apps that allows you to create Collaborative Playlists on Apple Music. Caset – Playlist Collaboration is one of them. To create collaborative playlists, both users need to install the Caset app on their phones and have an active Apple Music subscription.
To create a collaborative playlist with the Caset app, follow below steps:
Download the Caset: Next-Gen Mixtapes app for iPhone or iPod touch (currently, iPad isn't supported). The app is free but includes in-app purchases.
Launch the Caset app on your device and sign in with your Apple account.
Tap the Create button to create your first mixtape to start collaborating with friends.
On the next screen, tap Import Playlist to import the playlist you want to collaborate with friends.
You can sort the songs by album, artist, title, my Reaction, Added by who, Chronological or recently added. Tap Add Track if you want to add more songs.
Now it's time to start collaborating on the playlist. You can share the invitation by tapping the Invite button.
Select an app to share it through—like Messages, for example. There's also an option to copy the link and send it via email or pop in a group chat.
Extra tip: How to download Apple Music playlists to MP3?
For Apple Music users, you can download playlists for offline listening if you have subscribed to Apple Music. Unluckily, all songs you downloaded from Apple Music are protected, which restricts you from enjoying them freely. Do you want to download Donda to MP3 format for offline listening on other players? How to keep Donda forever after downloading from Apple Music? In this case, you can use Pazu Apple Music Converter to help you convert Apple Music, so that you can enjoy Donda as you want.
Pazu Apple Music Converter is designed for Apple Music users to download songs, playlists or albums from Apple Music as common audio files for offline playback. So, you can use Pazu Apple Music Converter to convert Apple Music tracks to MP3, M4A, AAC, WAV, AIFF and FLAC with 100% original quality, then you can offline listen to Donda on any devices, such as Walkman, PSP, MP3 Players, any mobile phone, etc. This tutorial will show you how to download Donda to MP3.
Step 1 Launch Pazu Apple Music Converter
Download, install and run Pazu Apple Music Converter on your Mac or Windows.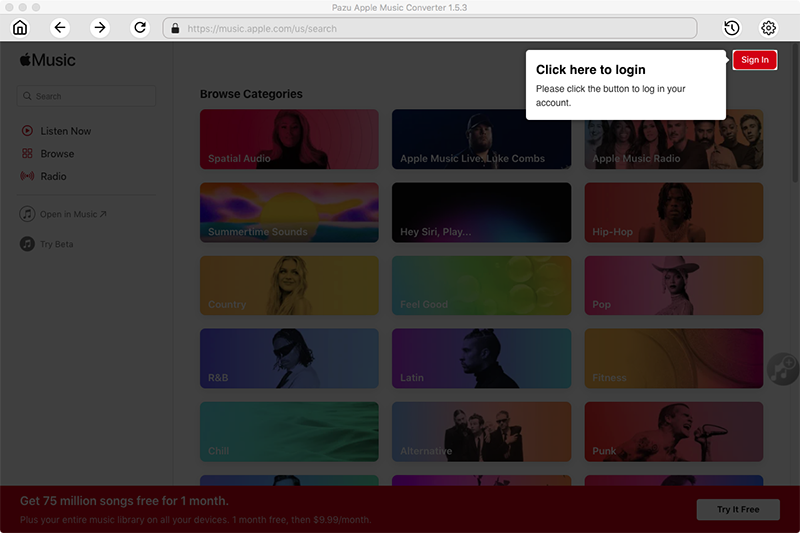 Step 2 Choose output format
The default format is M4A in 256kbps. Apple Music Converter also supports MP3, AAC, FLAC, WAV and AIFF. Click the gear icon if you want to change output format or output folder.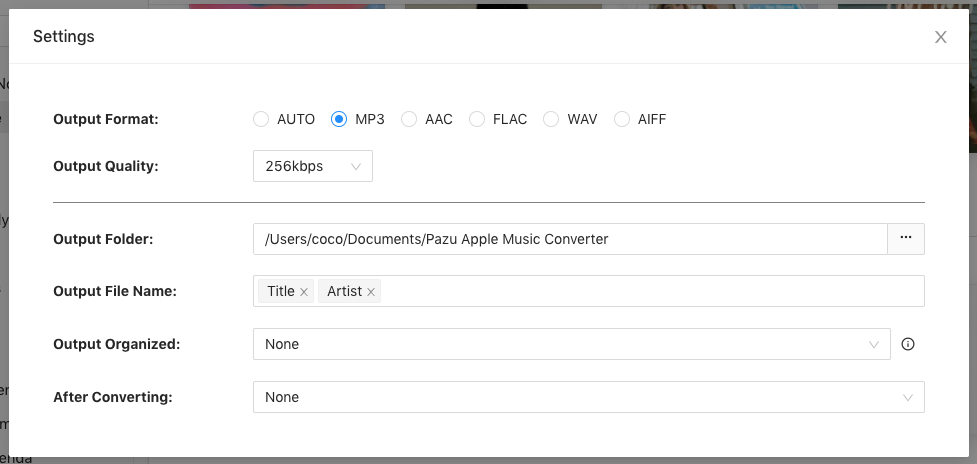 Step 3 Select a playlist
Click the playlist you want to download. Click Add songs.
Step 4 Start to download Apple Music songs
Click "Convert" button to start downloading Apple Music songs, albums and playlists to mp3, so you can play them anywhere you want, even after cancelling Apple Music subscription.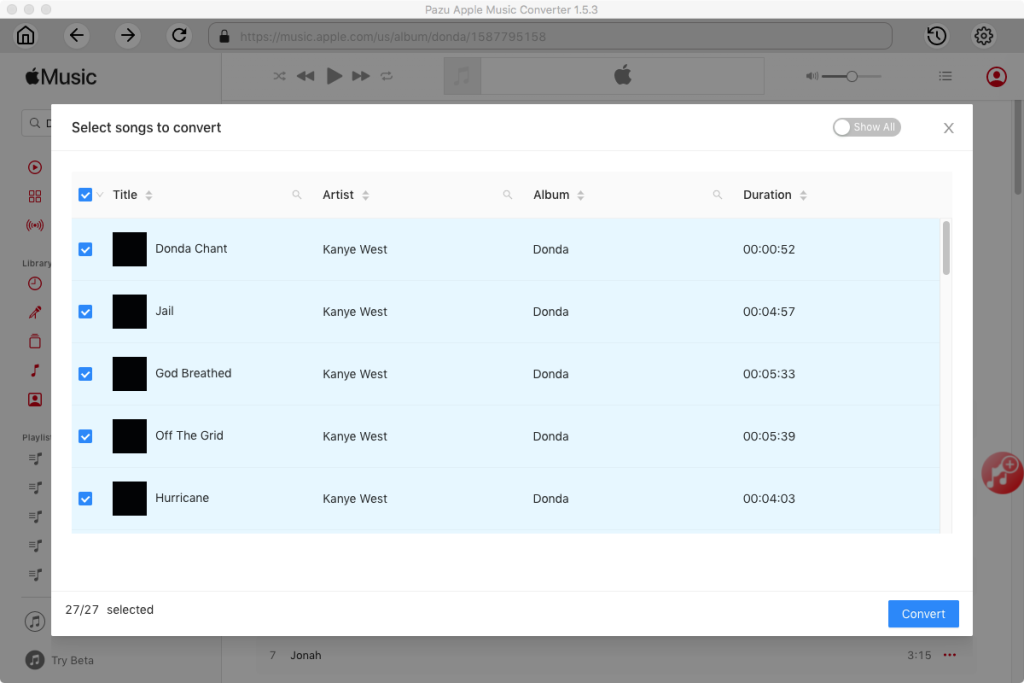 Click the folder icon to quickly locate the downloaded songs.
You can also click the clock icon on the top right corner to view all downloaded song by date, artist or album.