How to Record Amazon Prime Music in 3 Ways
Amazon Music is Amazon's music streaming service, offered through different subscription plans: Amazon Music Free, Amazon Music Prime, and Amazon Music Unlimited.
Amazon Music Free provides access to playlists and stations with occasional ads. Amazon Prime members can get Amazon Music Prime for free, which offers a full catalog of over 100 million songs with most available for shuffle play and without ads. For a premium experience, Amazon Music Unlimited offers high-quality audio, and on-demand playback of any song without skips.
Amazon Music Free doesn't offer music downloads. Amazon Music Prime members can download songs for offline listening, but this is limited to All-Access Playlists. On the other hand, Amazon Music Unlimited subscribers can download songs, albums, and playlists for offline enjoyment. It's important to note that songs downloaded from Amazon Music Prime and Unlimited have DRM protection and can only be played within the Amazon Music app.
If you're an Amazon Music Prime member and want to go beyond downloading songs in All-Access Playlists, you might consider recording Amazon Prime Music to listen offline. This article will show you how to do that using a free online recorder and a recording application. Additionally, we'll introduce an excellent method to directly download Amazon Music as MP3 files for playback, whether you have Amazon Music Unlimited, Prime, or Free plan.
KEY SECTIONS
Record Amazon Prime Music with an online recorder
If you prefer to avoid the hassle of installing third-party tools for recording Amazon Prime music, the online screen and audio recorder offer a convenient solution. Moreover, online screen recorders are typically user-friendly and can swiftly capture the music you desire.
One such tool is Screen Capture, a free online service that allows you to record screens, audio, and even webcam content according to your preferences. There's no need for installation since it operates directly within your browser. Let's delve into how Screen Capture can be used for recording Amazon Prime music:
Log in to Amazon Prime Music on your browser.
Open another tab on your web browser, and go to the home page of Screen Capture.
The online screen recorder is on the top of the screen. To record Amazon Prime Music, select Sound, and click Start Recording.
You will be prompted to choose what content you want to record. Select Amazon Music and click the Share button.
Go to the Amazon Music tab and play the Amazon Music that you want to record.
Return to the Screen Capture page. Click the Stop Recording button when you are done.
Click the Download button to download the recorded Amazon music file.
Recorded Amazon Prime Music using the online screen recorder is saved in MP4 format. If you prefer to download music in MP3 or other formats, you can opt to download and install the desktop app.
Record Amazon Prime Music with the Audio Recorder
In addition to online recording tools, you can also use an audio recorder to convert Amazon Prime Music to MP3 files. Audacity is an ideal choice for this purpose. It's a free, open-source audio editor and recorder available for Windows, macOS, GNU/Linux, and other platforms.
While Audacity can record streaming Amazon Prime Music, keep in mind that it can also capture other sounds, including from your microphone. To ensure the best results when recording Amazon Prime Music on Audacity, make sure that your microphone doesn't introduce any unwanted noise during the recording process.
The steps to record Amazon Prime Music using Audacity are straightforward:
Download and install Audacity on your device, then launch it.
Play the desired Amazon Prime Music song you wish to record.
Return to Audacity and click the red circular Record button to start recording. Click the square Stop button when you're done.

To save the recorded file, navigate to File > Export > Export as MP3.
During the process of saving the recorded Amazon Prime Music files, you can also edit the file name and metadata tags to your preference.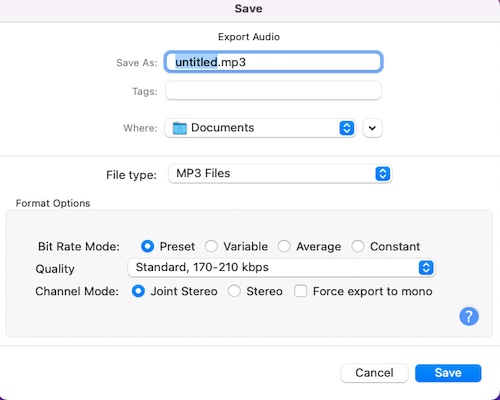 While using Audacity to convert Amazon Prime Music, bear in mind that there might be a potential loss of audio quality.
Download Amazon Music to MP3 directly
Another approach to recording Amazon Prime Music is to directly download songs in MP3 format for offline listening. As previously mentioned, Amazon Music Prime members can only download songs from All-Access Playlists for offline playback, and the downloaded content – no matter with Prime or Unlimited plans – is protected by DRM. This means they can only be played within the Amazon Music app and cannot be transferred to other devices.
Luckily, there is a professional Amazon Music Downloader – Pazu Amazon Music Converter that allows you to download any songs, albums, and playlists from Amazon Music Prime/Unlimited to MP3, M4A, AAC, FLAC, WAV, and AIFF. This way, you can listen to your favorite tracks anywhere you'd like, using applications like iTunes, Windows Media Player, or your MP3 player. Moreover, the audio quality and original ID3 tags of the downloaded MP3 files are preserved.
Amazon Music Free doesn't support offline playback. However, with Pazu Amazon Music Converter, you can also download songs to MP3 with Amazon Music Free. Now follow the tutorial below to learn how to convert Amazon Music to MP3 with a few steps.
1. Run Pazu Amazon Music Converter
Download, install, and launch Pazu Amazon Music Converter on your computer, then click the Sign In to log in to your Amazon account.
If you have purchased a license, click the key icon to register the converter. If not, continue using the trial version.
2. Choose the output format
Click on the Settings icon in the top right corner and select WAV as the output format.
3. Add songs, albums, or playlists
Select the desired songs, albums, or playlists you wish to download. Once you open an album/playlist and tap the red Add button suspended on the right side, you'll be presented with the list of songs.
All songs in the playlist will be added by default. Click the check box next to the track that you don't want to convert.
4. Convert Amazon Music
Click the Convert button on the bottom right corner, and Pazu Amazon Music Converter will automatically download and convert Amazon Music tracks to the default folder on your computer.
When the conversion process finishes, you can browse all the converted songs in the history list by clicking on the
icon. And now you're prepared to stream your Amazon Music songs anywhere.
MP3 songs downloaded with Pazu Amazon Music Converter are tagged correctly. MP3 players read artists, songs, and other information from the ID3 tag that is embedded in the MP3 file.