YouTube Music vs. Spotify, which is better 2023
YouTube Music and Spotify are the most popular music streaming services. Spotify is available in over 180 markets with 515m users(2023 Q1). It has become the first and last word in music streaming, but Google's YouTube Music offers an intriguing alternative that's pretty distinct from the likes of Apple Music, Amazon Music and Tidal. When it comes to Spotify vs YouTube Music, which one will compliment your listening habits best? In this article we're going to be comparing YouTube Music specifically to Spotify to see which one is worth your money. We'll look at the two music streaming giants that are leading the audio streaming business – YouTube Music and Spotify – and try to find out the key differences between the two services.
YouTube Music vs. Spotify: Free Plan
Skips
Both YouTube Music and Spotify offer free plans that allow users to stream music with ads. With Spotify, you can only play tracks in shuffle mode on others. You can skip the songs you don't like, but only six times per hour. It only allows you to choose the songs you want to play on specific playlists like the personalized Daily Mix. There are occasional ads that interrupt the listening experience. Audio quality is limited to 160kbps, and you can't download songs for offline listening.
On-demand play
YouTube Music's free plan allows you to pick and play any track you like, making it much more helpful than Spotify in this regard. You can even skip tracks as many times as you want. However, the most significant disadvantage of Google's streaming service is that once you turn off the screen on your phone, the music stops. You need to keep the phone on all the time. You can't lock the phone, can't play in the background and can't use it with GPS. And forget about browsing the web while listening to music: as soon as you close the app, the music cuts off. Also horrible for driving because you can't play it while using the GPS. By not using the YouTube app but instead using the YouTube website, you can listen to the music while phone is off. Spotify doesn't have this limitation. YouTube Music is also supported by ads and doesn't allow you to download music. Audio quality is also limited: you can stream at a maximum of 128kbps.
Ads
Free YouTube Music lets you skip ads after 5 seconds, whereas Spotify does not. What's more, Spotify free has more ads. Sometimes it is three 30-sec ads in a row when a song ends. There are also pop up ads that will stop the music. Spotify web player has less ads than the desktop and mobile apps.
Lyrics
YouTube Music Free doesn't support lyrics, while Spotify does.
Winner: YouTube Music
Spotify doesn't let you have much direct choice about the music you pick out, caps the sound quality, limits the amount of skips and frequently breaks for commercials. YouTube Music is still ad-supported, but you can pick any songs you choose, and skip as many as you like. So, if you're searching for a hassle-free platform that just lets you stream music without too many restrictions, YouTube Music may be a better option.
YouTube Music vs. Spotify: Content
Both Spotify and YouTube Music offer access to tens of millions of songs. The most significant difference between the two services in terms of content is that Spotify also gives you access to a wide selection of podcasts and audiobooks, while YouTube Music provides music videos. There are over 4 million podcast titles on Spotify, YouTube Music doesn't offer podcasts, but there are a lot of music videos, as one would expect. They are a big part of the service. A list of recommended and new videos frequently shows up on the front page, and you can also check out various charts, including the top global 100 music videos.
YouTube Music is known for more music-driven content, contrasting with the variety offered by Spotify. Spotify has millions of songs and countless playlists in different genres. As per the latest reports, Spotify consists of 100 million tracks and roundabout 60,000 tracks are added every day. The partnership of Billboards and Spotify have made it convenient for people to discover the top and trending songs. The platform also comes with an Indie section that allows users to find independent artists and artists to gain Spotify views without having to scratch the surface or buy Spotify plays. YouTube's partnerships with Sony Music, Universal Music Group, and VEVO make it possible for users to choose from 70 million official music releases.
Winner: Draw
While both Spotify and YouTube Music are popular music streaming services out there, the latter has the competitive advantage of being the second most popular search bar in the world, after Google of course. Well, the biggest difference between the two is the content they offer. YouTube Music basically is all about music and music videos, which is great, but it still does not feature podcasts in its platform. Spotify, on the other hand, does offer podcasts for the millions of people who like to listen to them. If you're into videos, YouTube Music is the better option for you. But if podcasts are more of your thing, Spotify is more up your alley.
YouTube Music vs. Spotify: Music Discovery
Both Youtube Music and Spotify have algorithms in place that monitor the songs and artists that you like, and those you skip. Spotify combines three different types of algorithms – Collaborative Filtering, Natural Language Processing, and Raw Audio Modeling – to figure out which songs you're likely going to thumb up. The popular Discover Weekly playlist contains songs from artists and genres you're listening to. A new one is released every Monday with 30 tracks. Additionally, the service creates up to six daily mixes for you based on your listening habits. Spotify also has another great playlist called RADAR, which focuses on new, emerging talent. This type of feature is noticeably absent in Youtube Music.
YouTube Music offers four types of personalized playlists. The Discover Mix gives you 50 lesser-known tracks every week, the New Release Mix that contains the most recent releases by your favorite artists, and a set of mixes based on your listening habits. Then there's the My Supermix, a combination of songs from different genres you like and includes 100 tracks. Google's service also allows you to browse playlists by mood or genre, but the problem is that the selection is limited.
Winner: Spotify
Spotify seems to have much more playlists for each genre when compared to YouTube Music. More moods and genres are available to browse on Spotify than on Google's streaming service. Spotify's hybrid discovery algorithm is more successful at pinpointing which songs and artists you'll most likely enjoy. While Youtube Music's discovery algorithm isn't bad per se, it feels like it does need more work in harnessing its listeners' taste.
YouTube Music vs. Spotify: Pricing and Plans
Both Spotify and YouTube music offers free plans but they both come with limitations. Spotify's free membership will also be enough for most people, and unlike the free YouTube Music option, Spotify lets you use other apps simultaneously on all devices. For an ad-free and superior audio experience, the $9.99 a month Spotify Premium subscription is a reasonably good value and equal to the YouTube Music equivalent. Spotify Premium's Family Play also offers access to Spotify Kids.
YouTube Music
Individual: $9.99/month(Annual $99.99)
Family: $14.99/month
Student: $4.99/month
YouTube Premium
Individual: $11.99/month(Annual $119.99)
Family: $22.99/month
Student: $6.99/month
For $9.99 a month, you'll unlock the YouTube Music Premium service and all of its added benefits mentioned above, but it's worth noting that the YouTube Premium service, which also covers the main YouTube app, is just $11.99. If you want to also remove ads when watching regular YouTube videos, you may as well pay the two extra dollars. YouTube Premium benefits also includes downloading videos and background play. Conversely, if you already pay for YouTube Premium, you actually already have YouTube Music Premium as part of your membership. The song + video combo makes your life a whole lot better. Spotify does not have the same platform when it comes to video content.
Spotify
Individual: $9.99/month
Duo: $12.99/month
Family: $15.99/month
Student: $4.99/month
Both services let students access $4.99 student plans, but Spotify sweetens the deal with student access to Hulu and Showtime.
Spotify website doesn't offer $99 Annual plan, but you can purchase Spotify – $99 Annual Card from BestBuy.
Winner: Spotify
Spotify offers better audio quality and subscription flexibility. It also allows you to access to other streaming services like Spotify Kids, Hulu, and SHOWTIME. However, If you sign up for YouTube Premium ($12.99 USD/month), which lets you watch YouTube videos ad-free. It also enables one to download videos and play them in the background. In that instance, YouTube Premium is a great value…
YouTube Music vs. Spotify: Audio Quality
Both apps offer high-quality streaming. However, Youtube Music's is capped at 256kbps, and Spotify's goes up to 320kbps.
YouTube Music and Spotify each offer 128 kbps and 160 kbps audio, respectively, as the default preference for free users, with high-quality 256 kbps and 320 kbps music streams available to paid subscribers. For those looking to save on data, YouTube Music does provide a 48 kbps low option, while Spotify offers 96 kbps as an alternative.
Both platforms allow their users to optimize sound quality. Spotify allows its users to choose from 5 options for sound optimizations whereas YouTube Music only offers 4. The sound quality offered by Spotify is Low(24kbps), normal (96kbps), high (160 kbps), and very high (320 kbps). It also offers an automatic mode that depends on your internet connectivity. On the other hand, the sound quality settings offered by YouTube Music are Low(48kbps). Normal(128kbps), High(256kbps), and Very High(256kbps).
Winner: Spotify
When it comes to sound quality, Spotify outshines YouTube. It is evident that the maximum sound clarity you can get from Spotify is 320kbps whereas you have to settle for YouTube Music at 256kbps. Moreover, even the highest sound quality offered by Spotify takes lesser time to load. Once Spotify HiFi is released, it will offer CD-quality lossless audio playback, which is 1411kb/s.
YouTube Music vs. Spotify: Desktop app
Both YouTube Music and Spotify have easily accessible browser-based version, Android and iOS apps. Besides, Spotify also has desktop app for Mac and Windows PC, while YouTube Music doesn't.
Winner: Spotify
YouTube Music vs. Spotify: Podcast and audiobook
Spotify has over 100 million tracks, over 5 million podcasts titles by Q1 2023 and 300,000 audiobook titles.
YouTube Music finally rolls out podcasts for listeners in the US in April 2023, but it didn't indicate the quantity. Find new podcast recommendations and unfinished episodes on the Home tab. To filter your suggestions, tap Podcasts at the top of your Home screen.
Winner: Spotify
YouTube Music vs. Spotify: Lyrics
Spotify lyrics, provided by Musixmatch, is available on mobile/desktop app, web player, gaming consoles, and TV, whether free or premium tier.
Since April, 2023, multiple Reddit users have spotted a redesigned Lyrics screen in the YouTube Music app for Android and iOS. Much like Spotify, the lyrics now sync with the song in real time.
Winner: Draw
Upload your music
Add your personal music collection to your YouTube Music library by uploading your songs and albums. Once your music is uploaded, you can use YouTube Music to play your uploaded music as part of your listening experience. You can upload up to 100,000 songs to your YouTube Music library.
Compatibility
YouTube Music doesn't have app for Garmin and is not possible to listen OFFLINE on Apple Watch. You need the phone with you at all times. So if you want to listen to music on Garmin or Apple Watch, Spotify is a better choice.
YouTube Music doesn't support Alexa.
Final Verdict: YouTube Music vs. Spotify
Spotify vs YouTube Music is a hard one to call as the services are so different. Spotify has earned its reputation owing to its features, content, and updates. It also gives new artists scope to gain Spotify plays with little effort. However, different listeners have different deal breakers and preferences. YouTube Music is better if you don't want to spend money and are satisfied with a free plan. Especially if you're using it on a computer. You can play any song you like and skip as many times as you want. The best choice is to try both free trials and see which one works best for you.
How to Download YouTube Music with Free Account?
Both Spotify and YouTube Music offer a free one-month trial. So if you're still on the fence regarding which one to go with, test them out both first to see which one you like better. However, the two major trade-offs for using YouTube Music free are the occasional ad in between tracks and the inability to download music for listening when offline. If you are one of the new YouTube Music free users, do you want to break the limits of YouTube Music? If you are thinking about downloading YouTube Music offline with the Free Plan rather than upgrading to a Premium subscription, you can use Pazu YouTube Music Converter.
Pazu YouTube Music Converter Pazu YouTube Music Converter downloads songs from YouTube Music and converts them to MP3, AAC, WAV, FLAC, AIFF, or M4A format. It can keep ID3 tags and preserve lossless audio quality. With it, you can listen to YouTube Music offline without any ad interruption. Now, follow a few steps below to download YouTube Music for offline listening with a Free Plan.
1. Run Pazu YouTube Music Converter
To get started, download, install and run Pazu YouTube Music Converter on your Windows PC, which features a built-in YouTube Music web player.
If you have already purchased a license, click the key icon to register the converter. If not, continue using the trial version.
You don't need to sign in to your YouTube Music account.
2. Choose output format
Tap on the Settings gear icon to change the output settings. The default output format is MP3. Pazu YouTube Music Converter also supports M4A, WAV, FLAC, AIFF, AAC. You can also change bitrate, samplerate according to your needs.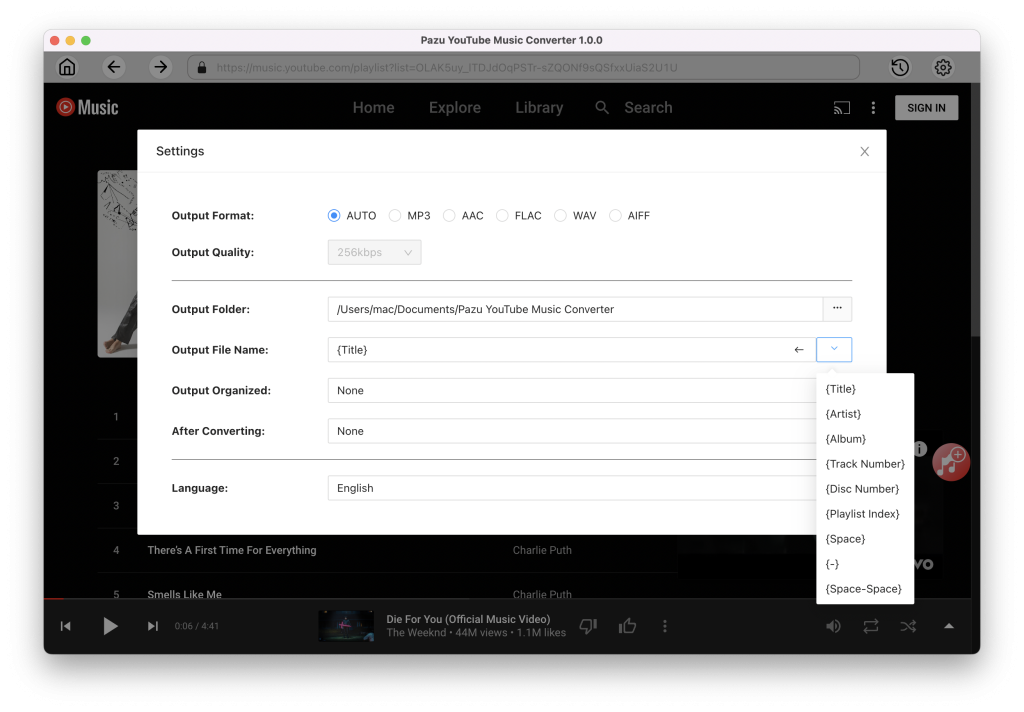 3. Add songs
Click a playlist or album you want to download. Then click the red Add to list button to load songs.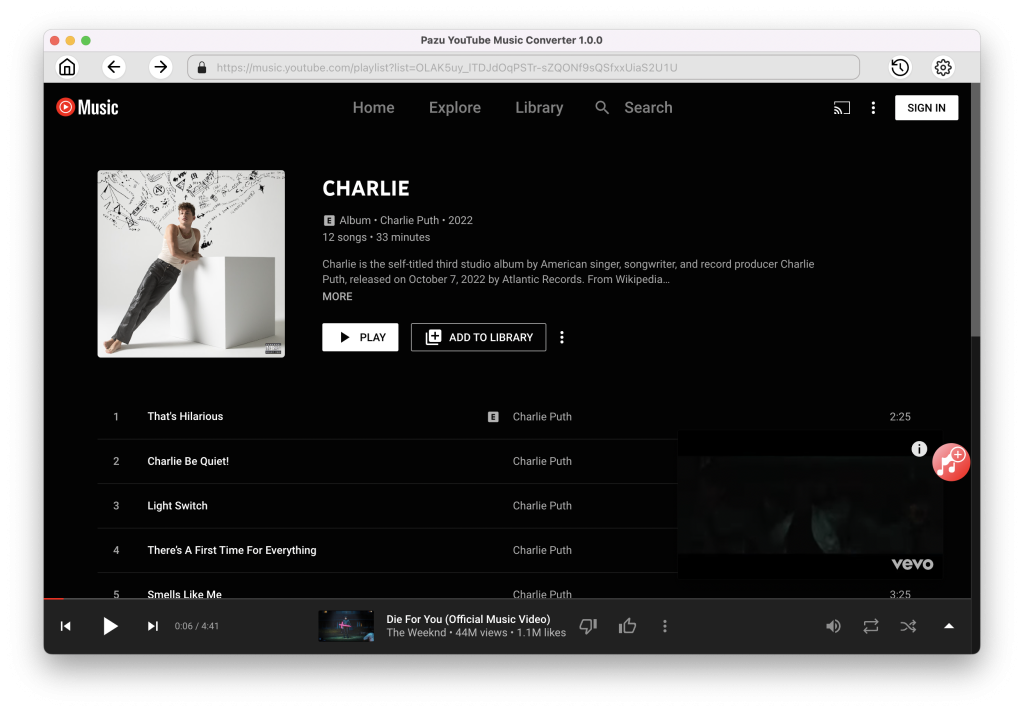 All songs in the playlist will be added by default. You can uncheck the songs you don't want to get.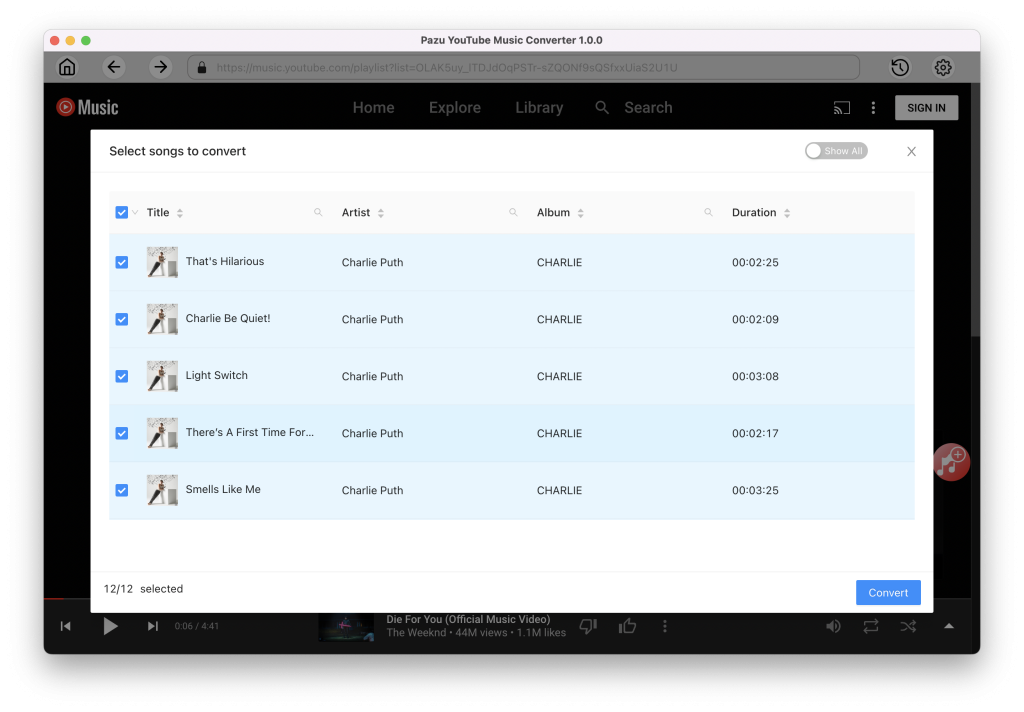 4. Click Convert button
After selecting the songs, click Convert button to start downloading YouTube Music songs to the format you choose. You will see a progress circle indicating your music is downloading.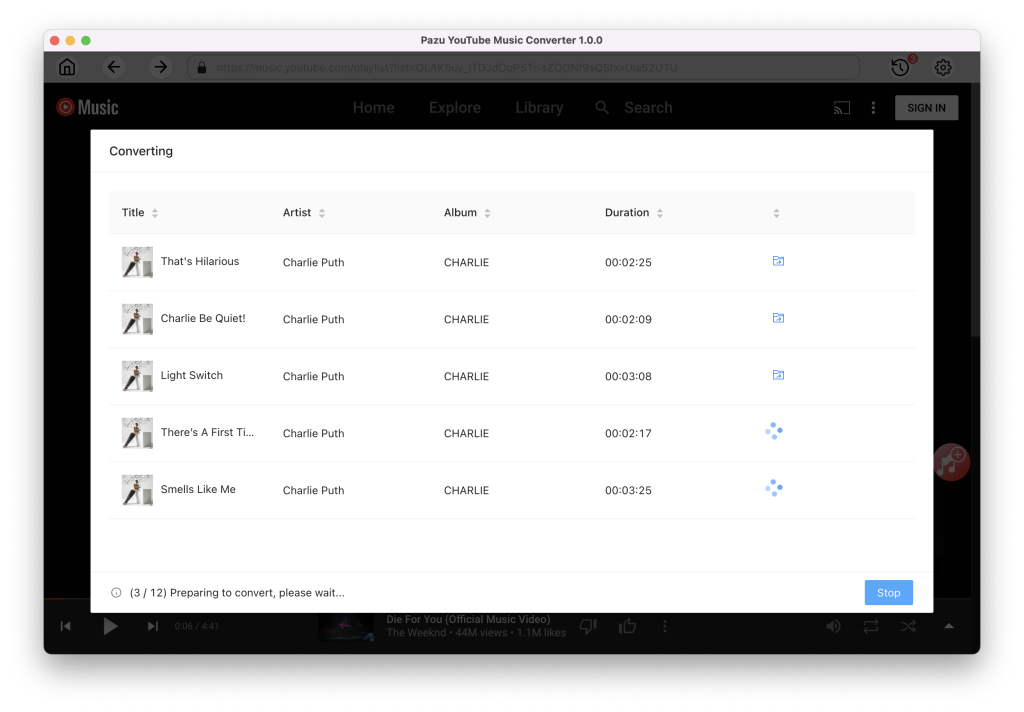 Once the songs have been downloaded, click the folder icon to quickly locate the DRM-free YouTube Music songs in the format you choose. You can then transfer and play it anywhere.
To view or manage all music you've downloaded, click the clock icon on the top right corner of the YouTube Music Converter interface.