Spotify Car Thing is only for Spotify Premium member, how about Free users
Update: Spotify has stopped manufacturing Car Thing since July, 2022. The company has also confirmed that the device will continue to work normally.
If you are a Spotify lover and your car does not have Android Auto or CarPlay, you can consider getting the Car Thing. Car Thing is Spotify's hardware device designed for your drive. Spotify Car Thing is a small touchscreen device, about the size of your palm, that's designed to gives your car radio a touchscreen to make listening to music from your phone in the car easy and safe.
If your car doesn't support Android Auto or Apple's CarPlay and you want a touch screen to easily control Spotify music on your car, you can try Spotify Car Thing. Remember that you must have access to Spotify Premium to be able to use the accessory.
How Spotify Car Thing works
1. Connect Car Thing to power
Use the cable and power adapter to connect the device to a 12V power outlet.
2. Connect phone to Car Thing
Connect your phone to Car Thing via Bluetooth in your phone's settings.
3. Connect phone to car stereo
Connect your phone to your car stereo via Bluetooth settings in your car, AUX or USB cable.
4. Mount Car Thing in your car.
There are 3 mounts to choose from: CD mount, Dashboard mount and Vent mount.
Once installed and powered on, Car Thing connects to your phone via Bluetooth and communicates wirelessly with the Spotify app, displaying album, artist and playlist information on its 4-inch color touchscreen. Car Thing uses the data and Spotify account from your phone. You get all your saved music and podcasts, recommendations, and can save to your library while you drive.
After connecting to the Spotify app on your phone, Car Thing lets you browse through your playlists and control music with just a few taps. It's also got a physical wheel for managing the volume, and buttons on top that you can save specific playlists or podcasts to — press one, and the saved tracks will immediately start. The other button on the front lets you switch between the song you're currently playing and the browsing menus.
If you don't want to use your hands at all, the Car Thing also supports voice controls. Just say, "Hey Spotify, play today's top hits", "Hey Spotify, pause", "Hey Spotify, show me similar artists", "Hey Spotify, shuffle my liked songs", "Hey Spotify, follow this podcast", etc. and control all your favorite music hands-free.
Spotify says device owners will now be able to see incoming calls and dismiss or answer them through the Car Thing interface. They'll also be able to play and control other media in the car using the device, then switch back to Spotify using either presets, voice commands or by tapping the screen.
The Spotify Car Thing is not a way to add audio streaming connectivity to your car. It's just a remote control and so requires that your phone connect directly to your car's stereo, either via Bluetooth or an auxiliary input.
You'll have to be a Spotify Premium member to play music through the Car Thing. If you're already a Premium subscriber and you're frustrated with the Spotify app interface on your phone or car, then sure, go for it. But don't switch to Premium just for the privilege to buy the $90 Car Thing. The best way to listen to Spotify in the car with free account is to download Spotify to MP3 in 320kbs with Pazu Spotify Converter and then play them through USB drive or phone. By doing so you are able to get rid of all Spotify free limits: ads, limited skips, no offline playback and low quality.
How to listen to Spotify in the car with Spotify free
Spotify Car Thing is not a choice for Spotify free users. For free users, you can use Pazu Spotify Converter to download your favorite songs to MP3 and then listen to them in your car without ads, skip limits or internet connection. You can even transfer the songs to USB drive to play in your car and save battery on your phone.
Pazu Spotify Converter is specially designed for you to download Spotify music to common formats with either a free or premium account on Mac/Windows. Pazu Spotify Music Converter allows you to convert Spotify songs to the most popular audio formats, such as MP3, M4A, WAV, FLAC, AAC, and AIFF. With the adoption of advanced encryption technology, it's able to keep all the converted audio files with 100% lossless audio quality and the original ID3 tags and metadata information. For more details, you can check them below.
Key features of Pazu Spotify Converter:
Download Spotify songs without Premium.
Convert Spotify to MP3/M4A/AAC/FLAC/WAV/AIFF.
Best possible quality song download without any type of loss.
Keeps all the original ID3 tags: title, artist, artwork, etc.
No Requirement for the Spotify app.
Multilingual interface: English, Deutsch, Español, Français, 日本語, 简体中文.
Archive downloaded songs by album or artist.
1. Run Pazu Spotify Converter
Download, install and run Pazu Spotify Converter on your Mac or Windows. Log in your Spotify account with the built-in web player.
2. Choose output format
Click the " Options " button on the top right corner. Here you can select output format (MP3/M4A/AAC/FLAC/WAV/AIFF), output quality, customize the output path, organize the output files in various ways, rename output files and more.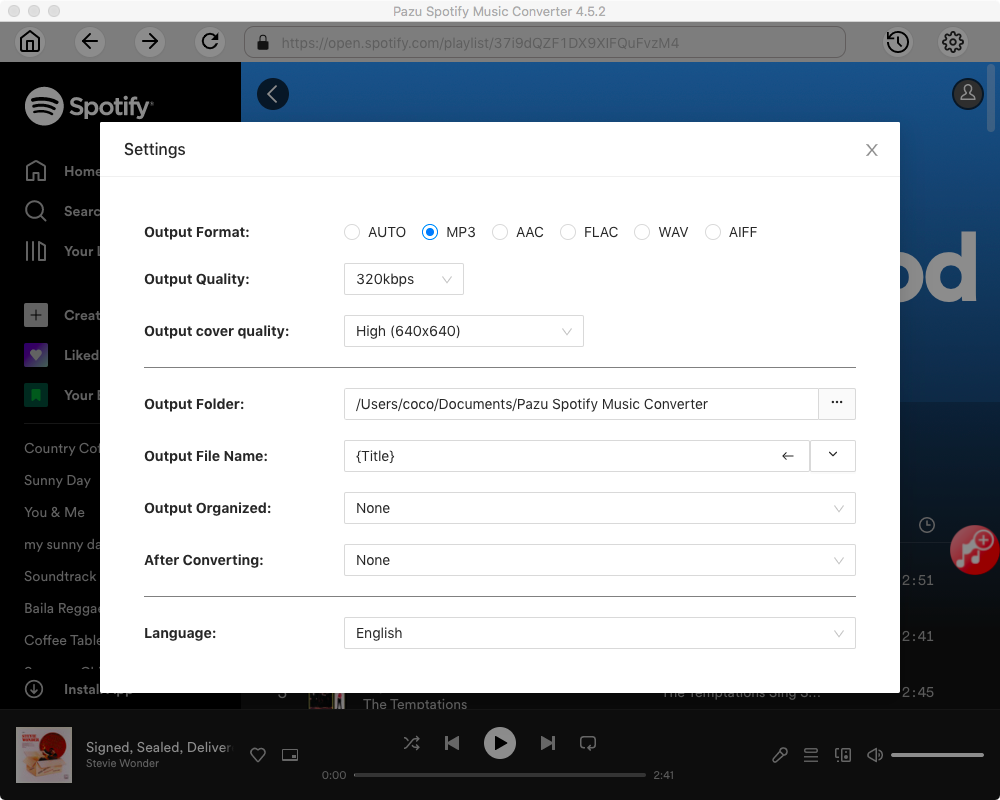 3. Select Spotify songs, albums or playlists
Select the songs, album or playlist you want to download. Spotify Converter will detect and display all songs. Uncheck the songs you don't want to download if there are any. Click "Show All" icon to toggle "Hide Converted" on in case some songs have been downloaded before.
4. Convert Spotify Songs
Click the Convert button to start downloading Spotify songs in MP3 format.
Once the conversion is done, click the folder icon to find the downloaded mp3 songs. You can then transfer the Spotify music to Apple Music or Amazon Music, or play them with your favorite music player for iOS/Android.
Note: The free trial version of Pazu Spotify Converter enables you to convert the first three minutes of each song. You can remove the trial limitation by purchasing the full version.
Summary
Car Thing connects to your Spotify account on your smartphone via Bluetooth. You power the device through the car's power source, where you'll need an adaptor. You then have to connect your phone to your car stereo via Bluetooth, AUX or USB cable. The most important thing is that you have to be a premium subscriber to use it. It is not available to Spotify free users. Besides, if your car has Android Auto or Apple CarPlay, Spotify's separate screen mounted above the dashboard screen doesn't make sense.