Spotify vs. Deezer: Which Is Better?
Spotify and Deezer are two of the most popular music streaming services. They both offer ad-supported free-tier and premium tier to access exclusive features for music including improved sound quality and an on-demand, offline, and ad-free music listening experience. Here is a comprehensive comparison between Spotify vs Deezer.
Plans
Spotify Individual: $9.99/month.
Spotify Duo: $12.99/month.
Spotify Family: $15.99/month.
Spotify Student: $4.99/month.
Deezer Family: $14.99/month. Get 6 individual accounts, all with Deezer Premium benefits.
Deezer Premium: $9.99/month.
Deezer Student: $4.99/month.
Deezer HiFi: $14.99/month.
Deezer Free: ad-supported, shuffle play, 30 second preview on desktop app and web player.
Spotify Student and Deezer Student both costs $4.99/month, but Spotify student also includes Hulu(ad-supported) and SHOWTIME subscription.
Deezer free VS. Spotify free
Both Deezer free and Spotify free are limited to online streaming only, 6 skips per hour and ad-supported.
If you listen to Deezer Free on your browser or the desktop app, you'll only hear 30-second song snippets.
However, Spotify free on web player and desktop has less limits than mobile app: users can play songs on demand, while mobile apps only supports shuffle play.
Free Trial
Spotify now offers 3 months of Premium for $0 to users who haven't already tried Premium. Offers applied to individual and student plan. Offer ends 11 September 2022. Duo and Family plans only have 1 month free trial.
Deezer offer one month free trial for Deezer Premium, Deezer Family, Deezer Student and Deezer HiFi.
Catalog
Deezer now has over 90 million tracks available for streaming. Enjoy access to a catalogue of more than 90 million songs, playlists, podcasts and radio channels. Discover new music releases and trending albums, and create your own library.
Spotify now has over 80 million tracks, including more than 4 million podcast titles. Spotify is the world's most popular audio streaming subscription service with 433m users, including 188m subscribers, across 183 markets.
Quality
Spotify's audio quality limit is still 320kbps (the maximum bitrate threshold for MP3).
Podcast quality
Podcast quality is equivalent to approximately 96kbit/s on all devices except the web player where it's 128kbit/s.
On mobile/tablet, if you change the audio quality to low, the podcast quality will lower to approximately 24kbit/s.
How to change Spotify audio quality?
On mobile and tablet
Tap Home.
Tap Settings.
Select your preferred settings under Audio Quality.
On desktop
Click your account in the top right corner and select Settings.
Under Audio Quality, select your preferred settings.
Deezer Audio Quality
Deezer Free: Basic, Standard
Deezer Premium: Basic, Standard, High Quality
Deezer Student: Basic, Standard, High Quality
Deezer Family: Basic, Standard, High Quality
Deezer HiFi: Basic, Standard, High Quality, High Fidelity
Deezer HiFi and Deezer Family HiFi subscribers also get access to FLAC audio for high fidelity sound, upping the audio quality to lossless 16-bit, 44.1 kHz, 1,411 Kbps. That's the full catalog, available in CD-quality, plus access to the 360 by Deezer app, which is full of spatial music via Sony's 360 Reality Audio.
How to change Deezer audio quality?
On mobile and tablet
Tap the Settings icon.
Touch Audio in the menu.
Setup your settings for Streaming quality and Downloads.
On web or desktop app
Click on the Audio icon.
Select whichever of the quality options you prefer.
Desktop app
Spotify
OS X 10.13 or above
Windows 7 or above
Supported web browsers: Chrome, Firefox, Edge, Opera, Safari.
Deezer
OS X 10.10 or later on Mac
Windows 7, 8, 8.1 and 10 on Windows machines
Web Player supported browsers are: Google Chrome, Internet Explorer, Firefox, Microsoft Edge, and Safari.
If you use Deezer Free, the desktop app and web player may seems useless, because you will only be allowed to play a 30 second preview for individual songs.
How to get Deezer free forever?
Deezer free has so many limits, especially on desktop app and web player. To get Deezer for free, the best method is to download Deezer songs to MP3 with professional Deezer Music Converter.
1. Launch Deezer Music Converter
Download, install and run Pazu Deezer Music Converter on your Mac. Click the Sign in button and log in your Deezer account.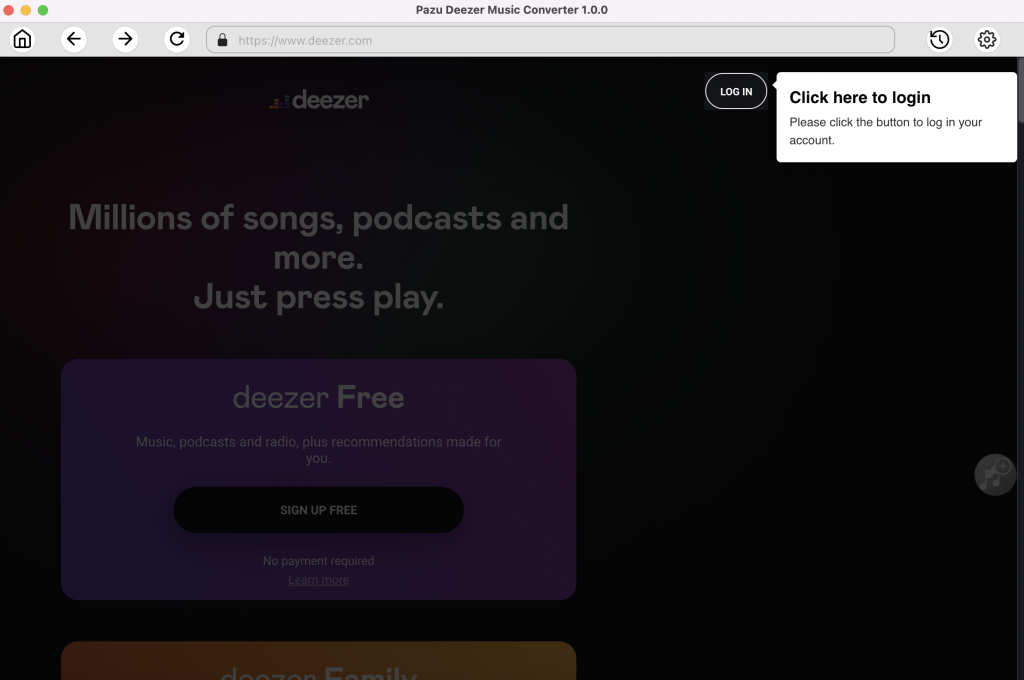 2. Change output format(optional)
The default output format is lossless M4A. Pazu Deezer Music Converter also supports converting Amazon Music to MP3, AAC, FLAC, WAV and AIFF.
Output File Name: name the songs with any combination of Title, Artist, Album, Playlist Index, Track Number. For example, if you choose Title and Artist, Tylor Swift's song Lover will be named as Lover Tylor Swift.mp3.
Output Organized: organize downloaded songs by Artist, Album, Artist/Album or Album/Artist.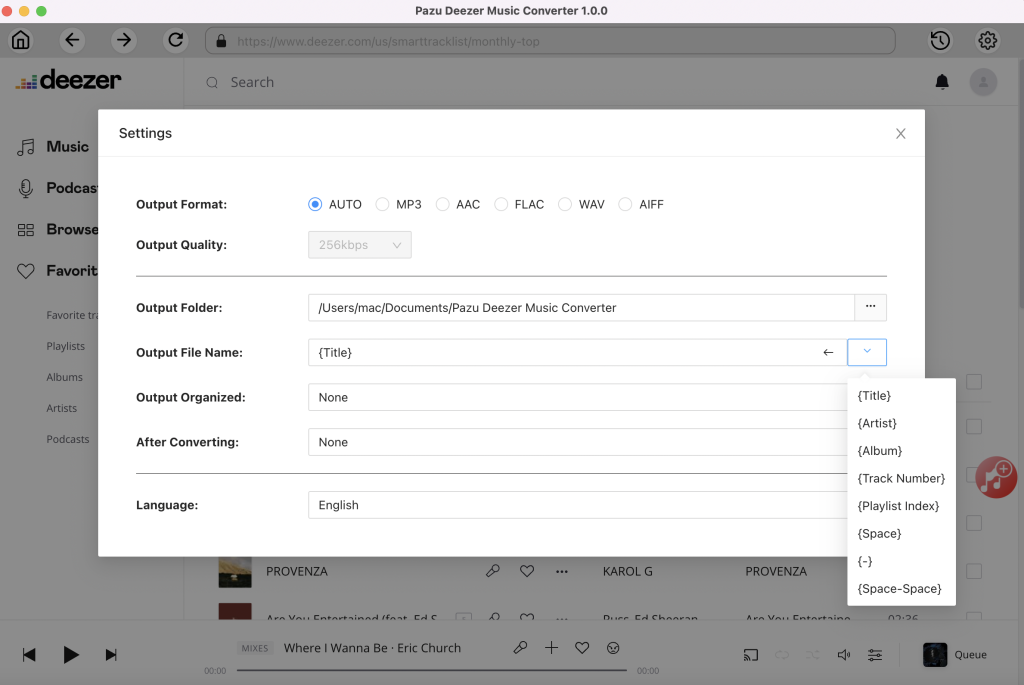 3. Select music you want to download
Follow the on-screen instructions to choose the playlist or album you want to convert. Click Add songs.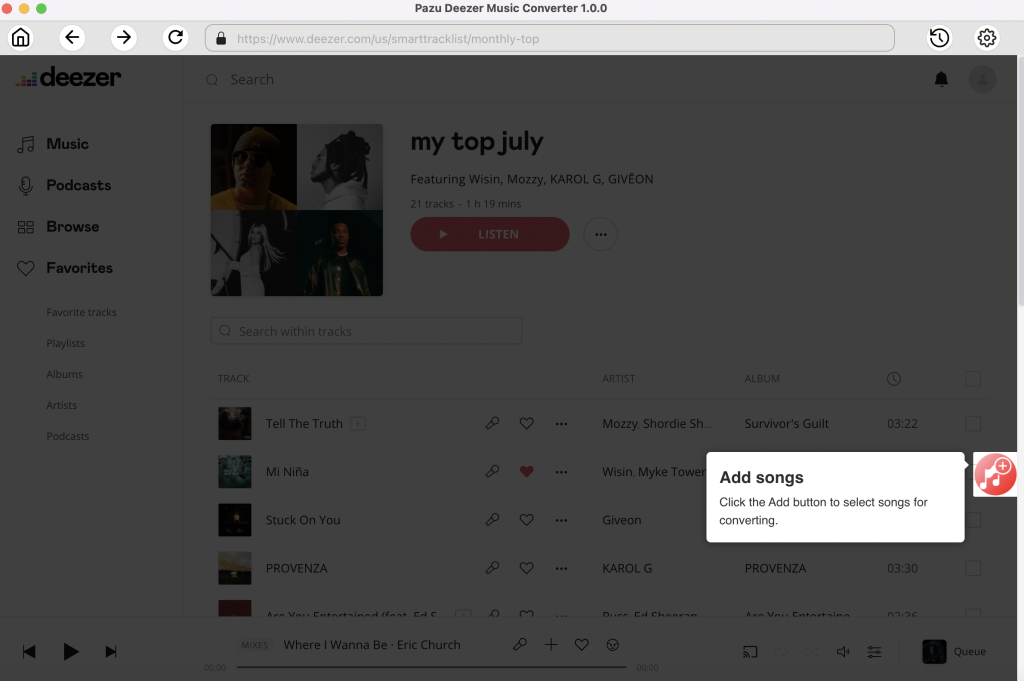 4. Start Conversion
By default, all songs in the playlist/album will be checked. If there are songs you don't want to convert, please uncheck the box. Then click Convert button to start downloading songs to the format you choose.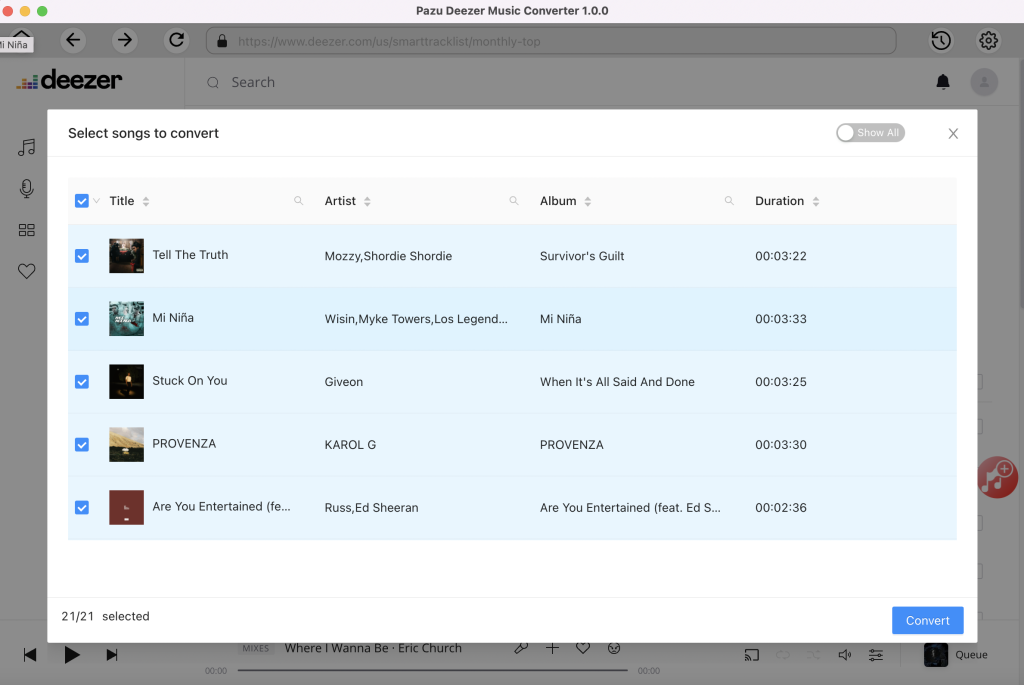 After conversion, click below folder icon to quickly locate the downloaded songs.