Tidal vs. Spotify, which is better(2023 Ultimate Guide)
It's not hard to decide whether you should subscribe to Spotify premium or Tidal HiFi Plus, as the music quality and price are not on the same level. Many people hesitate between Spotify premium and Tidal HiFi, or Spotify free and Tidal free. Both Spotify and Tidal offer ad-supported free plan with low quality and no offline playback. The free plan of Spotify and Tidal offer music in up to 160kbps. As for the paid plans, Tidal HiFi plan offers 100M+ songs in HiFi Sound Quality(up to 1411 kbps), while Spotify $9.99/month premium individual plan offers over 100 million tracks in up to 320kbps.
Price
Spotify
Individual: $9.99/month
Duo: $12.99/month
Family: $15.99/month
Student: $4.99/month
Tidal
HiFi: 9.99/month
HiFi Plus: 19.99/month
HiFi Family: 14.99/month
HiFi Plus Family: 29.99/month
HiFi Student: 4.99/month
HiFi Plus Student: 9.99/month
Spotify premium and Tidal HiFi both costs $9.99/month. Tidal HiFi family plan is $1 cheaper than Spotify family. Spotify and Tidal student plan both costs $4.99/month, but with Spotify student you also get Hulu ad-supported plan(values $1.99/Month for students). So for students, Spotify is a better choice.
If you prefer MQA, Dolby Atmos, 360 Reality Audio and don't care about the price, go ahead to Tidal HiFi Plus.
Free Trial
Tidal offers 30 days free trial on its paid plans. You can also get TIDAL – 3-Month Music Subscription for only $1 on Best Buy.
Spotify free trial changes often. Currently it offers 3 months free trial for Spotify Individual until May 16, 2023. Other plans offer one month free trial. There are also some other ways to get longer Spotify free trial.
Spotify Free vs. Tidal Free
Both Spotify and Tidal offers free plan. Free users can stream all songs without spending a penny, but there are some limitations: ads, no offline playback, limited skips and shuffle play on mobile.
Interface
Spotify interface is more concise than Tidal. One of the reasons Spotify is so popular is its easy-to-use interface. When you open the app, you'll find a number of personalized playlists-your "Mix of the Day"-that Spotify curates based on your listening habits, along with your top artists, top playlists, and new releases.
Spotify premium mobile
Spotify free mobile
Tidal
Tidal iOS interface has 5 tabs, Home, Videos, Explore, My Activity and My Collection.
Spotify desktop
Tidal desktop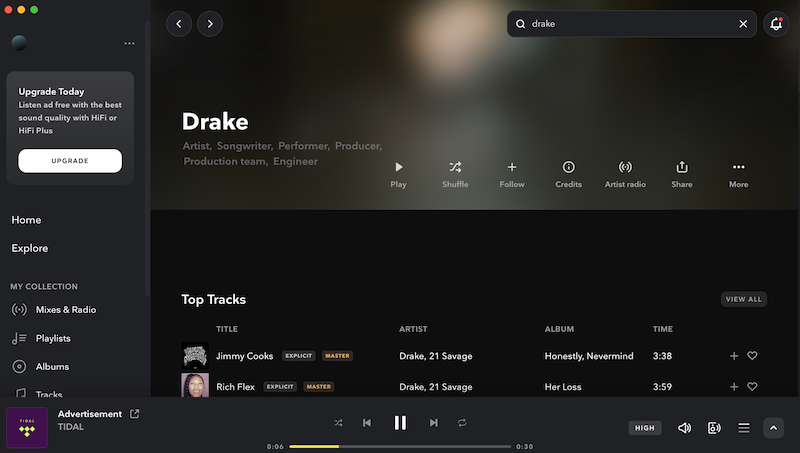 Search feature
Spotify search result feature is more user friendly than Tidal's. All results are displayed but classified on the same page. Scroll down and you can quickly find what you want.
While Tidal search result page are classified under different tabs. You need to click revenant tab to view the results.
However, Spotify's recent searches don't update in time.
Content
Tidal has more than 100 million songs and 650K videos. Tidal also offers podcasts, but its selection is small, to say the least.
Spotify has over 100 million tracks and over 5 million podcasts titles. Spotify also has videos, but they don't play as significant a role as with Tidal. There's no dedicated section for videos, for example. You can come across videos when searching for an artist or song, and that's about it.
Spotify shows how many listeners a particular artist has each month. This helps you figure out which ones are most popular among Spotify users. You can also see how many followers a playlist has, how many times a song are played, which helps decide which one to try.
Album and compilation
Tidal has more album editions than Spotify.
Spotify album
Tidal album
Tidal classify some albums as compilations while in Spotify they are in albums section.
What is the difference between an album and a compilation?
An album is a collection of NEW, original and well crafted songs put together to form a meaningful work of art. A compilation on the other hand is usually made up of previously released songs that are compiled. Songs on compilations could be album left overs, uncleared songs, previously released music looking to be re-branded and re-presented to an audience, etc.
Tidal shows title, artist and album of each song.
Audio Quality
Tidal
Good Sound Quality (160 Kbps)
Standard quality keeps data use to a minimum while offering good sound fidelity. Great for on-the-go listening, or for devices with less memory or available storage.
HiFi Sound Quality (1411 Kbps)
HiFi quality delivers rich, crisp sound in larger audio files. This CD-quality listening pairs best with devices that have higher storage capacity and available memory.
Master Sound Quality (2304-9216 Kbps)
Master quality is a flawless experience that gives you the highest sound resolution available. Guaranteed and verified as the artist's original master recording.
Spotify
Spotify's "very high" quality is normally taken to be equivalent to 320kbps MP3. Tidal HiFi plan delivers sound at peak performance – with HiFi Quality of 1411 kbps.
Spotify premium and Tidal HiFi both costs $9.99/month.
There is a difference between 320kbps between tidal hifi but you need a good player to hear the difference. If you're listening to your music through your iphone headphones everything tends to sound the same. If you are the obsessed audiophile type and have a good system, lossless is definitely worth it.
TIDAL HiFi Plus allows you to hear the difference in your favorite songs with high-fidelity sound quality, Master Quality Audio, Dolby Atmos, and Sony 360 Reality Audio. Enjoy your music ad free or offline from anywhere on all your favorite devices.
Student discount
Both Spotify and Tidal offers 50% off student discount. If you don't care higher quality, Spotify student discount is more attractive as it also includes Hulu and SHOWTIME SUBSCRIPTION.
Family plan
Tidal HiFi family plan costs $14.99 / month and Tidal HiFi Plus family plan costs $29.99 / month. Same as Spotify family plan($15.99 / month), they all offers 6 accounts. Unique accounts allow your family to get better recommendations and discover new music tailored to them.
Lyrics
Both Spotify and Tidal support lyrics. Spotify provide lyrics to all free and Premium Spotify users worldwide. However, Tidal lyrics is only available to paid users.
Lyrics on Spotify and Tidal aren't produced by Spotify itself. They're supplied by MusixMatch, a music data company that specializes in Lyrics Display, Synchronized Lyrics, and other lyrics management tools.
Users can access Spotify lyrics on tablet, mobile, desktop, SpotifyTV app and web player. Lyrics may not be available on all songs. New lyrics are added every day, so you may find it added in the future.
Spotify uses auto-scrolling song lyrics on its mobile and desktop apps. The auto-scroll feature highlights each lyric line in time with the song, making it easy for users to follow and sing along.
TIDAL paid members can access lyrics feature through the mobile, desktop, or web versions of TIDAL.
Social features
Both Spotify and Tidal support Profile, Public Playlists, followers and following. Profile feature lets users create a profile name and then publish their playlists, so that other listeners can enjoy their digital mixtapes. The feature also lets users follow "friends, family and favorite curators."
Users can find a profile in two ways: by searching for a specific Tidal Profile name in the 'Search' box, or through a profile link (select 'Copy Profile' on your profile page and then 'Share the link').
Spotify Friend Activity feature allows you to connect with Facebook to see what your friends are listening to, which is a great way to discover new music. You can also publish your new playlists on your profile, share your listening activity on Spotify or show your recently played artists on your public profile. Spotify's Blend feature lets you create a playlist that mixes your favorite songs with a friend's.
Related:
How to download TIDAL music to FLAC?
To download Tidal music to FLAC and play them anywhere you want, all you need is Pazu Tidal Converter, which allows you to download any Tidal songs, albums and playlists to M4A/MP3/AAC/FLAC/WAV/AIFF on your Mac and Windows. Follow below steps and learn how to download Tidal music to FLAC.
Download Tidal music to M4A/MP3/AAC/FLAC/WAV/AIFF.
Download Tidal music on Mac/Windows.
Keep Hi-Fi Audio Quality and ID3 tags.
Fast conversion speed.
1. Run Pazu Tidal Converter
Download, install and run Pazu Tidal Converter on your Mac or Windows, which features a built-in Tidal web player.
If you have purchased a license, click the key icon to register the converter. If not, continue using the trial version.
2. Log in your Tidal account
Follow the onscreen instructions to log in yout Tidal account.
3. Choose output format
The default output format is M4A. Pazu Tidal Music Converter also supports MP3, AAC, FLAC, WAV, AIFF. Click the Gear icon on the top right corner to change output format or output folder if you need.
You can also customize output song name with any combination of Title, Artist, Album, Track Number, Playlist Index.
4. Add TIDAL songs
Click any playlist you want to download.
Then click the red icon to load songs. All songs in the playlist will be added by default. You can uncheck the songs you don't want to get.
5. Start to download TIDAL to FLAC
Click Convert button to start downloading Tidal music to FLAC.
After conversion, click the folder icon to quickly locate the downloaded Tidal songs in the format you choose. You can then transfer and play it anywhere.