Best DJ apps for Apple Music
Songs from the Apple Music streaming service are not supported in third-party DJ apps. Files from this streaming service are DRM protected, and won't be playable in any other software, hence why these files do not show in DJ software unless you purchased and downloaded them.
However, finally there is a DJ app that is compatible with Apple Music and allows you to listen to seem-less mixing of my Apple Music DRM content – Mixonset for iOS picks the best fade-in and fade-out points, then seamlessly transitions automatically between tracks. Since most songs are too long, Mixonset plays the best 25-50% of a song as a highlight. Swipe to the queue page and you'll see that the song order has already been optimized for you.
Mixonset
The Mixonset AI DJ app for iPhone and iPad is compatible with Spotify, SoundCloud Free, Apple Music, and TIDAL. Its user-friendly and smooth interface allows your Spotify DJ app to create a personalized party experience wherever you are.
The music mixing app, with its Smart Mix feature, expertly combines your preferred songs, artists, and playlists, enabling you to seamlessly shorten tracks with professional transitions similar to those of a DJ. Moreover, you can explore fresh music daily, as the app suggests new songs that seamlessly integrate into your queue.
Currently Mixonset is the only DJ app that is compatible with Apple Music songs – 80% of songs in popular playlists. Mixonset Pro costs $4.99/month or $39.99/year.
Below DI apps only supports purchased & downloaded iTunes/Apple Music streams. However you can convert Apple Music songs to MP3 and then DJ.
1. djay
for Mac, iPad, iPhone, Android, Windows
djay offers a comprehensive DJ software solution for DJs of all levels. This software seamlessly merges with your music library, granting you immediate access to a vast collection of tracks. Whether you're performing live, recording mixes on the fly, or utilizing Automix mode, djay caters to your needs. It's an excellent choice for both casual and mobile DJs. Additionally, djay Pro is tailored for professional DJs, providing advanced features for their craft.
Does Apple Music work with djay?
If you've purchased and downloaded music on your iPhone, iPad, or Mac computer, then you can use djay's Music app integration to easily access your music in djay's music library. djay offers the option to browse your music library by Playlist, Artist, Album, Genre, Key, and more.
Unfortunately, djay, is not compatible with Apple Music, Apple's music streaming service. This is due to the DRM protection on the music available through the streaming service. Similarly, songs downloaded from Apple Music onto your device are also DRM-protected and cannot be played in apps like djay.
Related: How to use Apple Music with djay?
2. rekordbox
For Windows, Mac, mobile
Playable music file: ALAC, FLAC, WAV, AIFF, MP3, AAC
Rekordbox DJ is a well-known piece of DJ software that is meant for organizing one's music library, creating playlists, and preparing tracks to be exported to a USB drive. It can also be used for performing live with a dedicated Pioneer DJ controller. Editing and creating playlists is what rekordbox DJ is great at, however, it goes beyond that. The software can be set up to auto-sync with your iTunes playlists, as well as your storage devices.
Songs from Apple Music catalog are in DRM protected file formats and are not supported by rekordbox.
3. TRAKTOR DJ
For Windows, Mac, iPad
SUPPORTED AUDIO FORMATS
MP3, WAV, AIFF, Audio CD, FLAC, Ogg Vorbis, non-DRM AAC
For over two decades, TRAKTOR has led the way in digital DJing, offering unmatched sound quality and seamless control over your preferred tracks. With precise beat-matching, time stretching, and modern effects, TRAKTOR empowers you to mix, remix, and craft creative sets that elevate your DJing game.
The TRAKTOR software lineup features options for all levels, from the beginner-friendly TRAKTOR DJ 2, to the advanced TRAKTOR PRO 3, as well as TRAKTOR LE 3 and TRAKTOR PRO Plus for added versatility.
Related: How to import Apple Music to Traktor DJ Software?
4. Serato DJ
For Windows, Mac
For several years, Serato has been a prominent figure in the digital DJ market, offering two software versions: Serato DJ Pro and Serato DJ Lite (formerly known as Serato Intro). Originally aimed at replicating the traditional vinyl DJing experience, Serato DJ has evolved to embrace both controllerism and turntablism.
This software empowers DJs to mix music on up to four virtual decks, dependent on their hardware and setup. Over time, it has expanded to include various performance modes that have evolved from basic effects to encompass sampler options and the ability to stream music from diverse platforms such as Soundcloud, Tidal, Beatport Link, and Beatsource.
Serato DJ can import your Apple Music library allowing you to play your iTunes music and access playlists. To enable this feature go to the Setup screen, open the Library + Display tab and check the Show iTunes library box.
Files from the Apple Music streaming service are not supported in Serato DJ Pro or Serato DJ Lite.
5. Virtual DJ
For Windows, Mac
VirtualDJ 2023 brings DJing to a new level with advanced technology and modern computing power. This version lets you mix different parts of your tracks in real-time – vocals, instruments, kicks, hihats, and more. This innovation unlocks fresh mixing possibilities previously impossible, changing how DJs perform forever.
VirtualDJ is designed for both beginners and pros. It offers smart DJ tech and easy-to-use features, perfect for new DJs to learn and enjoy. And if you're not using it professionally, it's free.
Real-time stem separation is a standout feature, allowing live mashups and smooth transitions. VirtualDJ 2023 redefines the norm for dynamic and creative DJ sets.
How to download Apple Music to MP3 for DJ apps?
It's a common understanding that Apple Music songs are safeguarded by DRM (Digital Rights Management) and can only be played within the Apple Music app or web player. Consequently, you cannot directly use songs downloaded from Apple Music in DJ apps, unless you have purchased those tracks.
An alternative approach involves converting Apple Music songs into DJ app compatible audio formats, such as MP3. To achieve this, we recommend utilizing Pazu Apple Music Converter, a popular tool for converting Apple Music for use in DJ setups.
Pazu Apple Music Converter lets you download any Apple Music songs, albums and playlists to MP3, AAC, WAV, FLAC, M4A, AIFF without any loss in quality. One of the distinguishing features of Pazu Apple Music Converter is that it can download and convert Apple Music at a really fast speed — almost 10 times faster than any other similar software. It is integrated with the Apple Music web player, so you can batch convert any Apple Music playlist or album to the format you choose without iTunes app. The following tutorial will show you how to download Apple Music to MP3 and get Apple Music for free.
Step 1 Launch Pazu Apple Music Converter
Download, install and run Pazu Apple Music Converter on your Mac or Windows.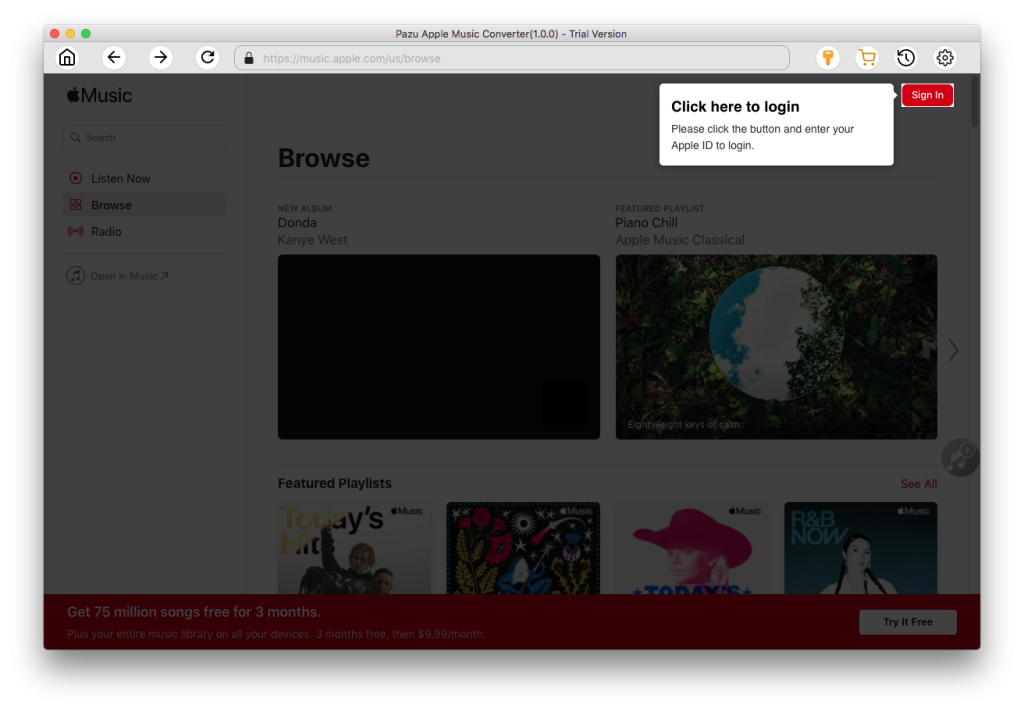 Step 2 Choose output format
The default format is M4A in 256kbps. Apple Music Converter also supports MP3, AAC, FLAC, WAV and AIFF. Click the gear icon if you want to change output format or output folder.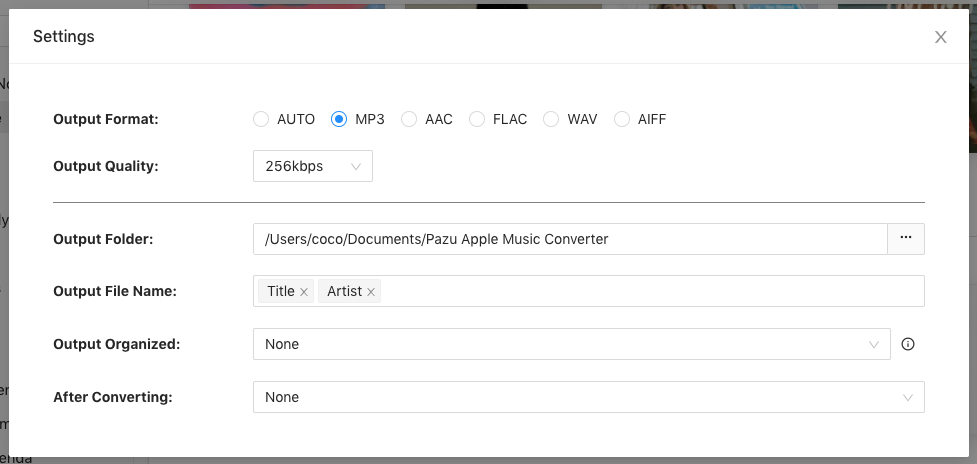 Step 3 Choose a playlist, artist or album you want to download
Follow the on-screen instructions to choose a playlist, artist, or album that you want to download.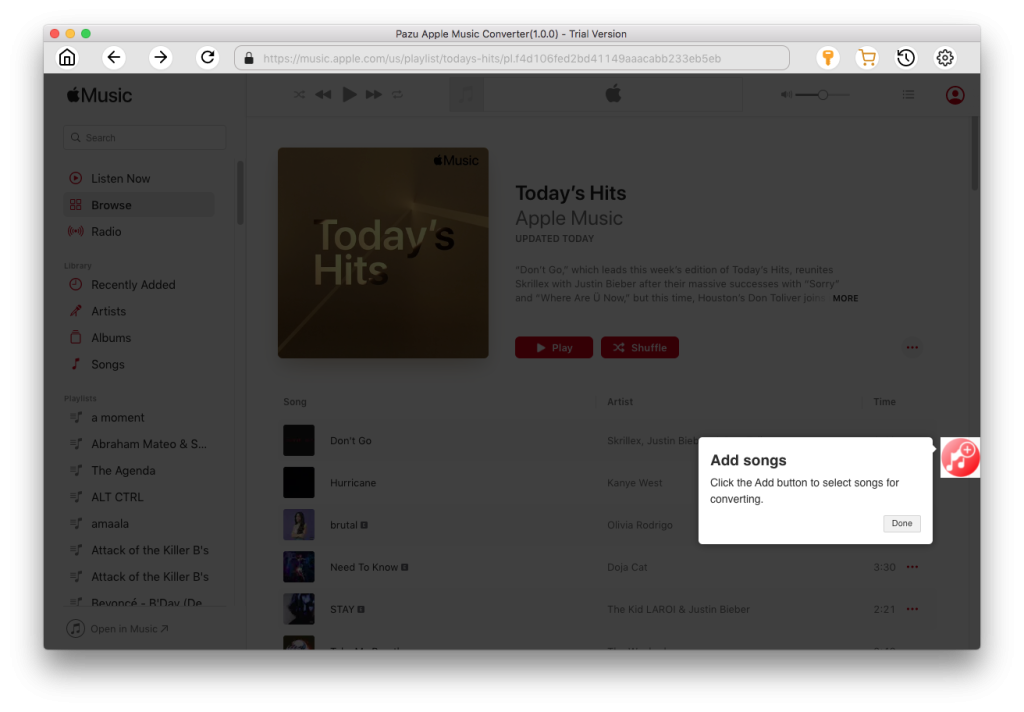 Step 4 Start to download Apple Music songs
Click "Convert" button to start downloading Apple Music songs, albums and playlists to mp3, so you can add them to your DJ app as local songs.