Apple Music Converter
Best Apple Music Converter
Read this guide to understand how to convert Apple Music to mp3 so that you can play tracks from your Apple Music app on traditional mp3 players.
Apple Music is a popular audio streaming platform that many iOS users use to listen to their favorite tracks on an iPhone/iPad. It comes with 75 million tracks, which means you'll find songs for every situation. But, despite having an extensive audio library, Apple Music comes with a few limitations.
For instance, the app is only available for iDevices. This means if you don't have an iPhone or iPad, you won't be able to install Apple Music on your device at all. Moreover, since all the content on Apple Music is DRM-protected and available in dedicated "M4P" format, you won't be able to directly play Apple Music files on traditional mp3 players.
This is when an Apple Music Converter comes into the picture. These tools are specifically tailored to help iOS users remove DRM protection from Apple Music and convert M4P files to mp3. After the files are successfully converted, you can transfer them to any mp3 player, be it the Sony Walkman or even your Android device.
In this article, we are going to talk about Pazusoft Apple Music Converter, a professional tool that'll help you convert songs from Apple Music to mp3 on your macOS and Windows systems.
So, without wasting another second, let's get started.
Why Can't Apple Music Be Played on Mp3 Players?
Before proceeding further, let's first understand why it's impossible to play Apple Music files on mp3 players without the conversion. The truth is all the songs on Apple Music are DRM-protected, which means users can't play them on other devices. To play songs in Apple Music, you'll need an authorized iPhone or iPad along with the premium subscription of the app.
Note: If you don't know, DRM stands for Digital Rights Management. It's a digital technology that's used by many streaming platforms such as Apple Music, Audible to protect their digital content from unauthorized distribution. DRM uses special encryption techniques to restrict users from playing the content on every device. And, to decrypt the Apple Music content, you'll need a compatible iOS device and a premium account of Apple Music.
That's the reason why people are always looking for professional Apple Music Converters that can help them convert Apple Music to mp3 files.
Pazusoft Apple Music Converter - A Complete Solution to Convert Apple Music to MP3
Now, even though you'll find different music converters in the market, not all of them will deliver the same results. After testing several tools, we came to the conclusion that Pazusoft Apple Music Converter is the most reliable application that you can use to convert Apple Music to mp3.
It's a cross-platform application that can be installed on both macOS and Windows PC. The tool is designed to help users convert Apple Music to different formats. Pazusoft Apple Music Converter supports multiple file-formats including mp3, M4A, AC3, AAC, etc. So, it doesn't matter if you want to play the songs on a Sony Walkman or your Android smartphone, Pazusoft will help you convert the files to the desired format without any hassle.
Apart from converting Apple Music, you can also use Pazusoft Apple Music Converter to convert DRM-protected iTunes M4P songs and Audible AAX audiobooks to mp3. Like the Apple Music files, Pazusoft will remove the DRM-protected from these files and you'll be able to play them on any mp3 player you want.
Another crucial benefit of using Pazusoft Apple Music Converter is that it'll allow you to save the ID tags and metadata of all the converted songs. This will be extremely useful if you're trying to convert multiple songs at the same time and want the process to be as smooth as possible. It'll become way easier to find the desired files after the conversion process completes by saving the metadata information.
Here are a few additional features of the Pazusoft Apple Music Converter that make it a reliable tool to convert Apple music to mp3 files.
Remove Apple Music DRM-protection and convert M4P files to mp3
Supports multiple output formats including mp3, AAC, AC3, M4A, FLAC, etc.
Compatible with both Windows and macOS
Sync With your iTunes/Apple Music library
Convert Apple Music without losing the ID tags and metadata information
Convert iTunes M4P songs and Audible Audiobooks to mp3
Preserve the original audio quality while converting the files
Customize Profile Settings of the Song as per your preferences
Fast Conversion Speed
Save Apple Music offline and play them anywhere without the premium subscription
How to Convert Apple Music to Mp3 Using Pazusoft Apple Music Converter
So, here's the detailed step-by-step process to convert your favorite audio tracks in Apple Music to Mp3.
Step 1 Launch Pazu Apple Music Converter
Download, install and run Pazu Apple Music Converter on your Mac or Windows.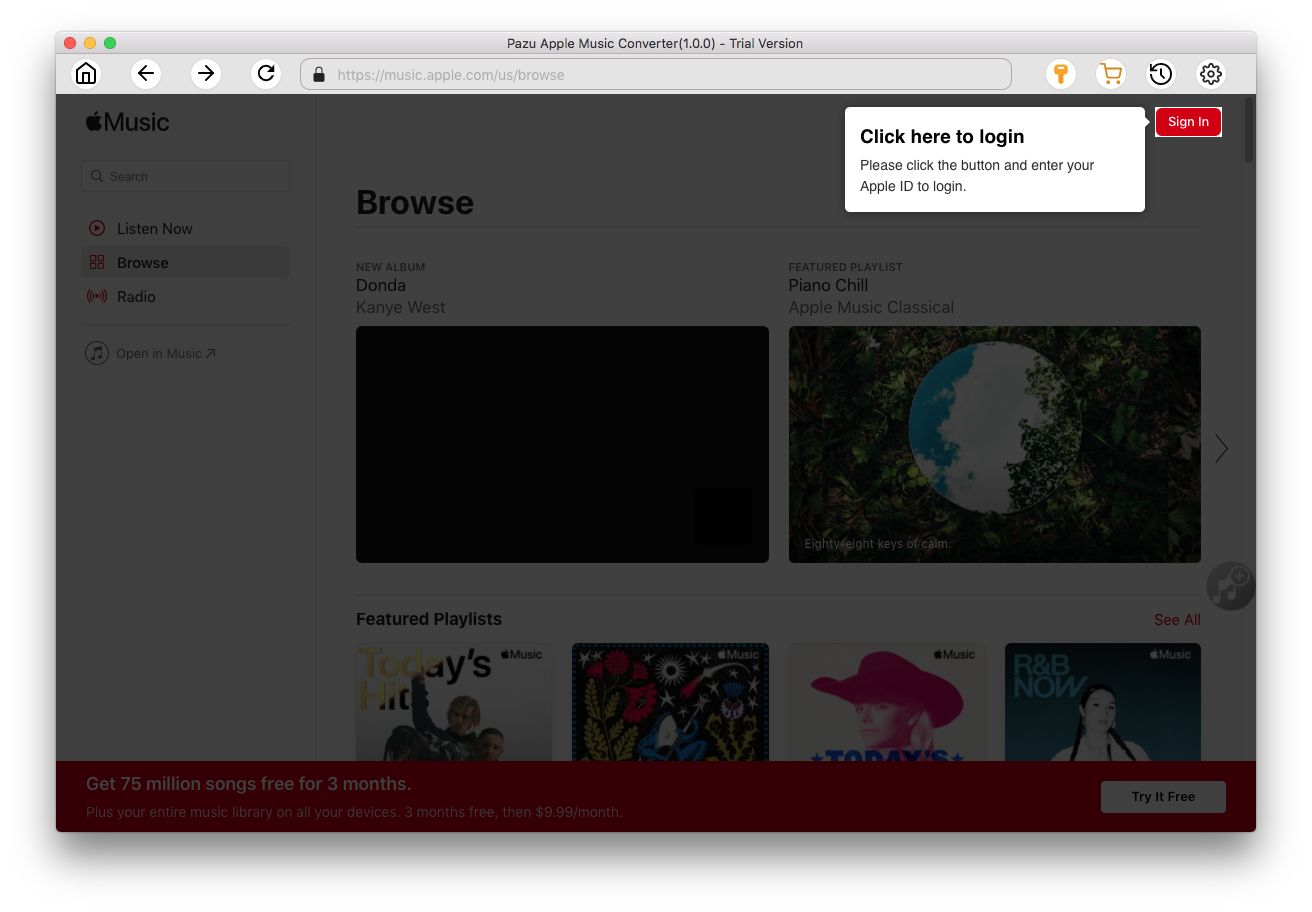 Click the key icon to activate the full version if you have purchased a license, otherwise you can only use the trial version.
Step 2 Log in your Apple Music account
Follow the on-screen instructions to sign in with your Apple ID.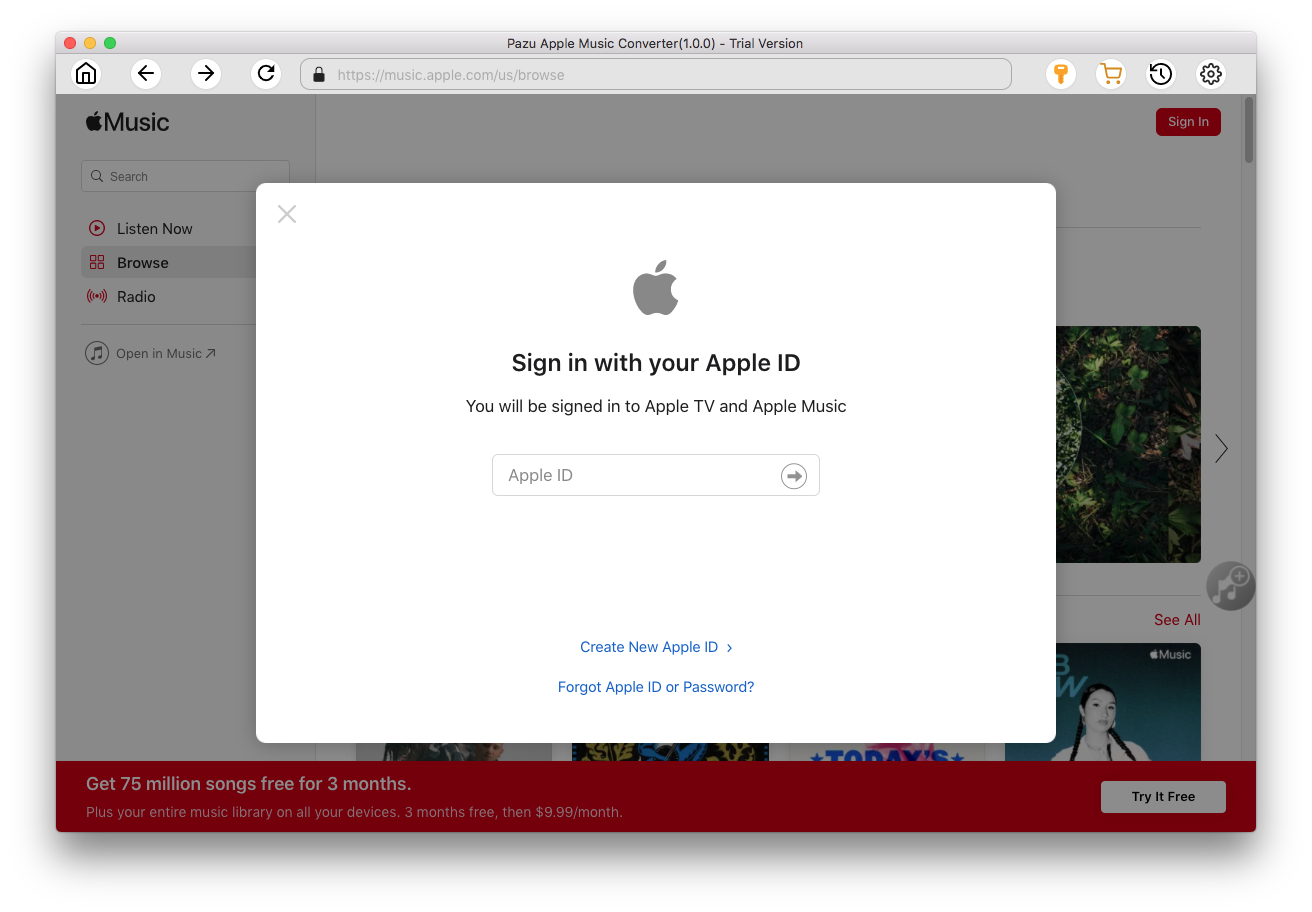 Step 3 Choose output format
The default format is M4A in 256kbps. Apple Music Converter also supports MP3, AAC, FLAC, WAV and AIFF. Click

icon if you want to change output format or output folder.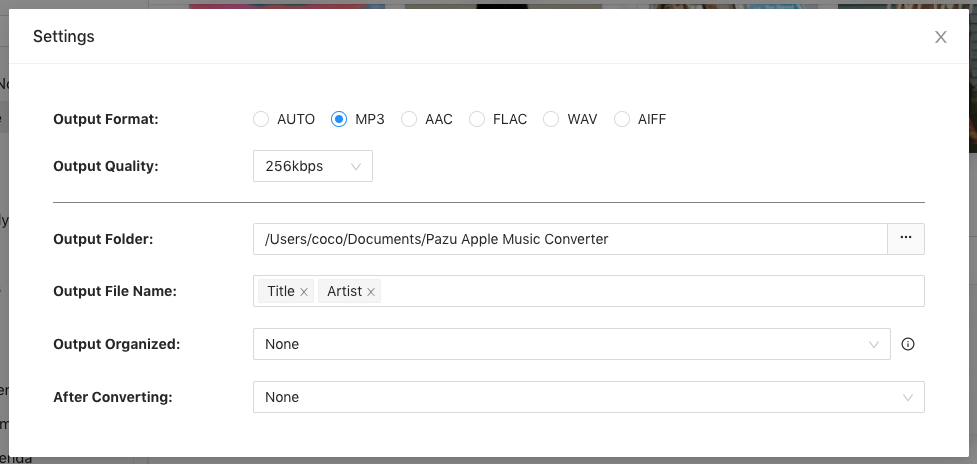 Here you can also customize song name format with any combination of Playlist Index, Track Number, Title, Artist and Album.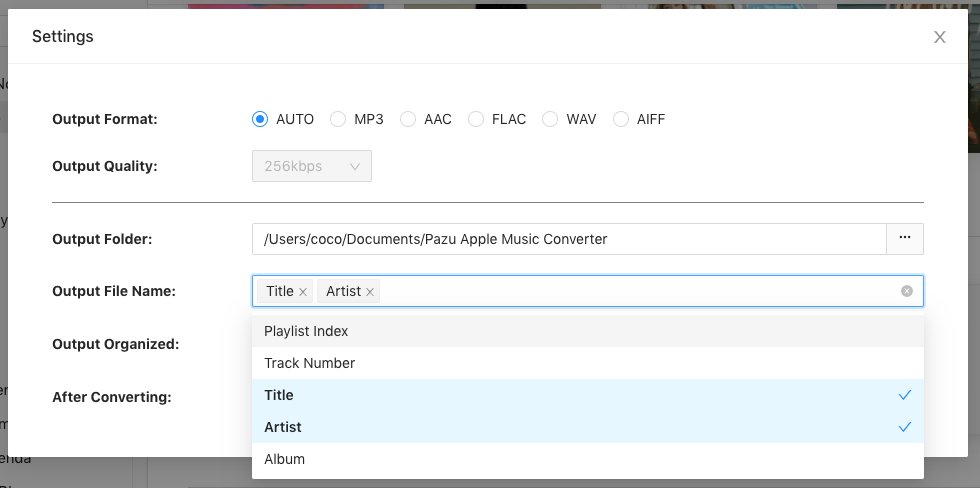 Or set Pazu Apple Music Converter to archive output song with Artist, Album, Artist/Album or Album/Artist.
Step 4 Choose a playlist, artist or album you want to download
Follow the instructions to choose a playlist, artist, or album that you want to download.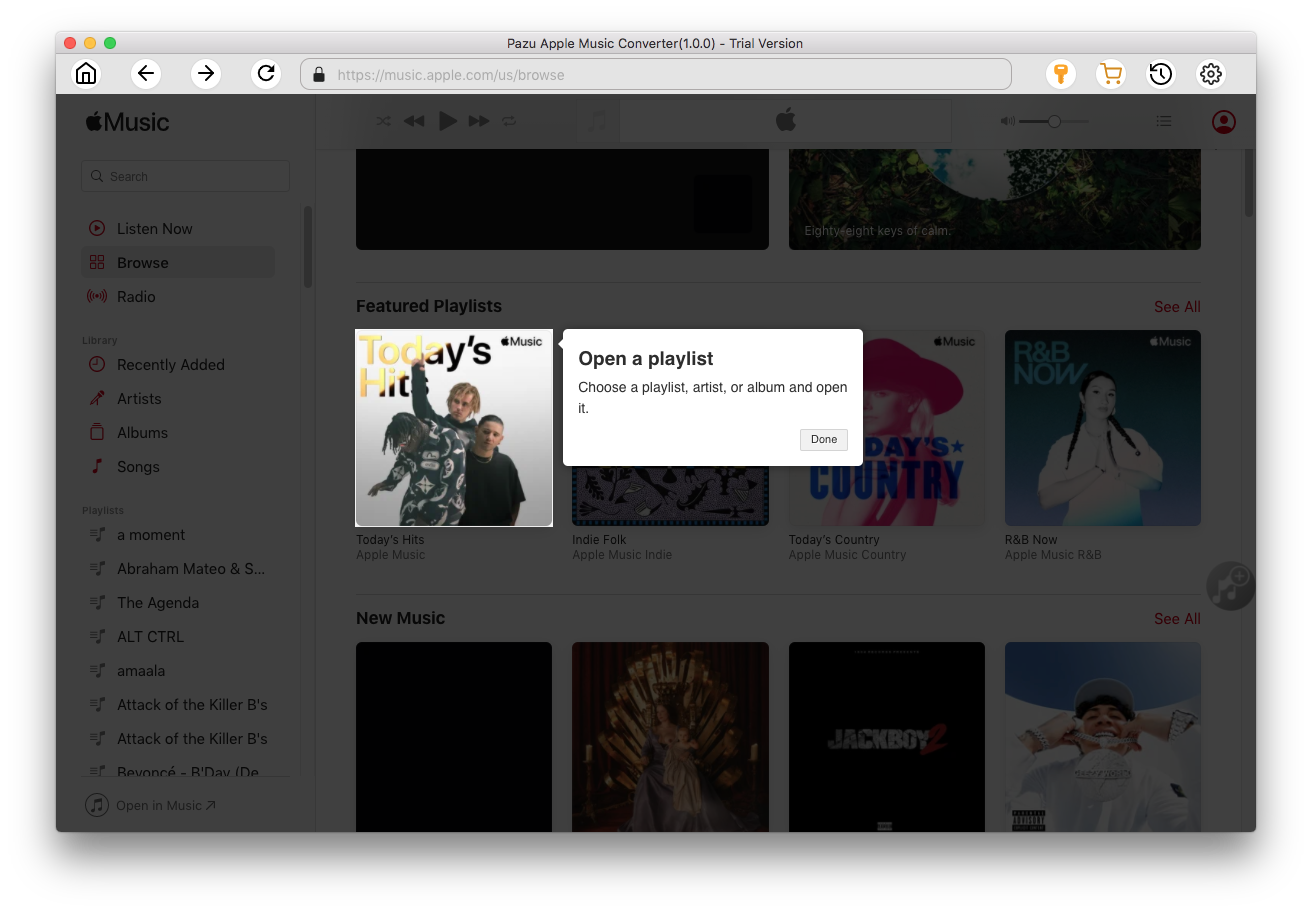 Step 5 Add songs
Click the Add button to select songs for converting.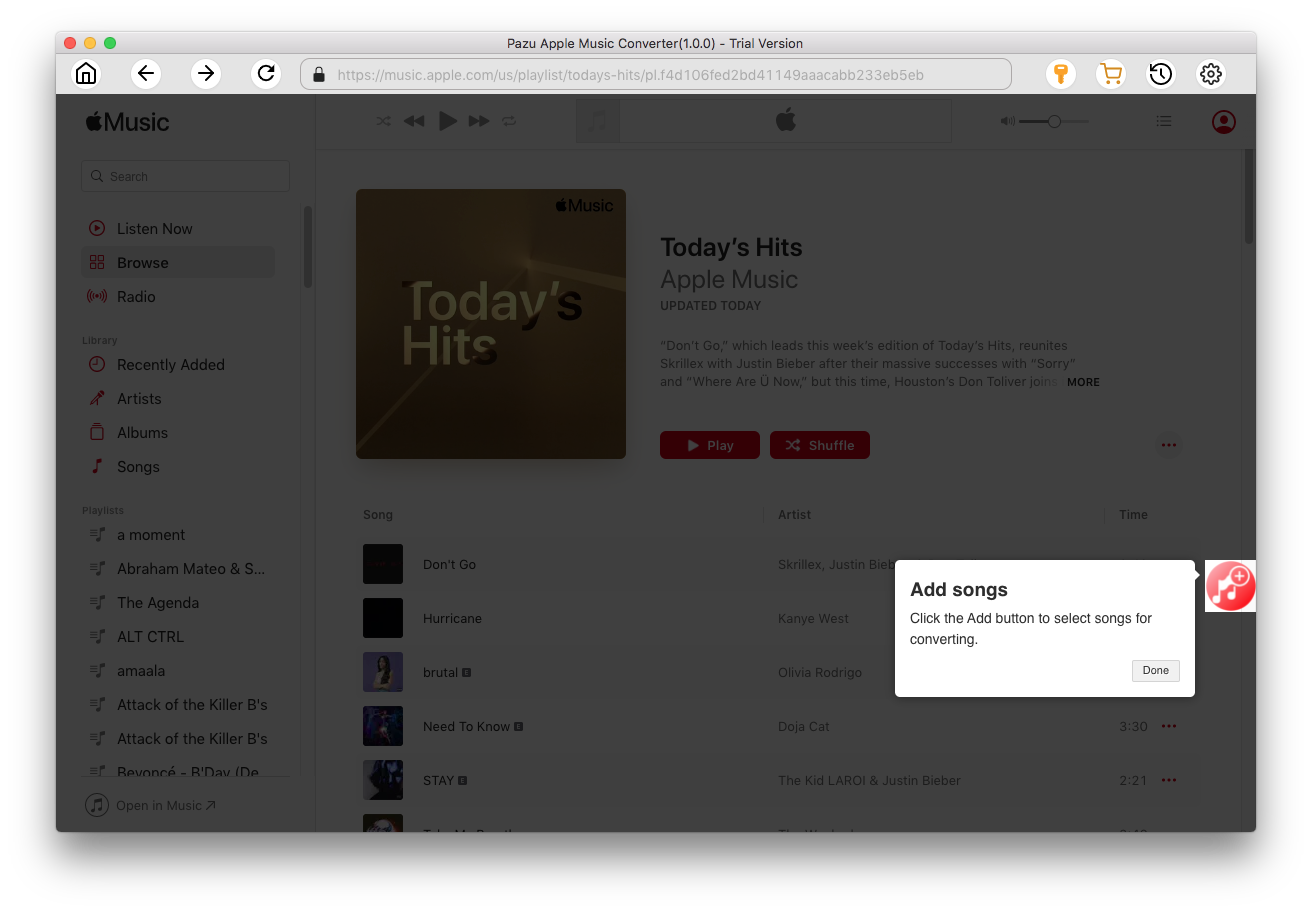 All songs in the playlist or album are selected by default. Uncheck the songs you don't want to download if there are any, then click Convert button.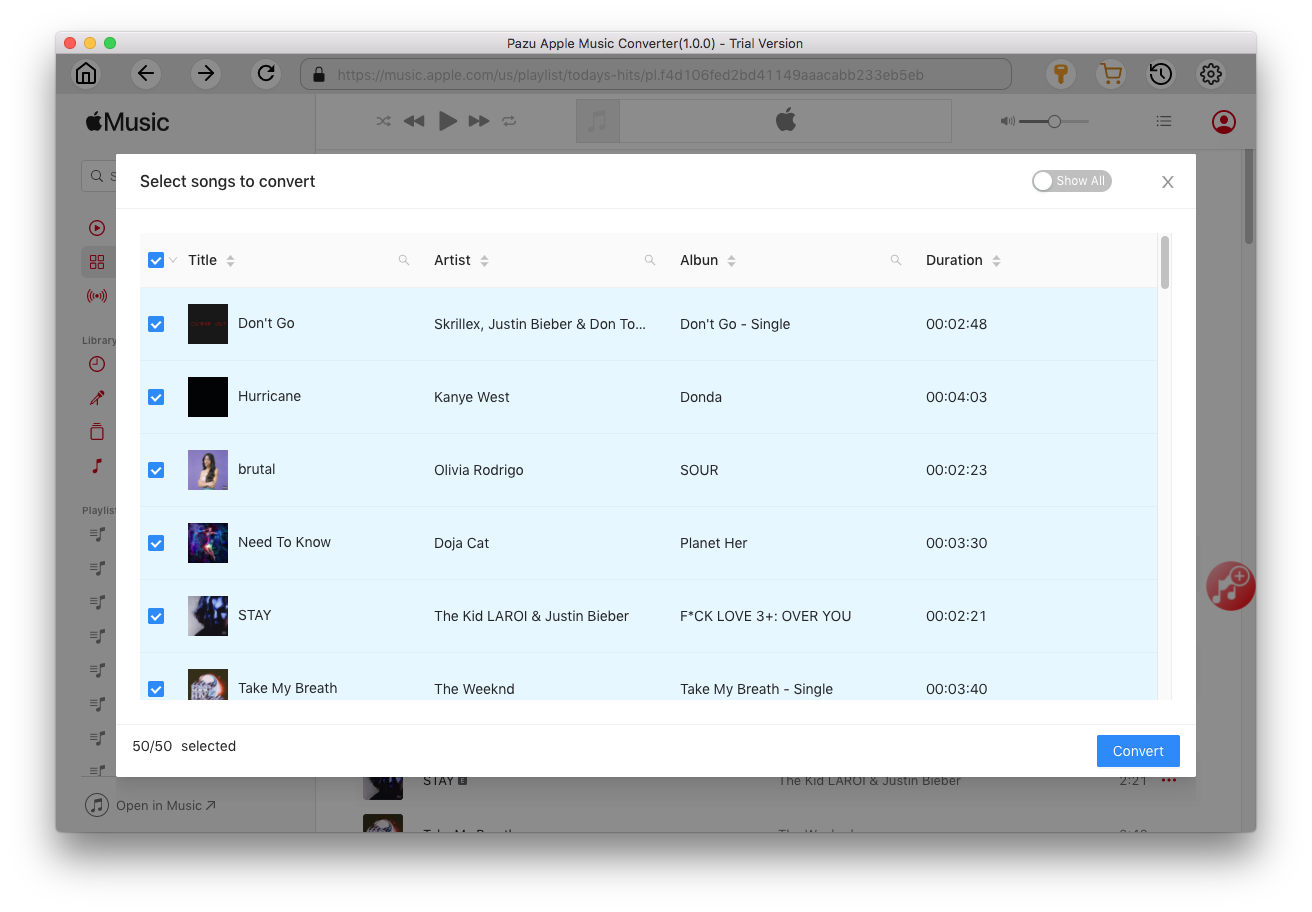 If you are using the trial version, you will get below pop-up window indicating trial version limitations, just click Try if you haven't purchased a license.
The songs you selected will be downloaded to the format you want.
After conversion, click

to quickly locate the DRM-free Apple Music songs.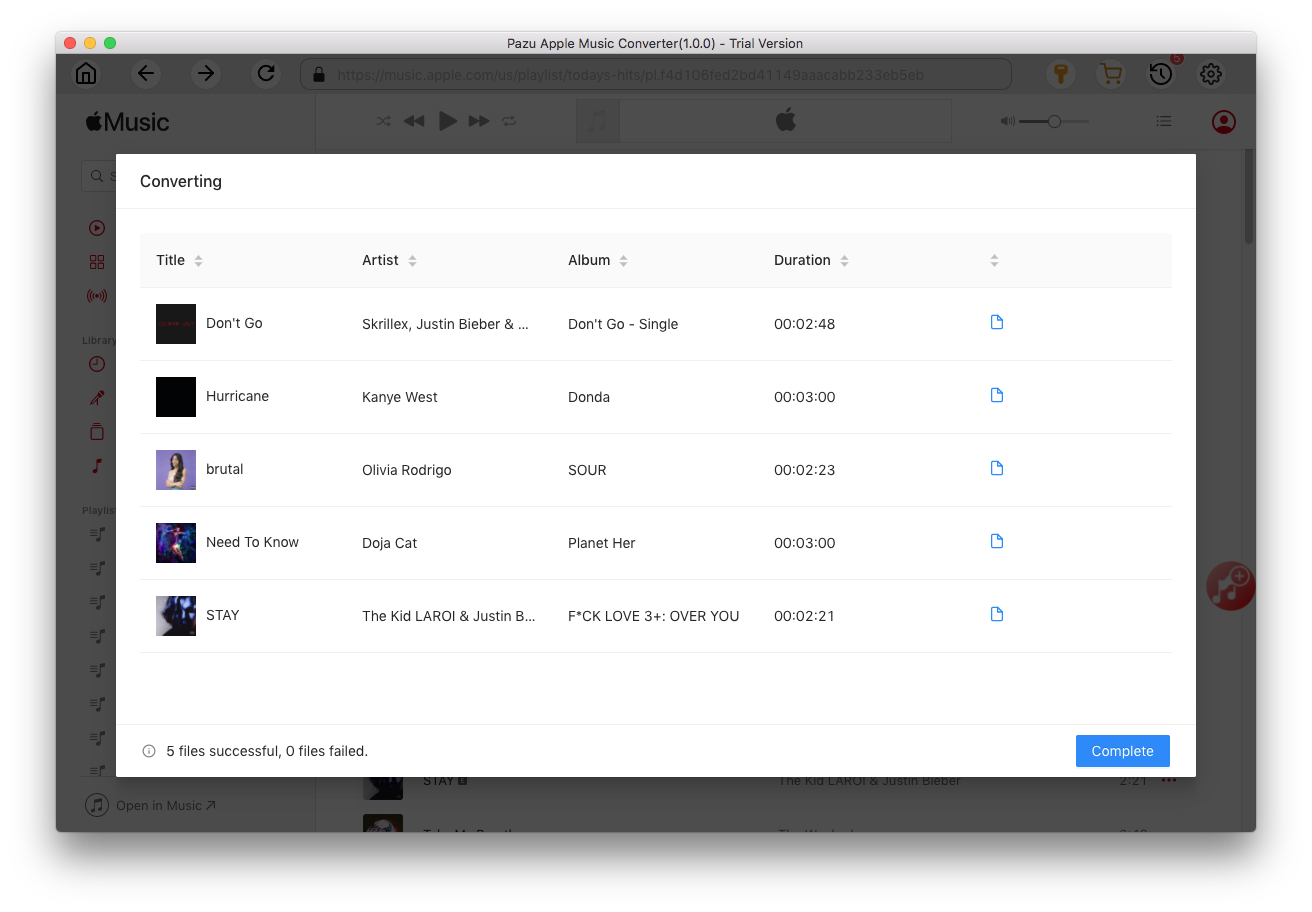 Click
to view all downloaded songs. You can check them by converted date, artist or album.