How to Set Apple Music Equalizer
---
EQ or equalizer is a very overlooked feature of Apple Music on the iPhone, iPad and Mac. If you are not satisfied with the sound being delivered out of your built-in speaker, you can alter it using Equalizer. With the music equalizer, you can fine-tune specific frequencies of the sound spectrum. You can customize the sound for different genres, rooms in your home or specific speakers. You can choose from more than 20 presets of the most commonly used equalizer settings, or adjust the settings manually and save your customized settings as a preset that you can use again.
Because everyone's taste is different, you can use Equalizer to customize sound to your like. Here in this article, we will show you how to set up Apple Music Equalizer settings. Since there are hundreds of music equalizer apps on the App Store, choosing the perfect one is a daunting task. We'll also share five of the best and free EQ apps for iPhone you can utilize to enhance your music listening experience.
---
Part 1 How to Set Apple Music Equalizer on Mac?
Use the Music equalizer
1. In the Music app on your Mac, choose Window > Equalizer.
2. Do one of the following:
Choose a preset option from the pop-up menu.
Drag the frequency sliders (also knowns as faders) up or down to increase or decrease the volume of a frequency (in decibels).
The equalizer's settings apply to all songs until you change the settings, except for songs that have equalizer presets assigned to them.
3. Select On to turn on the equalizer.
The equalizer window: The tickbox to turn on the Music equalizer is in the top-left corner. Next to it is the pop-up menu with the equalizer presets. On the far left side, adjust the overall volume of frequencies with the preamp. Below the equalizer presets, adjust the sound level of different frequency ranges, which represent the spectrum of human hearing from lowest to highest.
Create your own equalizer presets
1. In the Music app on your Mac, choose Window > Equalizer.
2. Drag the sliders to adjust the frequency settings.
3. Choose Make Preset from the pop-up menu and name your preset.
To rename or delete a preset, choose Edit List from the pop-up menu.
Choose equalizer presets for specific songs
1. In the Music app on your Mac, select a song in the Music window.
2. Choose Song > Info, then click Options.
3. Choose a setting from the equalizer pop-up menu.
To choose presets for other songs, use the Next button or the Previous button in the bottom-left corner.
4. Click OK.
The equalizer preset you chose applies to the song whenever you play it.
Adjust the Sound Enhancer
The Sound Enhancer increases the perceived "wideness" of the stereo effect by modifying bass and treble response.
1. In the Music app on your Mac, choose Music > Preferences, then click Playback.
2. Make sure Sound Enhancer is selected.
3. To increase or decrease the effect of the Sound Enhancer, drag the slider.
How to Change the Way Music Sounds on iPhone with Equalizer?
1. Open the Settings app on your iPhone.
2. Swipe down in the setting screen, then tap Music.
3. Tap EQ on the next sub-setting screen page.
4. Tap on one of the equalizers provided.
Part 2 How to Set Apple Music Equalizer on iPhone & iPad?
Access the Settings app on your iPhone or iPad.

Scroll down and locate the Apple Music option.

Keep scrolling and tap on EQ, which will direct you to the EQ settings page.

If you haven't previously configured EQ for Apple Music on your device, it will be deactivated by default. On the EQ page, explore the various options available for different music genres. It's recommended to listen to a song while adjusting the EQ settings to hear the impact of each selection on its sound.

Experiment with the settings until you discover the ideal one for the song you're currently playing or for the genre you typically enjoy streaming on Apple Music.
The Apple Music equalizer for iPhone/iPad differs from the Mac version as it only provides custom presets without the option to manually customize the sound effects individually. If you want to get more equalizer settings, use third-party equalizer apps to customize your audio sound.
Part 3 Top 5 Equalizer Apps for iPhone & iPad
1. Boom: Bass Booster & Equalizer
The Boom App redefines the way you listen to music with Bass booster, a customizable 16-band equalizer & handcrafted presets. You can also experience the magic of 3D surround sound and feel your tunes come to life on any headphones.
Features:
• 3D Surround Sound: Patented technology
• Bass Booster: Amp-up your music
• 29 Handcrafted EQ Presets: Dubstep, pop & many more presets.
• 8 or 16-band Custom Equalizer
• Stream Spotify & TIDAL with Boom
• Stream 40K Radio Stations and Podcast Worldwide
• Multiple Library Access: Access phone music and music stored on Dropbox & Google Drive too!
• Files support - To access songs stored on your phone or other cloud storage services such as OneDrive.
1. Download and install Boom: Bass Booster & Equalizer on your iOS or Android device. Open the app and tap the three-lines icon located in the top left corner. Select iCloud Music from the menu.
2. Your Apple Music library, including songs, albums, and playlists, will be displayed. Choose the desired songs you wish to play.
3. Tap the equalizer icon located in the bottom left corner of the screen.
4. From here, you can select preset equalizer settings that best suit your preferences.
5. Alternatively, you can tap on the "Create" option to customize the equalizer settings according to your specific preferences.
2. Equalizer + HD music player
Equalizer+ is an all-in-one music player. It offers brilliant sound quality, automatically optimized depending on the headphones used. Access your entire music library: iTunes, Google Drive, and Dropbox with offline mode - no wifi needed!
Quality-focused, Equalizer+ makes it possible for you to mix, edit and customize the sound of your tracks to ensure an optimal music listening experience. Adjust songs that have too much or too little highs and lows, boost your bass to give more depth to your tracks, play your playlists like a DJ with the special DJ transitions, watch your sound pulse to the beat of the music...
Features:
• 7 band equalizer ranging from bass to high
• 10 equalizer presets based on music genres (Flat, Pop, Rock, Electro, Dance, R&B, Hip hop, Jazz, Acoustic, Classical)
• Spectral representation of the sound: watch your sound pulse to the beat of the music thanks to awesome visualizers
• Airplay compatibility: dedicated view for the visualizers, watch your sound move on your tv!
• Queue system: prepare your tracklist in advance
3. Equalizer Fx: Bass Booster App
The app comes with 15+ equalizer presets to choose from and customize audio effects the way you want. Furthermore, you can also create your own mix of EQ settings and save them on your iPhone. With a built-in bass tuner, 7 band equalizer settings, music player with graphic visualizers, and thousands of positive reviews, this is one of the best equalizers for iPhone. Its equalizer settings for bass boosting songs and sound booster can create the perfect surround sound system.
Features:
• Powerful bass boosting effects
• 7-band EQ with Dj transitions
• Elegant music visualizers
• Create custom preset
• Access cloud music & play offline
• Play music in background
• Equalizer presets : Acoustic, Bass Booster, Bass Reducer, Flat, Classical, Hip Hop, Rock, Latin, Pop etc.
4. Equalizer — Music Player
The application supports a huge range of audio and video formats. 10 band equalizer as well as professionally selected sound effects available in the app equalizer. You can add music from the cloud and network services as well as music from your library.
Features:
• 10 band equalizer settings
• 20+ presets
• Sound visualization
• Background music player
• Cloud import songs
• Brightness and loudness control by gestures
5. Music Player X Audio Equalizer
MPX the Equalizer that works with your Music. Designed for your iTunes library. Music EQ Bass & Volume Booster for your speakers and headphones.
Simplify and enhance the quality of your music listening experience daily with the Music Player X, the light-weight and functional music player designed for your music library. Delight in an intuitive UI, superior equalizer, crossfade transitions, and experience music in its best form.
Features:
• 5 band equalizer options
• 3D Audio FX with custom frequency and radius
• Customizable theme color palette & text size
• Music management: make playlists, organize songs by albums, genres, artists
• Search for songs: find specific songs by keyword
How to play Apple Music with third-party Equalizer app without Problems?
Now you can listen to Apple Music with freely equalized sound effects through the 5 Equalizer apps. However, when you attempt to use some of the above apps, the following warning messages may appear:
Effects cannot be applied to Apple Music as they are DRM protected files.
For copyright reasons, Apple Music does not allow us to let you load these tracks.
Don't worry, to fix the above errors, you can remove DRM protection from Apple Music songs and convert your music files to non-DRM files.
Pazu Apple Music Converter is the effective solution to remove DRM from Apple Music. It allows you to download Apple Music songs/albums/playlists to M4A, MP3, AAC, FLAC, WAV, AIFF so you can play them anywhere you want. Pazu Apple Music Converter downloads songs at 10X faster speed without iTunes/Music app. The downloaded songs will keep 100% original quality and contain all ID3 tags.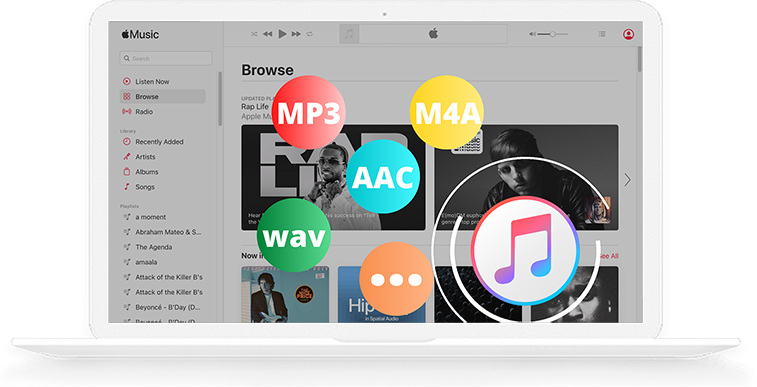 Download Apple Music to MP3, M4A, etc.
Preserve 100% original quality.
Keep all ID3 tags.
Fast download speed.
Step 1 Launch Pazu Apple Music Converter
Download, install and run Pazu Apple Music Converter on your Mac or Windows.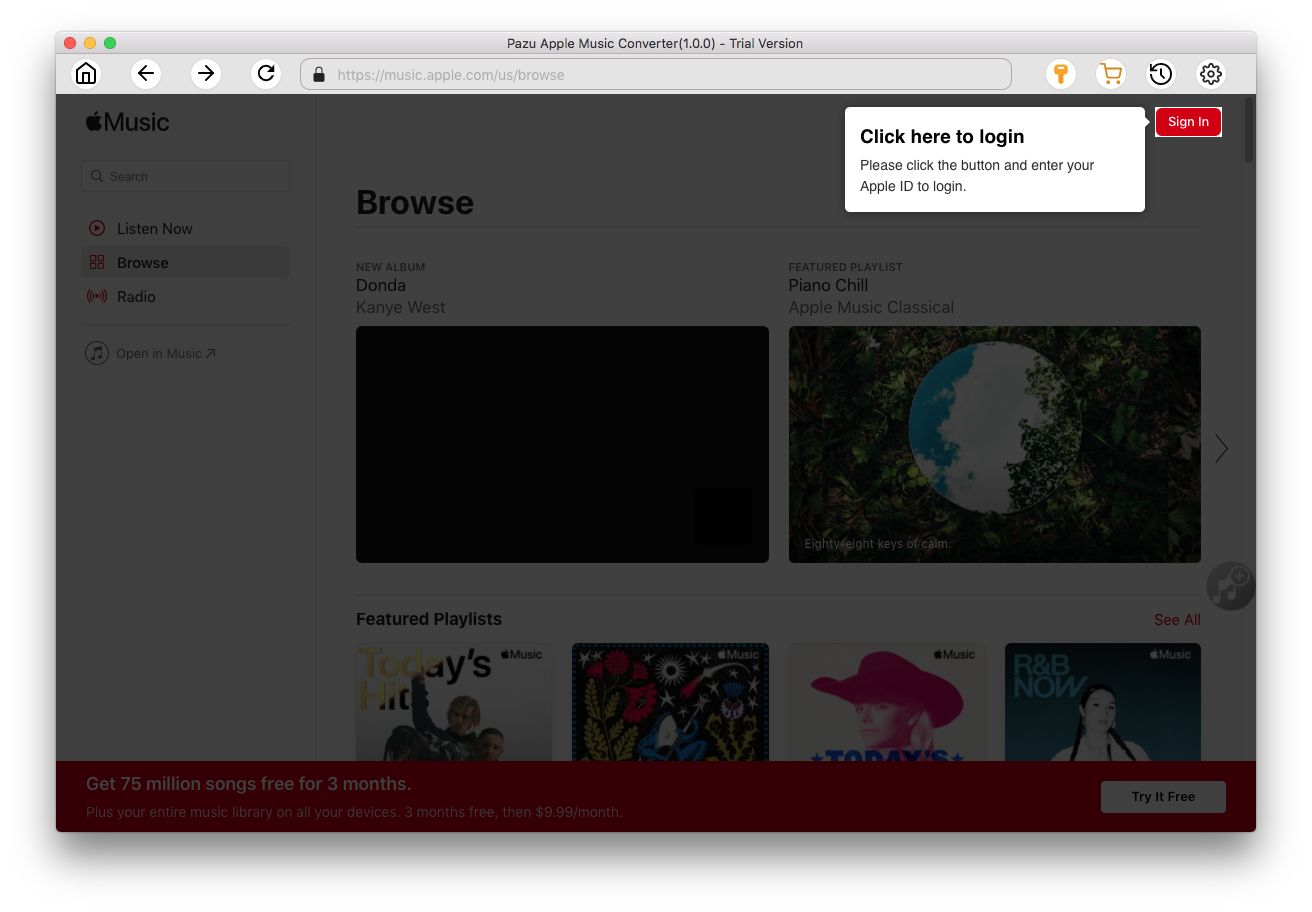 Click the key icon to activate the full version if you have purchased a license, otherwise you can only use the trial version.
Step 2 Log in your Apple Music account
Follow the on-screen instructions to sign in with your Apple ID.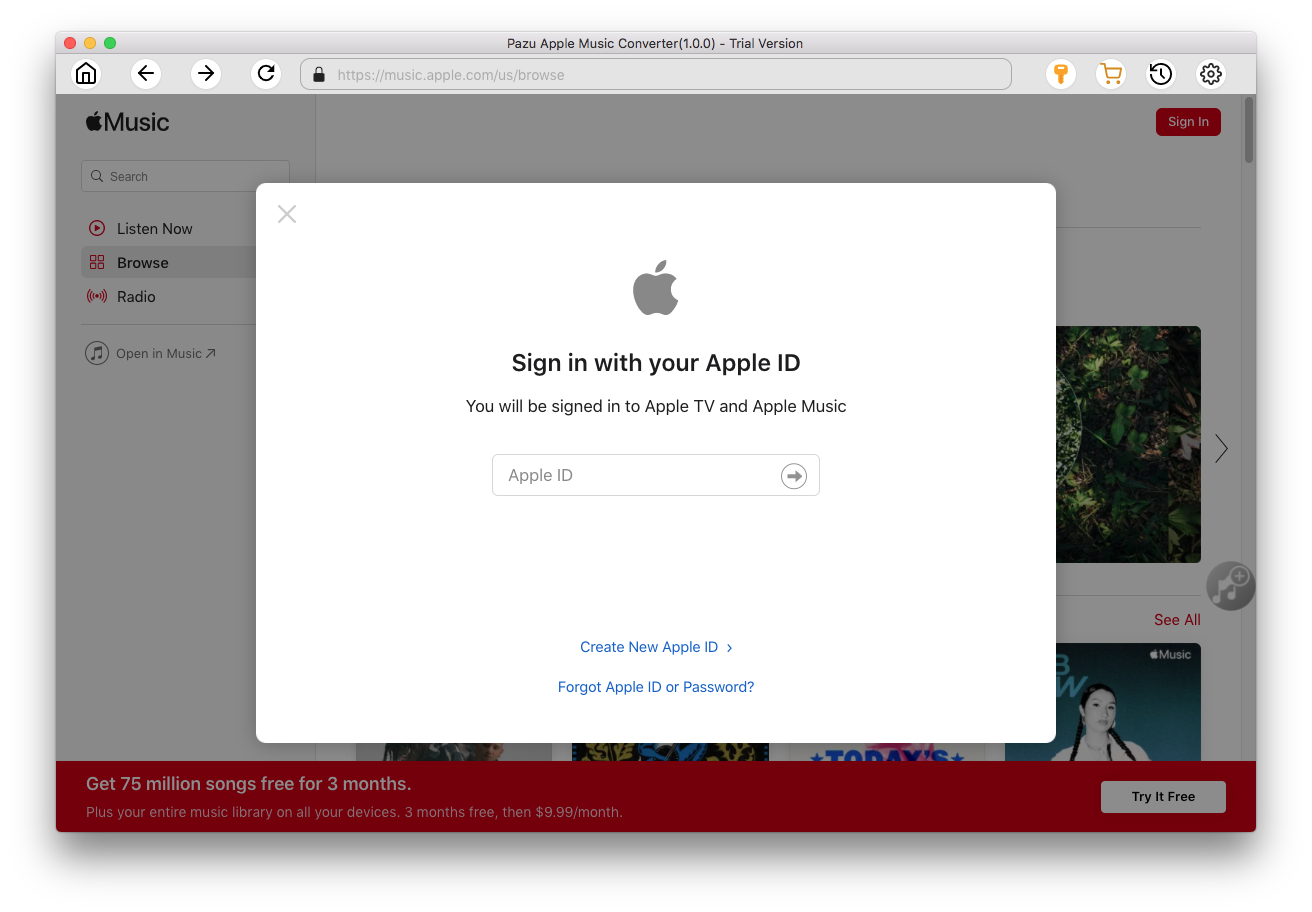 Step 3 Choose output format
The default format is M4A in 256kbps. Apple Music Converter also supports MP3, AAC, FLAC, WAV and AIFF. Click

icon if you want to change output format or output folder.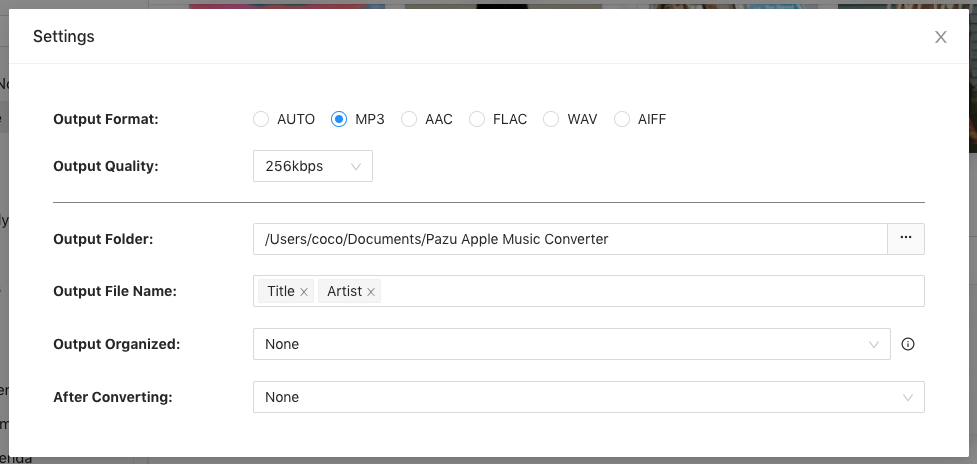 Here you can also customize song name format with any combination of Playlist Index, Track Number, Title, Artist and Album.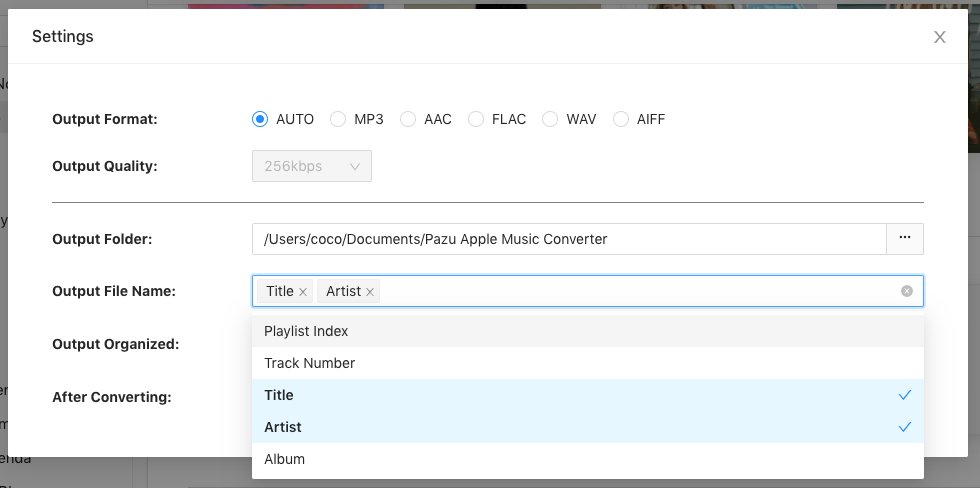 Or set Pazu Apple Music Converter to archive output song with Artist, Album, Artist/Album or Album/Artist.
Step 4 Choose a playlist, artist or album you want to download
Follow the instructions to choose a playlist, artist, or album that you want to download.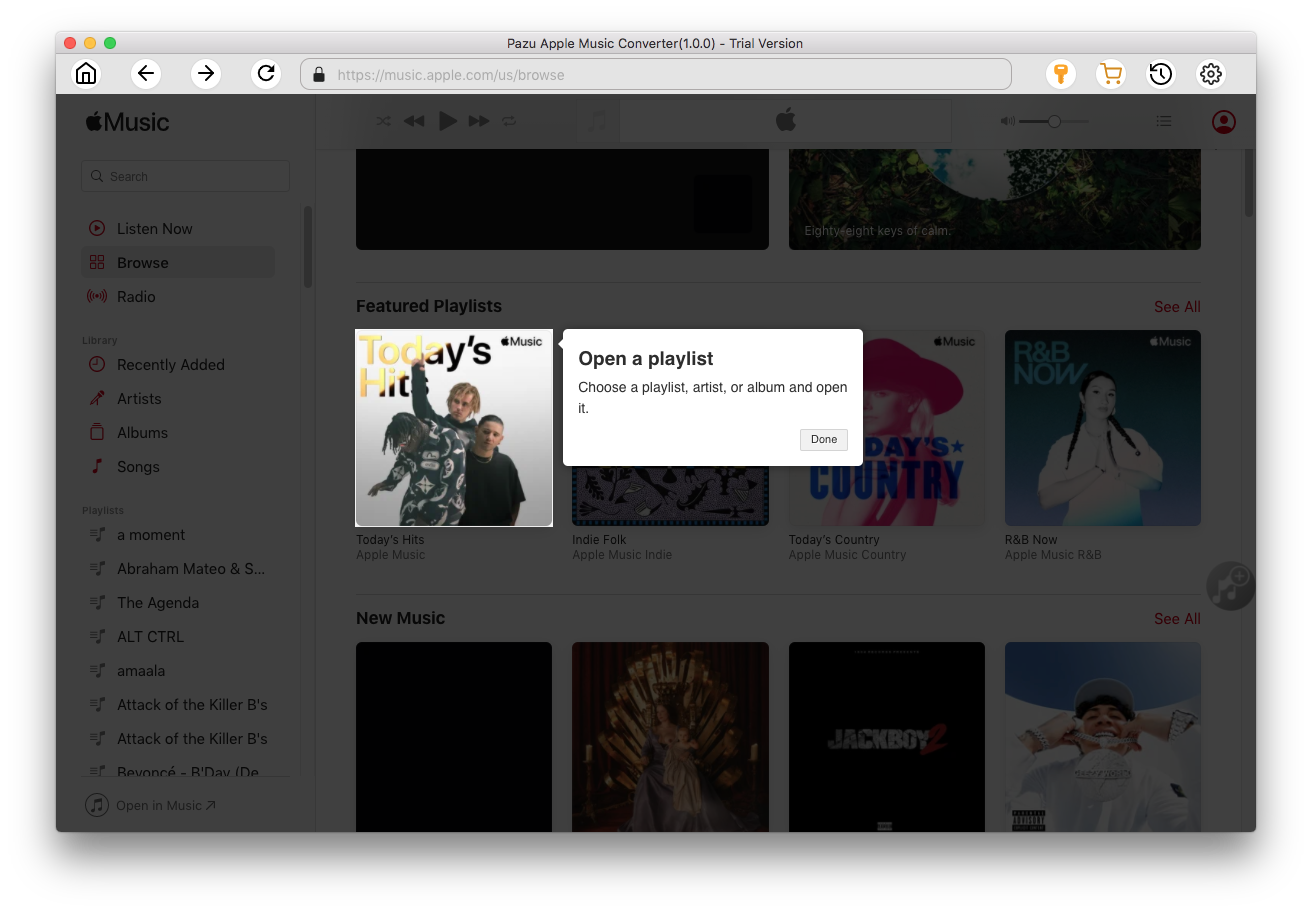 Step 5 Add songs
Click the Add button to select songs for converting.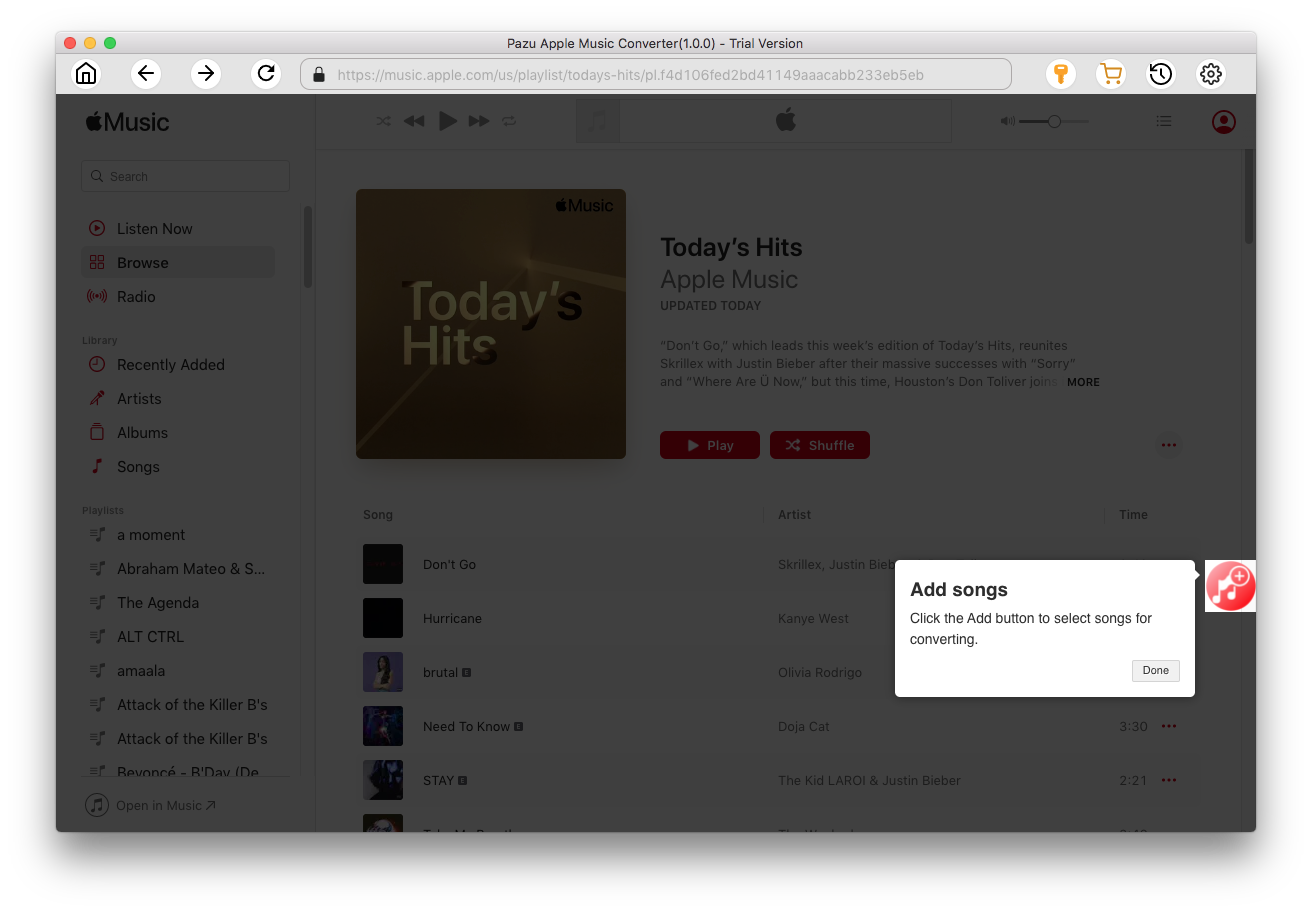 All songs in the playlist or album are selected by default. Uncheck the songs you don't want to download if there are any, then click Convert button.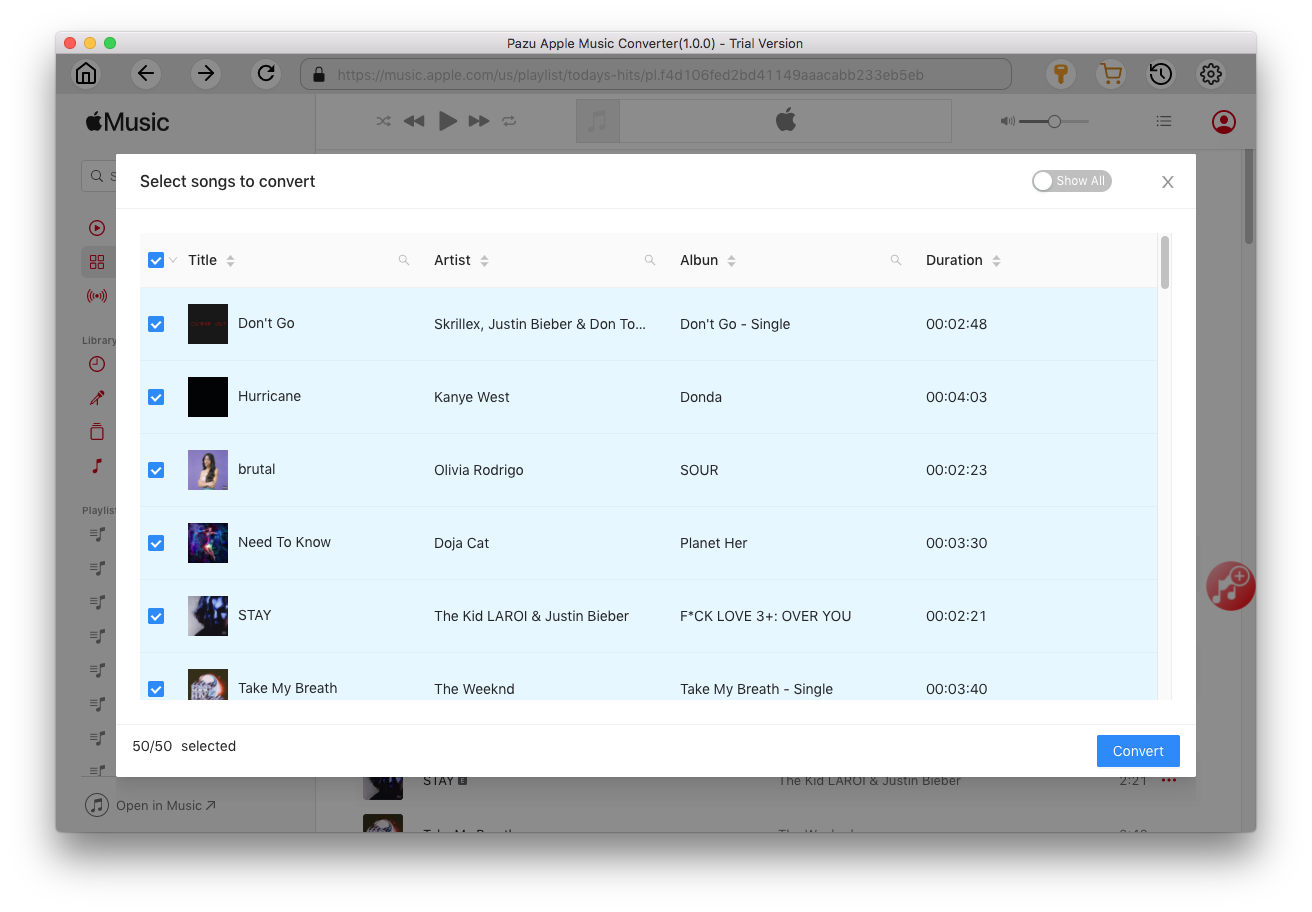 If you are using the trial version, you will get below pop-up window indicating trial version limitations, just click Try if you haven't purchased a license.
The songs you selected will be downloaded to the format you want.
After conversion, click

to quickly locate the DRM-free Apple Music songs.