How to Listen to Apple Music on Roku
---
When you want to listen to Apple Music on Roku, you may feel disappointed because there is no Apple Music for Roku app. You can't stream Apple Music on Roku like Spotify, Amazon Music, etc.
Stream Apple Music on Roku by converting Apple Music songs to Roku compatible format AAC, MP3, WMA, FLAC, etc. using Apple Music Converter. Once converted, play it via Roku Media player or cast from your Roku Mobile app.
Option 1 Use AirPlay to stream Apple Music to Roku from iOS/Mac
Option 2 Screen Mirror Apple Music From Android
Option 3 Download Apple Music to MP3 and stream via Roku Media Player
---
Option 1 Use AirPlay to stream Apple Music to Roku from iOS/Mac
Apple AirPlay lets you stream, control, and share content from your iPhone, iPad, or Mac to your compatible Roku streaming device. You can watch movies, TV shows, and family videos, listen to popular music, or browse vacation photos. Click here to check if your Roku device supports Airplay.
Make sure your Apple device and Roku device are on the same wireless network.
On your Apple device, find the Apple Music songs you wish to share.
Tap the AirPlay audio icon .
Select your Roku device from the AirPlay menu.
---
Option 2 Screen Mirror Apple Music From Android
In general, if your device is running Android version 4.2 or later (as opposed to a Google-branded device, such as a Google Nexus or Pixel, running OS 6.0 or later), it may support screen mirroring. However, it is not uncommon for manufacturers to use a unique brand term when describing the feature. To help set up and enable screen mirroring on your Android device, here are some common terms used on popular devices.
Smart View
Quick Connect
SmartShare
AllShare Cast
Wireless display
Display mirroring
HTC Connect
Screen casting
Cast
You can use the Roku device comparison chart to determine the current products that support screen mirroring for Android and Windows devices .
The steps below include examples from the Samsung Galaxy S9, which uses the term "Smart View" instead of screen mirroring. If you have a different Android device, you may be able to use the same steps to replace "Smart View" with the term used by your device's manufacturer.
Go to settings and tap Smart View (or equivalent term used by your Android device).
Select your Roku device from the Smart View menu (or equivalent) to start the connection.
---
Option 3 Stream Apple Music on Roku by converting the music to Roku compatible format
Roku Media Player is a channel available for download through the Roku Channel Store. It may also be pre-installed on some Roku® streaming devices. Roku Media Player allows you to watch your own personal video files, listen to your music files, and view your photos using the Roku device's USB port (if available) or by accessing a media server on your local network . It supports such media servers as Twonky, Windows Media Player, Plex, and Tversity.
Roku Media Player supported audio formats include: AAC (.MKV, .MP4, .MOV); MP3(.MP3, .MKV); WMA (.ASF, .WMA, .MKV), FLAC (.FLAC, .MKV), PCM (.WAV, .MKV, .MP4, .MOV), AC3/EAC3 (.MKV,.MP4. .MOV, .AC3), DTS (.MKV, .MP4, .MOV,.DTS), ALAC (.MKV, .MP4, .MOV, .M4A), Vorbis (.OGG,.MKV,.WEBM). DRM-protected content is not supported.
Apple Music songs you downloaded are formatted in DRM-protected M4P format, so you can't play them with Roku Media Player directly. You need to remove Apple Music DRM and convert M4P to MP3 first.
Pazusoft Apple Music Converter is such as powerful tool that allows you to download Apple Music songs, albums and playlists to 320kbps MP3 with ID3 tags on your Mac and Windows.
---
About Pazusoft Apple Music Converter
Download Apple Music songs/albums/playlists to MP3, M4A, etc.
Download Apple Music songs/albums/playlists to MP3, M4A, etc.

Preserve 100% original quality.

Keep all ID3 tags.
Fast download speed.

Multiple formats.

100% lossless quality.
---
Here's how to download songs, albums and playlists from Apple Music to MP3.
Step 1 Launch Pazu Apple Music Converter
Download, install and run Pazu Apple Music Converter on your Mac or Windows.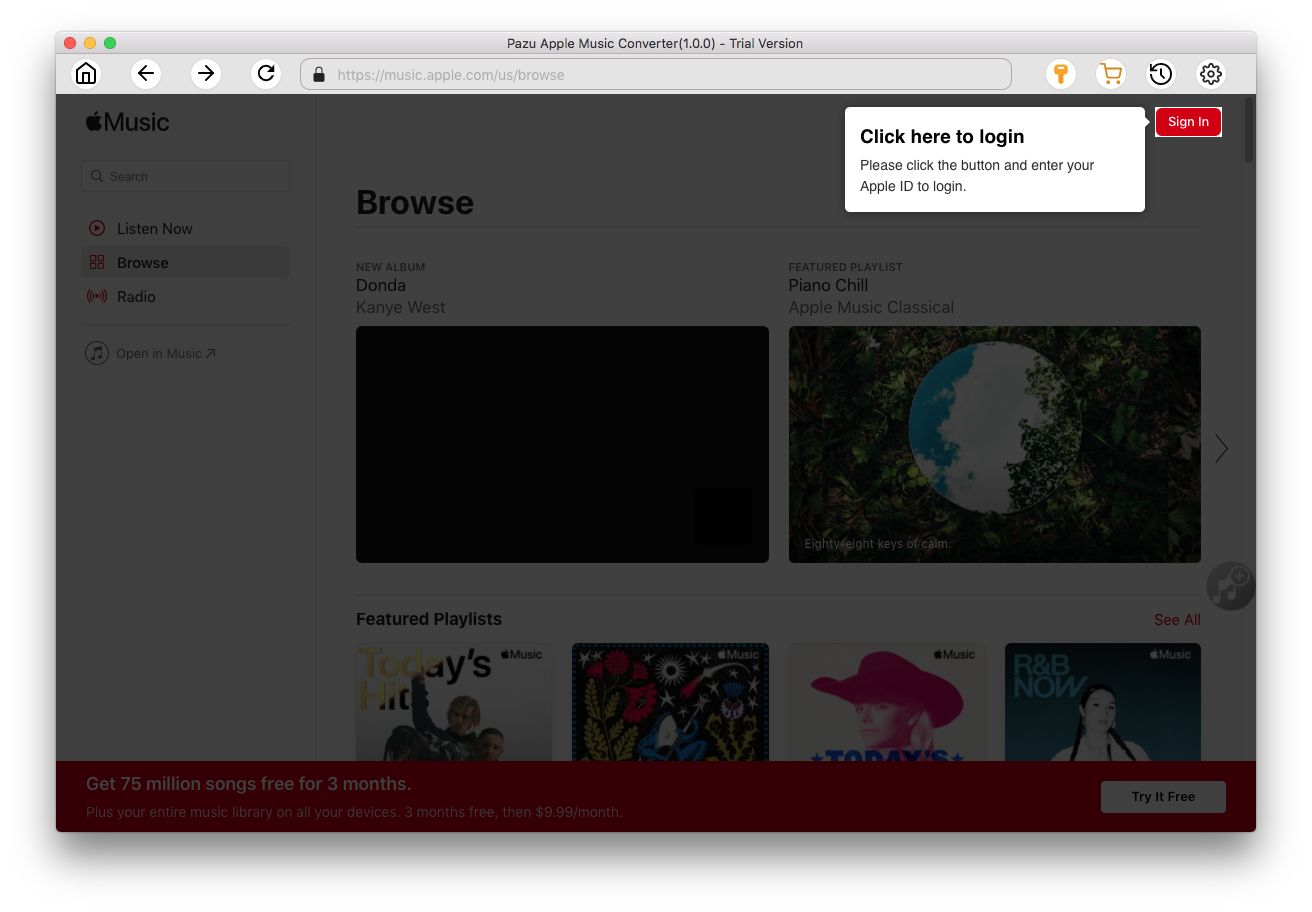 Click the key icon to activate the full version if you have purchased a license, otherwise you can only use the trial version.
Step 2 Log in your Apple Music account
Follow the on-screen instructions to sign in with your Apple ID.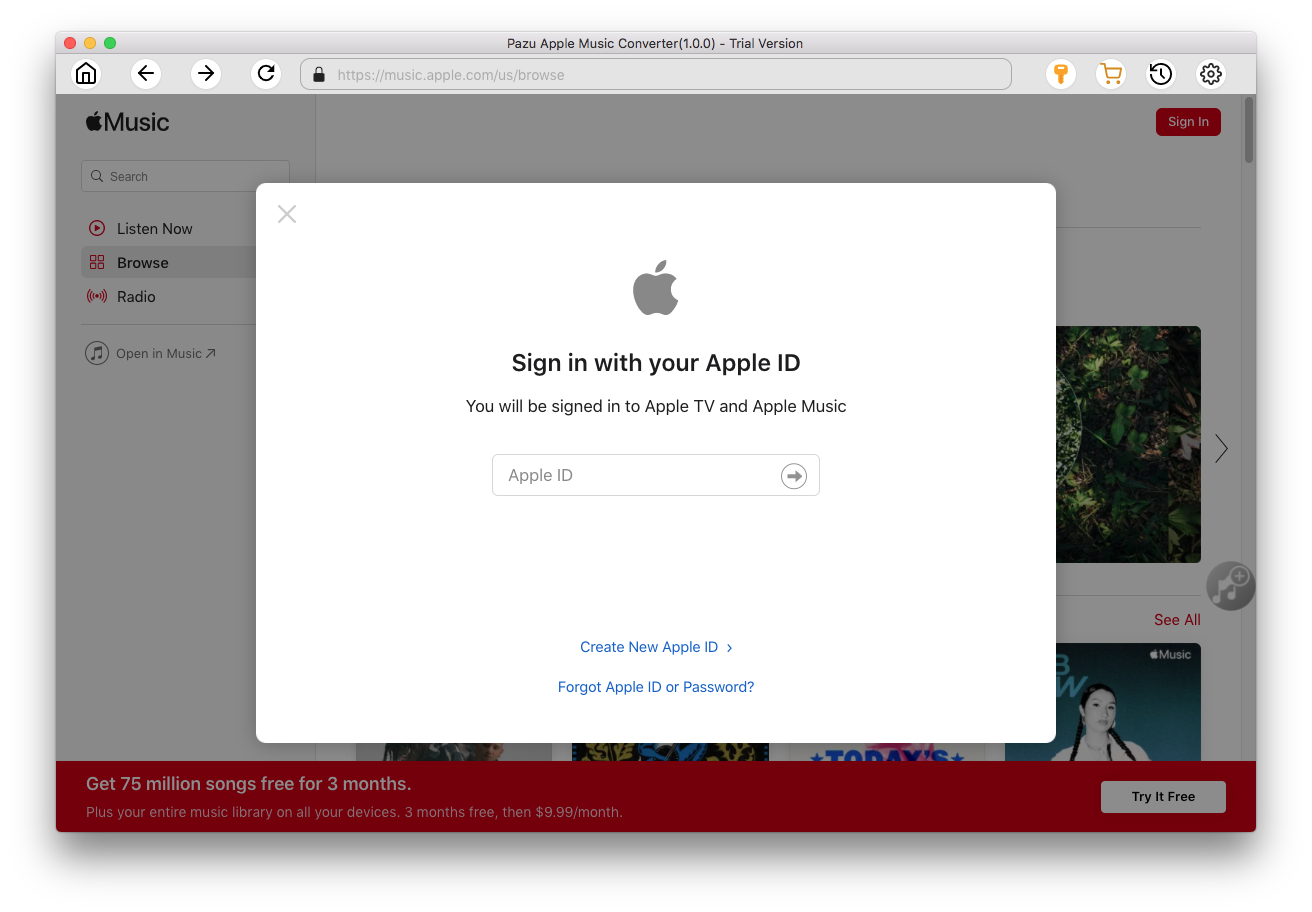 Step 3 Choose output format
The default format is M4A in 256kbps. Apple Music Converter also supports MP3, AAC, FLAC, WAV and AIFF. Click

icon if you want to change output format or output folder.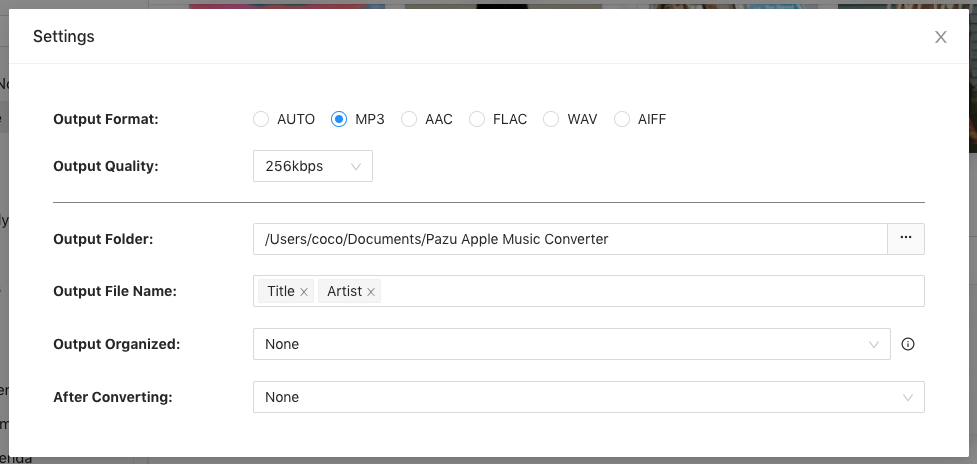 Here you can also customize song name format with any combination of Playlist Index, Track Number, Title, Artist and Album.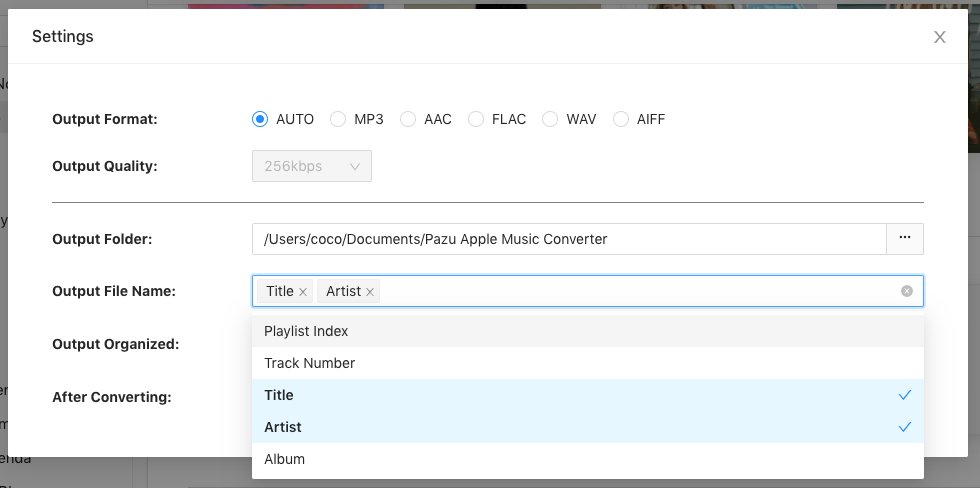 Or set Pazu Apple Music Converter to archive output song with Artist, Album, Artist/Album or Album/Artist.
Step 4 Choose a playlist, artist or album you want to download
Follow the instructions to choose a playlist, artist, or album that you want to download.
Step 5 Add songs
Click the Add button to select songs for converting.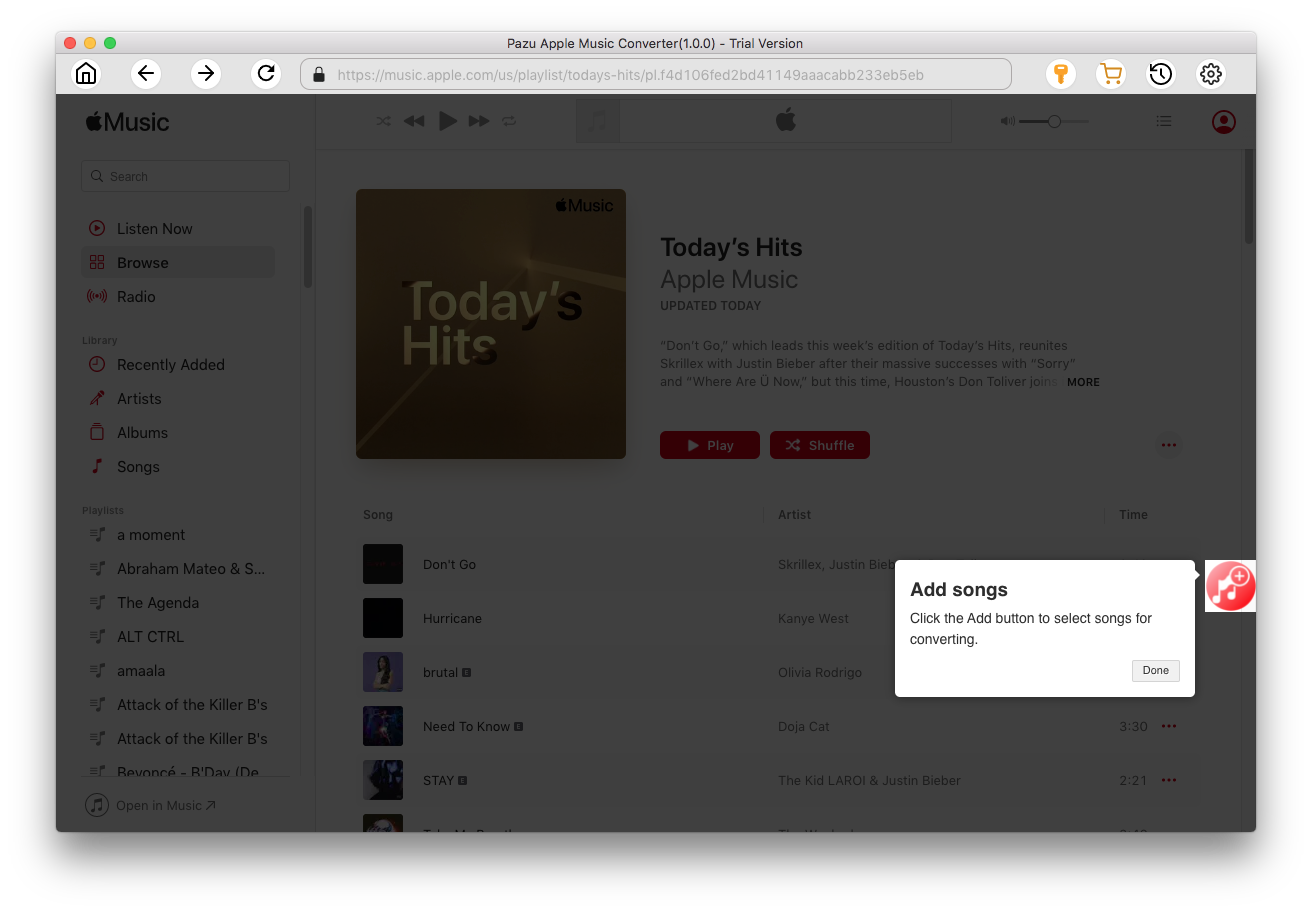 All songs in the playlist or album are selected by default. Uncheck the songs you don't want to download if there are any, then click Convert button.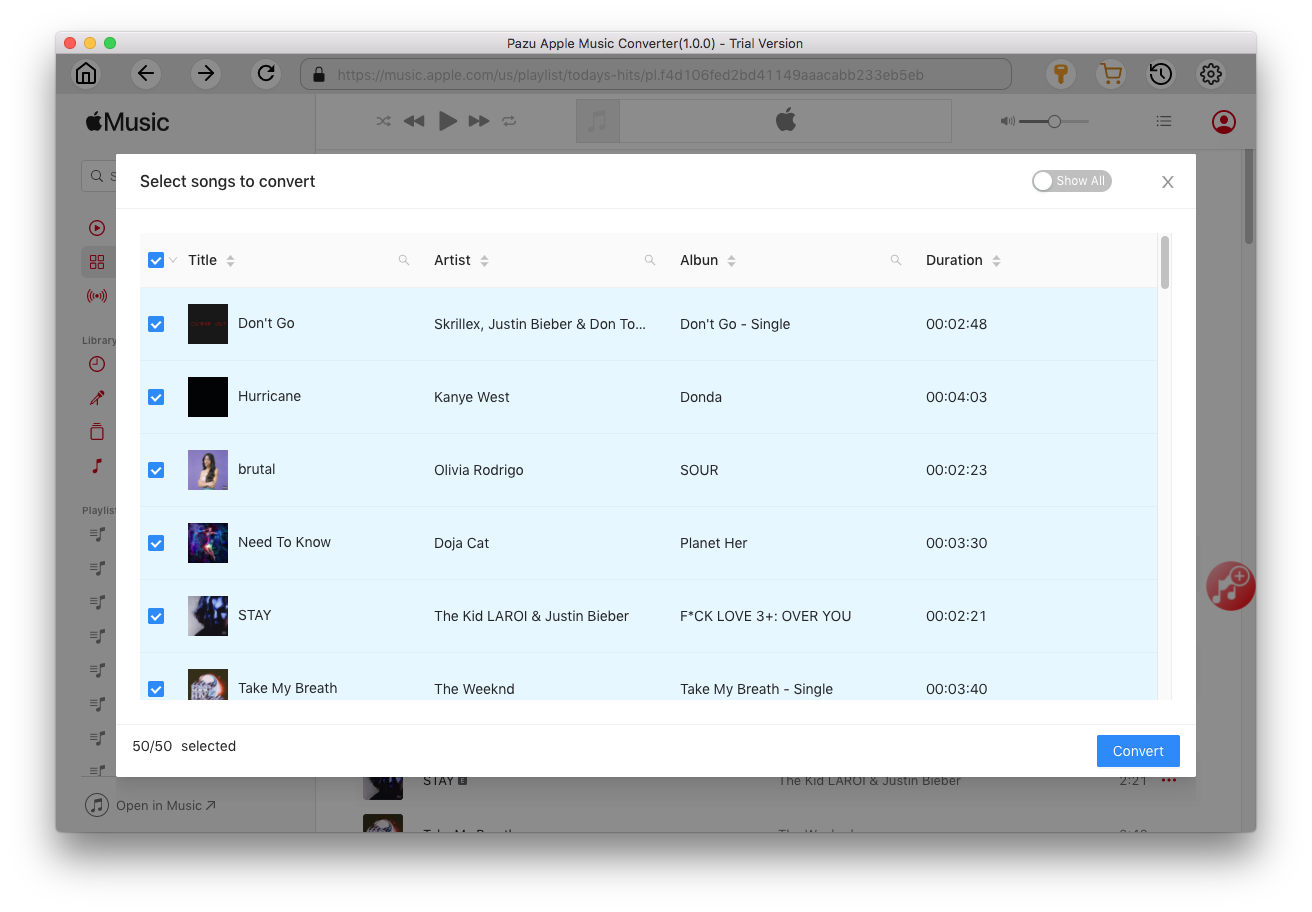 If you are using the trial version, you will get below pop-up window indicating trial version limitations, just click Try if you haven't purchased a license.
The songs you selected will be downloaded to the format you want.
After conversion, click

to quickly locate the DRM-free Apple Music songs.
Click
to view all downloaded songs. You can check them by converted date, artist or album.
---
Part 2 Play Apple Music MP3 songs using the Roku Media Player
Playing Apple Music stored on a USB drive
Transfer the DRM-free Apple Music MP3 songs to your USB device. Insert the USB device into the USB port on your Roku device.
If Roku Media Player is not installed, you will be prompted to add it from the Roku Channel Store. If the channel is installed, an on-screen prompt will ask you to launch Roku Media Player.
Select the icon for your USB drive.
Press the Star button star button on Roku remote on your Roku remote.
Select Audio as the media type to see new folders appear at the top level on the navigation screen.
Use free Roku mobile app for Android, iOS or Windows Phone
When you want to display personal media files on your TV screen, you may be able to use the Play on Roku feature built in to the free Roku mobile app for iOS and Android devices. Play on Roku lets you share photos, videos, and songs stored on your compatible mobile device to your Roku streaming player or Roku TV™. Use free Roku mobile app on your phone. Click "Play On Roku" from the pull-down menu in the mobile app and choose "Music." You can play playlists, artists, albums or songs in the touch of a button!
---