Apple Music Converter
Movpkg Converter - Convert Apple Music Movpkg to M4A
Apple Music is making its entire catalog of more than 100 million songs available in lossless audio at different resolutions. In Apple Music, "Lossless" refers to lossless audio up to 48kHz, and "Hi-Res Lossless" refers to lossless audio from 48kHz to 192kHz. Lossless and Hi-Res Lossless files are very large and use much more bandwidth and storage space than standard AAC files.
When you select Lossless audio, songs are downloaded as .movpkg files. Movpkg file is usually larger than 20M. If you choose downloading High Quality, Apple Music songs are downloaded as .m4p files. M4P is Apple's version of the M4A format that includes DRM protection, called FairPlay.
What is AAC?
Advanced Audio Coding (also called MPEG-4); a standard way of compressing and encoding digital audio. AAC files can be played using iPhone, iPad, and iPod.
AAC-encoded files rival the quality of audio CDs, and sound as good as or better than MP3 files encoded at the same or even a higher bit rate. For example, a 128 kbps AAC file should sound as good as or better than a 160 kbps MP3 file. Because the bit rate is lower, the AAC file will also be smaller than the MP3 file.
AAC files enable you to store the most music on your hard disk or device. At the High Quality setting, AAC files use approximately 1 MB of disk space per minute.
What is M4A?
M4A is a file extension for an audio file encoded with Advanced Audio Coding (AAC) which is a lossy compression. M4A stands for MPEG 4 Audio.
The main difference between AAC and M4A is that the former denotes an audio codec and the latter is a file extension commonly used with these audio codec files. There can be other file containers used with AAC like .acc, .mp4, .m4b, etc. Unprotected AAC files have the M4A extension, while the protected versions have the M4P file extension.
Download Apple Music as M4A
Neither the previous .m4p files, nor the current .movpkg files, can be played with mainstream players or devices. If you want to play the downloaded Apple Music songs with other player, such as Windows Media Player, VLC, any MP3 player, etc., you can download Apple Music as M4A.
By using Pazu Apple Music Converter you can simply download Apple Music songs, albums and playlists to M4A files and play them anywhere you want.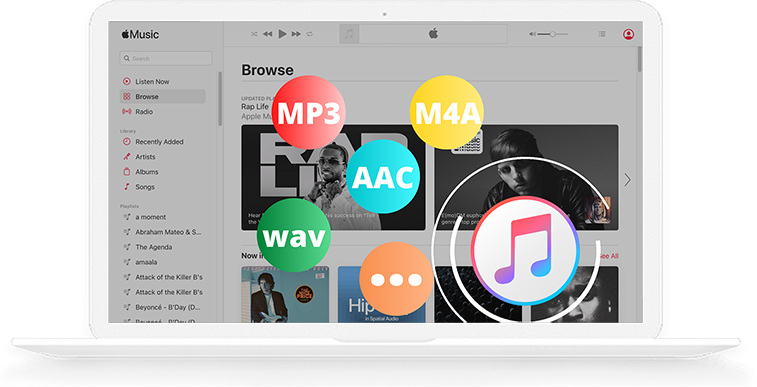 Download Apple Music to MP3, M4A, etc.
Preserve 100% original quality.
Keep all ID3 tags.
Fast download speed.
Step By Step Process to use Pazu Apple Music Converter
Step 1 Launch Pazu Apple Music Converter
Download, install and run Pazu Apple Music Converter on your Mac or Windows.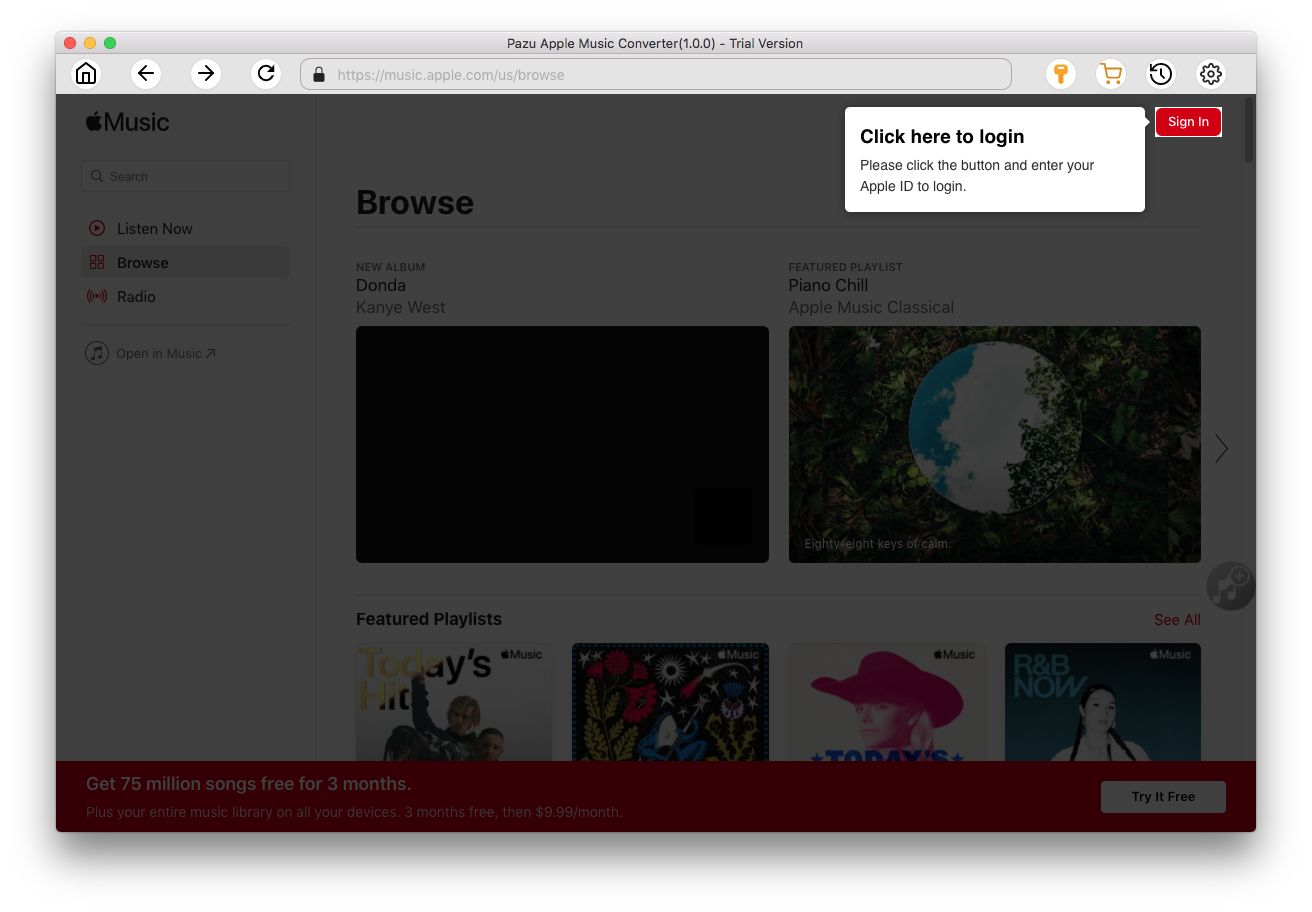 Click the key icon to activate the full version if you have purchased a license, otherwise you can only use the trial version.
Step 2 Log in your Apple Music account
Follow the on-screen instructions to sign in with your Apple ID.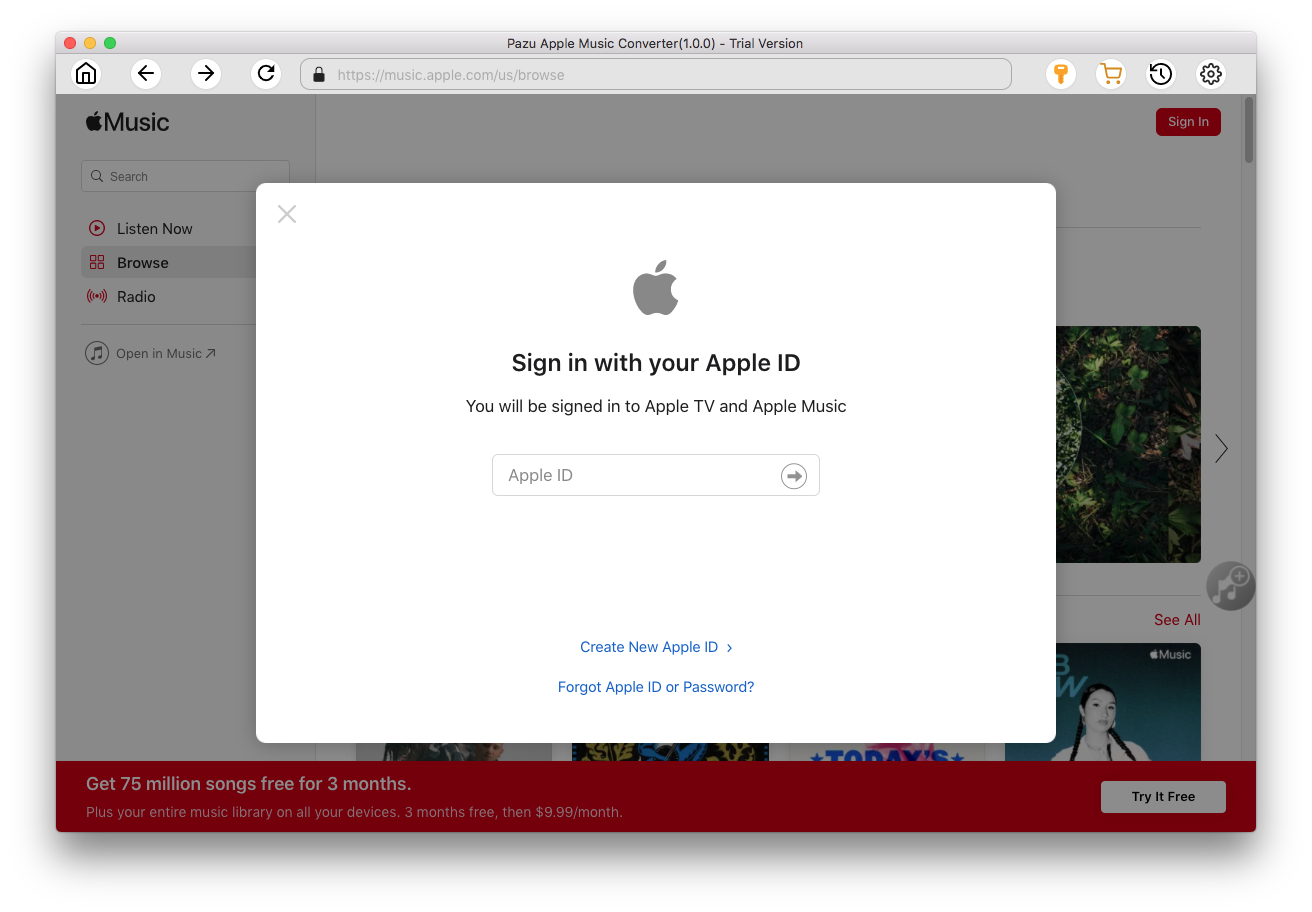 Step 3 Choose output format
The default format is M4A in 256kbps. Apple Music Converter also supports MP3, AAC, FLAC, WAV and AIFF. Click

icon if you want to change output format or output folder.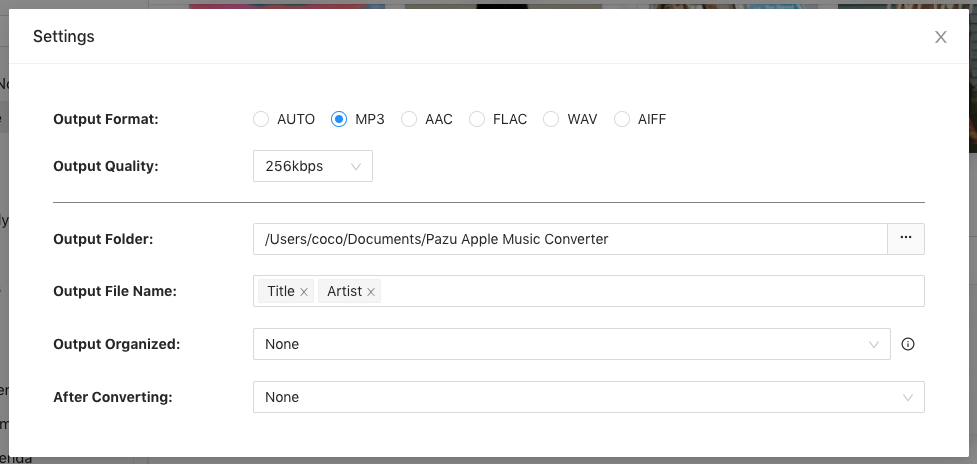 Here you can also customize song name format with any combination of Playlist Index, Track Number, Title, Artist and Album.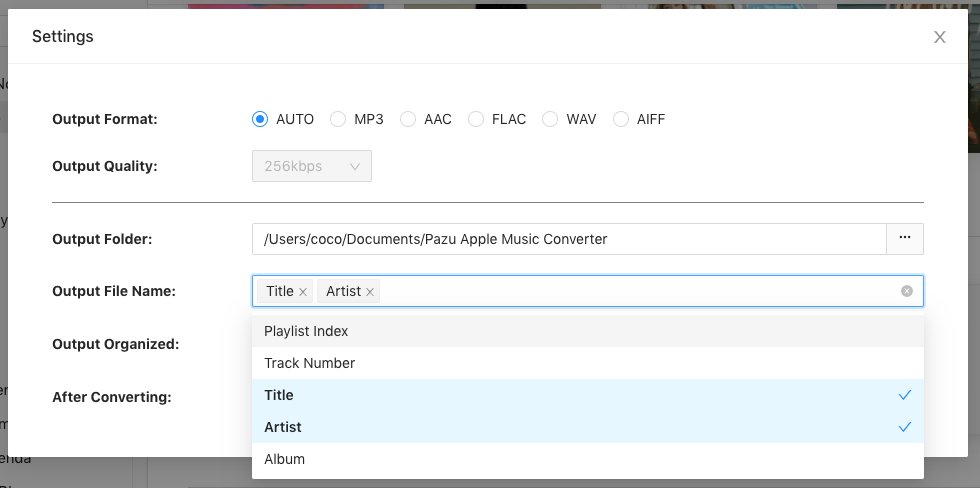 Or set Pazu Apple Music Converter to archive output song with Artist, Album, Artist/Album or Album/Artist.
Step 4 Choose a playlist, artist or album you want to download
Follow the instructions to choose a playlist, artist, or album that you want to download.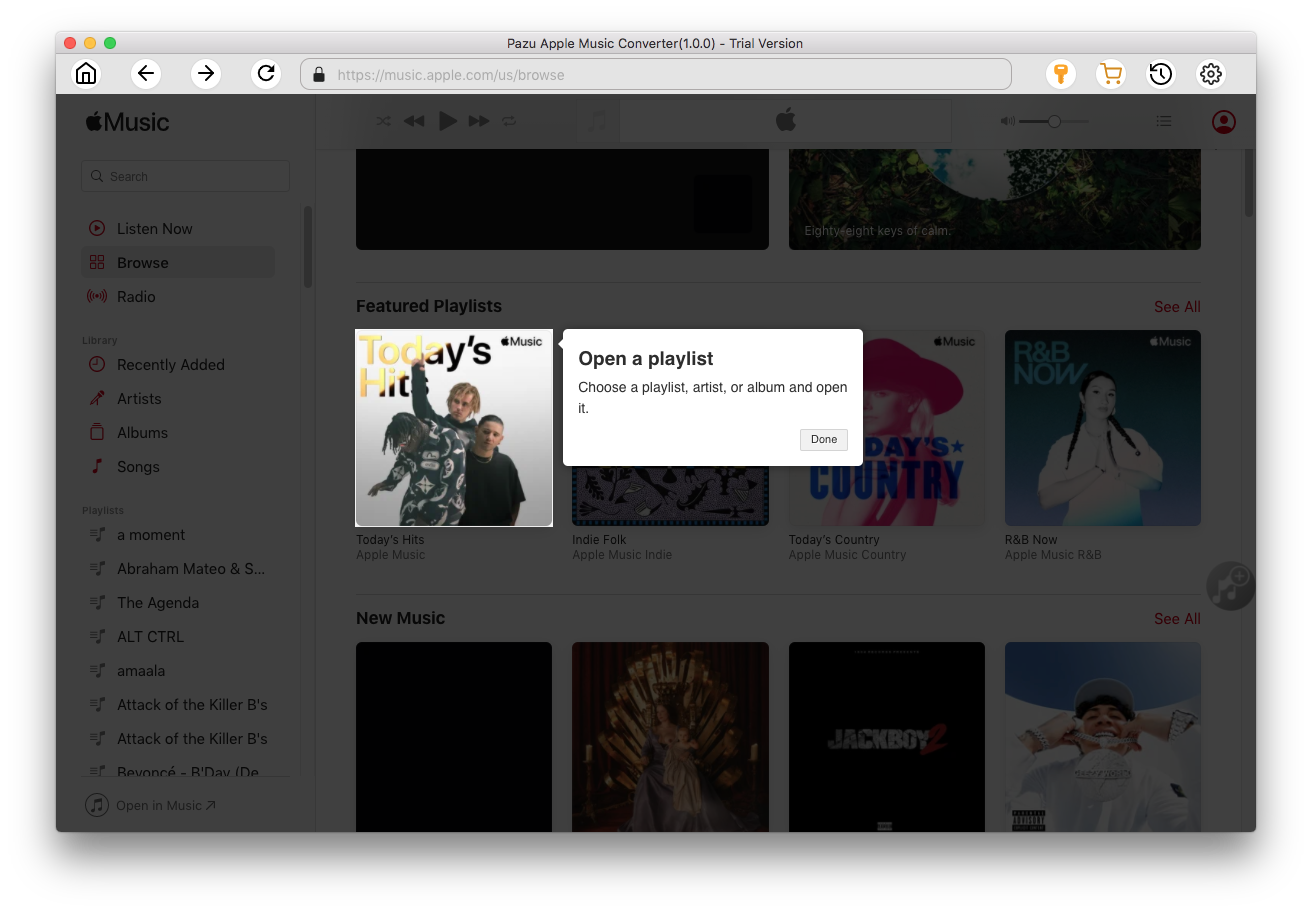 Step 5 Add songs
Click the Add button to select songs for converting.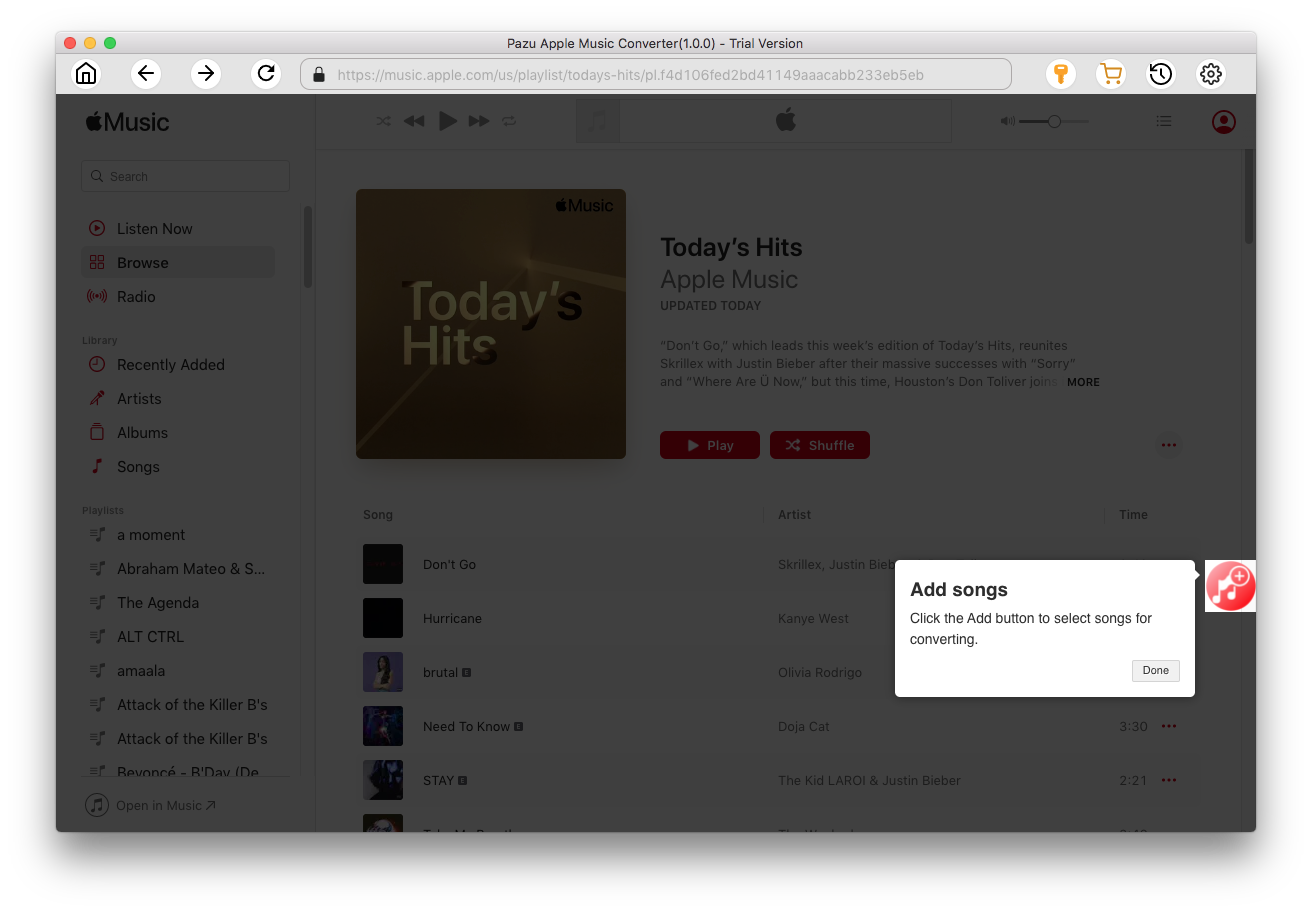 All songs in the playlist or album are selected by default. Uncheck the songs you don't want to download if there are any, then click Convert button.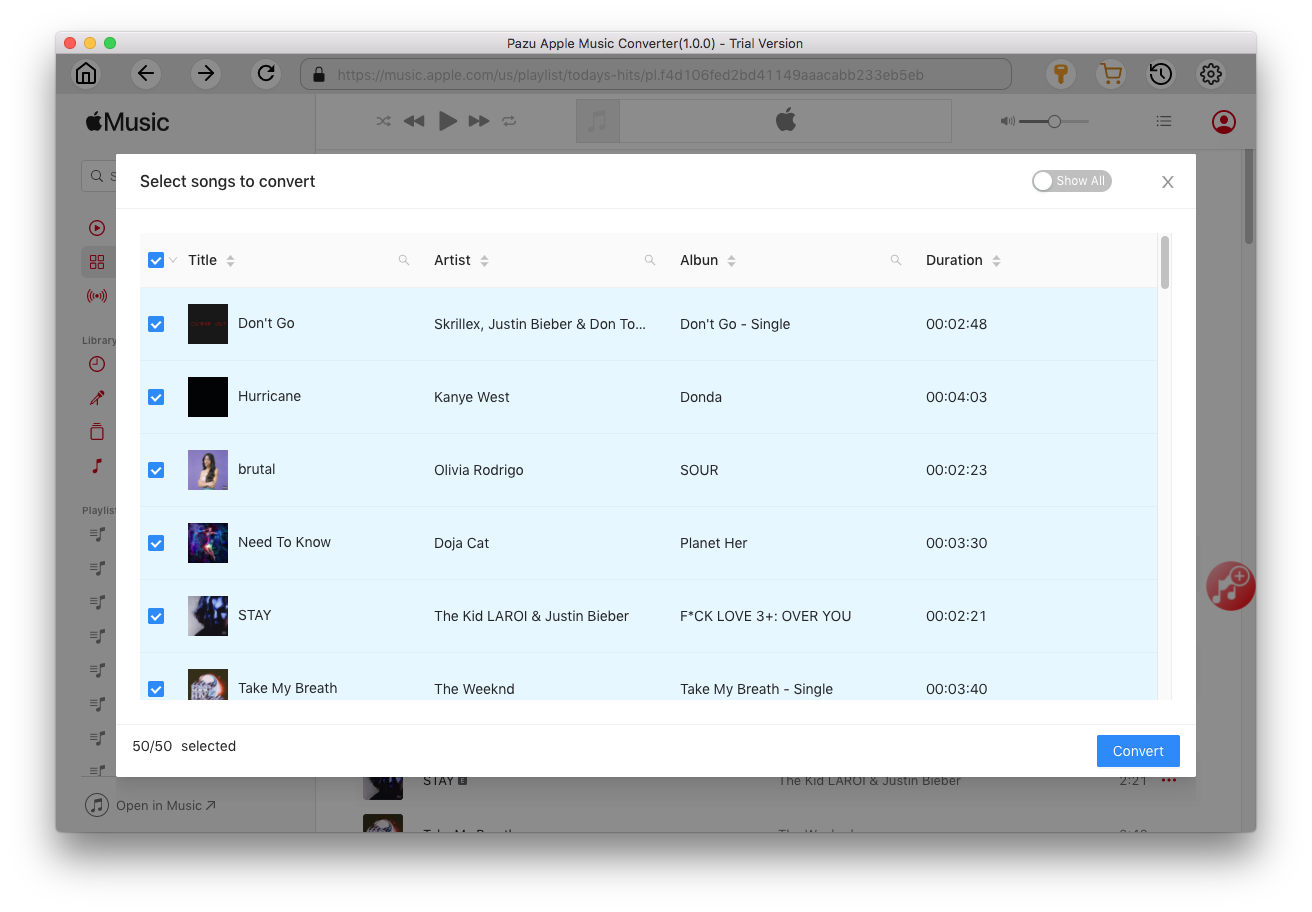 If you are using the trial version, you will get below pop-up window indicating trial version limitations, just click Try if you haven't purchased a license.
The songs you selected will be downloaded to the format you want.
After conversion, click

to quickly locate the DRM-free Apple Music songs.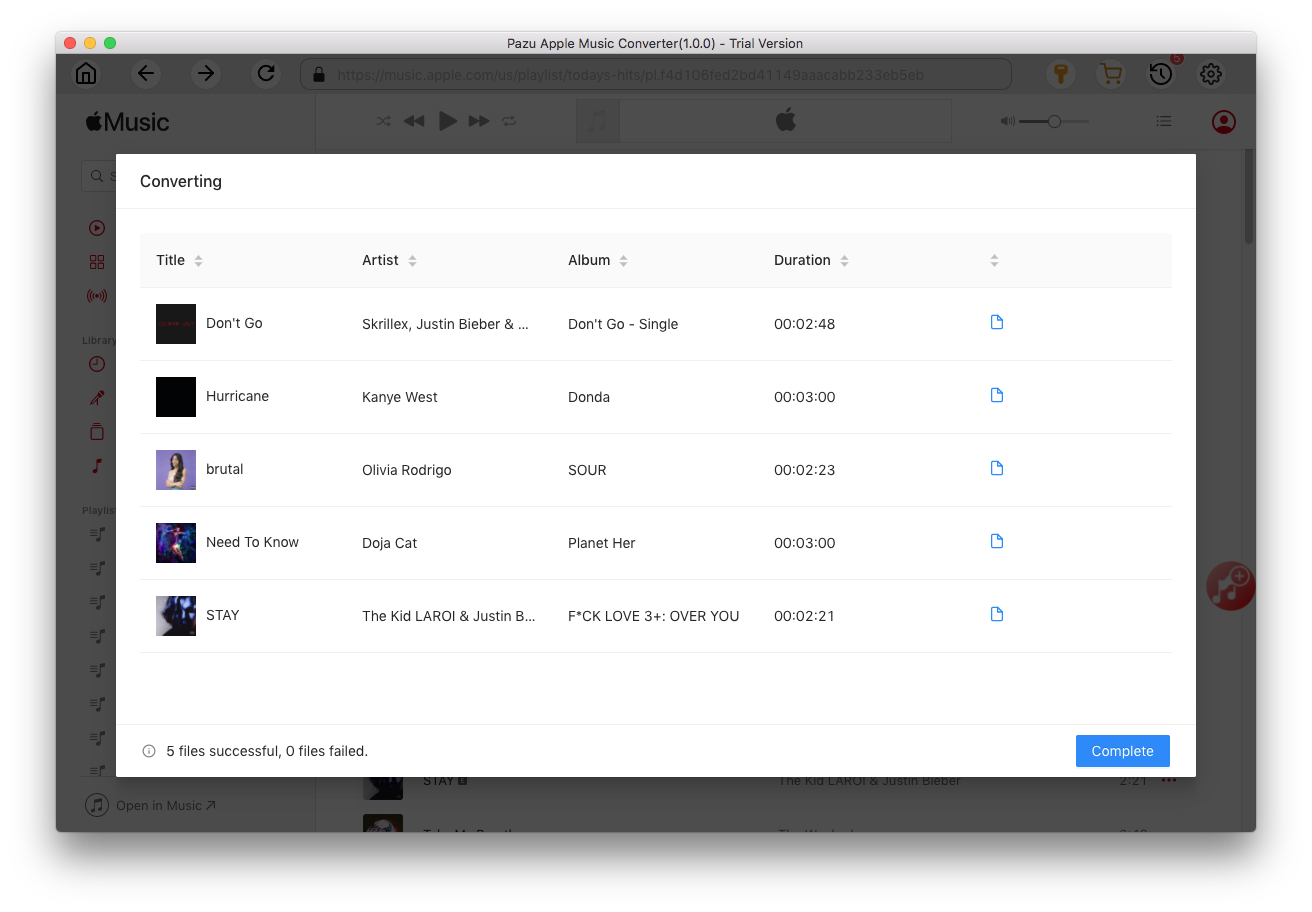 Click
to view all downloaded songs. You can check them by converted date, artist or album.