Apple Music Converter
How to convert Apple Music to MP3
While Apple Music provides users with the ability to download songs, the files are not in a standard audio format like MP3, but rather in a DRM-protected M4P format that can only be played on authorized devices using Apple's software. This can be a significant limitation, particularly if you want to listen to your music on other devices that do not support the M4P format, such as Sony Walkman, SanDisk Clip Jam, Astell & Kern, Mighty and other MP3 players .
Fortunately, there is a solution: by using a professional Apple Music Converter, you can easily convert your Apple Music tracks to the widely-supported MP3 format, allowing you to play your music on a much broader range of devices. In this post, I will provide you with a step-by-step guide on how to convert your Apple Music tracks to MP3 format.
With the help of Pazu Apple Music Converter , you can quickly and easily remove the DRM protection from your Apple Music tracks and convert them to the MP3 format. This will allow you to play your music on any device that supports MP3 files, giving you greater flexibility and control over your music collection.
For Windows users, please refer to Pazu Apple Music Converter for Windows .
About Apple Music format
Apple Music streams in AAC (Advanced Audio Coding) format at 256Kbps. AAC is an extremely high-quality format, and is easily better than higher bit-rate mp3 recordings.
Apple has developed its own lossless audio compression technology called Apple Lossless Audio Codec (ALAC). In addition to AAC, the entire Apple Music catalog is now also encoded using ALAC in resolutions ranging from 16-bit/44.1 kHz (CD Quality) up to 24-bit/192 kHz. Actually, the difference between AAC and lossless audio is virtually indistinguishable. Streaming lossless audio over a cellular or Wi-Fi network consumes significantly more data. And downloading lossless audio uses significantly more space on your device. To get a lossless version of music that you already downloaded from Apple Music, just delete the music and redownload it from the Apple Music catalog.
M4P format was used before March, 2009. Any songs you purchased from iTunes Store before that were M4P files with DRM protection. Later, Apple switched to DRM-free M4A format and all your songs or albums purchased from iTunes store after that were M4A files, which you can play on a wide range of devices. Apple adopted M4P format again when they launched Apple Music streaming service.
The purpose of digital rights management (DRM), including hardware makers, publishers and owners of copyrights, is to descry any technology that is used in order to prevent abuse of digital content not desired by the content provider. Corporations such as Amazon, Apple, Microsoft, BBC, and so on have adopted DRM.
What's the difference between MP3, AAC, M4A and M4P?
MP3 (MPEG-1 Audio Layer 3) and AAC(Advanced Audio Coding) are different methods / algorithms of encoding audio. While AAC versus MP3 sound capabilities don't vary considerably, AAC has the upper hand at lower bit rates. If you're working with bit rates lower than 128 kbps, you'll notice the difference. MP3 files will sound a little muddy and slurry while the AAC files maintain their brighter and clearer sound. Most experts agree that AAC 128K will give you approximately the same quality as MP3 198K, which means smaller files, most files for the same amount of disk space. Most applications that play audio, play MP3s, so they are more portable.
MP3 file extension - .mp3.
AAC file extensions - .m4a, .m4b, .m4p, .m4v, .m4r, .3gp, .mp4, .aac
Apple use the .m4p file extension to distinguish protected or purchased AAC files from unprotected AAC files.
Why you should use Pazu Apple Music Converter?
Pazusoft is a thriving provider with DRM removing tools for screen capturing, logging, on-line measuring and iTunes. Pazusoft has a good reputation among graphics and multimedia users by providing the best quality products and services to its customers. This tool is available for both Windows and Mac Platform. You can convert download Apple Music M4P songs to MP3 or M4A with ID tags retained using Pazu Apple Music Converter .
With Pazu Apple Music Converter, you can easily download songs, albums and playlists from Apple Music to MP3 to play them anywhere you want, even after cancelling Apple Music subscription.
The interface of this tool is very easy to understand and you will not get lost during the conversion process. You'll see a series of tabs that split content when you open Pazu Apple Music Converter, music, video, podcasts or audio books, for instance. Look for everything in those tabs that you are trying to convert.
It supports M4A, MP3, AAC, FLAC, WAV, AIFF output file formats. It maintains your converted files' original quality. So, how can I use the Pazusoft Apple Music Converter? In this write-up, we will discuss in greater detail the features and how to use Pazusoft iTunes Converter.
There's a universe of music file formats, so why should you be restricted to a single-platform file format by any multimedia developer? It is unfair, especially when you've paid for your hard-earned money so that you can possess the media and certainly do whatever you want to do.
But today, all of your current media data files can be freed using Pazusoft iTunes Converter for Windows.
Key Characteristics of Pazu Apple Music Converter
Remove DRM Protection from iTunes files
High speed of conversion
MP3 Converter converts Apple Music to MP3
Keep ID tags
Meta data tags are preserved
No additional disk space required
Do not lose data from files
CD quality output formats
Convert iTunes to Batch Music files
Options for Advanced Output
Displayed on iPods, iPod Touch, iPhone4, iPhone 4S, Zune, PSP and on other digital devices, DRM medium files can be deleted for any unwanted protection. High speed of conversion. Converts with 16x speed. In DRM-protected media, Pazusoft Apple Music Converter offers the fastest possible option.
Pazu Apple Music M4P to MP3 Converter stores all the DRM protected data files and applies them to the MP3 output. CD-quality output for your needs, such as M4A, MP3, AAC, FLAC, WAV, AIFF. Batch conversion allows the user to unlock whole albums in small time duration!
There is no requirement for additional hardware or virtual drive. Options for Advanced Output Change the bitrate output, specimen rate, codec, and channel number. Below is a step-by-step guide for using the apple music converter on Pazusoft.
Step By Step Process to use Pazu Apple Music Converter
Step 1 Launch Pazu Apple Music Converter
Download, install and run Pazu Apple Music Converter on your Mac or Windows.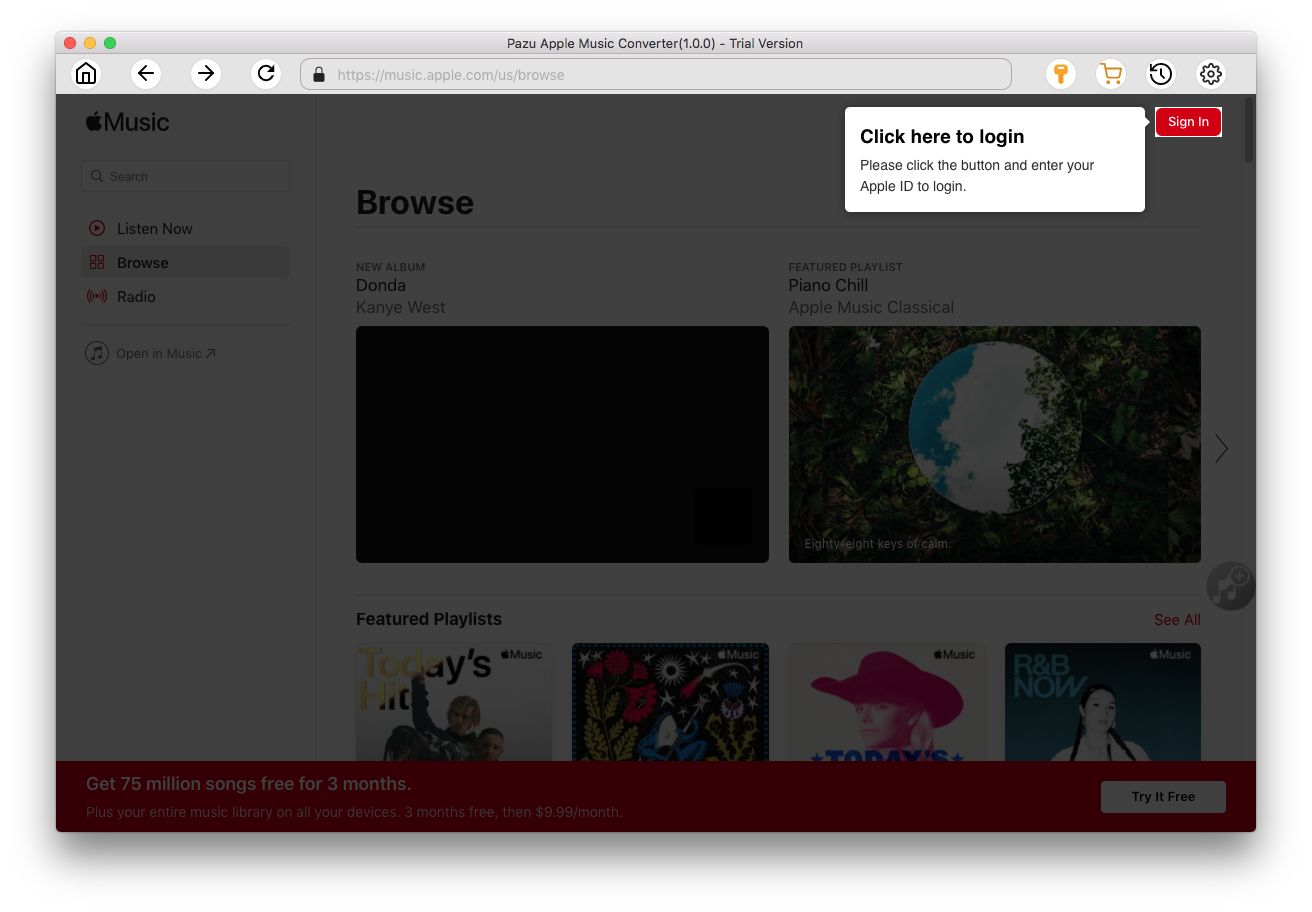 Click the key icon to activate the full version if you have purchased a license, otherwise you can only use the trial version.
Step 2 Log in your Apple Music account
Follow the on-screen instructions to sign in with your Apple ID.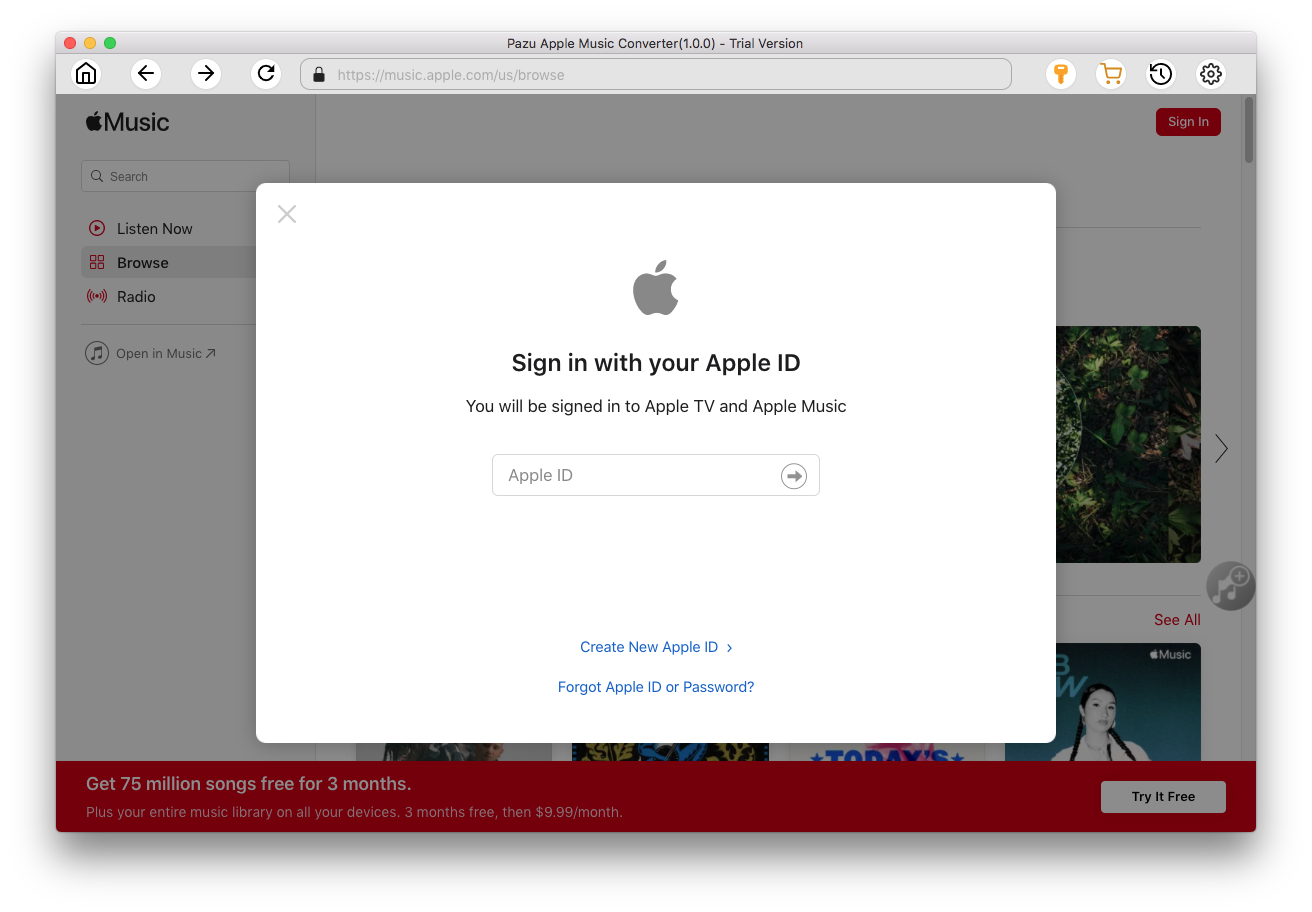 Step 3 Choose output format
The default format is M4A in 256kbps. Apple Music Converter also supports MP3, AAC, FLAC, WAV and AIFF. Click

icon if you want to change output format or output folder.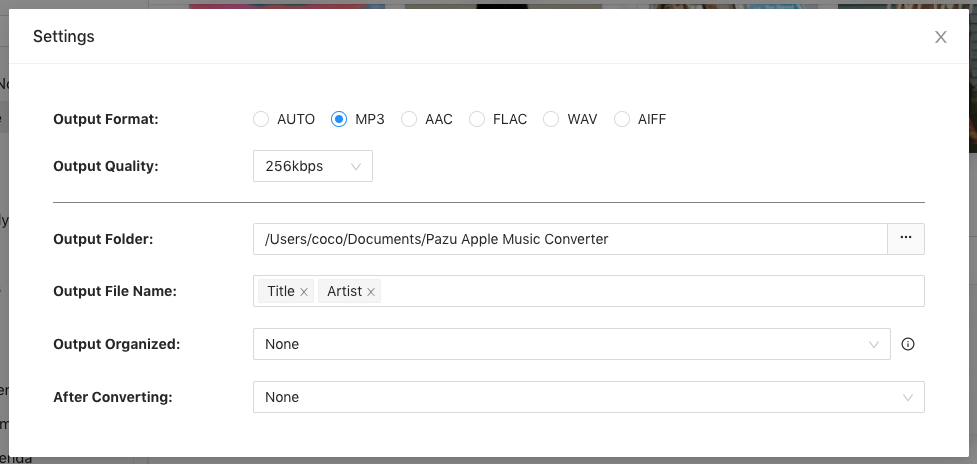 Here you can also customize song name format with any combination of Playlist Index, Track Number, Title, Artist and Album.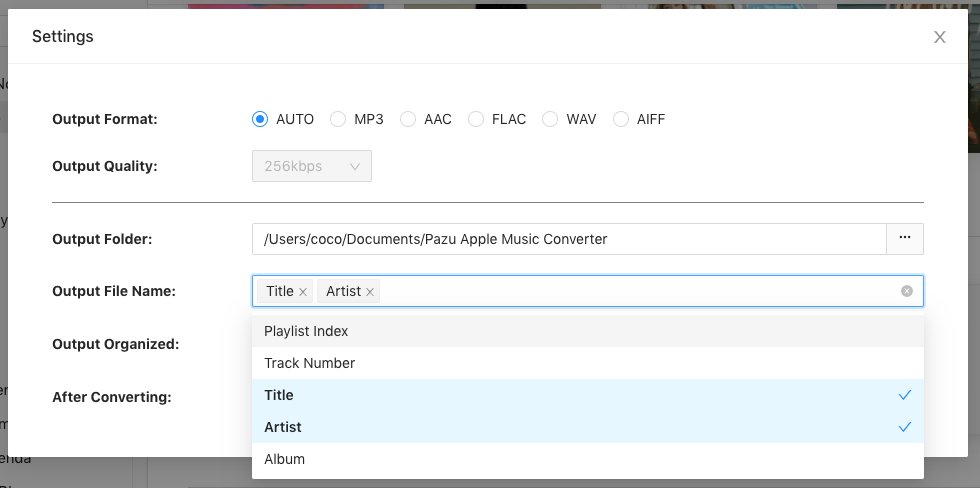 Or set Pazu Apple Music Converter to archive output song with Artist, Album, Artist/Album or Album/Artist.
Step 4 Choose a playlist, artist or album you want to download
Follow the instructions to choose a playlist, artist, or album that you want to download.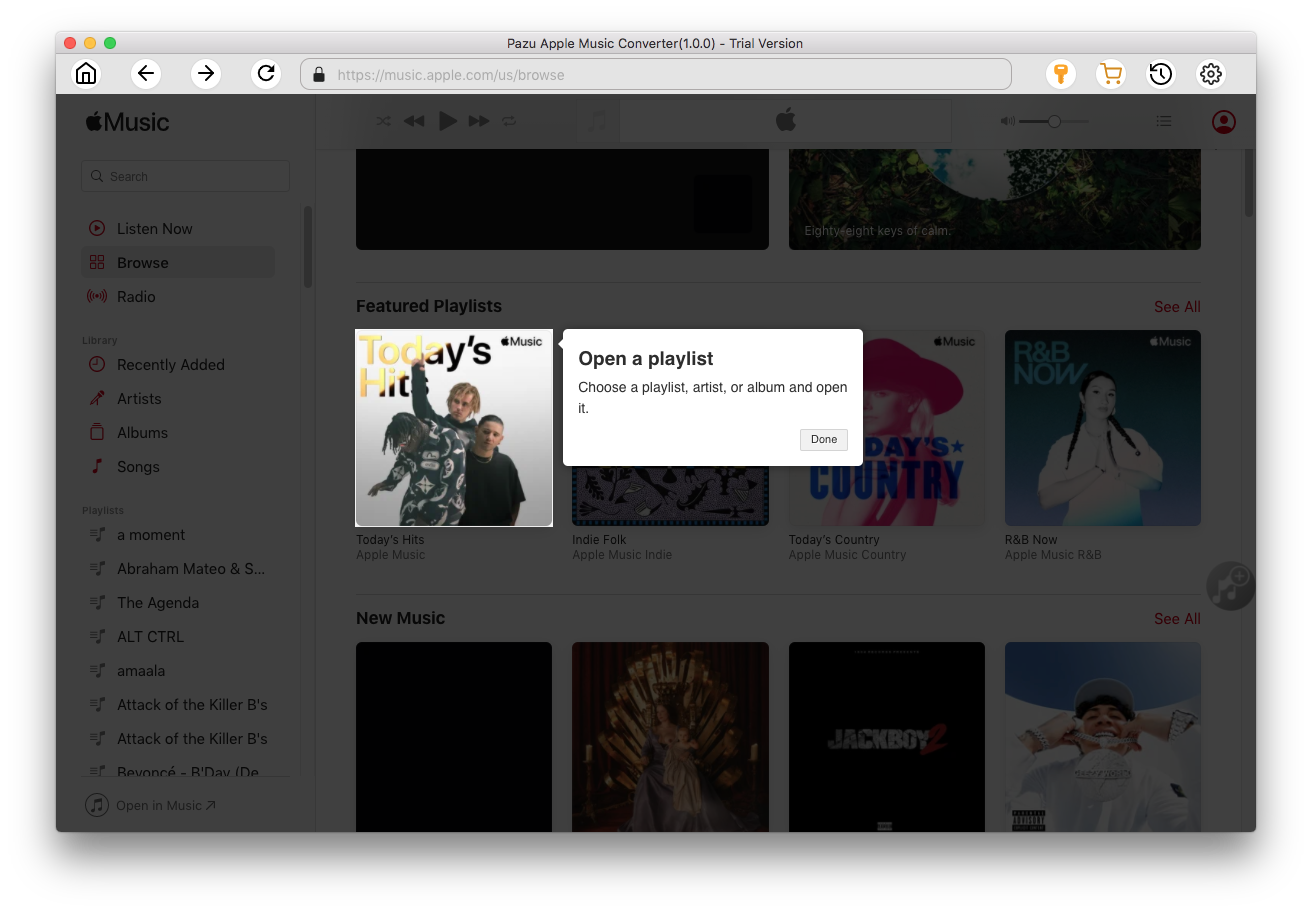 Step 5 Add songs
Click the Add button to select songs for converting.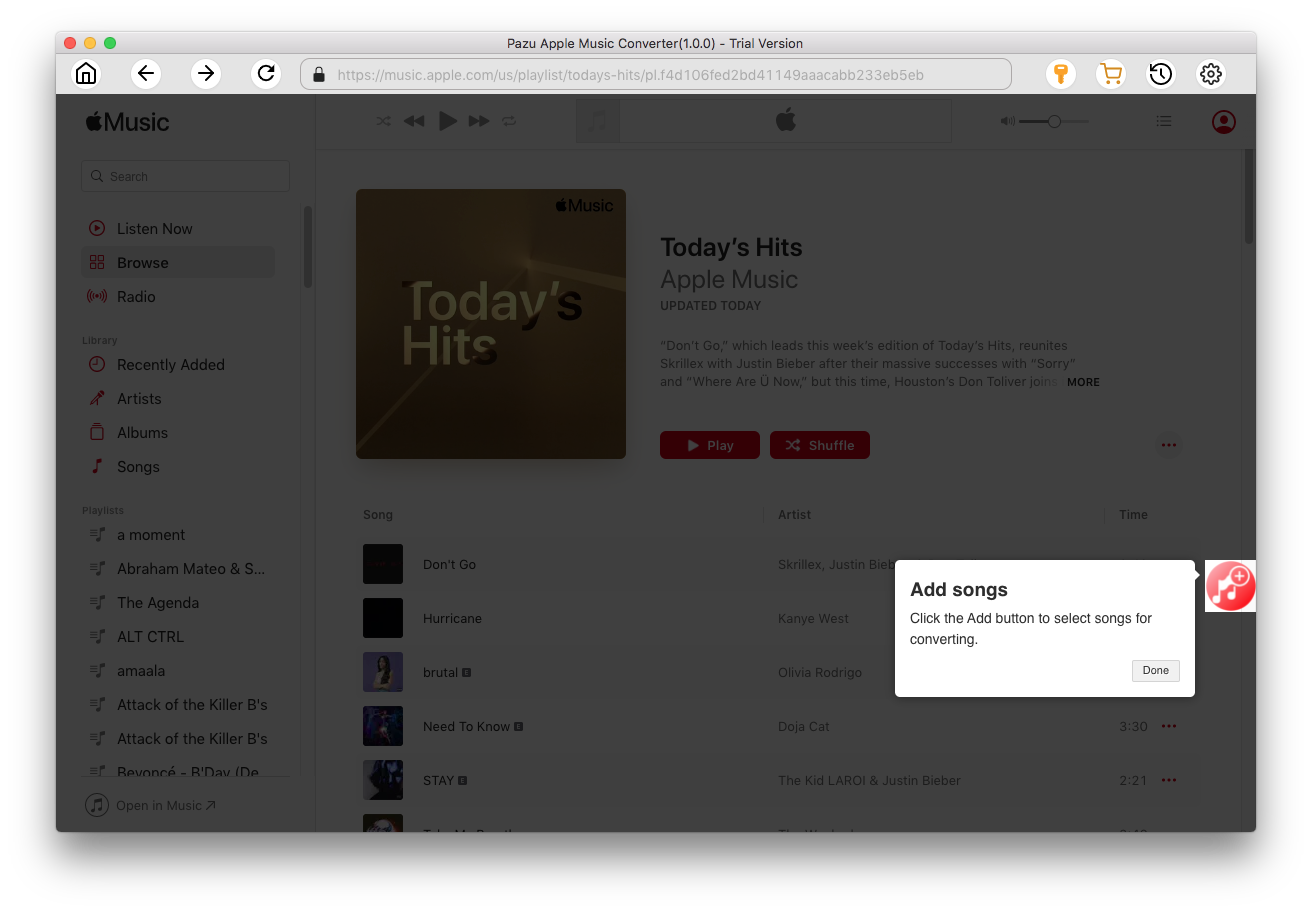 All songs in the playlist or album are selected by default. Uncheck the songs you don't want to download if there are any, then click Convert button.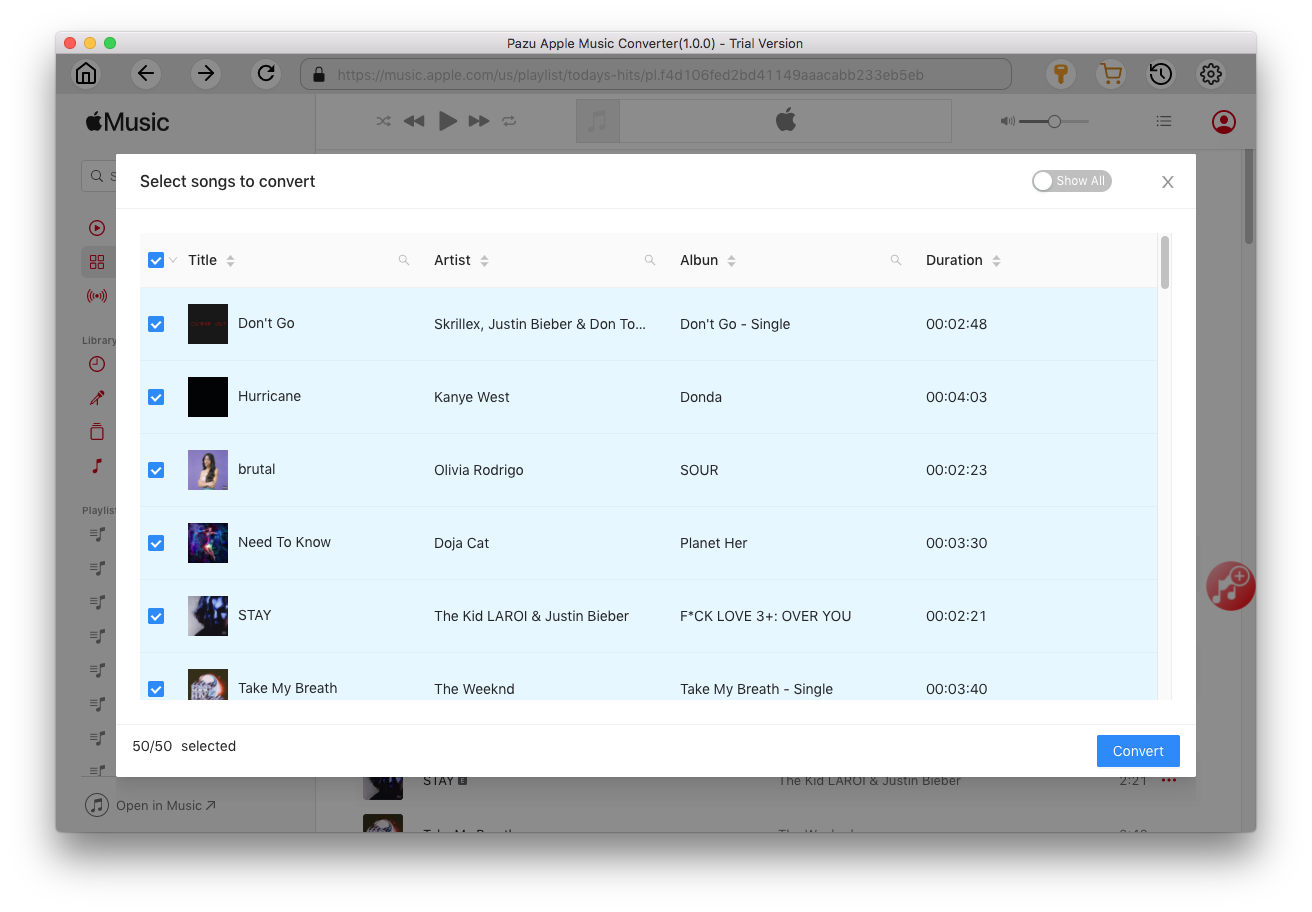 If you are using the trial version, you will get below pop-up window indicating trial version limitations, just click Try if you haven't purchased a license.
The songs you selected will be downloaded to the format you want.
After conversion, click

to quickly locate the DRM-free Apple Music songs.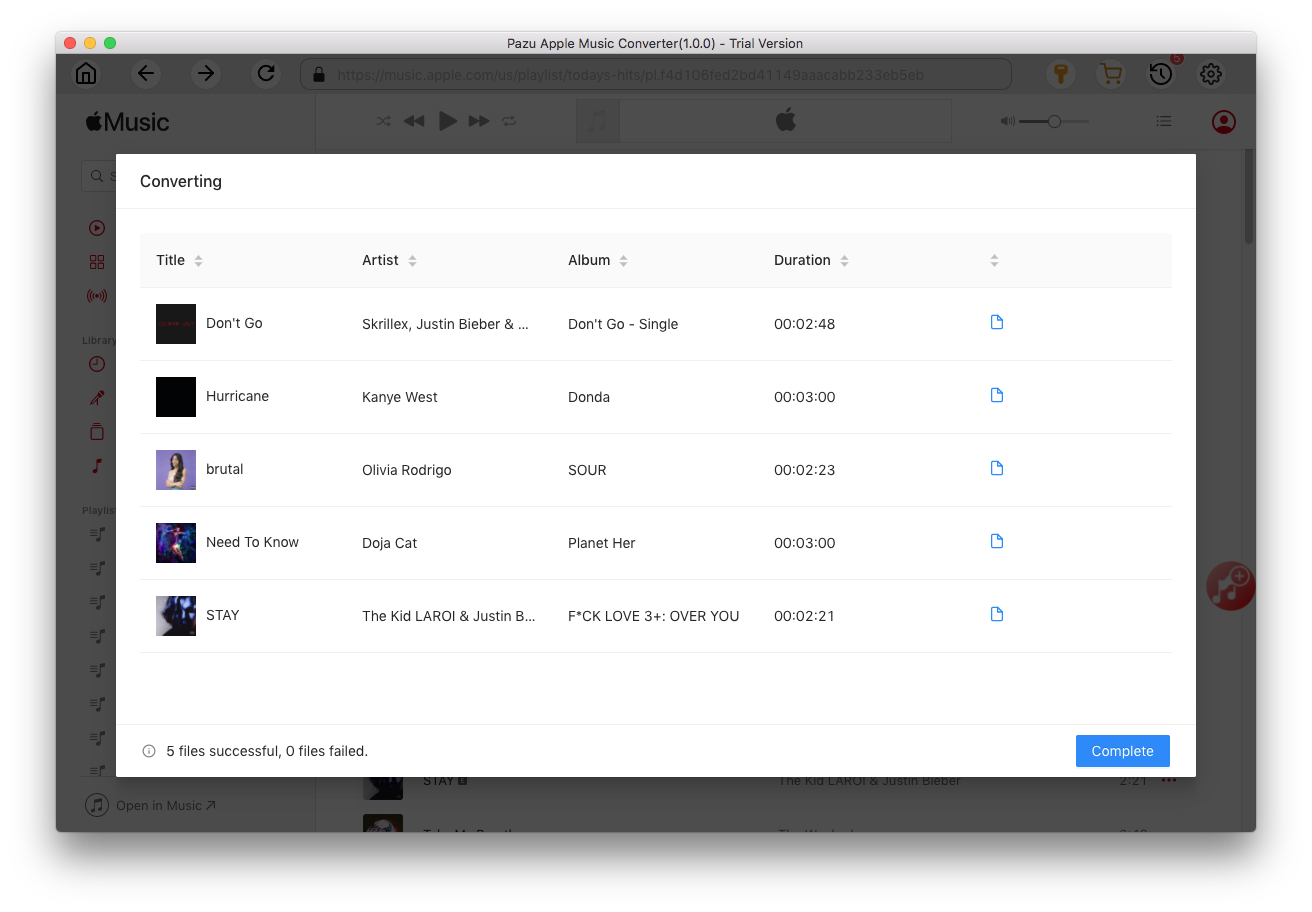 Click
to view all downloaded songs. You can check them by converted date, artist or album.